Whether you've got a big purchase coming up or you've been eyeing a specific credit card for its travel perks and benefits, getting a welcome offer makes adding a new card to your wallet all the sweeter. But to earn that new card bonus, you'll first need to ensure you qualify.
Each bank has its own rules for determining who is (or isn't) eligible for a new card offer. But to its credit, no bank is more transparent as to whether or not you'll be eligible for a bonus than American Express. Thanks to its "Apply With Confidence" tool, you'll know before submitting your application and initiating a credit pull whether or not you're able to receive that big welcome offer.
So why might you not be eligible? There are a couple of reasons – the most likely of which is that you've previously had the card and earned a welcome bonus. Another reason could be that you've earned too many other welcome offers from Amex in the recent past. It really just boils down to the bank wanting to reward profitable customers with a welcome offer, instead of those seeking a big bonus … time and time again.
Despite its transparency, there is still plenty of nuance that goes into determining Amex welcome offer eligibility … and how to get around it.
Let's take a closer look at some of the reasons you might not be eligible for that big welcome offer and what you can do to fix it.
Considering a new credit card? Check out our monthly roundup of all the best card offers! 
Amex Once Per Lifetime Rule
The first and most common reason you'd be ineligible for a new card welcome offer from Amex is that you've already had the card. You see, Amex has specific language written into the offer terms of nearly all its credit cards that restrict new cardmembers to earning a new card welcome offer once per lifetime on each and every one of their cards – with a few exceptions.
For instance, looking at the offer terms for the Hilton Honors American Express Surpass® Card you can see that the offer terms specifically state, "You may not be eligible to receive a welcome offer if you have or have had this card or previous versions of this Card or the Hilton Honors Amex Ascend Card." In this case, if you've ever had the Hilton Surpass Card, you'd be ineligible to earn the bonus offer again.

Critically, this language doesn't rule out applicants who've had other co-branded Hilton Cards like the *hilton honors card* or the *hilton honors business card*. But that isn't always the case.
Amex recently added language to its Delta SkyMiles co-branded portfolio of cards making it harder to earn a new card welcome offer. If you start at the bottom with the no annual fee *delta blue* and systematically work your way up to the top-tier *delta reserve card* you won't have any issues. But if you do it the other way around, or start somewhere in the middle, you'll be limited to only earning one or two welcome offers on any of the Delta cards. So far, this added restriction only applies to Delta cards and is a likely result of overarching changes to the SkyMiles program.
So what do you do if you really want to get an Amex card for a second time?
You've got a couple of options: You can forgo the welcome offer altogether and pick up the card for the perks and benefits alone – or you can look for a "no lifetime language" offer. These no lifetime language offers pop up from time to time and lack the specific verbiage that restricts prior cardholders from earning a welcome offer.
At the time of publication, there's an alternative offer for the Hilton Surpass Card (mentioned above) that comes with an identical bonus – but critically, it's missing the terms that restrict getting a bonus twice.
These offers are never meant to be public, so you won't find them directly on Amex's site. Your best bet for finding them is within a targeted mailer from the bank, a promotional email, or in the various points and miles forums and message boards.
Thrifty Tip: If you're applying for one of these "no lifetime language" offers, it's a good idea to screenshot or save the exact terms of the offer in case you run into an issue getting your bonus upon meeting the spending requirement.
Finally, if you're patient, it actually is possible to get approved and earn a welcome offer on an Amex card for a second time. It seems Amex "forgets" that you've previously had one of their cards after seven years. That sever-year mark is kind of a magic number when it comes to credit, as it's the same time limit that negative items like missed payments, outstanding debt, and Chapter 13 bankruptcies can be listed on your credit report. In this case, though, if it's been more than seven years since you've had a particular Amex card – not seven years since you opened it – it opens the door to earning another welcome offer.
Read next: Credit Card Application Rules, Bank by Bank
Amex Pop-up Jail
If you find yourself applying for a new Amex card and are told you're ineligible for the welcome offer despite never having the card before, you're likely in what's known as "Amex pop-up jail."
What is Amex pop-up jail, you ask?
You can think of it as more of a county detention center than a federal supermax prison. Amex pop-up jail is the dreaded box that appears on your screen when applying for an Amex credit card, alerting you that if you proceed with the application, you won't be eligible to receive the new card welcome offer.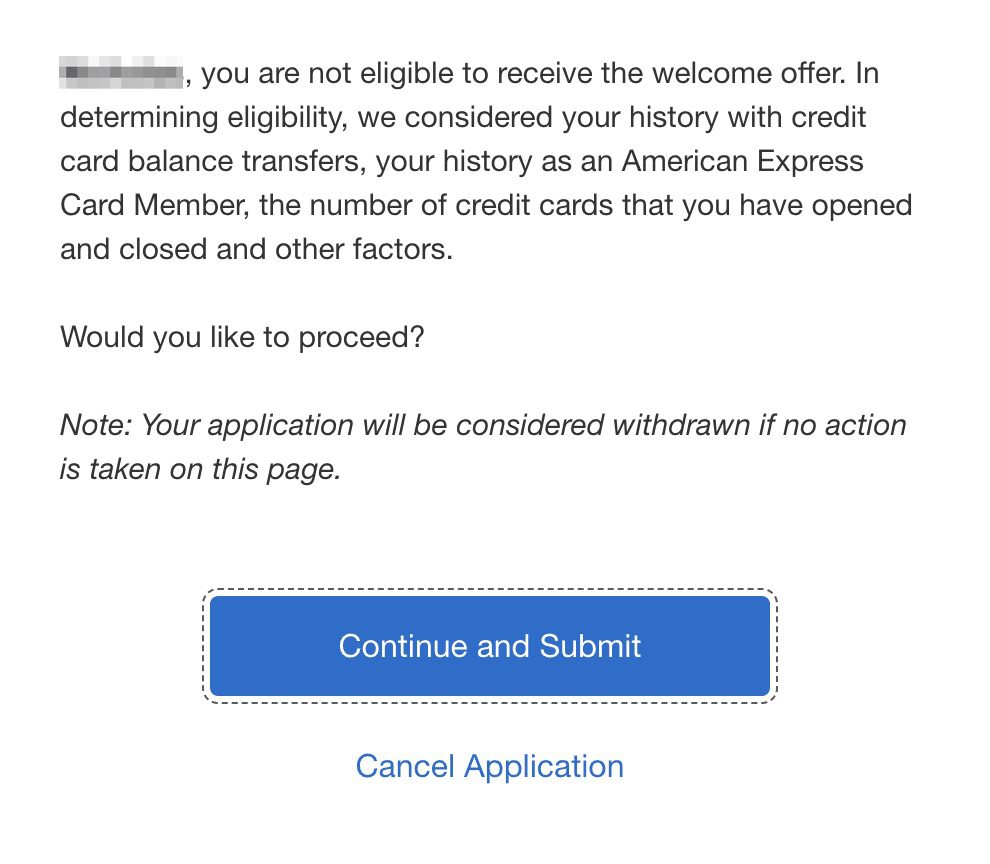 It's not entirely clear what infractions lead to a sentence in pop-up jail, but it's most likely a combination of earning several new card welcome offers in short order and subsequently not using the cards beyond their initial spending requirement. If you frequently apply for new Amex cards and then ditch them after the bonus is earned, this is the quickest way to get yourself into lock up.
Why Amex does this is pretty clear: They're looking for customers who are going to stick around and use their cards for the long haul. There is a lot of competition between the banks when it comes to acquiring and retaining customers – which is the primary reason we see such large welcome offers to begin with – and they're quick to weed out anyone trying to take advantage of the system.
While other banks have put limits in place for how often you can open cards and earn bonuses, Amex has focused on only rewarding profitable customers with new card offers. If you're in pop-up jail, it likely means Amex doesn't currently view you as a "good" customer.
How to Get Out of Amex Pop-up Jail
Just like we don't know the exact formula for getting yourself into Amex pop-up jail, we also don't know exactly what it takes to get out. But similar to real jail, good behavior can go a long way to securing an early release.
Since it's clear Amex only wants to reward valuable (profitable) customers with a big bonus, it makes sense to try and convince them that you fit that mold. The best way you can do so is by using their products, or to put it another way – spending on their cards. While we typically recommend using a card that earns bonus points for spending in a given category, like the *amex gold card* which earns 4x Membership Rewards points on dining and U.S. supermarket purchases (up to $25,000 each year), this is the exception to that rule.
If you're currently in pop-up jail, spending on any and all of your Amex cards can be a great way to show the bank you've changed your ways. Exactly how long you need to do this isn't clear, but setting up a recurring payment for your utilities, car insurance, or cell phone bill can go a long way proving to Amex that you're reformed and plan to use their cards consistently in the future.
Another tip for avoiding the dreaded Amex pop-up is to temporarily stop using referral links from friends and family. I know this probably seems counter-intuitive, as using a friend's referral is a great way to help your travel buddy earn some additional points or miles to along with your new card. But it's also a surefire way to let Amex know that you're primarily interested in the points. We've heard reports of people successfully getting around the pop-up by instead using a link from sites like ours, or even by applying directly with Amex. (And no, I promise this advice isn't just an attempt to get you to use our links.)
You can also try applying for a business card instead. If you're eligible for business cards – and trust us, you just might be – not only are you likely to get a bigger bonus, but you're also more likely to avoid that pesky pop-up.
Finally, if you find yourself in this position, it's best to take things slow. That might mean passing on a few new card welcome offers that you otherwise would have applied for – but in the end, a few missed bonuses aren't worth being on the wrong side of the bank. Especially a bank as lucrative and useful for earning travel rewards as American Express.
Related reading: When is the Right Time to Apply For a New Credit Card
Bottom Line
American Express offers some of the best travel rewards credit cards on the market but unfortunately, getting a welcome offer on a new card is easier said than done for some travelers.
If you find yourself in the dreaded Amex pop-up jail, don't give up hope – there's a way out. With a little patience, a few tricks, and some good behavior, you'll be out on parole in no time.