Think your SkyMiles are worthless? Think again: Even 20,000 SkyMiles (or less) could put you on the coast, on a beach, or maybe even overseas.
You might see ugly rates of 40,000 SkyMiles for even a short domestic trip, but trust us: Better deals are out there. Finding the best, cheapest ways to redeem Delta SkyMiles is what we do. We're constantly on the hunt for the next, deeply discounted Delta SkyMiles flash sale – and we've found hundreds of them for our Thrifty Traveler Premium members.
And that includes plenty of deals for under 20,000 SkyMiles roundtrip, like unbelievable deals to Hawaii for just 9,000 SkyMiles; trips down to Cancún (CUN) or Costa Rica for 15,000 SkyMiles or less; and a record-setting deal to London and back for just 14,000 SkyMiles.
So even if you don't have a mountain of SkyMiles stashed away, there might be a great way to cash them in. From recent deals to all-time greats, take a look at some of the best, cheap Delta SkyMiles deals we've found.
Get the next great Delta deal in your inbox with Thrifty Traveler Premium!
Tons of Domestic Deals for 10K
In good times and bad, you can count on Delta SkyMiles for one thing: A cheap ride somewhere in the States.
While you still might see domestic roundtrip flights for 40,000 SkyMiles or more (especially heading into the holidays), the airline is regularly slashing SkyMiles award rates across the country … and all throughout its calendar. While you never know when a deeply discounted SkyMiles flash sale abroad will pop up, you can count on cheap domestic flights using your SkyMiles.
That includes fares straight into New York City as low as 7,000 SkyMiles roundtrip – whether you prefer New York City (JFK), New York City-LaGuardia (LGA), or Newark (EWR).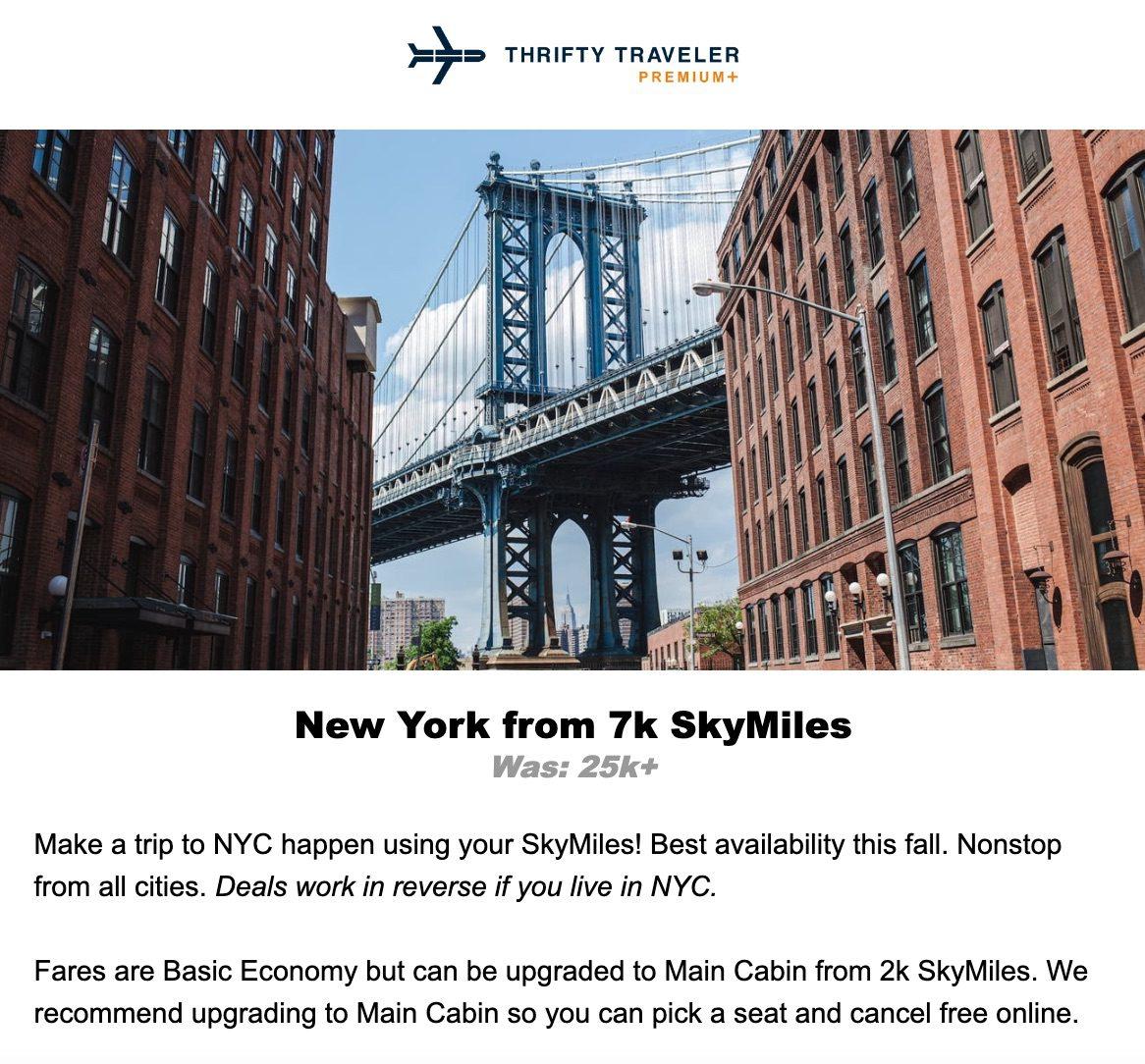 How about a trip to the Strip? We regularly send our Thrifty Traveler Premium members alerts to get to Las Vegas (LAS) for under 10,000 SkyMiles – sometimes even less.


With the warm weather and Disney World, Orlando (MCO) is about as tried and true of a domestic destination as you can find. Yet we regularly find cheap SkyMiles fares to get there, too, like this recent deal for a trip this fall or winter.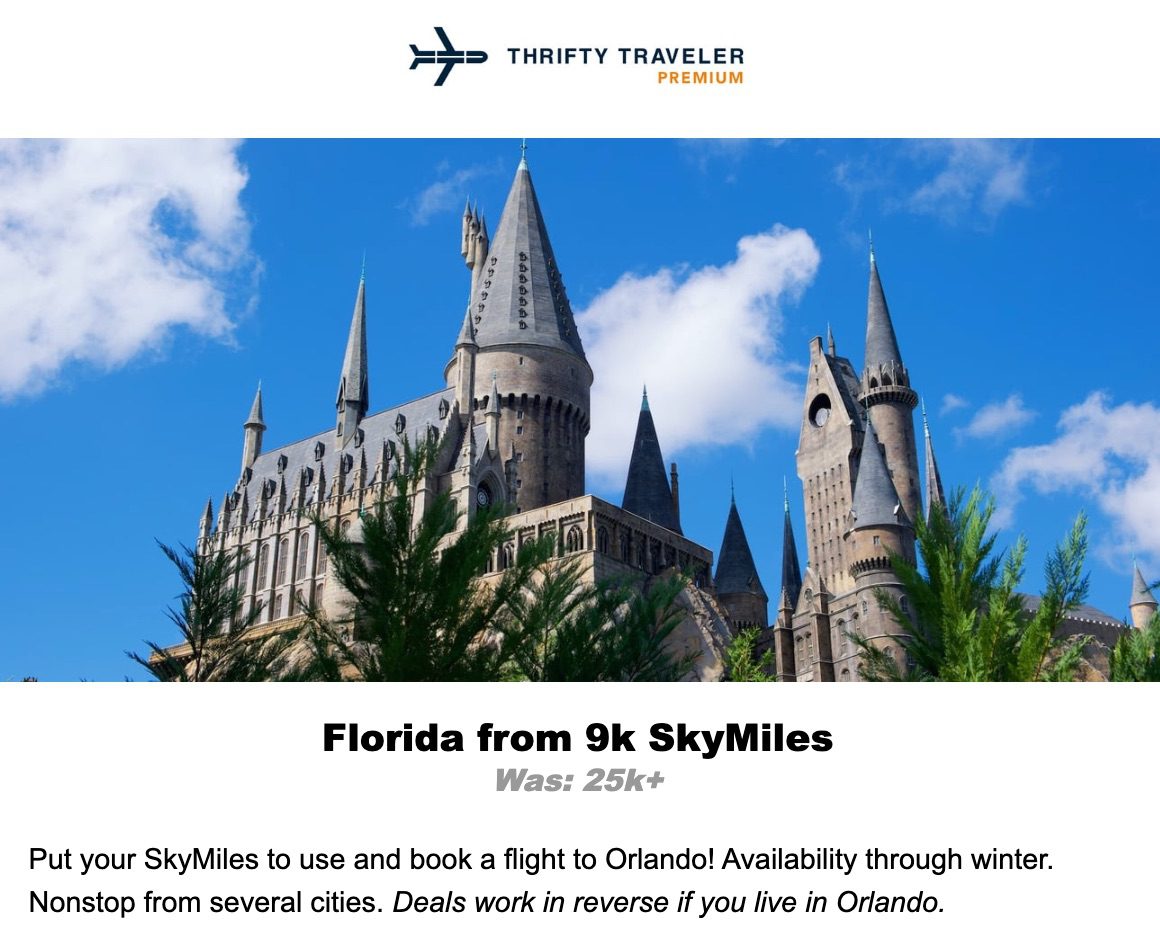 Prefer somewhere new? How about Portland (PWM) in Maine, where you can use your SkyMiles and save your cash to eat your weight lobster rolls? With a deal like this, it won't take you many SkyMiles to get there.

These Delta SkyMiles deals are gone now – get the next one in your inbox with Thrifty Traveler Premium!
As always, travelers with a Delta credit card in their wallet get the best deal thanks to an automatic 15% discount when redeeming SkyMiles. And while the cheapest rates are almost always a Delta basic economy ticket, the cost to bump up to a better, main cabin – with free seat selection and cancellation, too – is often just 2,000 to 5,000 SkyMiles more within the U.S.
Want to go even further within the U.S. without breaking the bank? Maybe even head to paradise? We got you.
Hawaii and Back for 9K, Too!
Think Hawaii has to be expensive? Think again. Here's the proof: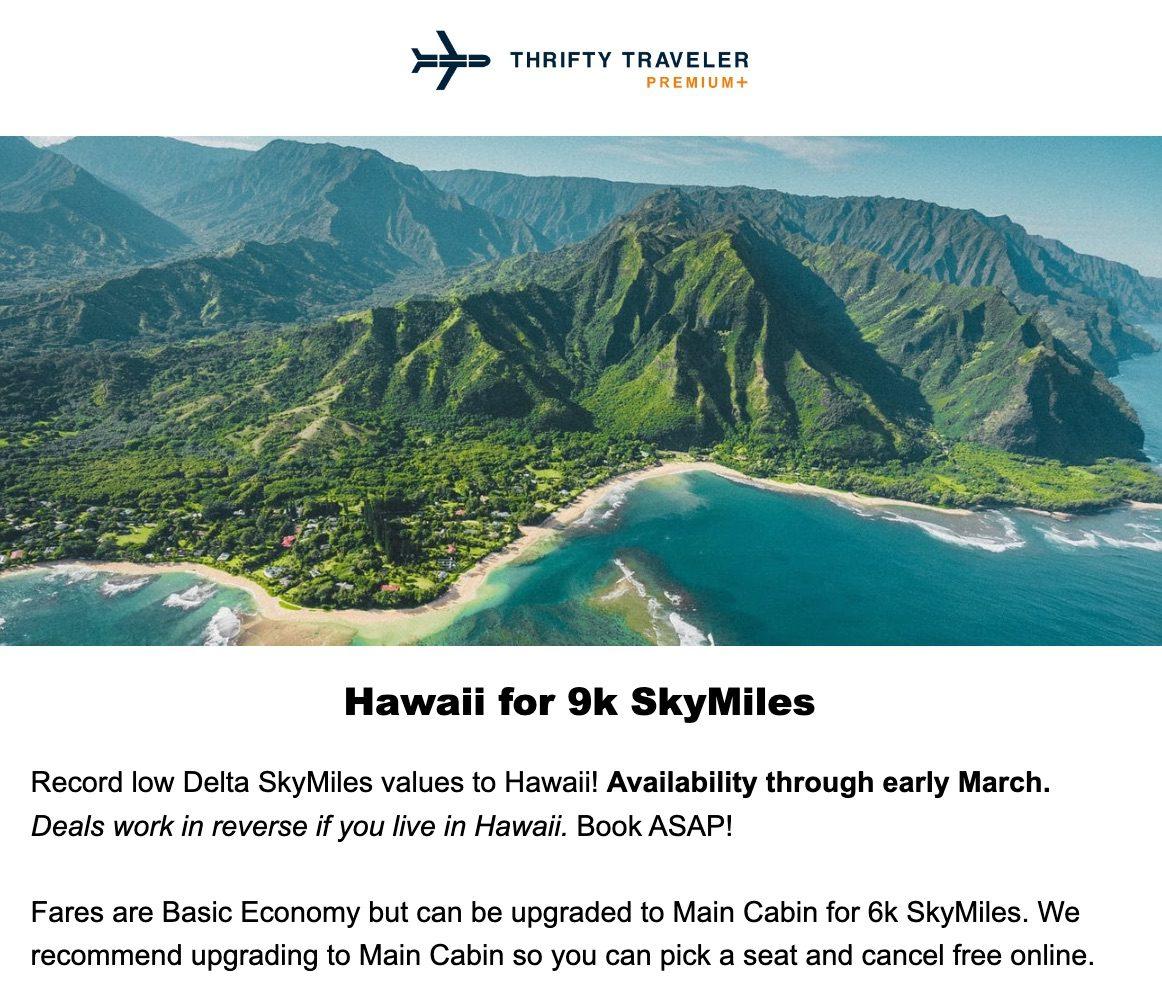 We're always searching for Hawaii deals for our Thrifty Traveler Premium members, and we're always finding them. But this find from back in January 2023 takes the cake, with ridiculously cheap fares from the West Coast to Kauai (LIH), the Big Island (KOA), and Maui (OGG) as low as 9,000 SkyMiles … roundtrip.


Cancún for 9K
The year 2023 might well go down as the year of cheap flights to Mexico. Here's why: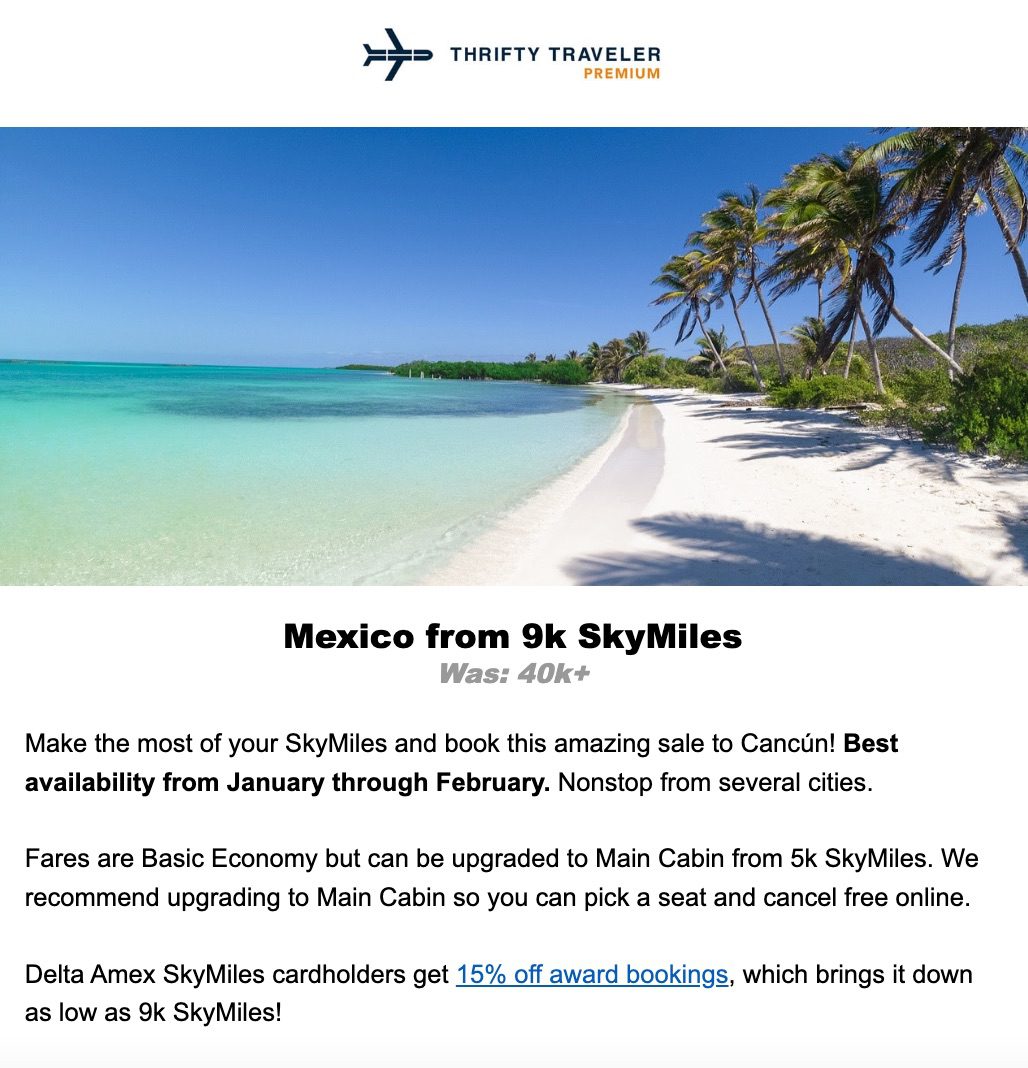 Flight prices to Cancún (CUN) have been falling all year, and the SkyMiles deals just keep coming. This latest find from last month could put you on the beach this winter for just 9,000 SkyMiles roundtrip.
Nonstops from Los Angeles (LAX) were the cheapest.


But travelers from all over the country could have gotten down to Cancún for less than 20,000 SkyMiles with this recent find. That includes:
Austin (AUS) for 10,000 SkyMiles
Boston (BOS) nonstop flights for under 13,000 SkyMiles
Denver (DEN) for just over 9,000 SkyMiles
Fargo (FAR) for just 15,000 SkyMiles
New York City (JFK) nonstop for 12,000 SkyMiles
… and many, many more
But every once in a while, we find SkyMiles fares down to Mexico for even less…
Puerto Vallarta or Cabo for 5K SkyMiles … Roundtrip!
That's not a typo. We've really sent Thrifty Traveler Premium members an alert to fly to Mexico and back for just 5,000 SkyMiles.
Don't believe me?

Get the next unreal Delta SkyMiles deal – subscribe to Thrifty Traveler Premium!
Yes, it was real. We found roundtrip flights from Seattle (SEA) to both Puerto Vallarta (PVR) and Cabo (SJD) for just 5,000 SkyMiles roundtrip. That's it.
And while you paid $100-plus in cash, you always have to pay those taxes and fees anytime you redeem miles for a trip to Mexico or almost anywhere in the Caribbean. Better to fork over 5,000 SkyMiles instead of 50,000 SkyMiles on top of that sum, right?

We found this one back in 2022, but it's simply too good not to make this list. It's one of the best Delta SkyMiles flash sales ever, period.
Europe for Less Than 20K?!
Yes, that's right: Time it right (or wait for a Thrifty Traveler Premium alert), and you can even cross the pond for under 20,000 SkyMiles.
We routinely find SkyMiles flash sales to cities all across Europe for 30,000 SkyMiles, give or take a few thousand miles. That's still an incredible deal: Most airlines charge at least 60,000 miles roundtrip – and with Delta, you're more likely to see 100,000-plus SkyMiles.
But then there's this.

This fare from all the way on the West Coast to London-Heathrow (LHR) for 14,000 SkyMiles is unbelievable, flat-out. Yet it was real: We sent this to Thrifty Traveler Premium members a few years ago. It was one of the best SkyMiles deals of all time, easily.
It's been a few years since we've seen SkyMiles deals to Europe tumble this low. But who knows? Maybe the recent trend of cheap flights to Europe will lead to even cheaper SkyMiles sales across the pond?
Alaska for Under 10K
Most flights to our 49th state are long. That doesn't mean it'll cost you a mountain of SkyMiles to get to Alaska – especially not when you get a Thrifty Traveler Premium alert like this one.

Yes, really. You could get to Alaska for as low as just 5,000 SkyMiles roundtrip. The lowest rates we found on this sale from a few years ago were from Seattle (SEA).

But the savings extended far beyond the shorter flights from the West Coast: This deal spread nationwide! From San Diego (SAN) to Minneapolis-St. Paul (MSP) to Detroit (DTW) and as far south as Atlanta (ATL) or Miami (MIA), we found award rates under 10,000 SkyMiles from almost every airport in the country.
Here's just a small sample: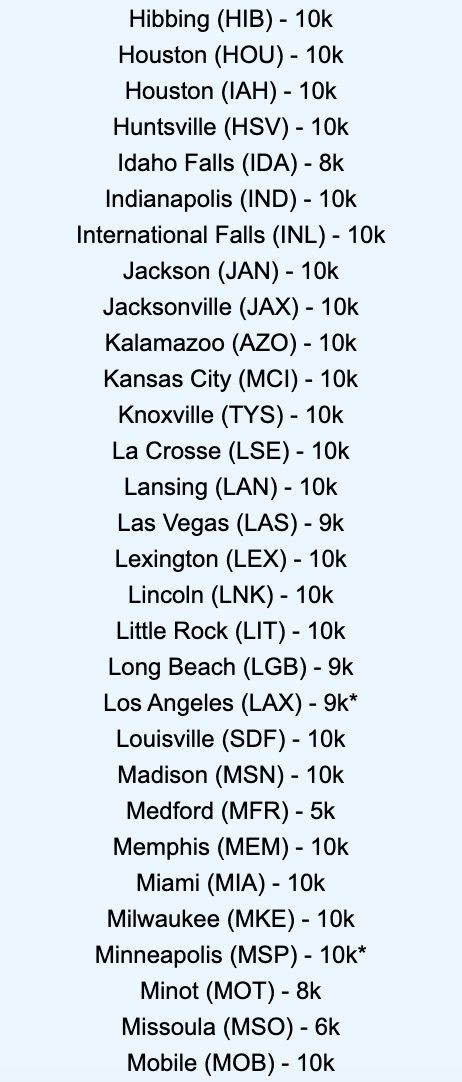 We find flight deals from 200-plus U.S. and Canadian airports – more than any other flight deal service!
Costa Rica from 10K SkyMiles
Almost nothing can beat Costa Rica's perfect blend of lush rainforests and pristine beaches for a winter getaway.
Well, there's just one thing: Getting there for 10,000 SkyMiles.

We sent this alert to Thrifty Traveler Premium members this past summer, helping them get down to Costa Rica this fall for next to nothing. This deal featured sub-20,000 SkyMiles fares from dozens of U.S. cities all across the country.
The best deal was for New Yorkers, who could get to San Jose (SJO) and back for a hair over 10,000 SkyMiles total.

Bottom Line
That's 10 Delta SkyMiles deals to destinations near and far for 20,000 SkyMiles or less … and it's still a drop in the bucket compared to what we've found over the years.
While Delta SkyMiles get a bad rap for constantly changing, sky-high redemption rates, this is the upside. If you're flexible (or patient enough to wait for a Thrifty Traveler Premium flight deal alert) you can still get an amazing deal with your SkyMiles – and you won't need too many of them.