Act fast, because one of the most versatile and potentially powerful transfer bonuses we've seen is coming to a close. Through Tuesday, Oct. 1, you can get a 40% transfer bonus when sending American Express Membership Rewards points to British Airways, Iberia, and Aer Lingus.
All three airlines are owned by the same parent company, IAG, so it makes sense that they're lumped together. And using this bonus, you can unlock some amazing travel. Think dirt-cheap trips to Europe, but also some discounted domestic travel and even flights to Hawaii. More on that later.
These transfer bonuses are great because they're basically a way to get free airline miles. And a bonus of 40% is outstanding – the norm is typically in the neighborhood of 10%-30% bonus.
This is a repeat of a sterling transfer bonus we saw last year. And it's even better than a recent targeted promotion for up to 50% bonus, as it appears that this bonus is available to all Membership Rewards cardholders! Log in to your American Express account to make sure you're eligible for the bonus!
Keep in mind you need a card that earns transferrable Membership Rewards points to be eligible. So cards like the Platinum Card from American Express should work, but co-branded Delta SkyMiles credit cards from American Express will not.
Read our full guide on American Express transfer partners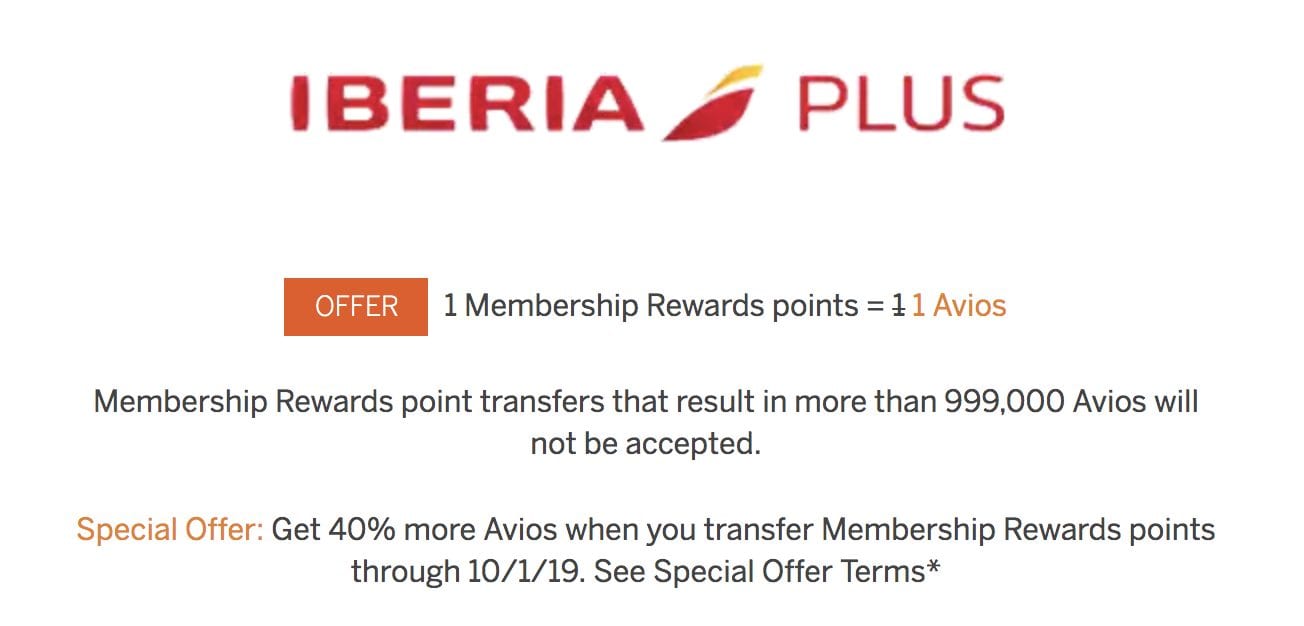 How to Use This Transfer Bonus
You can't say no to an extra 40% in miles for free, especially with some of the amazing sweetspots.
All three mileage programs are somewhat similar, though in our experience, AerLingus' Aer Club is the most cumbersome to use. They all use a distance-based award chart, which generally means that shorter flights are going to be the sweet spot.
But there's one big exception: trips to Spain using Iberia Avios. 
The airline offers one of the cheapest ways to get to Europe and back using miles, starting at just 34,000 miles round-trip in economy and 68,000 Avios for a seat in business class from Chicago-O'Hare (ORD), New York City-JFK (JFK), or Boston (BOS). But this 40% transfer bonus drops that even farther.
Since you can now transfer to Iberia in tiny increments (as compared to the normal minimum of 1,000 points), you'd need only transfer 23,572 Amex points to have enough for a round-trip flight to Europe.
Want to fly Iberia's business class with your own bed and great meals? You can do it for just 48,572 Amex points with this transfer bonus! 
Read our review of Iberia's business class from Chicago-O'Hare (ORD) to Madrid (MAD). 
Iberia is also a great way to book domestic flights within the U.S., flying American Airlines. After a months-long outage, it's now possible to book American Airlines flights using Iberia Avios again. So this could be a great way to save on some domestic travel.
Flights under 600 miles round-trip price at just 11,000 Avios, while journeys between 601 and 1,000 miles come in at just 12,000 Iberia Avios. Flights up to 2,000 miles cost just 17,000 Iberia Avios, which still gives you some solid savings. Bookings on American have to be round-trip – one-way redemptions aren't allowed.
Thrifty Tip: Use GCmap.com to measure the distance of your flight, and remember that Iberia charges based on the round-trip distance.
American typically charges 25,000 AAdvantage miles for the round trip from Minneapolis-St. Paul (MSP) to Washington, D.C.-Reagan (DCA). But because those flights are under 2,000 miles total, you need just 17,000 Avios to book the exact same flight. At that rate, you'd need to transfer just 12,143 Amex points.

Or how about a flight to Hawaii? British Airways Avios are one of the best ways to book it. So long as you're taking the nonstop flight from Los Angeles (LAX) or Phoenix (PHX), you can fly to any of the four major Hawaiian islands for only 26,000 Avios round-trip.
With this transfer bonus, you can book a Hawaiian vacation with just 19,000 Amex points.
And this is just the tip of the iceberg. There are plenty of other great ways to use Avios from British Airways, Iberia, and even Aer Lingus, in certain situations.
Read our guide on the best ways to use an Amex Platinum bonus to get some more ideas of how you could put this transfer bonus.
Bottom Line
Time is running out, so jump on this transfer bonus if you've got it. There's nothing better than getting some free miles, and a 40% bonus can go a long way. Just remember to use it soon, as it only runs through Tuesday,Oct. 1, 2019.