Incredible news for what's undoubtedly the best mistake fare of the year: Hong Kong Airlines is honoring the jaw-dropping, sub-$600 business class round-trip fares from the U.S to several spots in Asia.
We first sent these fares out to our Thrifty Traveler Premium subscribers late last week. Hopefully, some of you got in. When I booked a $660 round-trip fare between Los Angeles (LAX) to Ho Chi Minh City (SGN), I gave it a 5 percent chance of actually going through. The price was just too good, and the exposure was massive.
We always warn readers not to book hotels or onward travel until it's clear an airline is going to honor the mistake pricing. Airlines big and small have a track record of canceling mistake fares like this en masse within days or weeks. So we were understandably skeptical that these tickets would ever see the light of day. Round-trip business class fares to Asia starting at $560 on a top-notch airline is unheard of.
Yet here we are: Hong Kong Airlines has repeatedly made clear that they will honor every ticket.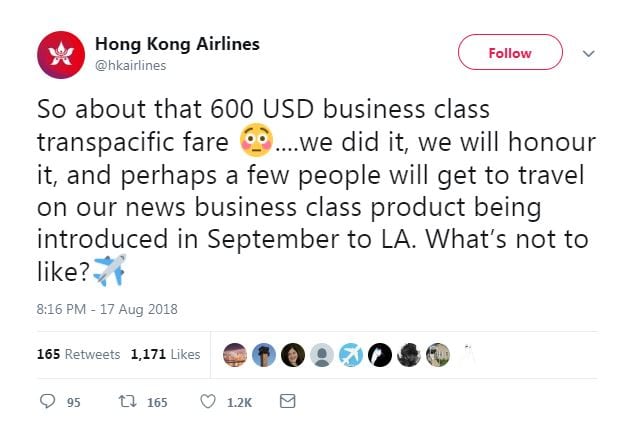 Honestly, we can't believe it. These tickets were generally almost half the cost of the same flight in economy, and a fraction of a typical business class fare. It's one of the best premium cabin mistake fares we've ever seen.
Breaking Down the Mistake Fare
It should come as no surprise that this fare was only available for a few hours. When the next error fare pops up, book first and ask questions later – you can cancel any flight that touches U.S. soil within 24 hours of booking.
It's unclear exactly how this all happened with Hong Kong Airlines. Maybe an employee left out a zero – these flights should normally cost $6,000 or more. It could have been a currency conversion mistake. And though the airline maintains it wasn't a marketing gimmick to drum up attention and business, that may be the case.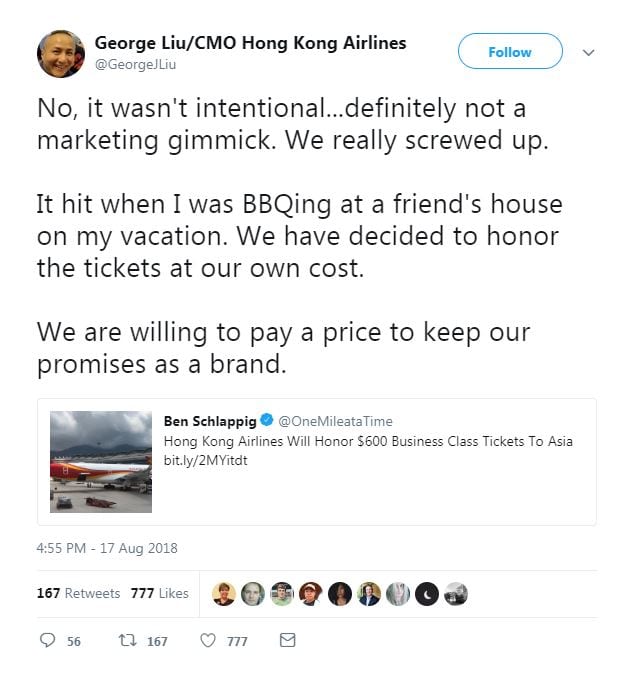 For you readers who got in on the deal, it's now safe to start booking hotels and onward travel, or your connecting flights. It also means you can safely select your seats if you didn't do so when you booked the fare. Read up on our tips for booking a mistake fare.
I simply headed to HongKongAirlines.com and opened up the Live Chat window (top right). Wait a few minutes and feed an agent your e-ticket number, itinerary, and name.
Scope out your flights on Seatguru.com to find the best seats. Just beware that these flights are filling up fast – pick your favorite seat before it's too late!
All About Hong Kong Airlines
Hong Kong Airlines is a small but feisty competitor of Cathay Pacific based in, you guessed it, Hong Kong (HKG). They fly from LAX, San Francisco (SFO) and Vancouver (YVR), using brand-new Airbus A350s for the long-haul flights.
We're excited to fly this business class and report back. But safe to say, it gets high marks across the board for a wide seat, comfortable bed, good food and great service.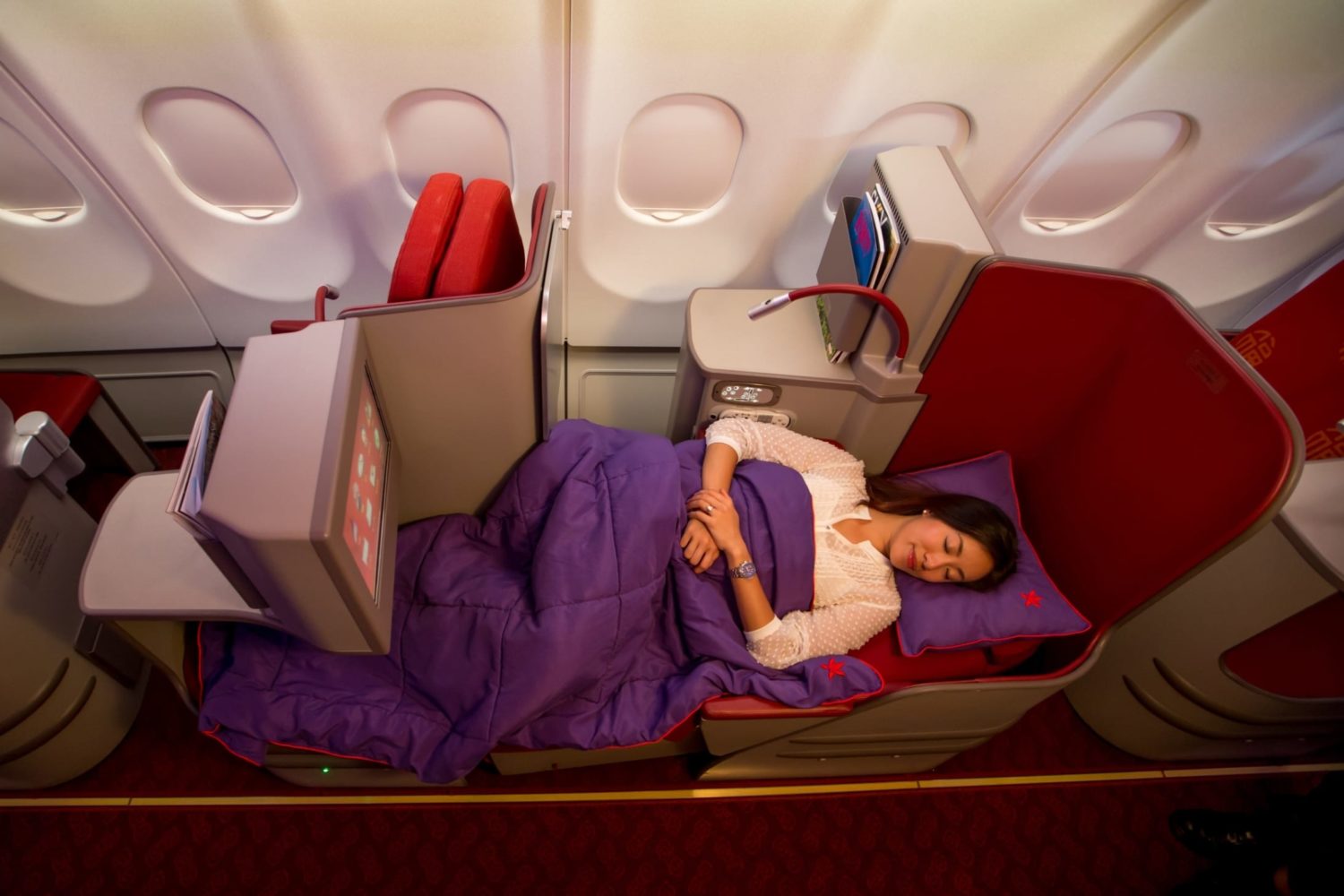 Paying cash for business class fares is one of the best ways to build up status and earn more miles fast. Unfortunately, Hong Kong Airlines isn't part of a major airline alliance, and instead partners with a handful of other Chinese airlines like Hainan Airlines. One Mile at a Time has a great rundown on your best options for crediting these miles, so be sure to check that out.
Our Analysis
Days later, our jaws are still on the floor. We cannot believe it, and serious kudos to Hong Kong Airlines for putting their customers first. (And no, we're not just saying that because several members of the TT team capitalized on this fare.)
Airlines don't have to do this. And more often than not, they don't. They get some pretty wide latitude from the federal Department of Transportation to cancel fares that were booked as a result of a mistake on their part. 
There's no way to tell how much Hong Kong Airlines is losing by honoring these fares. Needless to say, it will be substantial. It's safe to say several thousand people booked these cheap business class fares, saving several thousand dollars each time. So again, we say kudos. Hong Kong Airlines is allowing thousands of travelers to see more of the world, and to do so at the pointy end. 
Bottom Line
We're still in disbelief that we're flying to Asia for $600 in Business Class, but we can't wait to go. Bummed you missed out on this incredible fare? Sign up for Thrifty Traveler Premium, and you'll be among the first to know when we find the next great mistake fare!
Lead photo courtesy of Hong Kong Airlines.