As Americans set out across Europe for the first time in years, I returned to Iceland last week for the first time since 2018 wondering how it would compare. At no point during my four-day trip did I reach for a face mask or the vaccine card in my backpack.
Visiting Iceland right now felt almost exactly like before the COVID-19 pandemic: No testing or vaccination required to get in, no health measures like masking in place. As with any international trip, I still needed a negative COVID-19 test to fly home. And unlike previous trips to Iceland, there were virtually no crowds … even at the most popular sites.
Iceland doesn't need me to to tell you how awesome it is. It's home to possibly the most dramatic, beautiful landscapes on the planet. It's "a wild pony drinking from a waterfall next to a lava floe in front of a mountain overlooking sea cliffs" beautiful. It's black sand beaches and glaciers. It's icebergs, geysers, and hot springs. It's puffins and whales. It must be seen to be believed.
Combined with cheap flights to get to Iceland even as airfare elsewhere seems to skyrocket, it needs to be on your to-do list for 2022. Here's what you can expect if you're planning a trip to Iceland this year – and I hope you are.

COVID-19 Restrictions in Iceland (Or Lack Thereof…)
Iceland was the first country throughout Europe to re-open to American travelers back in early 2021, requiring proof of vaccination and pre-travel testing requirements for months.
But in late February this year, Iceland dropped all of its COVID-19 restrictions. And I mean all of them: no masks, no proof of vaccination, and no testing required.
Vaccinated or unvaccinated, tested or untested, all travelers can now return to Iceland almost as if the pandemic never happened. It was an unprecedented move for a European country, the likes of which we had only seen internationally in Mexico until that point.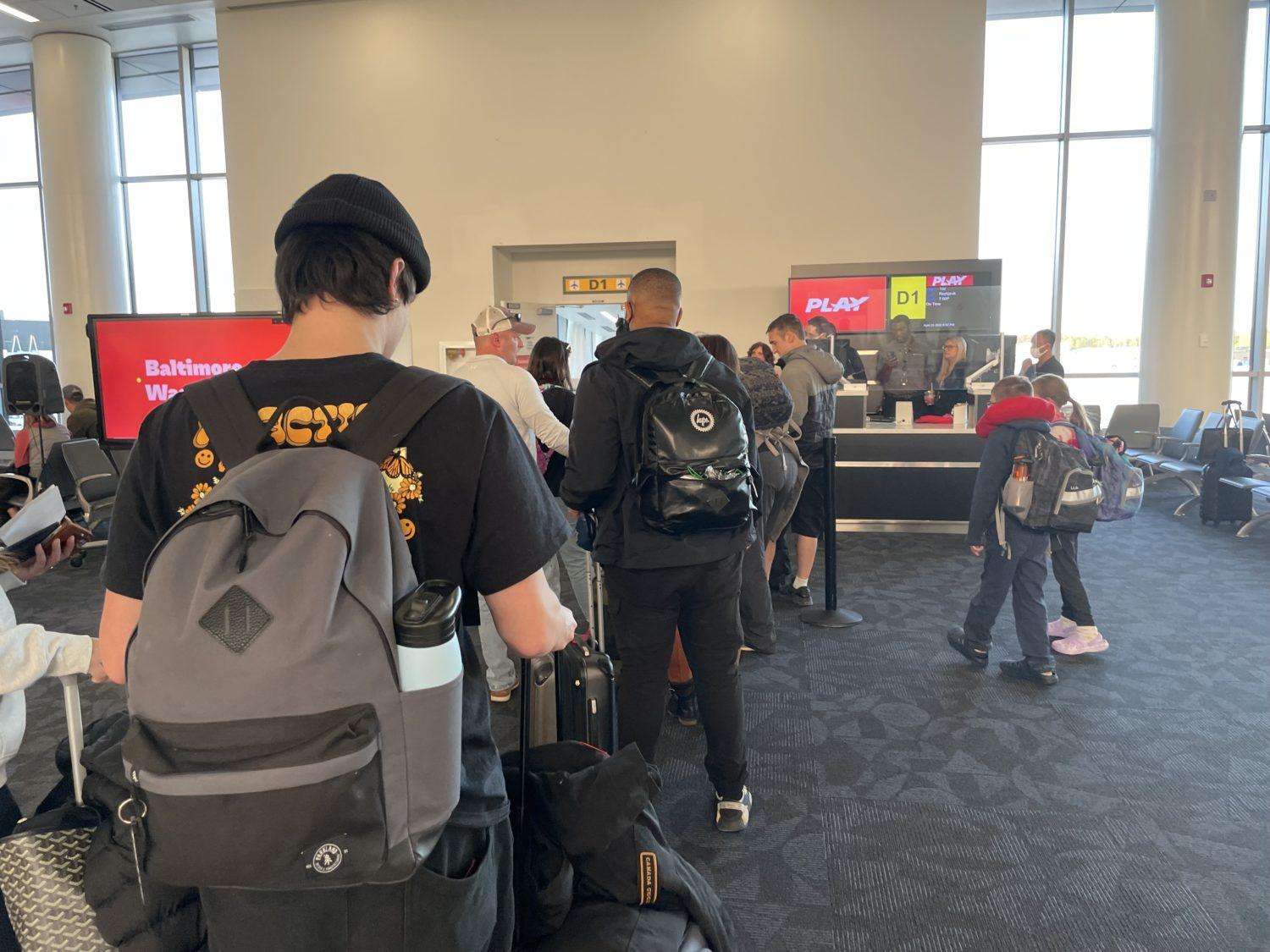 Upon arrival in Reykjavik (KEF), I simply handed my passport to the customs officer and officially entered Iceland just like it was in 2019. There is no mask requirement at the airport or on any public transportation throughout Iceland.
Even as you go about your days throughout Iceland, there's virtually no trace of COVID-19 restrictions anywhere.
There are a few hand-washing reminders in bathrooms and a few hand sanitizer stations, but no restrictions of any kind. Bars and restaurants did not require masks or proof of vaccination to dine.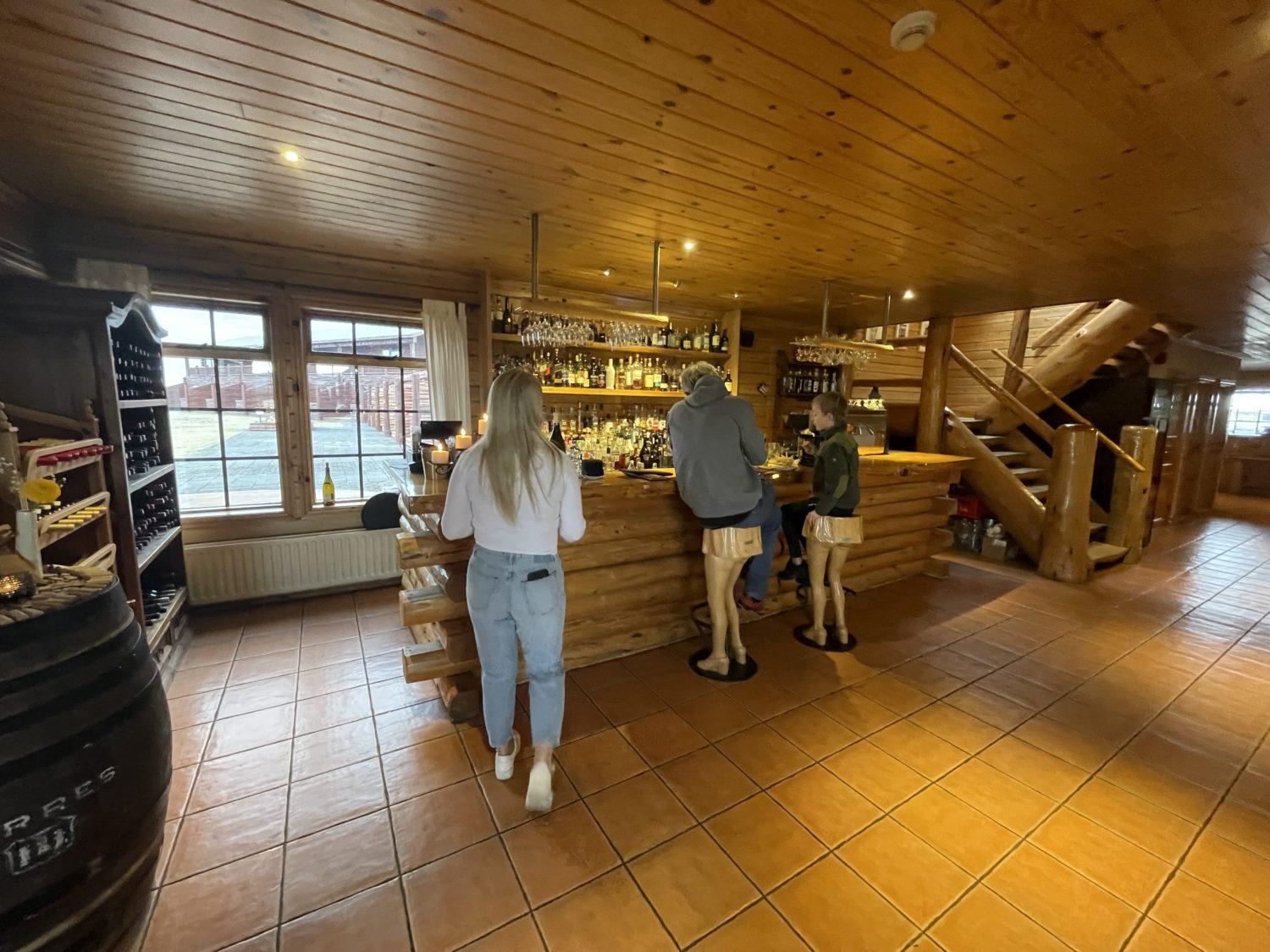 Mask usage among Icelanders and travelers alike was scarce, too. Only a handful of people were wearing masks at restaurants, in hotels, or at the most popular sites.
What About Getting Tested Before Coming Home?
Regardless of your vaccination status, you still need to get a negative COVID-19 test before flying back to the U.S. It's really the only remaining difference for a trip to Iceland in 2022 compared to 2019.
All travelers to the United States need to take a test one calendar day before their flight back into the country. And that's exactly what I did Saturday evening before my Sunday flight.
Just before dinner, I sat down in my hotel room and took an Abbott BinaxNow at-home test with a video consultation to prove that I was fit to fly. The Abbott test is one of our tried and true COVID-19 tests we've reviewed for our readers. It took my 20 minutes to get my negative result – a very simple process.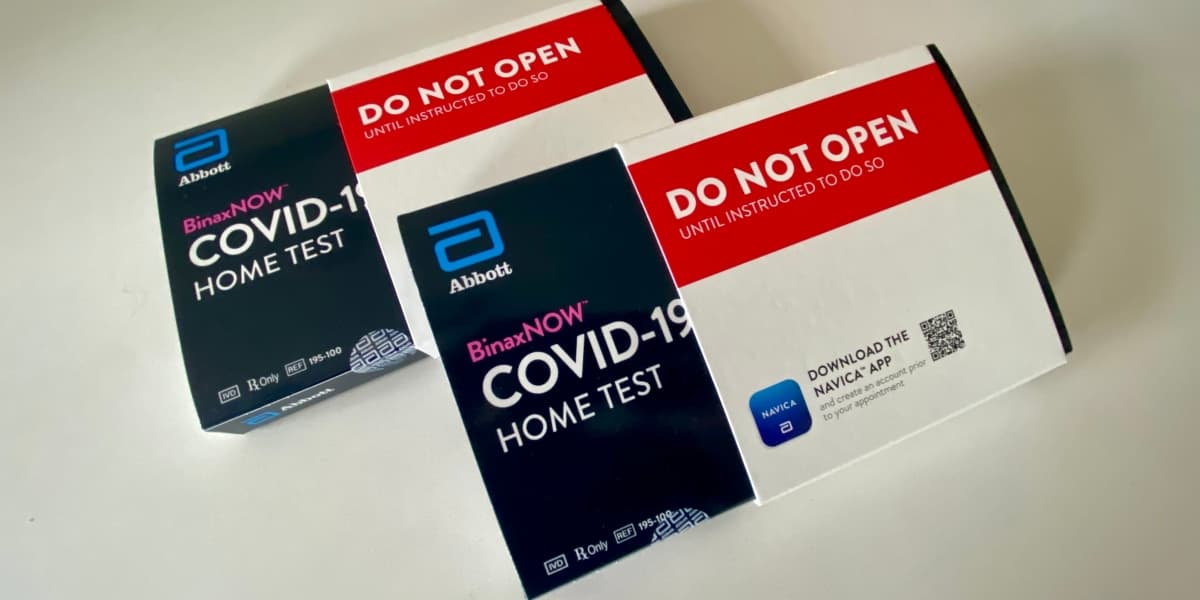 There are other COVID-19 tests you can take at the airport, in Reykjavik, or just outside the airport, too. They are easy to find, but make sure you locate a test that is travel-approved. A regular antigen or PCR test won't always do the trick.
This international travel testing requirement to fly home could end soon, too. While there's no firm word yet, airlines have been pushing the White House for months to drop it – and recently said they expect it to end within weeks.
Read more: When Will international Travel Testing Requirements End?
Sparse Crowds Throughout the Country
Prior to the pandemic, the hype surrounding Iceland led to big crowds around the country as travelers flocked to soak in the country's beauty.
During our trip earlier this month, there were laughably few crowds at even some of the most popular attractions in Iceland.

For instance, we were the only car at both the Reynisfjara black sand beach and the Londranger Cliffs, two of the most popular attractions on the island. When we visited the stunning Kirkjufell Mountain in the middle of the day, our car was one of just eight or so in the parking lot.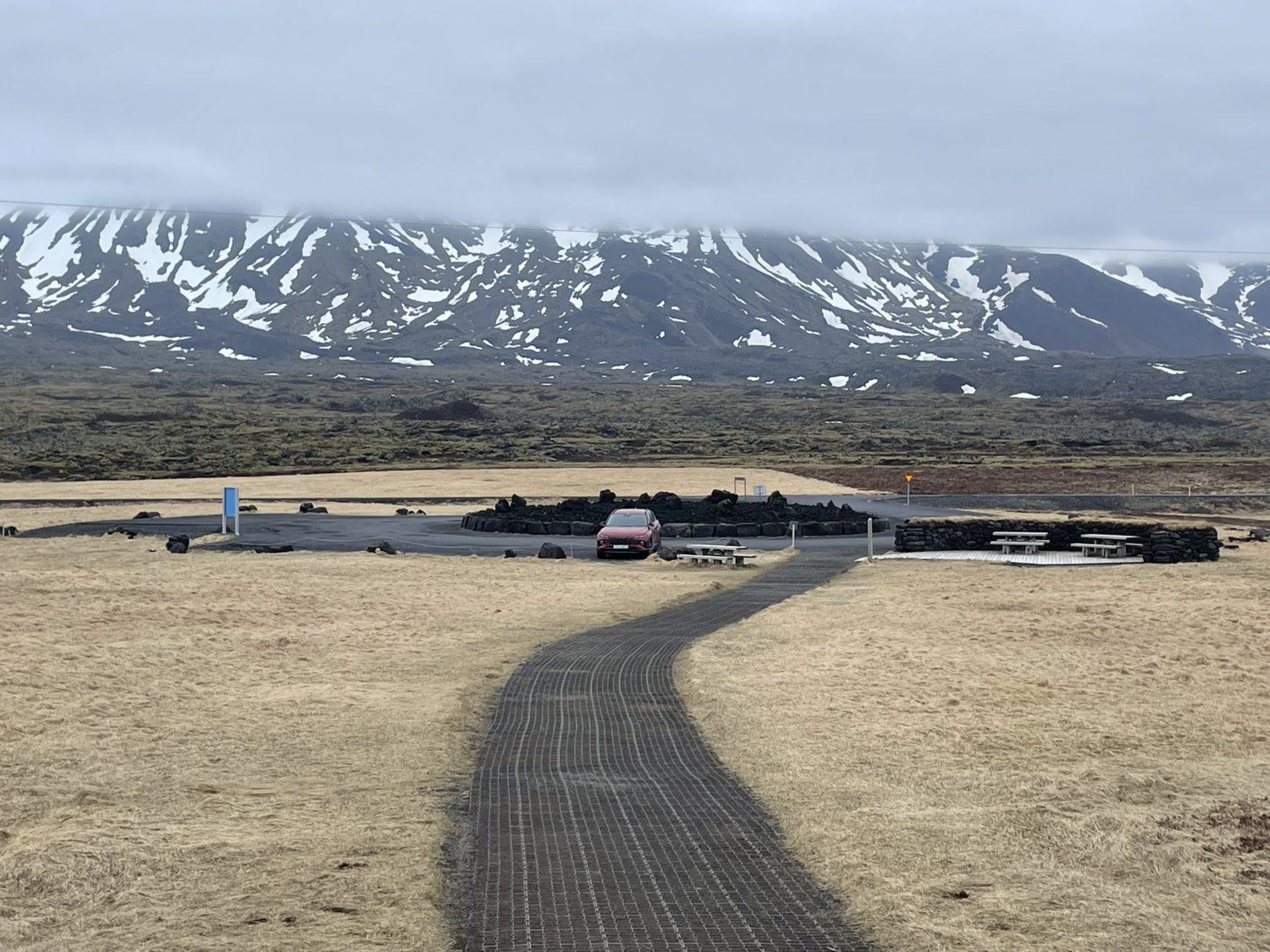 The sites on the Golden Circle route east of Reykjavik like Gulfoss and Thingvellir National Park were slightly more crowded, but at no point were the crowds even remotely a factor in our ability to see and photograph the sites. It was a massive change from my trip back in 2018.
We never waited in a single line, searched for a parking spot, or had photos crowded out by other travelers during our trip.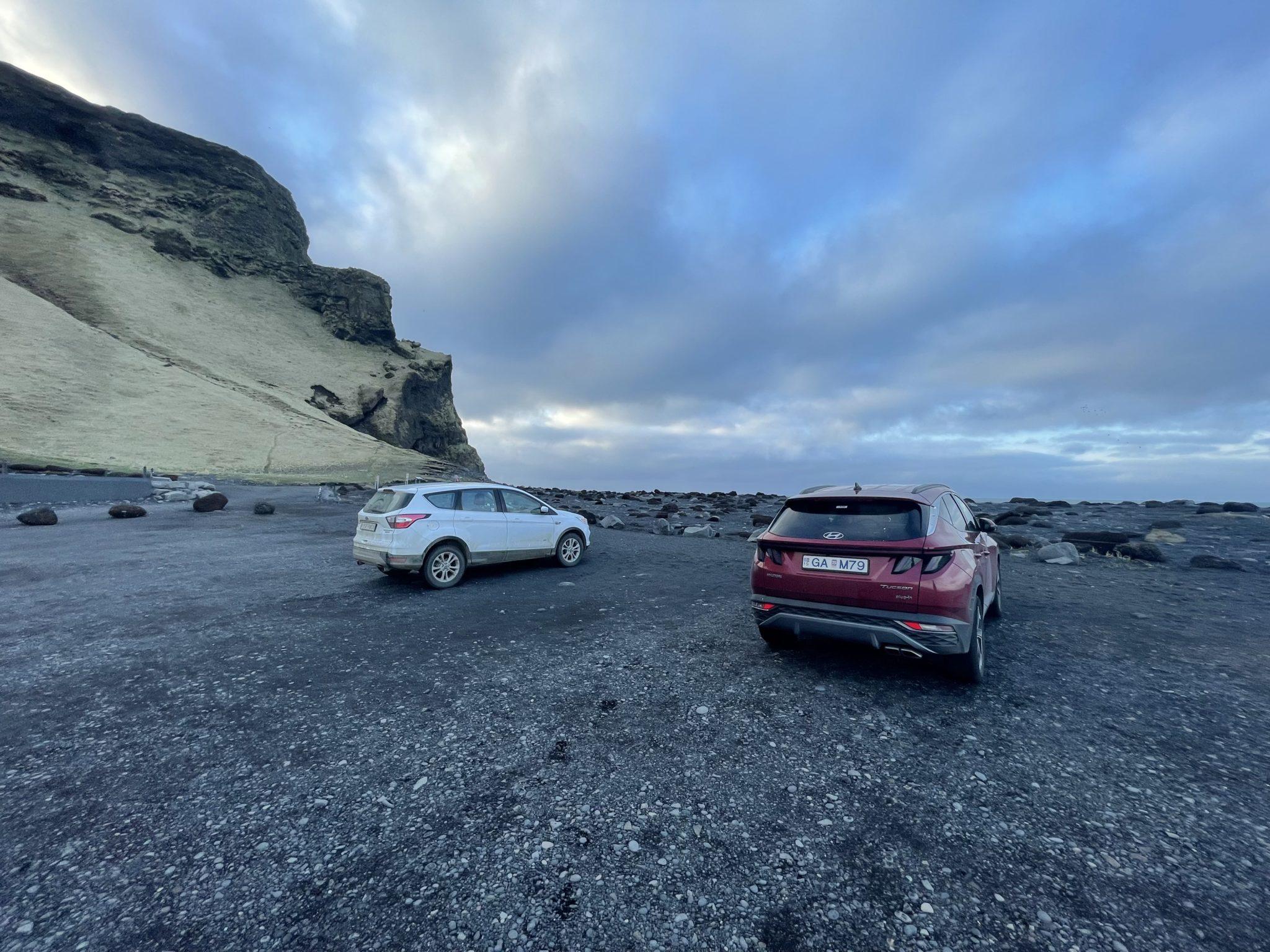 Timing is a factor here. April is a quieter month in Iceland ahead of the peak summer travel season. But there's also no question that the lingering pandemic is a factor, too. Some travelers are still staying closer to home, while others have more of Europe to pick from than they did just a few months ago as more countries open. Last year, our founder Jared visited Iceland and also found almost no crowding.
This year was more of the same, even without all of the COVID-19 restrictions of the height of the pandemic. Surely, return testing requirements at some major countries, including the United States, are keeping some travelers away from Iceland. Enjoy it while you can.
Cheap Flights to Get There!
Few crowds and even fewer COVID-19 restrictions could make Iceland an attractive spot to visit this summer. And luckily, cheap flights are as easy as ever to find, too!
Flight prices might be through the roof right now, but Iceland is bucking that trend with fares like this one.

So why are Iceland cheap flights so easy to find this year, even as airfare to other parts of Europe is getting pricey? One big factor is simple: competition.
Delta and United both offer nonstop service to Iceland, helping connect U.S. flyers to the island from all over the continent. But the likes of Icelandair and PLAY Airlines, two low-cost carriers, are the reason why flights are so cheap. PLAY is a newcomer with a familiar business model: Sell bare bones flights at a lower price across the pond.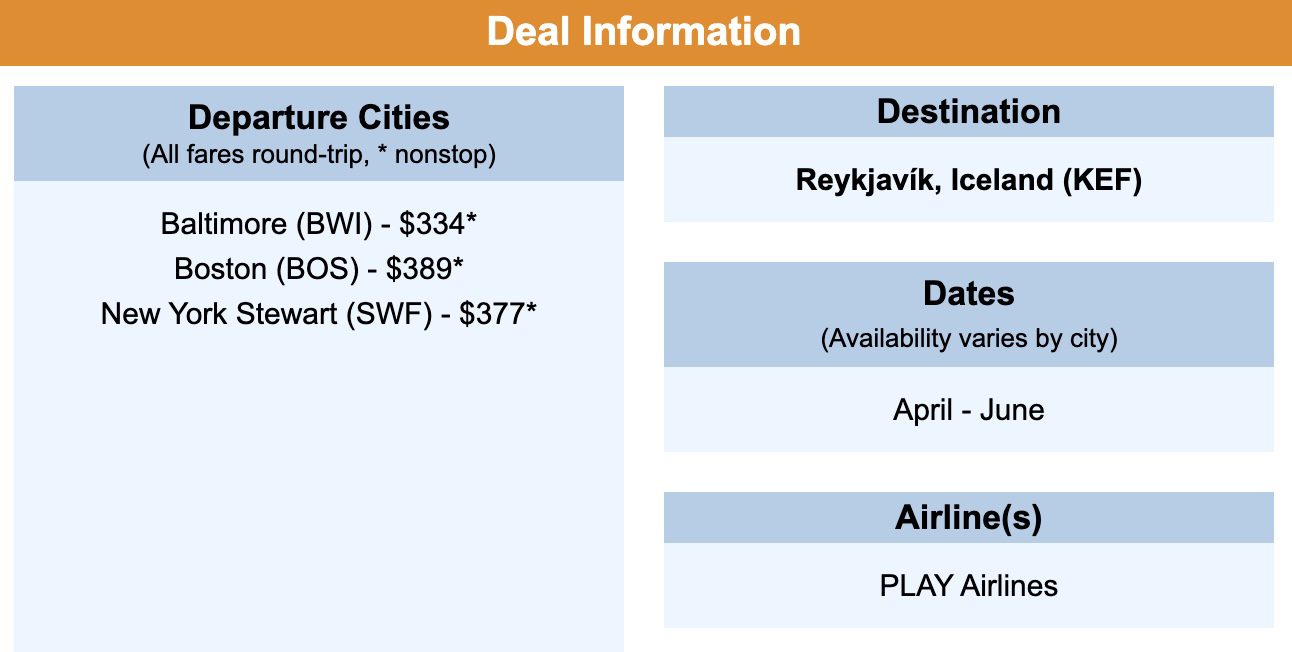 Read our review of flying PLAY Airlines!
Icelandair is another low-cost carrier that threads the needle between the full-service carriers like Delta and United while offering more than the likes of PLAY. Still, it offers some great one-way and roundtrip fares for cheap.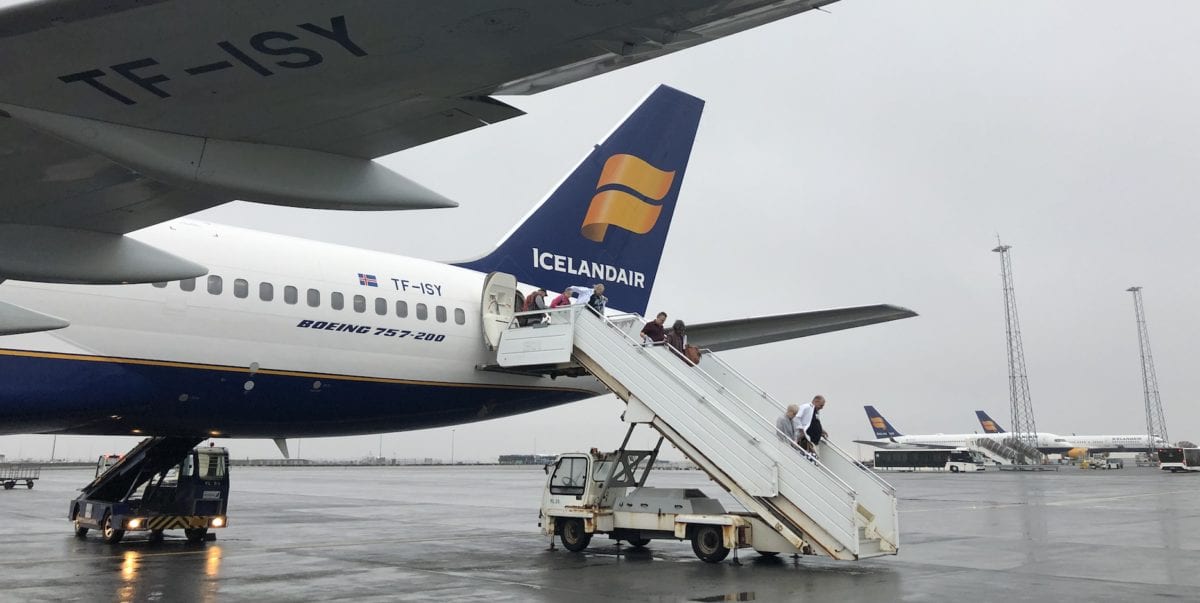 Even if you never want to fly PLAY or Icelandair, you should be happy they're around. That renewed competition is driving prices down this year … even for a peak summer trip. When the airlines compete for your business, you win with ultra-low fares like this one.


All that competition even led Delta to offer a big SkyMiles flash sale from Minneapolis-St. Paul (MSP) to Reykjavik during peak summer.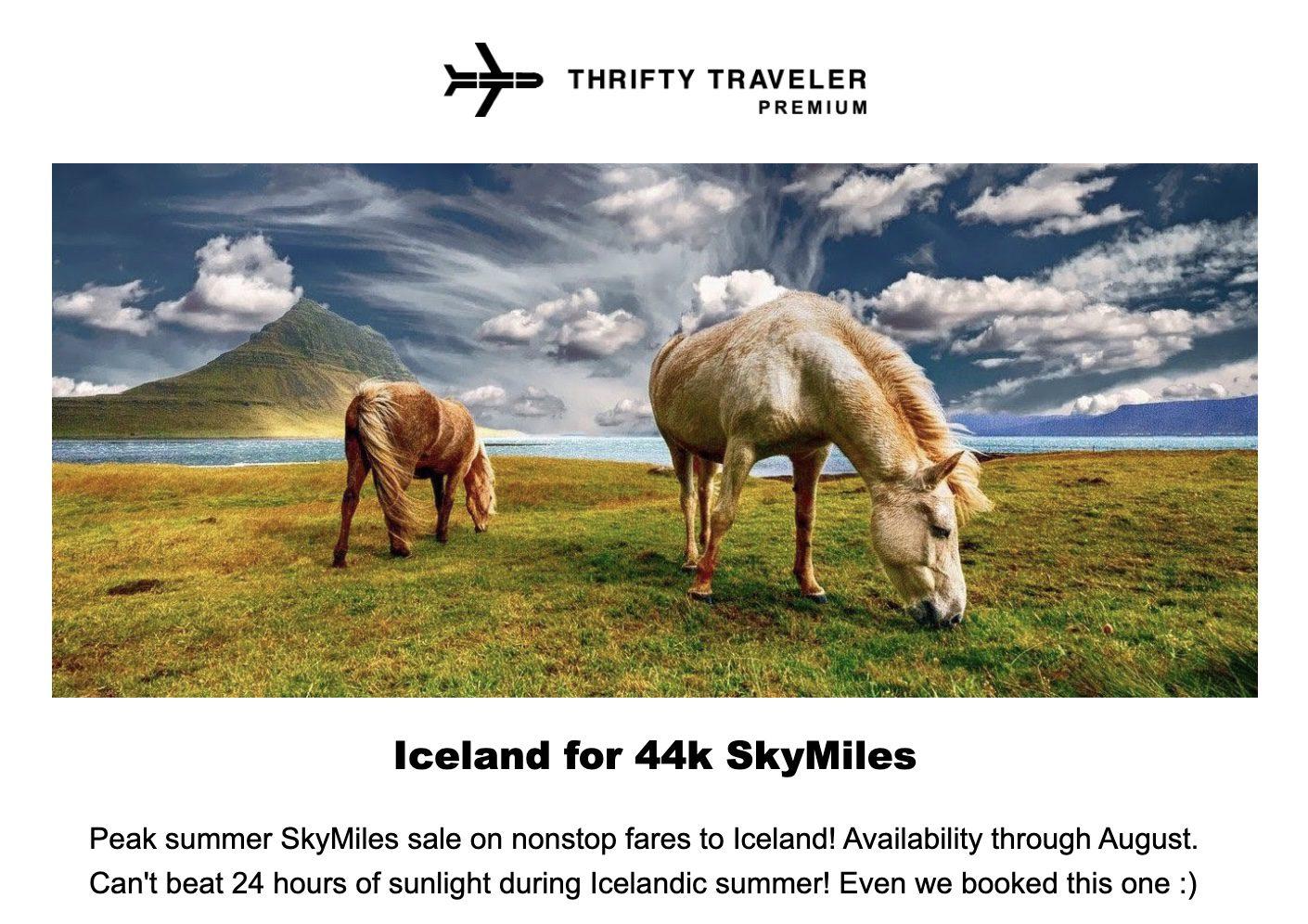 No matter how you hope to get there, there's likely a bargain out there for travelers with Icelandic dreams this summer.
FAQs About Traveling to Iceland
What time of the year should I travel to Iceland?
It depends on what you're interested in seeing and doing!
Icelandic winters are cold and dark almost all day, but you have a much better chance at seeing Northern Lights – plus, there are a ton of outdoor winter activities to do like snowmobile tours, winter treks, and more.
The summer brings 22-plus hours of sunlight and warmer weather in the 50s. The midnight sun in June is a unique experience.
The shoulder seasons of spring and fall also bring long, sunlit days to Iceland. However, spring and fall are generally less busy. So if you're looking to avoid crowds. Go then. My two visits were in April and October and both offered godd weather, long days, and great sightseeing.
What should I pack for Iceland?
No matter when you go, Iceland can get cold and wet, with unpredictable weather swings that can change hourly. You'll want lots of layers, a raincoat or waterproof jacket, and waterproof hiking shoes.
Skip the umbrella: It won't hold up with wind gusts of up to 50 miles per hour. The wind in Iceland is no joke! Even in peak summer, windbreakers are a must. Also, consider putting some croakies on your sunglasses and hold on to your hats. Winds on the coast of Iceland have been known to send sunglasses and hats into the sea in the blink of an eye.
What kind of food does Iceland have?
You'll find lots of seafood and lamb in Iceland.
Classic Icelandic dishes include langoustine soup, lamb soup, and fish served with a sauce and vegetables.
Iceland is also famous for its lamb hot dogs. You can find them everywhere at hotdog stands – and they're a great option, as they're a rare cheap item in notoriously expensive Iceland.
Are there options for vegetarians in Iceland
Most restaurants have at least a few vegetarian options. In Reykjavik, you'll even find some vegetarian-only restaurants.
Is Iceland expensive?
Absolutely.
Food and alcohol are almost always expensive in Iceland. Expect to pay about $10 or more for a beer and $30 or more for a main course. But there are ways to save.
Save on food and alcohol by shopping at the grocery store. Reykjavik even has a Costco between the city and the airport if you need to stock up. And watch for happy hour to grab much cheaper beers.
Read more: Our Top 10 Tips to Save Money Traveling in Iceland
Bottom Line
Iceland has always been a fantastic place to travel, but right now might be the best time ever.
Iceland is currently in a perfect storm of cheap airfare, zero COVID-19 restrictions, low crowds, and all of the beauty you've come to expect. It's the perfect place to visit in 2022.