The pull of Rome is hard to put into words. It's a city that's larger than life.
It's rightfully gained its spot on the top of many travelers' lists thanks to a rich history that has become part of the mainstream, from Caesar in history class or through the eyes of Shakespeare to popular culture in Roman Holiday or Gladiator. Add in its religious significance, and Rome has been a magnet for decades.
There are the famous sites like the Colosseum, sure. But there's also amazing food and wine, the occasional hidden gem, and history around every corner. And it's all packed into a city with so many people, it can feel like it's about to burst, but it's worth navigating the crowds.
Here are the top things to do in Rome and some tips on how to do it right.
When to Go to Rome
Rome is one of the most visited cities in Europe. It gets packed.
Want to avoid the worst of the crowds? Go during shoulder season, from September through November or late January to early March. That's when you'll find the least tourists. And that's easily worth the tradeoff for some slightly worse weather in Rome.
Avoid any major Christian holidays like Easter, when Vatican City becomes a pilgrimage spot for Catholics from around the world.
Do Your Research Before You Go to Rome
To skip out on the history of Rome is to miss the entire city.
You'll see remnants of Rome's deep history all around you throughout the city. Doing a little reading beforehand will help you appreciate it that much more.
Peruse a guidebook or two to get an overview of the city and a concise history lesson. You might just find a few sites to see in addition to the main sites like the Colosseum, Pantheon, and the Vatican.

Always "Skip the Line" for the Top Sites in Rome
You can make it better by timing your trip to Rome right. But no matter when you go, Rome is going to be busy with tourists. Skip-the-line tickets are always a must.
These tickets are just what they sound like: You go right to the head of the line, or more likely a separate faster line, instead of waiting to purchase a ticket. It's the key to seeing more of Rome rather than spending your time in lines.
Search on TripAdvisor for any sites you want to see and find skip-the-line tickets and tours. You can take tours of most sites in Rome like the Vatican and Colosseum with a guide that will bring you right in and walk you around the site. These tours range from $40 to $100, which isn't exactly thrifty. But the insider knowledge, in-depth history, and a quick pass through the line make the price of these tours easily worth it.

The Best Way to See Rome? Walk!
Rome is living history. Around every corner is a ruin, a statue, or a fountain that's hundreds to thousands of years old. And you'll miss it if you don't slow down to see it.
The best way to take in this city is on foot. Don't be tempted to hop in taxis or get on a bus tour. If you're able, explore by walking on your own or find a walking tour.
Eat the Famous Roman Cacio e Pepe
Italy brings thoughts of pizza, pasta, wine, and gelato. Each region of Italy and even each city has its own specialty food. And in Rome, it's pasta called cacio e pepe.
That translates to cheese and pepper. And it's just that: pasta with the local cheese, pecorino romano, and cracked pepper. It's one of the most simple pasta dishes. Done right – and trust me, it's done right in Rome – it's delicious and anything but simple.

Do as the Romans Do: Sit at a Café
Get an espresso or Aperol Spritz at a café in a Piazza (city square) and people watch. It's one of our favorite things to do in Venice, too. But this is the perfect way to step back from the crowds of tourists for a break.
Go off the Beaten Path
You have to visit all of the big tourist sites (and yes they are worth it!) but don't stop there. Rome is full of amazing historical sights and places with incredible stories. And you have to check out the view through this famous keyhole on the front door of the Order of the Knights of Malta on the Aventine Hill.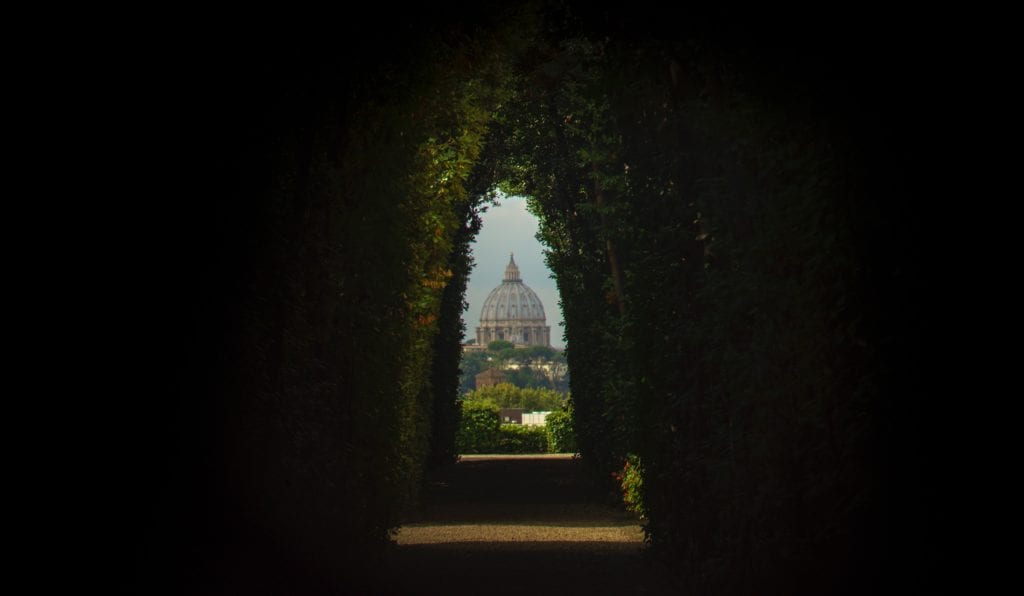 The view through the keyhole on the unassuming green door perfectly aligns with an arched garden and St. Peter's Basilica in Vatican City. Nobody knows for sure whether the view was planned or just a lucky coincidence, but either way, it's worth seeing. And as a bonus, it's free.
And while you are up on the Aventine Hill, visit the Giardino degli Aranci (Orange Gardens). It's a wonderful park with more amazing views high above Rome.
Bottom Line
Rome is an amazing city to explore with history everywhere you turn. Eat, drink, and go off the beaten path. Just make sure you do it on foot.