With wide-open spaces, lush greenery, and jaw-dropping scenery, Kauai was tailor-made for a socially distanced vacation in 2020. It's dubbed The Garden Island, after all.
Now that Hawaii is planning to lift quarantine requirements and reopen travel starting Aug. 1, a trip to Kauai may finally feel attainable.
We spent a recent trip crisscrossing the island, checking out all the best hikes and trails you can find.These seven trails were clearly the best we found – they're all easily accessible, under 3 miles roundtrip, and are rated easy or moderate. 
Read our full guide to exploring Kauai to plan the rest of your trip!
1. Kuilau Ridge
Best for: Lush greenery, view of ridges from the top
Hiking Level: Moderate
The Kuilau Ridge Trail is a 2-mile, out and back trail and easy for all levels of hikers. It's the perfect two-hour adventure. You can opt to go further and check out a nearby waterfall as well — about 3.6 miles roundtrip.
When heading to Kuilau Ridge hiking trail, you'll drive up a pretty steep incline. It isn't super long or steep because you're already so elevated when you get to the trailhead.
Wear clothes you don't mind getting muddy and some waterproof hiking boots, as this trail is often very muddy. Kauai is so lush because it rains so often there, and we hiked Kuilau Ridge the morning after a decent rain, so we were pretty muddy from the knees down.

The trees and plants on the Kuilau Ridge Trail are absolutely stunning. Enormous trees surround this thin trail along the ridge and provide for some really awesome views the whole way. Kuilau Ridge is a classic Hawaii hike that has you feeling like you're in Jurassic Park.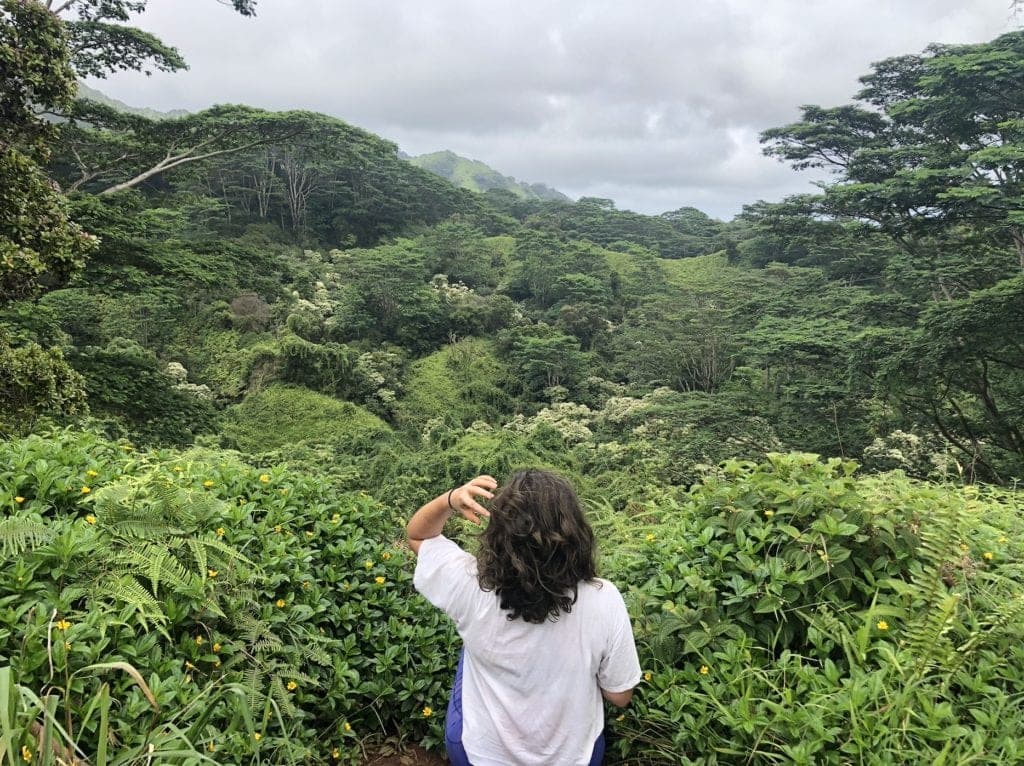 Towards the end of the hike, you'll reach this particular ridge with a jaw-dropping view of the ridges and valleys. Check out those ferns blanketing the landscape! It's even more stunning in person.

At the end of the trail, you'll come to a large open space, with a small shelter and some tables. This is the end of the trail if you're ready to turn back around. But if you're feeling daring, venture out onto the ridge at the end of this trail. It's a narrow path and can be dangerous when muddy, but it's worth it to walk out a bit for a sweet photo op.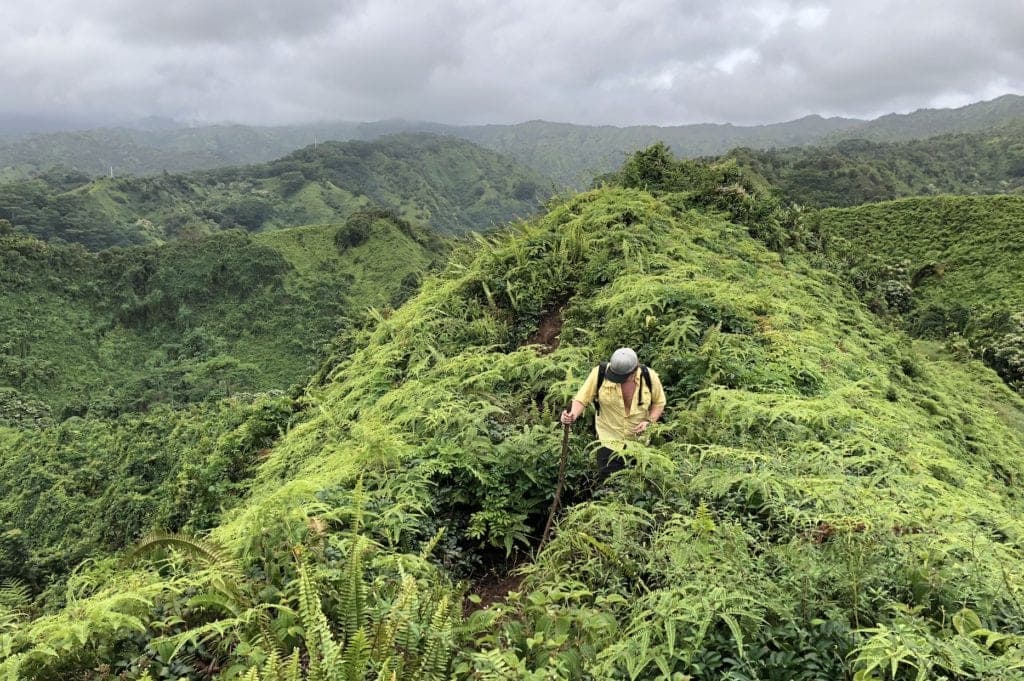 Kuilau Ridge was one of my favorite hikes on Kauai. It was so peaceful and quiet, and we had the trails to ourselves most of the time. We had overcast weather the day we hiked, but Kuilau Ridge was an easy, mostly flat trail with an amazing view of the lush greenery and ridges.
Thrifty Tip: Interested in camping in nature while visiting Kauai? Check out our guide to camping on Kauai.
2. Maha'ulepu Beach
Best for: Beach, cliff trails, and ocean views
Hiking level: Easy
Maha'ulepu is actually more of a coastal walk than a hike, but with these views of the coast, that doesn't matter.
You can park in the Maha'ulepu Trail parking or along the road near the Grand Hyatt Kauai entrance. The trail starts at Shipwreck's Beach near the Grand Hyatt Kauai and winds east along the coast.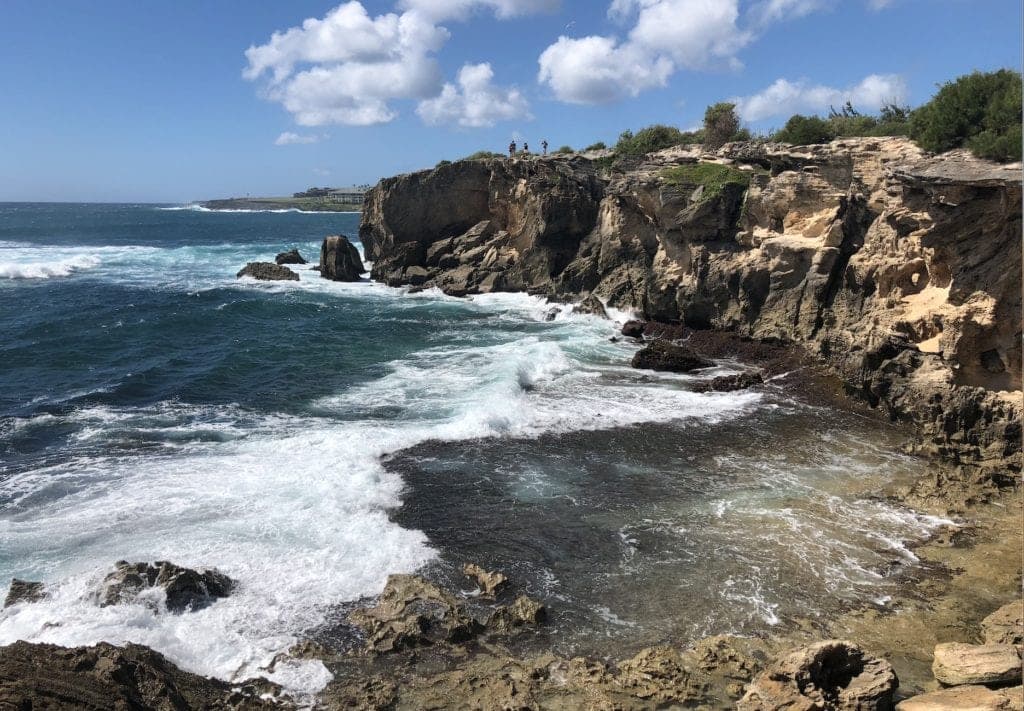 It's a little under 2 miles each way, but you can turn around at each point unless you're trying to reach the Makauwahi Caves. We didn't hike all the way to the caves but have heard it is lush with plants and fossils inside.

We simply walked along the coastline trail and enjoyed the scenery. We even climbed down the rocks to a few swimming holes and crevices. This is a beautiful and overall flat hike that is an easy hike for any level.
Thrifty Tip: Need some fuel after the Maha'ulepu trail? Head to Da Crack! This was by far one of my favorite food stops in all of Kauai!
3. Waimea Canyon Trails
Best for: Exploring, unique views
Hiking Level: Easy
This isn't necessarily one hike, but if you're looking for the best views of Kauai, take a day trip drive through Waimea Canyon State Park, and the other forest parks and reserves on the northwest side of the island.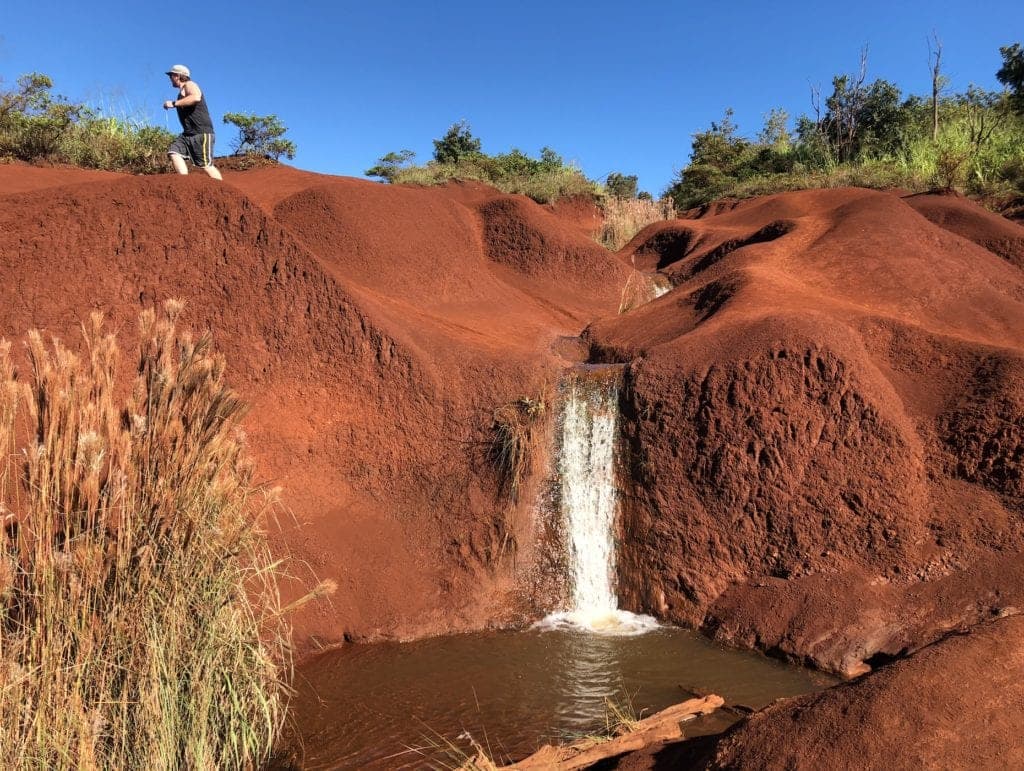 As you drive the one road up into the State Park, be sure to pull over and park on the side of the road at any and every opportunity. There are so many awesome views you can catch along this road of Waimea Canyon. Be sure to stop at the Waimea Canyon Trailhead for the best lookout viewpoint.

But don't stop there! I highly recommend driving the full road through the parks and checking out other views. You'll see tons of spots to park and hike along this road. Be sure you plan which hikes you want to do ahead of time, or at least Google the length and difficulty level before you commit.
We made that mistake with Awa'awapuhi Trail. We made it an hour or so into this grueling hike and realized the amazing ridge views would take us several more hours to reach.

Rent a car (or drive your camper van like we did!) up through this beautiful portion of Kauai. There's more than enough to see here in one day. You can even camp up in the parks. Just beware, it can get chilly at night.
4. Kalalau Lookout and Kalepa Ridge Trail
Best for: Views of the Napali Coast
Hiking Level: Moderate
If you're looking for unbeatable views of the Napali Coast and Kalepa Ridge without paying the steep price for a catamaran cruise or helicopter ride, head to the Kalalau Lookout.
This lookout is near the very end of the roads through the national park, making this stop a great end to your day trip through Waimea and the Napali National Park.
Park at the Kalalau trail parking lot, and take in the views from the lookout area. Then, follow the path that starts from the lookout area down the Kalepa Ridge Trail. You'll likely see others heading down the trail, so it shouldn't be difficult to find.

The Kalepa Ridge trail has a pretty steep decline since it starts from the very high point of the lookout. The trail is skinny and we moved through it a bit slow at times, as there were many people passing us and sharing the trail.
We didn't hike too far down this trail, though you can go about a mile out. But we didn't need to go far to get this stunning view of Kalalau Valley and even down into Cathedrals, the most well-known section of the Napali coastline. If this is the end of your day driving through the parks, I'd recommend waiting for a sunset view on this trail.
5. Koke'e State Park Canyon Trail to Waipo'o Falls
Best for: Canyon views, waterfall
Hiking Level: Moderate
If you're looking for another gorgeous hike on your drive through Waimea and the state parks and forest reserves of western Kauai, look no further than Koke'e Canyon Trail. We saw tons of hikers pulling over and heading out on this hike during our drive through Waimea, and decided to do the same. We were so glad that we did!

This relatively moderate 3-mile hike leads you to this viewpoint over the canyons and scenery beyond. The view is absolutely incredible. Follow the path down to the top of the waterfall here to take a dip or just enjoy the view.

If you've got a 4-wheel drive vehicle, you can actually drive about a mile of the first part of the hike. I recommend it if you've got a heavy-duty vehicle and want to save the time: the best hiking and views are at the end.
We spent just under a week in Kauai, and that wasn't close to enough to hit all the trails we time there. Thanks to some heavy rain, our plan was cut even shorter. But here are some other Kauai hikes you shouldn't miss.
6. Sleeping Giant
Best for: shorter hike, near Lihu'e
Hiking Level: Moderate
The Nounou Mountain Trail is one of the most popular hikes on Kauai!
If you're a Moana fan, you'll be a fan of the views on Sleeping Giant trail: The ridge formation resembles a human body lying flat on its back. Legend has it a giant overate at a feast during a celebration in his honor, fell fast asleep and never woke.
We had crazy rainy conditions on the day we had planned to hike Sleeping Giant so didn't make it far on the trail. According to Journey Era, Sleeping Giant Trail takes you through pine forests to a plateau at the summit. This nearly 2-mile hike can take up to three hours, but it's close to Kauai's airport (LIH) if you are looking for a relatively easy hike after landing on the island.
7. Ho'opi'i Falls
Best for: waterfall views, swimming
Hiking Level: Moderate
Looking for some waterfall hikes on Kauai? Check out Ho'opi'i Falls. Ho'opi'i Falls has two waterfalls along the hike, the second of which is the Amber Mine scene from Jurassic Park. This hike is moderately challenging and is roughly two miles out-and-back. If you're feeling brave, jump into the pools!
Bottom Line
If you're headed to Kauai, hiking some of the amazing trails needs to be on your to-do list.
These easy to moderate trails make for a perfect afternoon soaking in the incredible views across Kauai. You can find all these trails (and other recommendations!) on the Google My Maps I've made for Kauai recommendations.
And above all, enjoy your trip to the Garden Island!