Oahu is mainly known for Honolulu and the packed Waikiki beach. Many people use Oahu as just a stopover but the island has so much to offer every traveler and you should consider making it apart of your Hawaii vacation.
Oahu has beautiful beaches, nature preserves, great hiking, plus tons of great restaurants and drink spots, and a ton of history. Here's why you shouldn't miss this island.
Thrifty Tip: Want to save hundreds on a flight to Honolulu? Sign up for Thrifty Traveler Premium.
Where to Stay in Oahu
If you want to be right near all of the action, restaurants, bars, and easy walking distance to Waikiki Beach then Honolulu is going to be your spot. But the island has a lot to offer. If you want to stay away from crowds and the city check out the North Shore of Oahu, where it's much quieter and closer to the national parks.
Hotels can get really expensive on Oahu even during the off-season. A limit has been put on how many short term vacation rentals are allowed to operate in Oahu but it's still worth trying to find a cheaper Airbnb.
Getting Around Oahu
If you're planning on staying in Honolulu, it is probably not worth it to get a car rental. Parking is limited and there are few cheap parking options (average daily parking costs are $30). Uber and Lyft are readily available or consider taking the bus. You can take the bus from the Honolulu Airport to a hotel near Waikiki Beach for less than $3 a person. An Uber or Lyft from the airport will cost around $25-$35.
Another fun way to see some of what Oahu has to offer is by the Waikiki Trolley. You can buy one way, one day or multi-day passes that can take you to various sites including Pearl Harbor, Diamond Head, Ala Moana Center, Hanauma Bay & Waikiki Beach. This is a great option for getting around on a budget.
If you are staying outside of Honolulu you will want to have a rental car to get around the island.
Read More: 11 Tips to Book the Cheapest Rental Car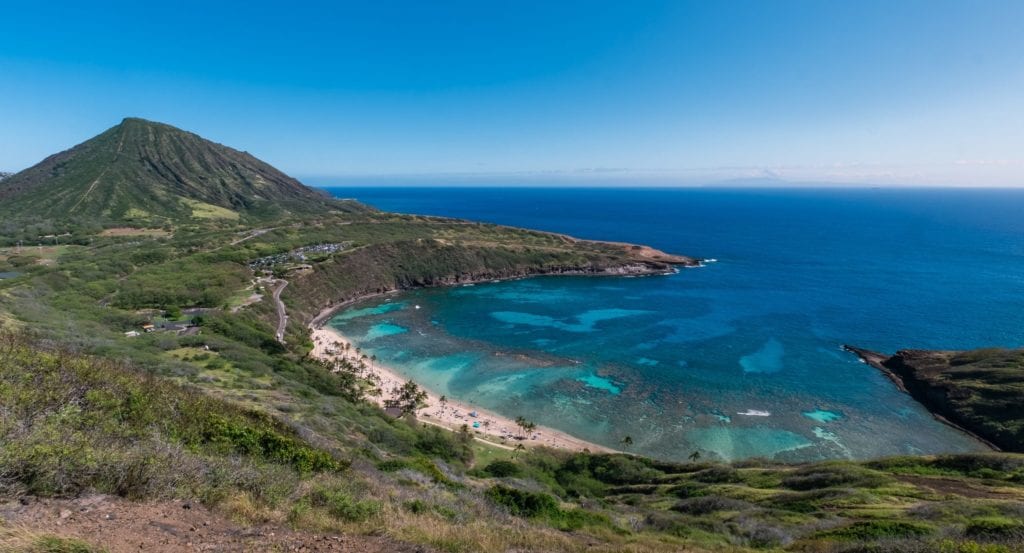 Top Things To Do in Oahu
Hanauma Bay Nature Preserve
Hanauma Bay is a protected marine life conservation area with a beautiful beach. It is considered to be one of the top snorkeling destinations in Hawaii. The bay has over 400 species of fish and it is known for Green Sea Turtles who breed in the area.
The nature preserve is usually open from 6 am until 7 pm. It does cost $7.50 per person, free for children under the age of 12. Plus $1 for parking.
Note: Hanauma Bay currently remains closed due to COVID-19, so make sure to check the City of Honolulu website for opening updates. 
You'll want to head to the Bay early in the morning because parking and beach spots fill up fast. Make sure to pack water, snacks, food or other beverages with you as it can get pricey to purchase these items at Hanauma Bay.
Snorkeling is a must-do at Hanauma Bay. Also, There are snorkel rental options available on-site and it costs about $20 per person. But, if you plan on snorkeling multiple times throughout the trip, it may be worth it to purchase gear and bring it with you.
Diamond Head
What is known as Hawaii's most recognized landmark, Diamond Head is a top hiking attraction on the island of Oahu. Diamond Head is a volcanic peak overlooking Waikiki Beach and the surrounding areas.
This 1.5 to 2-hour hike is on a paved trail, but the last tenth of a mile is all stairs and may be too steep for some. Do not forget to bring water, sunglasses, wear a hat and apply sunscreen prior to the hike.
Thrifty Tip: There's usually a food truck with smoothies in the parking lot of the trail. Treat yourself to a delicious Pineapple smoothie after your hike.
Waikiki Beach
The two-mile shoreline of Waikiki Beach is easily accessible and provides direct access to many hotels, bars, restaurants, and excursions. There is no cost to visit the beach so bring your beach towels, wakeboards, sand shovels, and get ready for some fun in the sun.
Head to the Royal Hawaiian for their famous Mai Tai cocktail at the beach bar. You can't miss the hotel, it was built in 1927 and it's bright pink.
Pearl Harbor
If you're a history buff, and even if you're not, Pearl Harbor is a must. There are a few different sites and museums that you can see including the USS Arizona Memorial, the Battleship Missouri Memorial, the USS Bowfin Submarine Museum, and the Pearl Harbor Aviation Museum. It's important to note that you can buy separate tickets for these sites. If you buy tickets or book a tour that includes all of the prices can be close $200 a person. So it is important to do your research and decide what you really want to visit. The Pearl Harbor Historic Sites is a good place to start.
We purchased tickets for the Pearl Harbor Visitor Center and the USS Arizona Memorial site with headsets and it was only around $25 per person. The USS Arizona Memorial is built on the water right over the site where the ship was sunk. It's a moving and powerful place to visit.
Don't Miss Happy Hour
Hawaii is expensive which means food and drinks tend to be pretty pricey. The best way to save is to go to happy hours. Almost every restaurant has a happy hour in the early afternoon with a discounted food and drink menu that can save you a ton of money.
It might be hard to peel yourself out of a beach chair but you'll realize after a few days that the savings are worth it.
If you want an authentic, old-school tiki-bar feel head to La Mariana Sailing Club. It's 20 minutes from Waikiki beach which means the drinks and food are a little bit cheaper. The atmosphere and change of scenery are worth a visit.
Bottom Line
Oahu has a ton to offer every traveler, so don't just fly over.