In the world of travel credit cards, cards with big annual fees come with big perks. And no perks are bigger, better, or more important to help you come out ahead than the Amex statement credits on cards like The Platinum Card® from American Express or the American Express® Gold Card.
There are statement credits for airline fees, hotels, shopping, and more on these top Amex cards that can help offset the cost of the annual fees of up to almost $700 each year. It's a big part of the reason why we urge readers not to write off credit cards just because of the annual fees. Do it right, and you can come out way ahead – yes, even when travel isn't quite back to normal.
But time is ticking. These credits reset with the New Year, which means you'll soon lose anything you haven't used when the clock strikes midnight. Make sure you use up all your 2021 credits before the year is up! Here's how.

Up to $200 in Airline Credits
With between $100 and $200 in airline fee credits each year, these credits on the American Express Gold and Platinum cards, respectively, can go a long way. And that's particularly important this year with the Gold Card: Its $100 airline credit will disappear in 2022, so this is your last chance. 
But it's not exactly as simple as just buying flights or an upgrade. Unlike the $300 annual travel credit on the Chase Sapphire Reserve® card, there are some major strings attached to these credits that can make them harder (but far from impossible) to use.
They're "airline incidental fee credits." That means up to $200 in fees at one qualifying airline for things like checked baggage, guest access at a lounge and others will be reimbursed – but keep reading for some other ideas to put these to use. You have to pick one U.S. airline to use them at by logging into your American Express account and navigating to your Benefits, though you might be able to switch mid-year by calling or messaging Amex. 

Unfortunately, a longstanding workaround to buy gift cards from certain airlines no longer works. But here are a few ideas on how best to put them to use:
Got eCredits with Delta after canceling flights this year? Use them to rebook travel for 2021, then put the remaining balance on your Amex Platinum or Gold Card. So long as you charge less than $250 to your card and have selected Delta as your preferred airline, it should trigger the credit!
Pick Southwest as your preferred airline for these credits and book a cheap flight – flights under $99 typically trigger it, in our experience.
Select United Airlines instead, then load up your United TravelBank account using your Amex card – allowing you to use the airline credit to book tickets with United.
Book an award ticket and charge the taxes and fees to your Gold or Platinum card!
Read our full guide on the best ways to use these airline credits to get the most out of them.
Like most of these Amex statement credits, this is a "use it or lose it" perk. If you don't use up every dollar, it won't roll over into 2022. Luckily, American Express makes it easy to track whether you've used up your airline credits – just log into your account check your benefits tab.
$200 Towards Hotels
Platinum cardholders were dealt a blow this year when Amex raised the annual fee to a whopping $695 a year (see rates & fees)., using questionable new benefits like credits for entertainment services and Equinox gym memberships to justify that hike. But one new credit shines.
Every year, Platinum cardholders get a $200 credit to use toward prepaid stays at Fine Hotels and Resorts and Hotel Collection Properties through Amextravel.com. All you need to do is log in at Amextravel.com, search for a property, pay with your Platinum Card, and that $200 credit will kick in automatically.
This credit resets each calendar year – not based upon when your card renews. That means you've got through the end of the year to book a prepaid hotel stay and put this credit to use. Keep in mind that means you could use your 2021 credit for a stay far into 2022 so long as you book before Dec. 31.
One tip: Focus on Fine Hotels and Resorts (FHR) to get the most bang for your buck. This is Amex's collection of luxury properties across the world that also comes with a handful of special perks like free room upgrades when available, free daily breakfast for two, an experience credit of $100 or more for dining or spa services, noon check-in when available, and guaranteed 4 p.m. checkout.
Plus, Hotel Collection properties require a two-night stay to trigger the credit. With FHR, a one-night stay will do.
A One-Time $200 Travel Credit
Back when the pandemic first hit, Amex needed to get creative to keep cardmembers from fleeing. Some (but not all) cardmembers were targeted for a separate $200 travel credit to use toward any flight, hotel, or rental car purchase.
But like the other credits listed above, this credit expires Dec. 31. That means you've got just a few weeks left to use it before it disappears – likely for good.
Just charge book travel through Amextravel.com and charge it to your card before year's end and it should trigger this new credit.
It's unclear why some cardholders make the cut and others don't, but American Express has made clear that only "select" cardholders will get the credit. If you're one of the lucky ones, you should see it under your benefits tab or when you log in through Amextravel.com.
Uber Credits on Both Cards
The American Express Platinum card might put some tighter strings on travel credits, but they make up for it with another $200 reserved for trips with Uber. And starting in 2021, Amex Gold cardholders get some Uber love, too.
This one's a bit easier to spend by year's end, as it's not given in a $200 lump sum. Instead, you get $15 in free Uber rides or Uber Eats orders each and every month – except one. December is the biggest month yet, as it bumps up to $35 in Uber credits for the final month of the year.
The Amex Gold, meanwhile, gets up to $120 annually in Uber credits doled out in $10 monthly.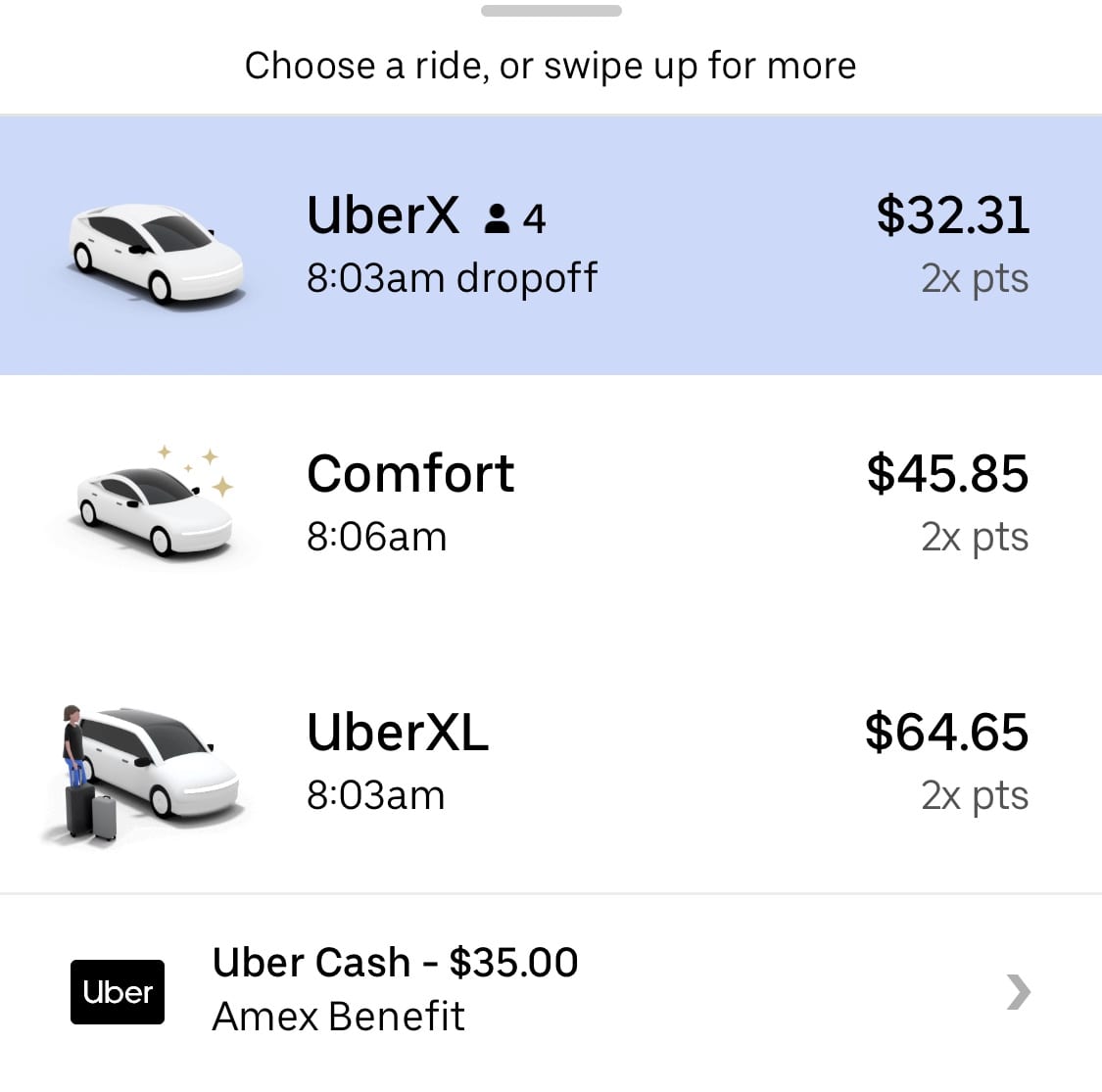 Make sure you've added your American Express Platinum or Gold card to your Uber account, as that's the key to unlocking the monthly credit. It will apply automatically to your ride no matter whether you "pay" with your Amex card. And American Express has recently made it easier to apply these credits.
If an Uber ride isn't in your future, splurge with Uber Eats instead. 
Get Takeout or Delivery with the Amex Gold Card
While the Gold Card doesn't currently have Uber credits you need to use, it does carry a $120 annual dining credit, or up to $10 a month. Why not use it for takeout or delivery to close out the year?
The card's dining credit works at Grubhub, Seamless, The Cheesecake Factory, Boxed.com, Ruth's Chris Steakhouse, or Shake Shack. Just place a Grubhub order or get takeout from another spot on the list to use it up before the year ends – your last $10 won't roll over into 2021.
$50 Off Saks Fifth Avenue
American Express added this quirky benefit way in 2018, offering $100 in statement credits on Saks Fifth Avenue purchases. These credits are split into $50 installments: one available from January through June, and the second from July through December.
So make sure you find something to buy at Saks before the year is up and your $50 credit for the second half of 2018 expires. But before you do, register for the benefit using this link. Then use the card to check out online or in-person and American Express will reimburse up to $50.
Saks isn't exactly a cheap store, but there are plenty of great items you can buy without breaking the bank.
Thrifty Tip: Sign up for a Rakuten account and use this incredible online shopping portal to get an extra cashback bonus on your Saks purchase – plus earn an easy $40 bonus for your first purchase of $40 or more.
Cover Some Entertainment Services with the Platinum
Way back in the thick of the pandemic, Amex was incredibly generous with monthly credits for almost any streaming service on the planet. The company has made that type of credit a permanent perk … but it's gotten much stingier.
This new credit of up to $20 can currently be used in just four places: Audible, The New York Times, Peacock, and SiriusXM. 
That's far more restrictive, so this one has limited value. But if you're already using one of these platforms or plan to, it adds up to another $240 over the course of the year. Why not use the last $20 monthly credit before the year is up?
Beware: You can't just go charge a subscription to one of these services. Log into your account first, navigate to your benefits tab, and enroll first before plowing ahead.
Global Entry or TSA PreCheck
Don't worry – you're not in a time crunch to get signed up for these two trusted traveler programs. But you may want to sign up soon.
Among these top Amex cards, Only the American Express Platinum card offers up to a $100 credit to sign up for TSA PreCheck or Global Entry. They're part of a growing number of credit cards that will cover the application cost for these time-saving programs.
On one hand, you've got time to sign up. The card offers this benefit once every four years, so you can sign up when you're ready. Just use the card for the application fee and you'll be automatically reimbursed. Membership in either program will last you five years.
But if you're considering Global Entry, it may make sense to sign up sooner rather than later. The cost of the popular international travel program is expected to increase in the near future.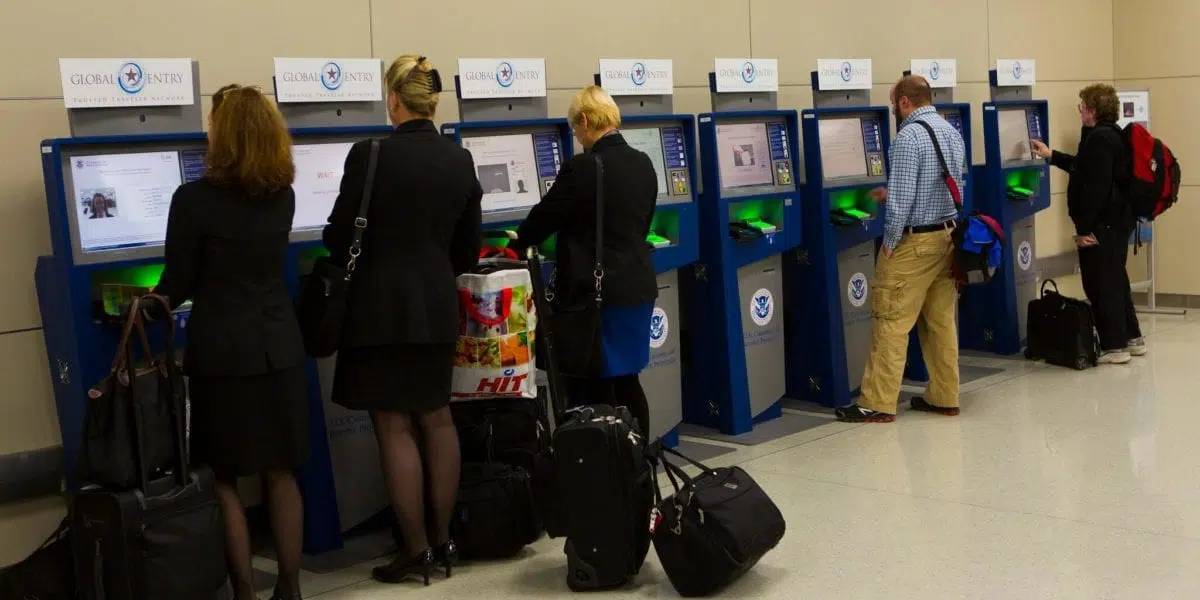 Torn between TSA PreCheck or Global Entry? We recommend Global Entry, as it's a twofer: Global Entry comes with PreCheck, too. So you'll get through TSA security checkpoints faster, and also clear immigration when returning to the U.S. from international travels.
If you've already got one of these programs under your belt, you can cover a friend or family member's application with your credit. Just use the card to pay for the application as you would when applying yourself.
$200 in Dell Credits on the Amex Platinum Business Card
If you've got a small business, The Business Platinum Card® from American Express is worth a look. And it got even more valuable, as the usual $200 annual credit for purchases at Dell.com is doubling to up to $400 for the year as the annual fee is set to increase from its current $595 to $695 a year for applications received Jan. 13, 2022 and onward (see rates & fees).
Similar to how the Saks credit works on the Personal Platinum Card, it's split into two installments. You got a $200 credit available from Jan. 1 through June 30, and another $200 available July 1 through Dec. 31. You will lose any remaining balance you have after the expiration date, so be sure to use them up.

You might be surprised at how many products are available on Dell's website – it's far from just computers. Think Bose headphones, Google Home & Nest products, and much more. Make sure to stack any purchase you make with a shopping portal like Rakuten.
Bottom Line
Airline credits, free Uber rides (or Uber Eats orders), discounted hotel stays, and other credits help take the sting out of otherwise big annual fees on premium cards like the Platinum Card or Gold Card. But that's not true if you don't use them up before the year ends, so act fast.