Over the past few years, few credit cards have caught our attention more than the Hilton Honors American Express Aspire Card. And yes, that's even true if you aren't a Hilton hotel fanatic.
While the card's annual fee of $450 may intimidate some, it offers some incomparable benefits that offer far more value than that fee. That's why we always encourage readers to do the math when it comes to annual fees, rather than simply rule out big-fee cards. Travel enough and use the benefits wisely, and they can end up saving you a ton of money in the long run.
That's definitely the case with the Hilton Honors Aspire card: From instant top-tier status to money-saving credits that easily outweigh the annual fee, few credit cards give you so much upfront value.
Let's break down all its lucrative benefits and why it should be on your radar.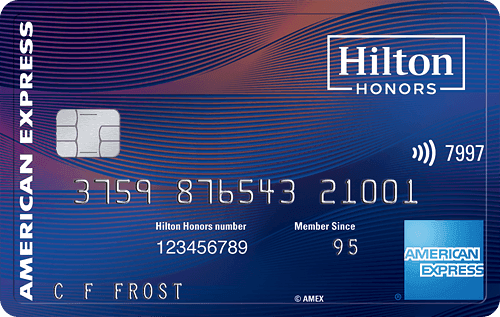 Apply Here for the Hilton Honors Aspire Card (for full disclosure, this is our personal referral link)
Big Welcome Offer Bonus
The Hilton Aspire Card is currently offering a welcome bonus of 150,000 Hilton Honors points after spending $4,000 in the first three months of card membership. And that's the best it gets with this card: We've never seen a bigger welcome offer on the Aspire Card.
Exactly how much those points are worth depends on how you travel. In our experience, you should be able to redeem them for around 0.6 cents to 0.8 cents apiece, meaning the bonus alone is worth $900 to $1,200. But you could potentially get even more bang for your buck.
That's because Hilton Honors points can sometimes be stronger when the cash prices are at their highest. That was my experience a few years back when I redeemed 50,000 Hilton Honors points per night to attend the Masters Golf Tournament. Cash prices for a room at our hotel were $800 a night, which I was certainly not willing to pay.
Getting this much value out of your Hilton points is not a slam dunk, as Hilton's points rates often track closely with cash prices. But it is still possible to get outsized value from these points at the right properties.
Instant Hilton Honors Diamond Status
Just for holding the Hilton Honors Aspire card, you unlock their top-tier Diamond elite status.
That alone stands out: No other credit card in the marketplace offers you the ability to earn top-tier status just by holding a credit card. Without the Hilton Aspire Card, you have to stay at Hilton properties 60 nights (or 30 stays) in a calendar year to earn Diamond status.
And that's a big deal because of the great benefits Diamond members get:
Complimentary breakfast or food and beverage credits for two can save you hundreds of dollars during a stay. Hilton has swapped in a broader (but less-lucrative) food and beverage credit at U.S. properties for elite members, while complimentary breakfast is still available abroad.
Complimentary Upgrades to preferred rooms (when space is available, which can be hit or miss)
Executive Lounge Access for complimentary drinks, snacks and hors d'oeuvres. This experience will vary from Hilton property to property.
Complimentary premium internet access
Late check-out
100% bonus on base points earned: Just for having Diamond status, you automatically receive a 100% bonus on all the Hilton Honors base points you earn during a stay.
48-hour room guarantee: As a diamond member, you are guaranteed a room when you make a reservation at least 48 hours prior to arrival.
Fifth night free on award stays: This benefit is available for Silver, Gold, & Diamond elite members but it allows you to get a free fifth night when you book a stay using Hilton Honors points.
You can read more about Hilton's top tier Diamond elite status at their terms & conditions page.
An Annual $250 Hilton Resort Statement Credit
Each year you hold the Hilton Honors Aspire card, you will receive a $250 Hilton resort statement credit.
This credit alone eats up more than half of the card's annual fee, and it's incredibly easy to use. It works at hundreds of participating Hilton properties around the globe – and not just spots with the word "resort" in them but Waldorf Astoria locations in Las Vegas and Dubai, Conrad locations in Mexico and the Caribbean, and some everyday Hilton's across the U.S. and around the world. Check out the full list at Hilton.
Just charge your dinner, activities, or trip to the spa to your room, pay with your Aspire card at checkout, and voila – the credit kicks in. Even some room rates will qualify for this resort credit so long as you don't prepay.
This benefit is based on your cardmember year – not the calendar year. So if you opened the card in June, you would receive a new $250 resort credit each year after paying your annual fee in June.
$250 Airline Incidental Fee Statement Credit
Like other top Amex credit cards such as The Platinum Card® from American Express, the Hilton Aspire Card can help you save on airline fees. But the annual airline fee credit you get on this card is bigger than the rest.
Each calendar year, you get a $250 airline fee credit with the Aspire Card. Pick one airline each year, then use the card to cover incidental fees like checked bags, seat assignments, change fees, or even lounge access.
Sadly, it has gotten a bit harder to maximize these credits. For years, you were able to buy airline gift cards and trigger the credit. But that has stopped working for both Southwest and Delta gift cards, the last two airlines for which this loophole functioned. But don't despair: There are still ways to put your Amex airline credits toward airfare…
Read our full guide on how to maximize your Amex Airline Credits!
And that means you shouldn't have a hard time squeezing $250 in value out of this benefit. Combine it with the $250 resort credit, and you've got an easy path to coming out ahead on that $450 annual fee.
A Free Weekend Night Certificate
Many hotel credit cards come with annual free night certificates. But even on those top-tier cards, you typically don't get that certificate until you renew for a second full year of the card.
That's not the case with the Hilton Aspire Card. After opening your new card account – and each year you renew – you'll receive a free weekend night certificate valid at almost all Hilton properties around the globe. There are just a handful of properties that aren't eligible.
One note: After opening your account, it typically takes a month (or slightly more) for this free night certificate to hit your account.
Normally, Hilton free night certificates require you to stay on a weekend: Friday, Saturday, or Sunday. But through Dec. 31, 2022, you can use Hilton free weekend night certificates any day of the week – not just on weekends!
You can even earn a second free weekend night if you spend $60,000 or more on the card in a calendar year.
But it's not just earning these certificates that's easy. Unlike other hotel chains that place caps on which tiers of properties you can book using these certificates, there's no points cap on how much a hotel night can cost with Hilton free night awards.  Whether it's a Hilton Garden Inn in Des Moines, Iowa or a Waldorf Astoria resort in Maui, so long as you can find standard award availability, you can book it.
This benefit alone can easily justify your annual fee because of how many properties it can be used at.
Read our guide on the best ways to redeem Hilton free night certificates!
Unlimited Priority Pass Membership
Another great benefit of the Hilton Aspire Card is an unlimited Priority Pass membership, your ticket to accessing 1,200-plus airport lounges all over the world.
The Hilton Aspire may not have the best lounge access perks – that nod goes to the Amex Platinum Card. Still, if you don't already have Priority Pass membership from another credit card, the Aspire Card is a great option to get airport lounge access. You can also bring up to two guests with you on each visit at no additional cost.
Like all Amex credit cards, your Priority Pass membership from the Aspire card no longer gets you Priority Pass restaurant credits at select airport eateries.
$100 Waldorf Astoria & Conrad Hotels On Property Credit
It's not the easiest-to-use perk on the Aspire Card, but it can still add up.
When you book a paid stay of at least two nights at Waldorf Astoria or Conrad Hotels through HiltonHonors.com/aspirecard ,you will receive a $100 credit for incidental charges. This credit can be used for almost anything charged to your room during your stay. Taxes, fees, gratuity and the room rate itself are not eligible for the credit.
Again, this has to be for a paid stay. If you're planning on using your Hilton Honors points to stay at either a Waldorf Astoria or Conrad Hotel, you won't be able to take advantage of this credit.
All Benefits of the Hilton Honors Aspire Card from American Express
14x

points per dollar for each eligible purchase on your card made directly with a participating hotel or resort within the Hilton portfolio.
7x points per dollar for eligible purchases on flights booked directly with airlines or amextravel.com; on car rentals booked directly from select car rental companies; & at U.S. restaurants.
3x points on all other purchases.
Hilton Honors Diamond Status: As long as your card is open, you will receive Hilton's top tier Diamond status
$250 Hilton Resorts Statement Credit: During each cardmember year you'll receive up to a total of $250 in statement credits for incidentals charged to your card at participating Hilton resorts.
Free Weekend Night: After opening your account and each year on your cardmember anniversary, you will receive a certificate for a free weekend night at almost any property in Hilton's portfolio.
Additional Free Weekend Night: If you spend $60,000 or more on the card in a calendar year.
$250 Annual Airline Fee Credit: Receive $250 in statement credits for incidentals on your selected airline each year.
$100 Hilton On-Property Credit: When you book at least a two-night paid stay at Waldorf Astoria and Conrad properties through HiltonHonors.com/aspirecard
Priority Pass Membership: Unlimited Priority Pass lounge access for you and up to two guests.
$450 Annual Fee: Not waived for the first year of card membership.
Apply Here for the Hilton Honors Aspire Card (for full disclosure, this is our personal referral link)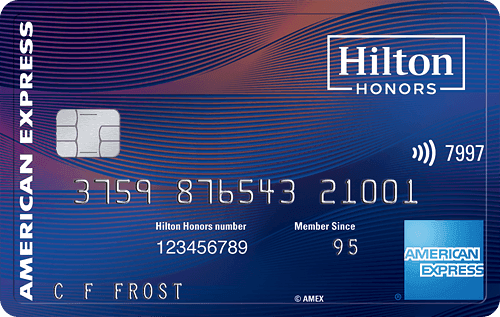 Why the Hilton Aspire Tops Our List
All the benefits on this card almost seem too good to be true.
After carrying the card for a few years and putting these benefits into action, I'm still amazed that Amex and Hilton haven't cut some perks. Fingers crossed that never happens.
There is no other card offering top-tier hotel status simply for holding the card. Nor can you find another top credit card that doles out free night certificates right when you open the card.
Diamond status alone can score you great upgrades and provide you with free breakfast (or food and beverage credits) for you and a guest during your Hilton stays. To me, these benefits alone are worth their weight in gold.
On a recent trip, my wife and I took advantage of the free breakfast benefit for Diamond members and saved ourselves a ton of money. At some properties, especially in Europe, free breakfast can save you up to $70 per day.
While a $450 annual fee card isn't for everyone, all of the benefits and credits this card offers at the moment make it far more palatable. So long as you take advantage of them each year, you should come out far ahead.
Bottom Line
I love the Aspire Card. I think Amex and Hilton did a great job to not only entice new cardholders but to reward them for holding onto the card long term. There simply isn't another co-branded hotel card that comes close to competing with it right now.
If you often stay at Hilton hotels, this card is a no-brainer. And if you don't, this card gives you a reason to change that.