Looking for a cheap one-way flight?
Maybe you want to fly directly to paradise and never come back. Or perhaps you have flexible travel plans and aren't yet sure when you want to return. And maybe you want to fly back from another city, such as a trip down to Orlando with a return flight from Miami. There might be cheaper flights returning on a different airline. Or, maybe you found a great deal using points for a one-way flight but need to purchase a cash ticket for the way back.
Unfortunately, there's no one-size-fits-all answer when it comes to booking flights separately one way versus roundtrip. But no matter what your reasons are for flying one-way, we're here to help with some tips on how to find the cheapest flights.

Are One-Way Tickets Cheaper?
Yes … but also no.
Logically, a one-way flight should be cheaper than a roundtrip, right? And in many cases it is – especially for domestic flights. However, if you're traveling overseas, airfares tend to defy logic: One-way flights are rarely half the price of a roundtrip fare. In fact, it can sometimes cost more to fly one-way than it does to fly roundtrip.
Case in point: Take this nonstop flight from Boston (BOS) to London-Heathrow  (LHR) on Virgin Atlantic. If you want to book a one-way flight, it's $666.
But if you add a return flight a week later, the price drops down to $592 roundtrip.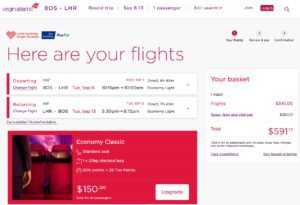 In the airline's mind, the reasoning behind this is that one-way international fares are generally marketed towards business travelers who need flexible travel plans and are not price sensitive. Roundtrip flights overseas, meanwhile, are primarily marketed to leisure travelers who want inexpensive airfares.
If you're traveling domestically within the U.S., it makes more sense: It's almost always about half-price for a one-way ticket compared to roundtrip flights. 
Take this example on flights from New York City to Orlando (MCO). You could fly Spirit Airlines for $46 one-way, JetBlue for $69, or Delta for $74.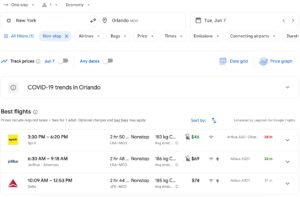 If you add a return date one week later, it's exactly double the one-way fare: $92 roundtrip on Spirit, $138 on JetBlue, and $148 on Delta.

Booking One-Way vs. Roundtrip Flights
Back in the day, U.S. legacy carriers like American, Delta, and United used to almost always require a roundtrip purchase to get the lowest fare — even for domestic flights.
But with increased competition from low-cost airlines like Southwest, JetBlue, Spirit, and others, that has changed within the U.S. Those airlines have always sold tickets with one-way flights pricing at half the cost of a roundtrip fare.
Nowadays, if you're flying domestically or on short-haul international routes that are served by a low-cost carrier, you'll often find that it makes little difference in price whether you book your trip as two separate one-way flights or one roundtrip booking. This is because a roundtrip ticket is often just the sum of two one-way fares.
The main advantage of booking one-way flights is that you can mix and match airlines to fit your budget and schedule.
For instance, say you want to fly from Los Angeles (LAX) to Las Vegas (LAS) for a quick weekend. You'll have plenty of airlines to choose from.
By booking separate one-way flights, you could take the cheaper early afternoon departure to Vegas on Spirit Airlines or JetBlue, and combine that with a cheap one-way flight back to L.A. on Southwest Airlines if you need an early flight to be back in time for work.
However, there are times when you'll need to book roundtrip flights on the same airline in order to get the best price – most notably, for long-haul international flights. But you'll sometimes run into that problem with certain airlines in select domestic markets. Among U.S. carriers, Delta seems to be the airline that most often implements a roundtrip purchase requirement for the cheapest domestic flights – making one-way flights more expensive – but American and United do it on occasion as well. 
When searching for roundtrip flights from Minneapolis-St. Paul (MSP) to Orlando (MCO), for example, I can pull up a $148 airfare on Delta – the clear winner over discount airlines Spirit and Sun Country.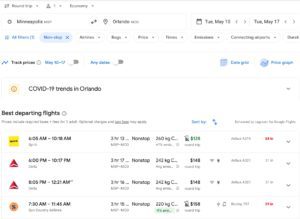 But if I switch that to a one-way search, you'll see that Delta's cheapest one-way airfare is $119 — just $29 less than the roundtrip — whereas Spirit and Sun Country Airlines are selling one-way flights for roughly half the cost of a roundtrip.
When searching for one-way flights, it's always a good idea to compare the cost to a roundtrip purchase so you know whether or not the airline is charging you a premium to fly one-way.
How to Book Super Cheap One-Way Flights
Our favorite tool to search for the cheapest one-way flights is Google Flights. It's the best overall search tool out there thanks to its many filters and ability to search over a range of travel dates.
Using Google Flights Explore feature, you can view cheap one-way flights on a map to easily see where you'll find the most affordable fares. You can then follow the links to book directly with the airline.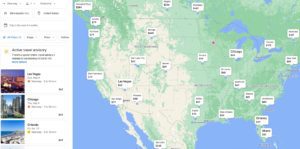 No search engine is perfect, though. You should always compare prices on Southwest's website since you can only book Southwest fares on Southwest.com.
Another interesting way to score cheaper fares on one-way direct flights is to check Skiplagged to see if there are any "hidden city" deals on the route you're looking to take. You'll want to thoroughly read up on how to use Skiplagged as there are many quirks involved. It's definitely not for every type of traveler – and it's something you shouldn't abuse by using frequently. 
Cheap International One-Way Flights
When flying internationally, finding cheap one-way flights is more difficult than when traveling domestically. But it's still possible to score a deal if you know where to look and how to book.
Flying somewhere in the Caribbean or Latin America? Since airlines like Frontier, JetBlue, Southwest, and Spirit fly many routes to these regions with low-cost flights, you'll still generally be able to find cheap one-way fares.
Check out all of these cheap one-way flights departing from the Miami area using the Google Flights Explore tool for trips in the next six months.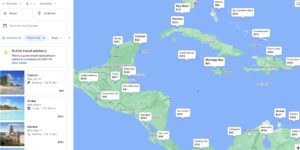 For long-haul international flights to places like Europe, Asia, or Australia, your choices for a cheap one-way will be limited. Very few airlines sell cheap one-way tickets in these markets so you may need to position yourself to a city that generally has inexpensive airfares.
Looking to fly one-way to Europe? Try to depart from a city where TAP Air Portugal flies as it often has cheap one way flights across the pond. TAP currently flies from nine North American gateways, including Boston (BOS), New York (JFK), Newark (EWR), Washington D.C.-Dulles (IAD), Miami (MIA), Chicago (ORD), San Francisco (SFO), Toronto (YYZ), and Montreal (YUL).
Trying to get a one-way flight to Asia? It's usually best to depart from a West Coast hub like Los Angeles (LAX) or San Francisco. The competition from a select few low-cost airlines flying across the Pacific from these cities helps to keep one-way fares low to places like Tokyo, Singapore, and Thailand — even on major airlines such as Air Canada or Singapore Airlines.
For Australia, you can usually find cheap one-way flights departing from Honolulu on discount carrier Jetstar. This would involve an extra stop and bare-bones service on the long-haul, but the savings combined with a break in Hawaii on the way may be worth it for some travelers.

Book with Points and Miles for Cheap One-Way Flights
While most airlines charge a premium for one-way cash tickets on international flights, the same is not true when booking with points and miles.
The vast majority of frequent flyer programs allow you to book one-way flights with points or miles for half the cost of a roundtrip. Remember at the beginning of this story when I mentioned a one-way flight from Boston to London on Virgin Atlantic was $666? Well … you can book that same exact flight for just 10,000 Virgin Atlantic Flying Club points plus $151 in taxes and fees.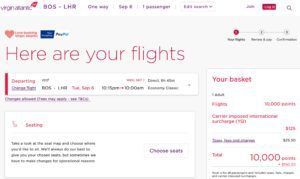 That's a much easier pill to swallow. And the fact that you can transfer points to Virgin from many credit card programs like Amex Membership Rewards, Capital One Venture Miles, Chase Ultimate Rewards, and Citi ThankYou points makes it easy to get the points you need to pull off this redemption.
Want to fly business or first class? Using points and miles is an even better deal when you want to fly in luxury on a long-haul one-way international flight. You can book Qatar's fabulous Qsuites all the way down to Cape Town, South Africa (CPT) for just 75,000 American Airlines AAdvantage miles plus $42 in taxes and fees, such as this example from Chicago.
If you booked the same flights with cash, it can sometimes cost over $5,000. Booking flights with points can make a one-way trip like this much more affordable.
You'll save even more when using points and miles to book a one-way flight in first class. The most extreme example is booking first class ANA flights to Japan for only 55,000 Virgin points compared to tickets that often cost $12,000+ one-way.
Any way you slice it, using points and miles is one of the best ways to book a cheap one-way international flight — especially when you want to avoid discount airlines or fly in the pointy end of the plane.
That said, there are a few airline mileage programs that require roundtrips for the best deals:
ANA Mileage Club: You must book roundtrip for award tickets when using ANA Mileage Club.
Emirates Skywards: Roundtrip bookings are required to get the lowest-priced saver award rates.
Delta SkyMiles: Often requires a roundtrip purchase to get the lowest SkyMiles rates.
Low-Cost Airlines
Love 'em or hate 'em, low-cost airlines are a big reason we're able to book cheap one-way flights, whether you actually fly them or not. You'll want to know where discount airlines like Allegiant, Frontier, and Spirit Airlines fly as those markets will generally have the cheapest one-way flights.
If you do plan to fly a low-cost airline, make sure to read the fine print to know about extra baggage fees, seat selection fees, and when to pay for these extras to get the lowest price. Hint: it's usually cheapest to add everything you need during the booking process.
Low-Cost International Airlines
The low-cost model has swept the globe and you'll now find discount airlines on every continent. Airlines like Volaris and VivaAerobus can be great for finding cheap one-way flights to Mexico and Central America. I've flown them both and had no major issues with either.
For transatlantic service, there used to be several low-cost options, such as WOW air and Norwegian, that sold incredibly cheap one way flights. Though those airlines have folded or stopped flying across the Atlantic, reinforcements are on the way: PLAY Airlines is starting up service between Iceland and the U.S. this week, and while it has low-cost one-way flights, you may still need to book roundtrip in order to get its cheapest fares each way. Norse Atlantic Airways will begin transatlantic flights this summer. You can also find low-cost flights to Europe on airlines like Air Transat, Condor, and French Bee.
Level used to be a reliable option for cheap one-way flights across the Atlantic, but it seems to have adopted the pricing model of its parent company Iberia, requiring a roundtrip purchase for the cheapest fares.
On the Pacific side, there's an exciting new low-cost airline flying from Los Angeles and Honolulu to Tokyo. ZIPAIR's low prices have forced airlines like United to now offer some cheap one-way fares from LA to Japan as well.
Booking Cheap Last-Minute One-Way Flights
If you're looking for a cheap last-minute one-way flight, you may need to get creative. Contrary to popular belief, airfares do not get cheaper at the last minute. Just the opposite: It's more common that fares will rise in the days leading up to the day of departure.
If you just want to get away and are flexible about where you go, you'll have better luck at scoring a last-minute flight deal. Use the Google Flights Explore map to see where it is cheap to fly one-way. 
Otherwise, it's worth checking to see if there are any good deals on last-minute award tickets using points and miles. While airlines don't like to lower prices at the last minute to fill seats, they do sometimes release more award seats that can be booked for cheap with frequent flyer miles.
One-Way Flight Exceptions: Why You Might Still Want to Book Roundtrip
Booking one-way flights gives you more flexibility but it can also be more of a headache.
If you want to keep things simple, you may want to book roundtrip so you only have to keep track of one reservation and deal with one single airline throughout your trip. There are also many cases where you can save a lot of money by booking roundtrip. For big international trips, even if you are unsure about your return travel plans or want to fly back from a different city, it can be beneficial to book a multi-city trip with the return flight as part of the same reservation rather than pay for separate one-way tickets.
By booking an "open jaw" ticket where you fly into one city but back home from another, you'll still fulfill the roundtrip purchase requirement to get the lowest fares as long as you are flying airline partners. And it's best to always book main cabin economy fares or above so you'll have the ability to change your travel plans without extra fees.
Best Credit Cards for Booking Flights
Whether you're booking one-way tickets or roundtrip, you can't go wrong by putting the purchase on The Platinum Card® from American Express. You'll earn 5x on airfare purchased directly from the airline. It's one of the best credit cards to use to book flights, period.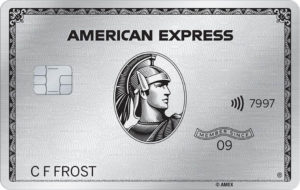 Click Here to learn more about the Platinum Card from American Express.
The Chase Sapphire Preferred® Card is also great for booking flights. You'll earn 5x points for travel purchased through the Chase Travel Portal or 2x points on other travel purchases, such as cheap one-way flights booked directly with the airline.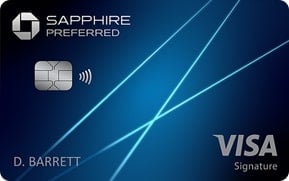 Click Here to get more information about the Chase Sapphire Preferred Card. 
The easiest way to cover the cost of your flight using points is to pay with the Capital One Venture X Rewards Credit Card or Capital One Venture Rewards Credit Card and then using the purchase eraser to completely wipe out the charges.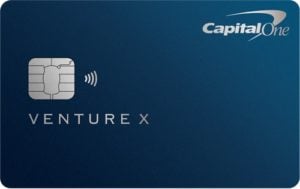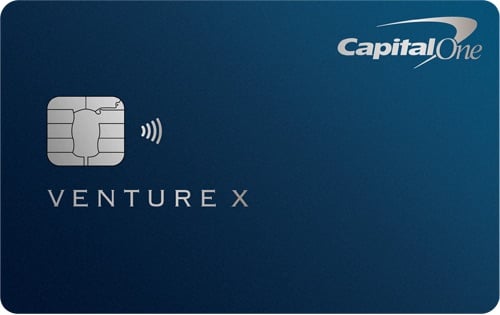 Click Here to learn more about the Capital One Venture X Rewards Credit Card.
Bottom Line
Whether you want to move to the mountains in Denver, escape to the beaches of Miami, or take off on an open-ended adventure to Europe, there are plenty of ways you can book affordable one-way flights to get you on your way.
The key to finding cheap one-way tickets is to know which airlines sell low-cost flights and which markets they fly. That way, you'll know where to look in order to save big the next time you want to fly one-way.