Want to come out ahead flying Frontier Airlines? Then you need to understand Frontier baggage fees.
Much like every other ultra-low-cost-carrier, Frontier sells dirt-cheap fares but charges additional fees for pretty much everything else – and those fees can add up very fast. But Frontier's baggage fees are among the strictest, charging as much as $60 or more each way for a simple carry-on bag with lower weight limits for checked bags than you'll find on almost any other airline.
Your baggage allowance on Frontier varies depending on what fare you've purchased, when you purchase your bags, and what route of Frontier's you're flying, among other things.
In most cases, Frontier baggage fees look something like this chart for bags on flights from Minneapolis-St. Paul (MSP) to Denver (DEN) in September 2023. We tried a handful of other international and domestic routes on Frontier and found the same price chart when we searched, so this should be a good indication of what you can expect your Frontier costs to be.

The key to saving on Frontier fees is by adding bags during the checkout process. If you wait until you get to the airport, you can expect to pay an additional $20 or more per bag. And Frontier checked bags are noticeably cheaper than carry-on bags are – especially when purchased during your flight booking.
As with every airline, every traveler gets one personal item for free on Frontier Airlines … at least so long as it fits underneath the seat in front of you. But for everything else, you'll have to pay up.

Frontier Airlines Carry-On Baggage Policy
If your Frontier carry-on bag fits the airline's size parameters, you can bring it on board the plane with you and put it in the overhead bin.
Carry-on bags must be 35 pounds or less to qualify, and must be smaller than 24 inches tall, 16 inches wide, and 10 inches deep.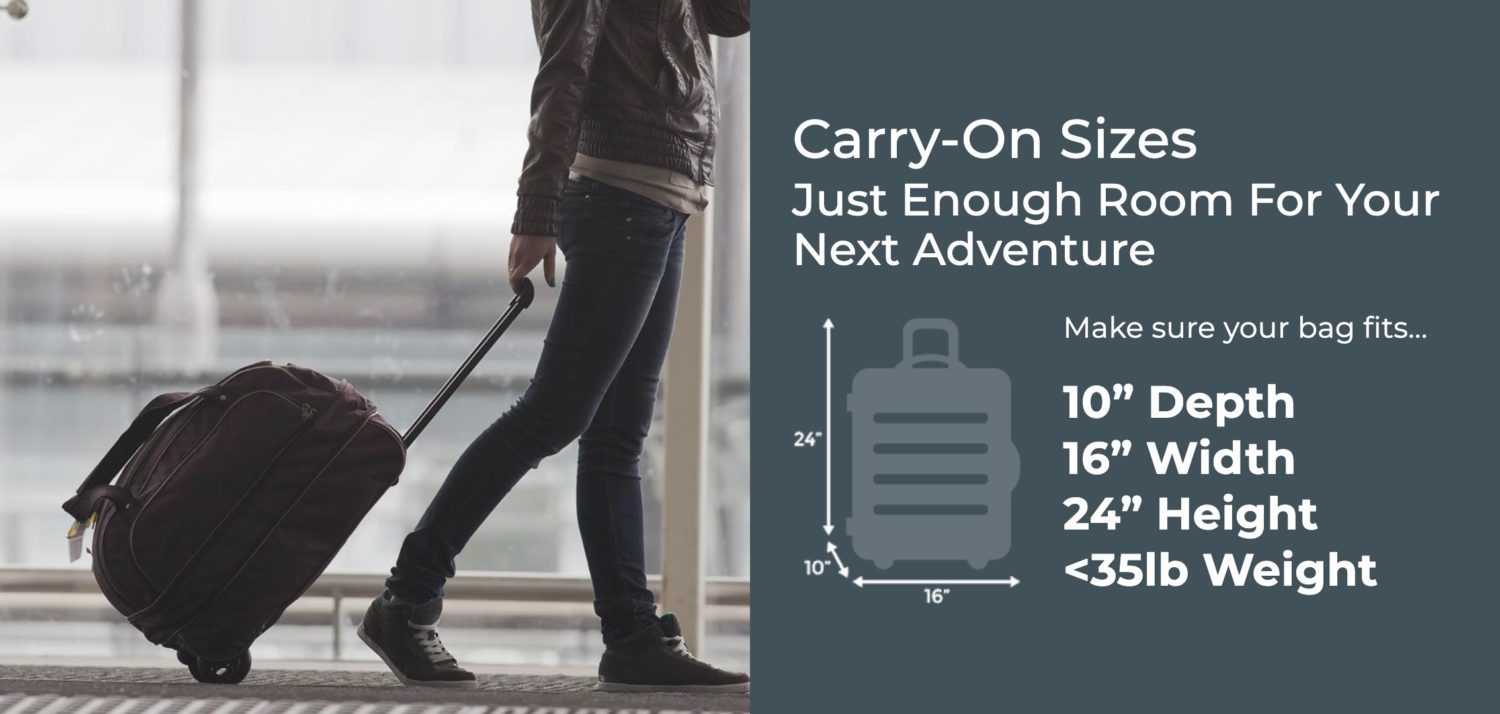 It's worth noting that on Frontier, baggage fees are higher for carry-on bags than they are for checked bags. For most flights, the price difference is only $5 or so.
As with all Frontier baggage fees, the earlier in the process you book your bags, the cheaper they are. Carry-on bags booked at check-in will cost flyers $60 in most cases, but if you wait until you're at the airport, the bag will cost you $79 (or $89 if you have to check it at the boarding gate).
Free Bags on a Frontier Airlines Flight
No matter what fare you purchase, there's one Frontier bag that is always free: A personal item.
Personal items on Frontier Airlines are anything that can fit underneath the seat in front of you.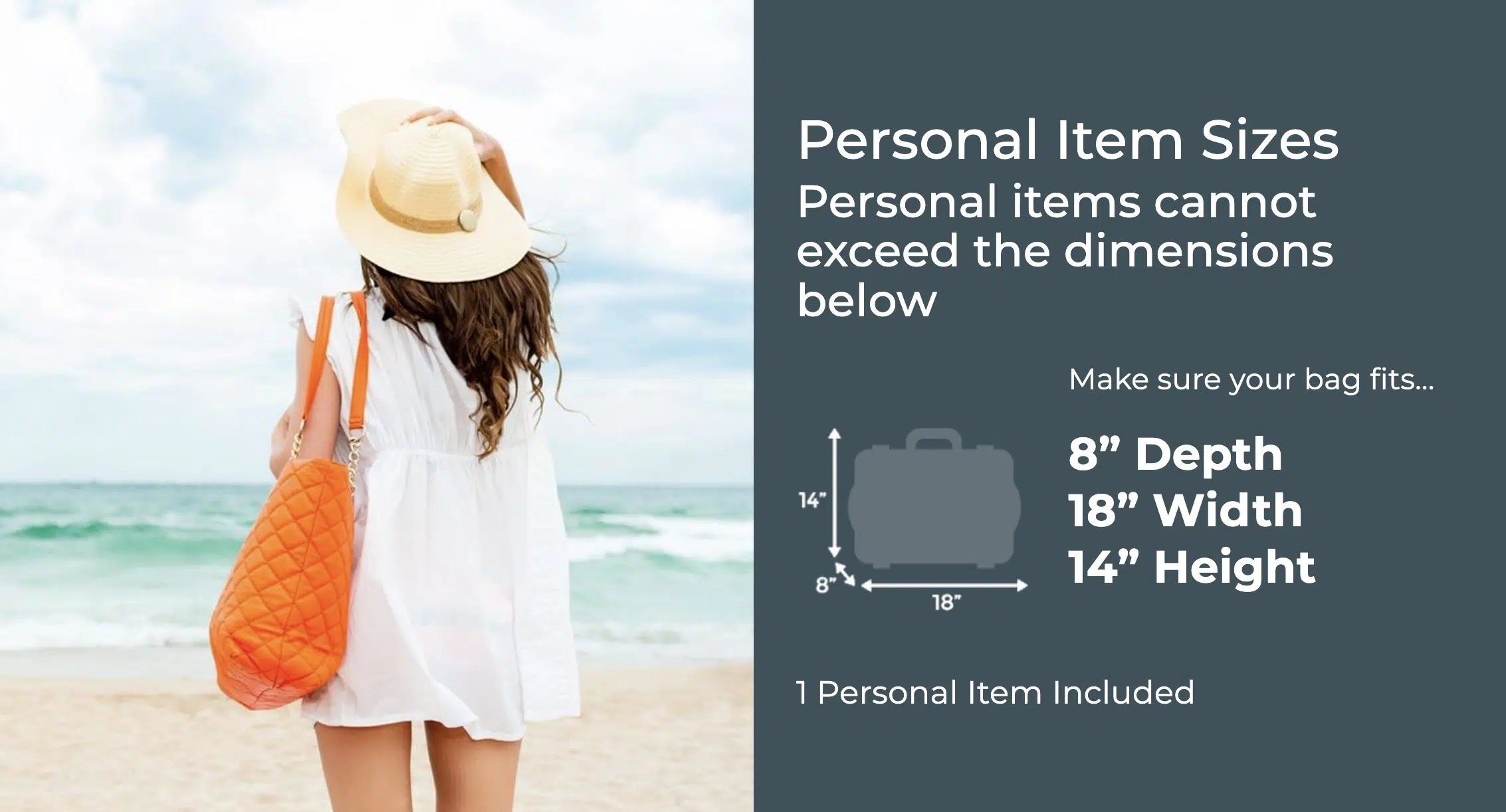 According to Frontier, personal item bags can only be 14 inches tall, 18 inches wide, and 8 inches deep.
Make sure your bag is the correct size before heading to the airport, because paying for a carry-on or checked bag upon arrival at the airport could cost you up to $80.

Carry-On Baggage Fees and Specifications
If they your bag is small enough to be considered carry-on bags, they typically cost around $60 each way when purchased during flight booking … but are slightly more expensive after that.
For instance, for a flight between Minneapolis-St. Paul (MSP) and Denver (DEN), Frontier charges $65 to add a carry-on before checking in, $71 to add one during check-in, $79 to add one at the airport or by calling customer service, and $99 to add one at the gate.
The single cheapest way to purchase a carry-on bag with Frontier is to purchase it online while booking your flight. In this example, adding a carry-on during check out was $58.

Traveling with Pets
Pets are allowed to travel on Frontier flights for a fee in the cabin, but cannot be checked as baggage. Pets on Frontier will cost travelers $99 each way and must be paid in advance during booking.
Travelers can still bring a personal item on board free of charge when traveling with a pet.
Pets must be "domesticated" according to Frontier, and all cats and dogs must be at least eight weeks old. Frontier accepts dogs, cats, rabbits, guinea pigs, hamsters, or small household birds on its flights.
Large birds, rodents, beavers, ferrets, reptiles, amphibians, spiders, and insects are not allowed on any Frontier flight. Pets must remain in their carriers the entire duration of the flight, according to Frontier's rules.
Oh, and travelers with pets cannot sit in an exit row on Frontier flights.

The container itself can be a maximum of 18 inches long, 14 inches wide, and 8 inches tall. It's recommended that the case be soft-sided and the carrier must be large enough for the pet to stand, turn around, and lie down in a natural position.
If you're planning to travel abroad with your pet, make sure you go over the U.S. Department of Agriculture's guidelines about pet transport before you begin planning your journey. For instance, pet health certificates and vaccination proof are required in many countries where Frontier flies.
Frontier Airlines Checked Baggage Policy
Frontier Airlines baggage fees also apply to checked bags, but checking your luggage with Frontier is actually cheaper than carrying it on.
First, make sure your Frontier checked bags meet the size criteria. The size of your bag cannot exceed 62″ when you add the length, width, and depth of the bag together.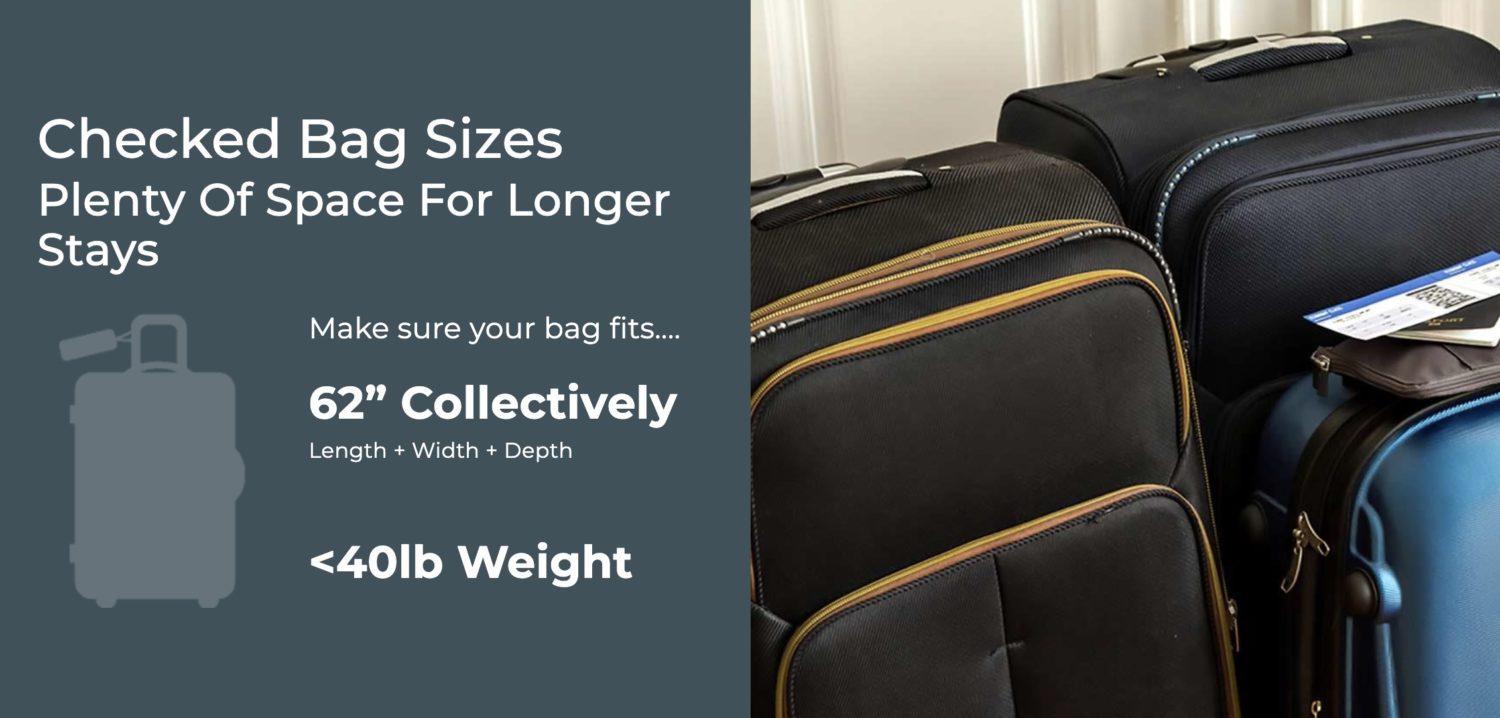 Additionally, Frontier has a slightly stricter 40-pound weight threshold. Most major airlines allow bags up to 50 pounds, but not Frontier. Your baggage allowance on Frontier hinges on the size and weight of these bags, so double-check before leaving for the airport.
Checked Baggage Fees and Specifications
The best and easiest way to check for the latest, up-to-date Frontier baggage fees is to use the airline's "Bag Price Checker."

Just plug in your booked flights or your potential flights and the airline will give you a breakdown of what you can expect to pay. But keep in mind: All of these charges apply each way. If you're flying roundtrip, double the price.
As always with Frontier Airlines, you'll save by paying for your bag while you purchase your flight.

For most flights, your first checked bag costs just $55 each way if you purchase it at booking. Compare that to what it would cost if you try to check your bag at the airport – $79 each way – and you're saving more than $20 by getting it done earlier.
Second checked bags on Frontier Airlines cost $60 each way at booking and as much as $89 each way at the airport.
For each additional bag, you can expect to pay a hefty sum. If you have the foresight to get it at booking, you'll pay $85, but at the airport, it's going to cost you almost $100. On Frontier, that's probably as much as the cost of your ticket!

Frontier Airlines Paid Special Items
Of course, there are always special items that travelers want to fly with, from guns, to hockey sticks, to trombones, and more. Frontier baggage fees for these items vary, too.

Firearms
Any Frontier traveler over the age of 18 may travel with a checked firearm on Frontier Airlines flights.
Travelers can check unloaded firearms after declaring the weapons with customer service agents at the airport.
Firearms must be stored in locked, hard-sided containers. You can also check 11 pounds of ammunition when traveling with a firearm.
Regular checked baggage fees apply to all firearms and ammunition, including weight restrictions.

Musical Instruments
Musical instruments, large and small, are all allowed on Frontier Airlines flights as long as they are less than 100 pounds.
Carry-on instruments may exceed normal carry-on sizes so long as they fit into the overhead bins on the airplane.
Larger musical instruments that are too big for the overhead bin and are carried on the plane are only allowed if you purchase a seat for the instrument.
Regular checked and carry-on baggage fees apply to all musical instruments, including weight restrictions.

Sports Equipment
Frontier allows all kinds of sports equipment onboard its aircraft.
That includes all of the following:
Archery equipment
Boogie/Wake Boards
Bowling equipment
Fencing equipment
Fishing equipment
Golf equipment
Hang gliding equipment
Hockey equipment
Kayak and Canoe
Paintball guns
Scuba gear
Skates
Skateboard
Ski equipment (snow and water)
Snowboard equipment
Tennis rackets
Surfboards, Wave Skis, Kiteboards
Windsurfing
As with most airlines, ski boot bags can be checked together with the ski bag and only count as one item, so long as the boot bag is less than 25 pounds.
For a detailed look at the rules for every item, visit Frontier's website.
Regular checked baggage rules apply to all sports equipment, including weight restrictions.

Bicycles and Antlers
Both bicycles and antlers are allowed on Frontier Airlines flights.
Non-motorized, single-seat bicycles can be checked on Frontier Airlines flights so long as the handlebars are fixed sideways, the pedals are removed, and the bike is stored in a protective case.
Bicycles need an extra 30 minutes for check-in and cannot be brought to Cuba.
Bicycles are $75 each way on Frontier flights, no matter what fare you purchased.
Antlers that are free of residue and are under 100 pounds can be checked on Frontier Airlines flights for $100.

Frontier Airlines Baggage Exceptions
As with most airlines, some baggage types are exempt from baggage fees on Frontier.
Diaper Bag
When traveling with an infant, diaper bags can be carried on in addition to your carry-on luggage on all Frontier flights, free of charge.

Stroller
Strollers can be either checked or carried onto any Frontier flight free of charge when traveling with a child.

Car Seat
Child restraint systems, or car seats, are free of charge on all Frontier flights when traveling with a child.

Overweight Baggage Fees
Checked bags can be up to 40 pounds on Frontier Airlines flights, and everything heavier than that is subject to additional fees.
Bags between 40 and 50 pounds are $50 each way and bags over 50 pounds are $100 per bag each way.
Bags over 100 pounds are not accepted on Frontier Airlines flights.
How to Reduce Fees for Frontier Airlines Baggage
Frontier baggage fees are hard to avoid. Unbundling the flight itself and the baggage is all part of the airline's business model. But there are a few ways to save.
Pay for Baggage Upfront
The best and easiest way to save on Frontier Airlines baggage fees is by booking your bags at checkout when you buy your airfare.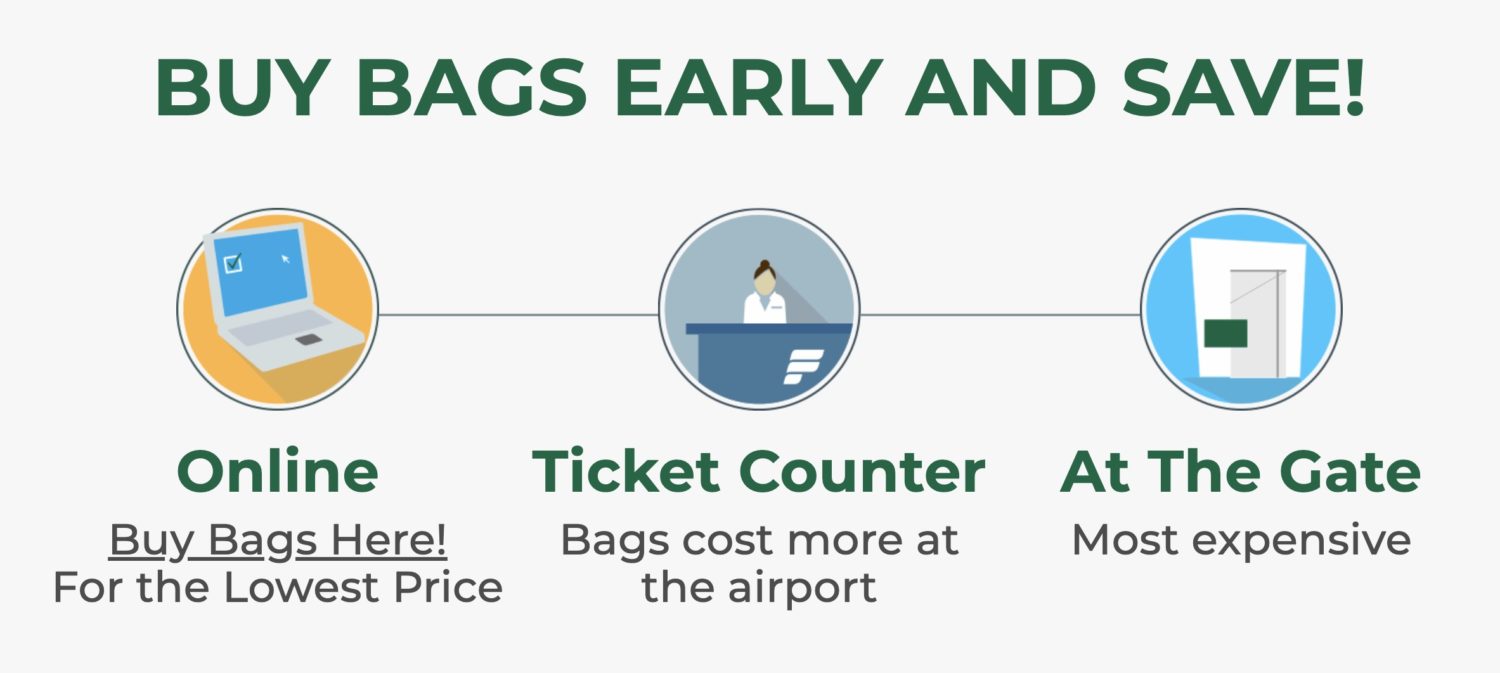 The airline is very clear on its website that booking bags right away will save you money. Adding bags at checkout can save you a few bucks … or as much $30 each way compared to booking your bags at the gate.

Purchase a Specialty Fare
When purchasing your Frontier fare, you can upgrade to one of its "Bundles" to include carry-ons or checked bags. The airline typically highlights "The Works" bundle, which includes both a checked bag and a carry-on with priority boarding.

"The Perks" bundle also includes both bags.
Otherwise, you can pay by the bag by buying the traditional "unbundled" fares.
How to Get Free Baggage from Frontier Airlines
Unless you pack all your belongings into a small personal item, there's only one way to get free baggage from Frontier Airlines.

Provide Military Documentation
With Frontier, military bags fly free, too.
Military members with military identification get two free carry-on bags and two free checked bags on every Frontier Airlines flight. The program only applies to active duty military, and not military families or travel companions.
Frontier Airlines Baggage Fees FAQs
How Much Does Frontier Charge for Checked Bags?
Frontier charges about $55 per checked bag on all of its flights when paid for during booking.
Bags weighing 41-50 pounds will be charged $50 per bag, per direction. Bags weighing 51-100 pounds will be charged $100 per bag, per direction. Bags in excess of 100 pounds will not be accepted.

What Size Bag Can You Carry on Frontier for Free?
Frontier only allows you to carry on a "personal item" bag for free. Personal item bags can be no larger than 14 inches in height, 18 inches in width, and 8 inches in depth, including handles, wheels, and straps.
Personal items must fit underneath the seat. There is a charge for any bag larger.

Is a Backpack a Personal Item on Frontier?
Yes, most backpacks can be personal items on Frontier, so long as it fits underneath the seat in front of you.
If the backpack is 14 inches in height, 18 inches in width, and 8 inches in depth or smaller, it can be a personal item on Frontier. If it is larger than that, it's considered a carry-on – at least so long as it is less than the maximum carry-on size of 24 inches by 16 inches by 10 inches.
Bottom Line
Understanding Frontier baggage fees is the best way to understand the value of Frontier flights.
Frontier offers dirt-cheap fares … but charges very high baggage fees. Knowing how to book Frontier checked bags for less and understanding your baggage allowance on Frontier can help you save on your next trip.