After shutting down nearly all international travel, the world is slowly re-opening – or at least it's trying to. And as more countries open their borders to travel, it's becoming clear that COVID-19 testing requirements will be key.
So now airlines are starting to step up. In a matter of weeks, many major U.S. airlines have joined international carriers to start offering COVID-19 tests to passengers. By partnering with testing labs and facilities, airlines are aiming to offer quick and reliable testing to flyers before heading off to countries that require a negative test for entry – or even states like Hawaii.
But which airlines are offering testing options – and at which airports? Is it included with your ticket, or will you have to pay extra? We'll answer these questions and more.
The Basics of COVID-19 Tests
You've seen the terms: PCR test, NAAT, antibody test, rapid testing. But what does it all mean for you when it's time to get your test?
There are three main types of testing for COVID-19: molecular diagnostic (PCR or NAAT), rapid antigen, and antibody testing. Antibody testing only confirms whether you previously had COVID-19 – not whether you're currently infected. For countries that require a negative test result, antibody testing won't cut it.
That leaves us with molecular diagnostic testing like PCR and rapid antigen testing:
PCR stands for polymerase chain reaction, a genetic test widely considered the most accurate – but that can also take the longest to get results. NAAT (nucleic acid amplification test) is another name for this molecular diagnostic test that amplifies the DNA of the virus so it can be detected.
Rapid antigen is just like it sounds: a faster test that can generate results in minutes or hours, but with a higher rate of false negatives. And more doubt about the results can often require a second round of PCR testing for confirmation.
Most destinations specifically require a COVID-19 PCR test. But as airlines launch their own testing protocols, they've worked with specifics destinations to ensure these test results will be accepted. For example, many airlines are launching tests for flights to Hawaii that don't explicitly meet Hawaii's testing requirements – but they've been cleared by the state.
Alaska Airlines
Alaska Airlines is partnering with Carbon Health starting on Thursday, Oct. 8 to offer select passengers COVID-19 testing. But it won't be widely available – at least not to start.
Departure Cities: Seattle (SEA) will be the only city to have testing to start. But Alaska plans to eventually expand to all of the cities where it has direct flights to Hawaii, which includes Anchorage (ANC), Los Angeles (LAX), Oakland (OAK), Portland (PDX), San Diego (SAN), San Francisco (SFO), and San Jose (SJC).
Destinations: Flights to Hawaii and Alaska are eligible for testing.
Who Can Get Tested: Any Alaskan customer with flights to Hawaii or Alaska out of Seattle.
What Kind of  COVID-19 Tests: Alaska is partnering with Carbon Health to offer rapid COVID-19 tests with results available in two hours. They're using an Abbott ID NOW rapid test, which the airline states meets the requirements of the State of Hawaii's pre-travel testing program. The company is planning on working closely with the Hawaii Department of Health to meet the requirements.
How To Get a Test: Unlike most airlines, Alaska isn't offering testing at the airport itself. Instead, testing will be available at Carbon Health's pop-up clinic located in downtown Seattle at 220 6th Ave. N. Guests will be able to make an appointment with Carbon Health starting Oct. 8, on Mondays, Wednesdays, and Fridays from 9 a.m. to 7 p.m, starting on Oct. 12.
Cost: $135, which is a discounted rate for Alaska passengers.
American Airlines
American Airlines has announced it will launch a handful of testing programs for travelers heading to Jamaica, the Bahamas, Hawaii, and many other Caribbean destinations. In addition to these testing programs, American will now offer at-home testing for passengers traveling domestically to any state or U.S. territory with COVID-19 testing requirements.
Departure Cities: Miami (MIA), Dallas (DFW)
Destinations: Jamaica, the Bahamas, Costa Rica, and the Hawaiian Islands, U.S. states and territories with COVDI-19 testing requirements
Who Can Get Tested: Currently, the pilot testing program in Miami to Jamaica is only available to Jamaican citizens looking to return home
Any American passenger traveling domestically to a state or territory with COVID-19 testing requirements.
Customers with flights from Dallas (DFW) to Honolulu (HNL), Maui (OGG), and Liberia (LIR) in Costa Rica.
What Kind of COVID-19 Tests: Passengers departing from Dallas (DFW) will have access to three options for COVID-19 testing: an at-home COVID-19 PCR nasal swab, at a clinic, and a rapid test performed at DFW. American Airlines is working closely with the Hawaiian government to make sure all of the options comply with Hawaii's requirements for entry.
Domestic passengers can purchase an at-home COVID-19 test through LetsGetChecked.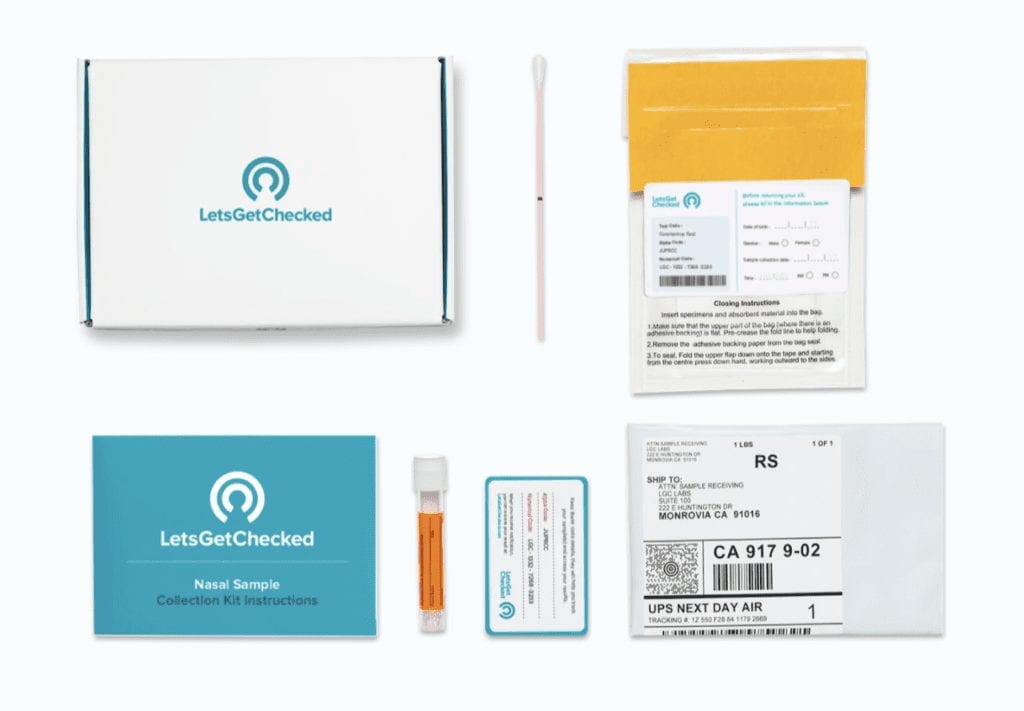 How To Get a Test: Passengers in Dallas can get an at-home test from LetsGetChecked, which will be observed by a medical professional via virtual visit, with results expected in 48 hours on average. The second option is an in-person test at a CareNow urgent care location. Finally, passengers can get onsite rapid testing, administered by CareNow, at DFW.
Cost: An at-home test from LetsGetChecked costs $129. The CareNow clinic out of pocket cost is $250. And American has not released the cost of rapid testing at DFW airport.
Delta Airlines
Delta Air Lines customers in the U.S. will be able to purchase at-home COVID-19 tests. Travelers can take one prior to departure, and bring another test along with them on their vacation to take before their return flight home.
Delta hasn't said when this new testing will be available, how much tests may cost, what type of tests they will be, and whether travelers will be responsible for sending tests to a lab or testing company in order to leave the country or return home.
More than likely, Delta has invested in rapid antigen tests. Rapid antigen tests are explicitly accepted for return to the U.S. – along with PCR and NAAT tests. Still, many destinations that require COVID-19 tests for entry only accept molecular (PCR or NAAT) COVID-19 tests.
Hawaiian Airlines
Hawaiian Airlines is offering testing options to all of its mainland passengers headed to Hawaii.
Departure Cities: Any mainland airport serviced by Hawaiian Airlines, which includes Los Angelas (LAX), Las Vegas (LAS),  Long Beach (LGB),  San Diego (SAN), San Jose (SJC), San Francisco (SFO), Seattle (SEA), Portland (PDX), and Phoenix (PHX).
Destinations: Hawaii
Who Can Get Tested: Any passenger flying Hawaiian Airlines to Hawaii.
What Kind of COVID-19 Tests: Hawaiian has partnered with Vault Health to offer passengers an at-home, mail-in COVID-19 saliva test. Passengers flying out of SFO or LAX have access to drive through testing through WorkSite Labs.
How To Get a Test: Passengers at SFO or LAX can schedule a drive-through testing appointment through WorkSite Labs and receive results within 36 hours. Travelers at other departure locations can order a mail-in saliva test online through Vault Health. The test kit will be express mailed overnight. Travelers will self-collect their samples with assistance from a testing supervisor in a video call and express ship it overnight to a lab. Results will be provided electronically within 24 hours of receiving the sample.
Cost: WorkSite drive-through testing costs $90 per person for results within 36 hours. Same-day results cost $150. The Vault Health at-home test costs $150.
JetBlue
Departure Cities: All
Destinations: All destinations that accept PCR at-home testing.
Who Can Get Tested: Any JetBlue passenger.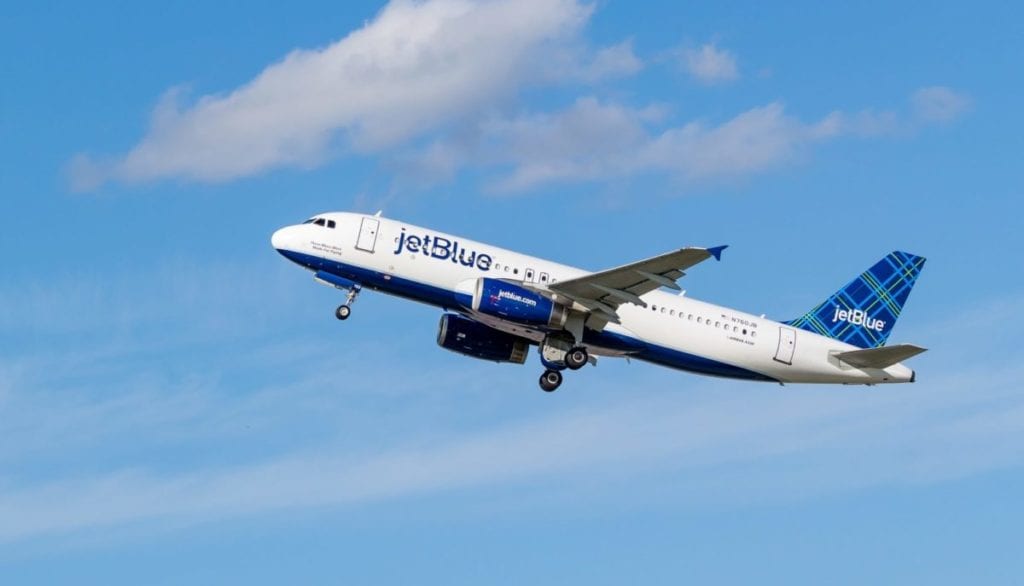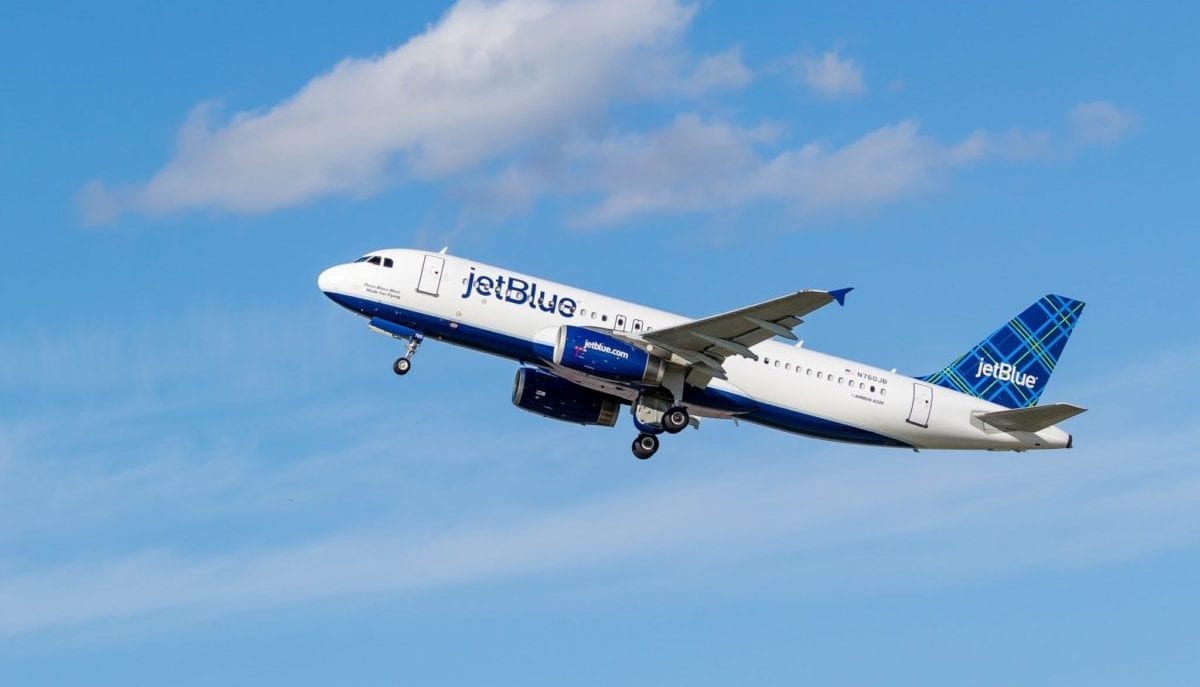 What Kind of COVID-19 Tests: JetBlue has teamed up with Vault Health for at-home COVID-19 testing.
How To Get a Test: Vault has created a designated landing page for JetBlue customers passengers with current reservations. JetBlue customers can fill in their information and order a test through. Test results from Vault range from 24-72 hours.
Cost: JetBlue says its customers will get a discount. According to USA Today, they'll pay $143 including shipping – a $7 discount.
JetBlue is offering free COVID-19 testing in Terminal 5 at John F. Kennedy International Airport (JFK). Up to 600 passengers a day from 9am-7pm, seven days a week can get a free COVID-19 test. Test results will be available within 48 hours. This option is not for those who need a test result to enter certain countries, but it is a good option for those who want to take a test before or after travel.
United Airlines
United Airlines was the first major U.S. carrier to announce that they will be offer COVID-19 testing, starting in San Francisco (SFO). They have now announced testing availability for passengers traveling to some the Caribbean and Latin American destinations from George Bush International airport in Houston.
Departure Cities: San Francisco (SFO), Houston (IAH)
Destinations: Hawaii from San Fransisco (SFO),  Aruba (AUA), Belize City, Belize (BZE), Guatemala City, Guatemala (GUA), Lima, Peru (LIM), Nassau, Bahamas (NAS), Panama City, Panama (PTY), Roatan, Honduras (RTB), San Pedro Sula, Honduras (SAP), San Salvador, El Salvador (SAL), Tegucigalpa, Honduras (TGU) from Houston (IAH)
Who Can Get Tested: United passengers traveling from San Fransico to Hawaii, or from Houston (IAH) to any of the destinations listed above.
What Kind of COVID-19 Tests: In San Fransisco, United has partnered with Color to offer physician-ordered self-collected COVID-19 tests. GoHealth rapid testing will also be available at the airport.
For testing in Houston, United has partnered with Advanced Diagnostic Laboratory to offer at-home self-collected mail-in COVID-19 tests.
How To Get a Test: Passengers flying to Hawaii will get an email from United offering a Color COVID-19 at home test prior to their flight. It's recommended that passengers order the test 10 days before their trip and then take the test 72 hours prior to departure. They will drop the tests in overnight mail or a dropbox at SFO Airport. Color will then process the tests and email or text the results within 24- 48 hours.
GoHealth rapid testing will be available to customers at SFO. Passengers can schedule their testing time before arriving at the airport. They will get tested at an onsite testing facility and receive their results within 15 minutes. This option will be available at SFO from 9 a.m. to 6 p.m. daily. 
Passengers flying out of George Bush International Airport in Houston to any of the destinations listed above will receive an email from United 14 days prior to their flight with instructions on ordering a test.
Cost: The Color at-home test for San Francisco passengers is $90. GoHealth rapid tests at the SFO airport cost $250. Advanced Diagnostic Laboratory tests for flights out of Houston will cost $119.
Bottom Line
As tourism and air travel continues the slow climb back to normal, we expect this list to grow. More airlines will add testing options, testing will pop up for more locations and more destinations. And with any luck, it should get cheaper and easier.