Once Minnesota's beloved hometown airline, Sun Country's transformation into a low-cost carrier means there's a tradeoff. Flyers can get low, low fares to many destinations … in exchange for higher fees for extras that can add up fast. And Sun Country baggage fees are among the most important.
It's an a la carte pricing model that's standard across budget airlines: You get what you want to pay for. Don't care about bags or seat assignment? You can get a good deal. But the cost to add bring more than a backpack varies from airline to airline, and Sun Country Airlines baggage fees are no exceptions.
In some cases, baggage on Sun Country can almost double the cost of your ticket. And the price you'll pay for a bag can vary wildly, especially if you aren't prepared to pre-pay for your luggage at checkout. The closer you get to your airplane taking off, the more expensive your Sun Country Airlines baggage will be. Plus, Sun Country has different policies for carry-on bags, checked bags, personal items, and additional luggage that can determine what you'll pay.

Sun Country Airlines Carry-On Bag Size
Want to bring a carry-on bag bigger than a backpack or purse? You'll have to pay for it – and make sure it fits.
Your Sun Country Airlines carry-on – which the carrier calls an "Overhead" bag – can be no more than 24 inches high, 16 inches wide, and 11 inches deep. That's standard across most airlines. But Sun Country also sets a weight limit: It can't weigh more than 35 pounds.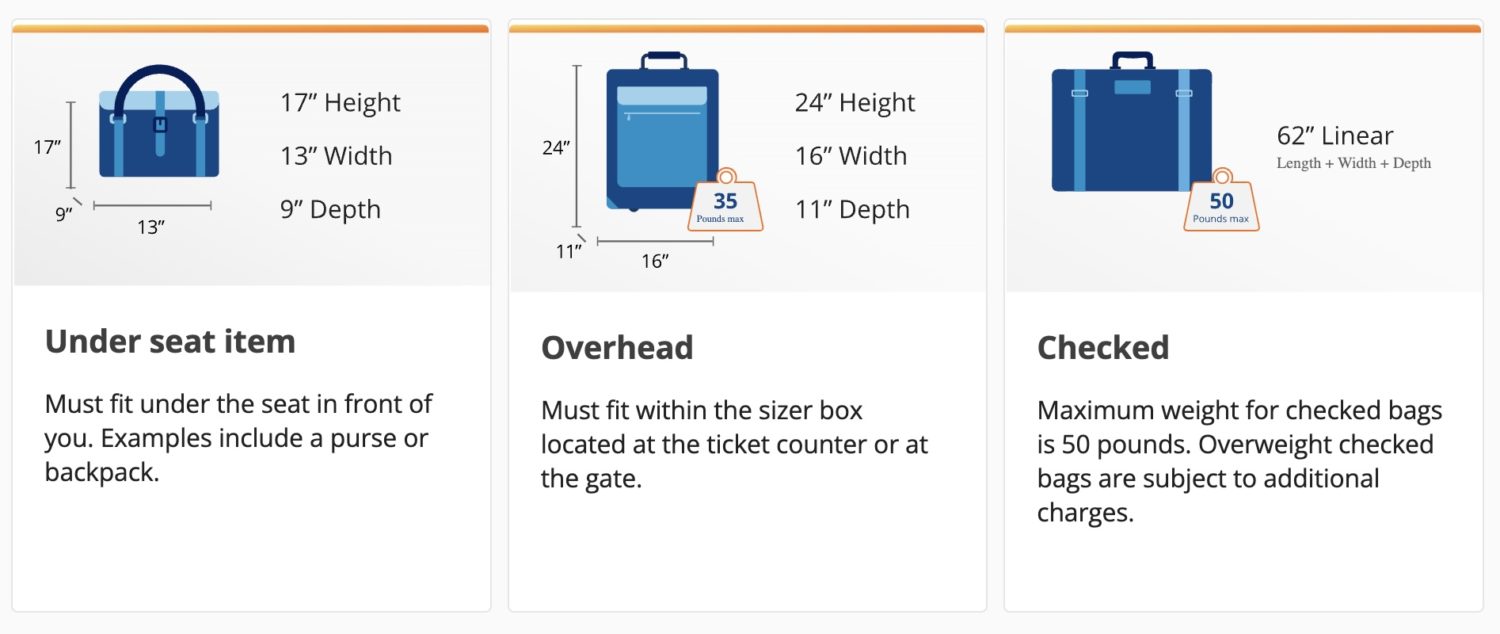 As you can see from Sun Country's graphic above, the size of your carry-on is pretty strictly regulated. Whether Sun Country will also force you to weigh your carry-on bag is another matter.
Sun Country Airlines Checked Bag Size
Just like any other airline, checking a bag will cost you extra with Sun Country. To make sure you're not overpaying, you'll have to make sure it's the right size … and weight.
Your checked bag can be a maximum of 50 pounds before it is charged like an overweight bag – more on that later.
Additionally, its total size cannot exceed 62 inches, which is calculated by adding together the length, width, and height of the baggage.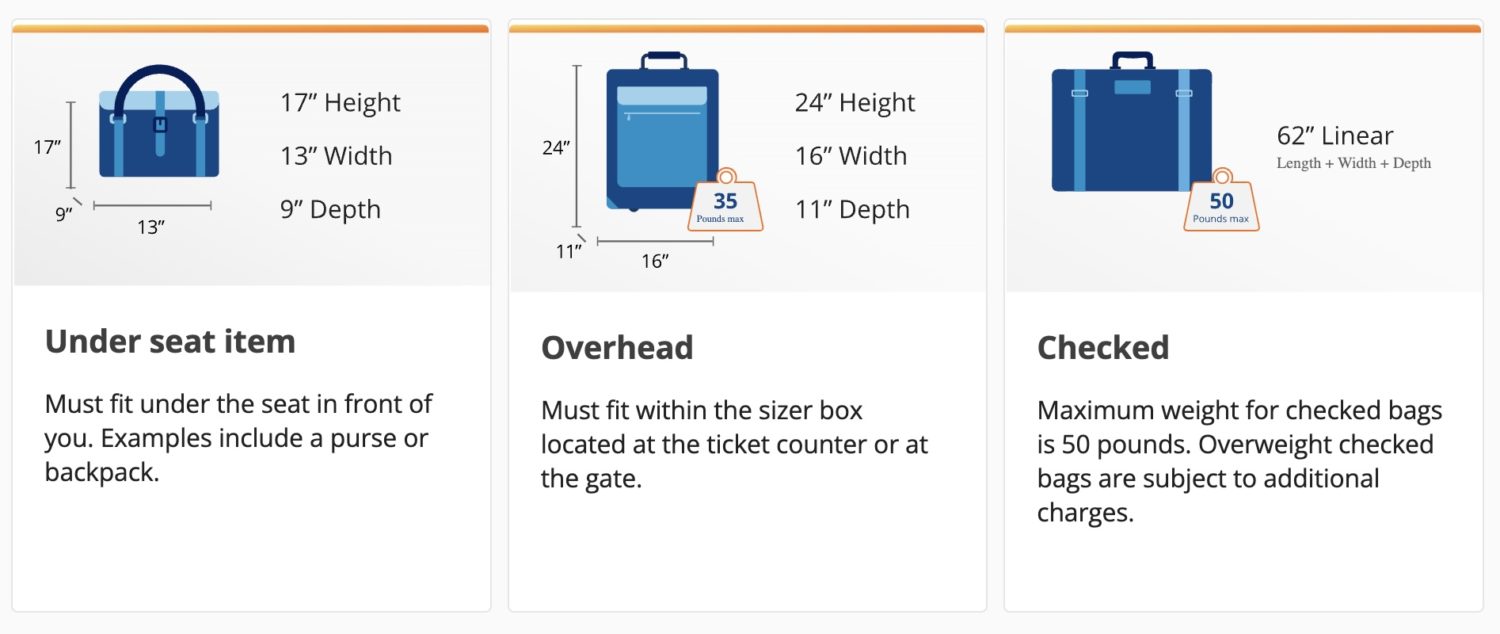 Sun Country Airlines charges some steep fees for overweight checked bags, so make sure to weigh what you've got at the airport before you leave.
Sun Country Baggage Fees
If you're bringing anything more than a personal item like a backpack or purse on a Sun Country flight, you'll have to pay them. And if you wait, you'll have to pay even more.
Sun Country Airlines baggage fees vary from flight-to-flight and based on when you pay for your bags. For the very latest fees, Sun Country has a handy online baggage fees calculator, where you can tap in the details for your flight for an up-to-date cost for your bags.

But based on our searches for both domestic and international flights on the carrier, you can expect to pay roughly the same fees for bags flying Sun Country no matter where you're going. Here's what you can expect, give or take a few dollars. And these are one-way rates: Double them for a roundtrip fare.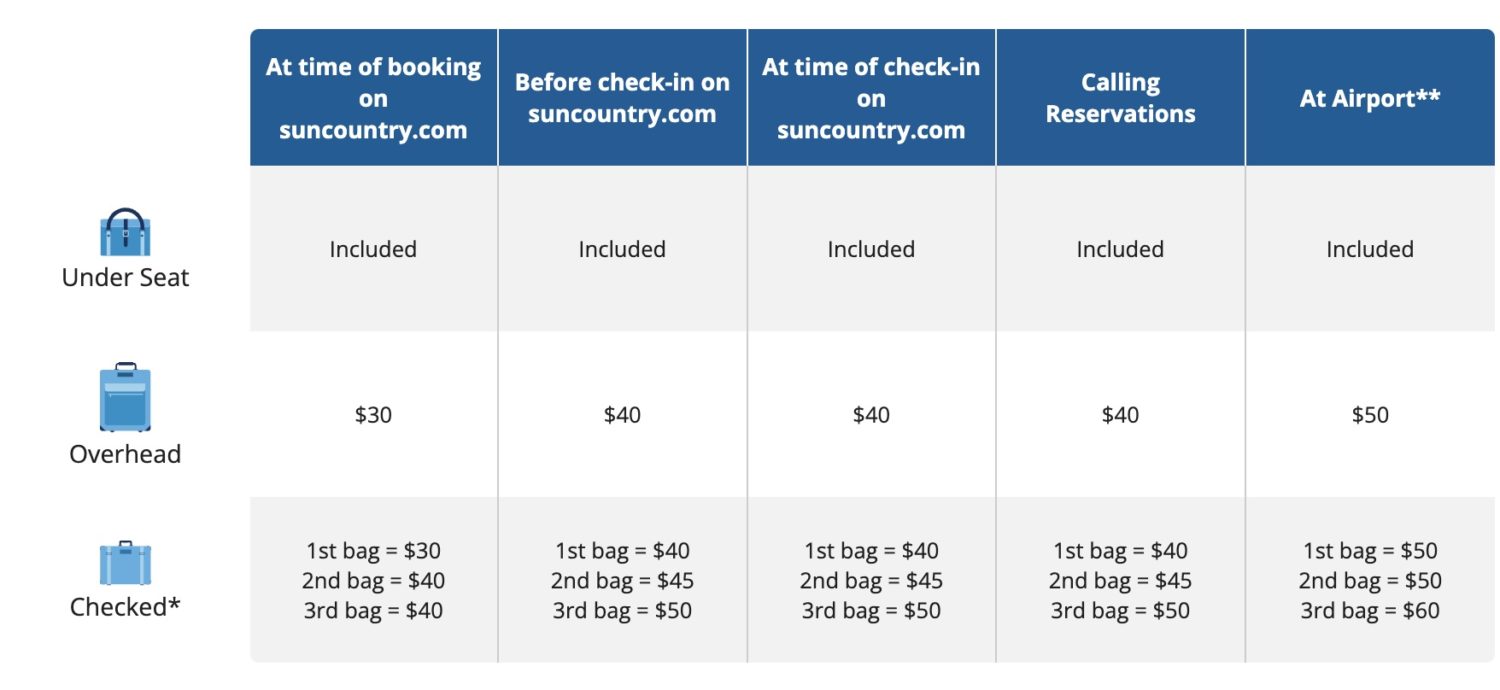 As you can see, personal items, called "under seat" bags by Sun Country, are always free. It's when you get to the carry-on, or overhead bags, that you start to see the fees add up.
For this international flight between Minneapolis-St. Paul (MSP) and Vancouver (YVR), the cost of an overhead bag booked at checkout is $30. That's the same cost as your first checked bag. But after you buy your ticket, the price of adding a bag goes up to $40 for both carry-on and checked bags. If you wait to add your bag at the airport, it will cost you $50.
Bottom line: Make sure to get it done at the time of booking … or at the very least, before you get to the airport.
Here's another example with a longer international flight between Minneapolis and Cancún (CUN). While you'll pay a slightly a slightly higher carry-on and checked bag fee of $32 at checkout, all the other fees were similar.

Finally, for this short-hop flight between Minneapolis and Chicago-O'Hare (ORD), the carry-on and first checked bag only cost $26, with all of the fees staying the same.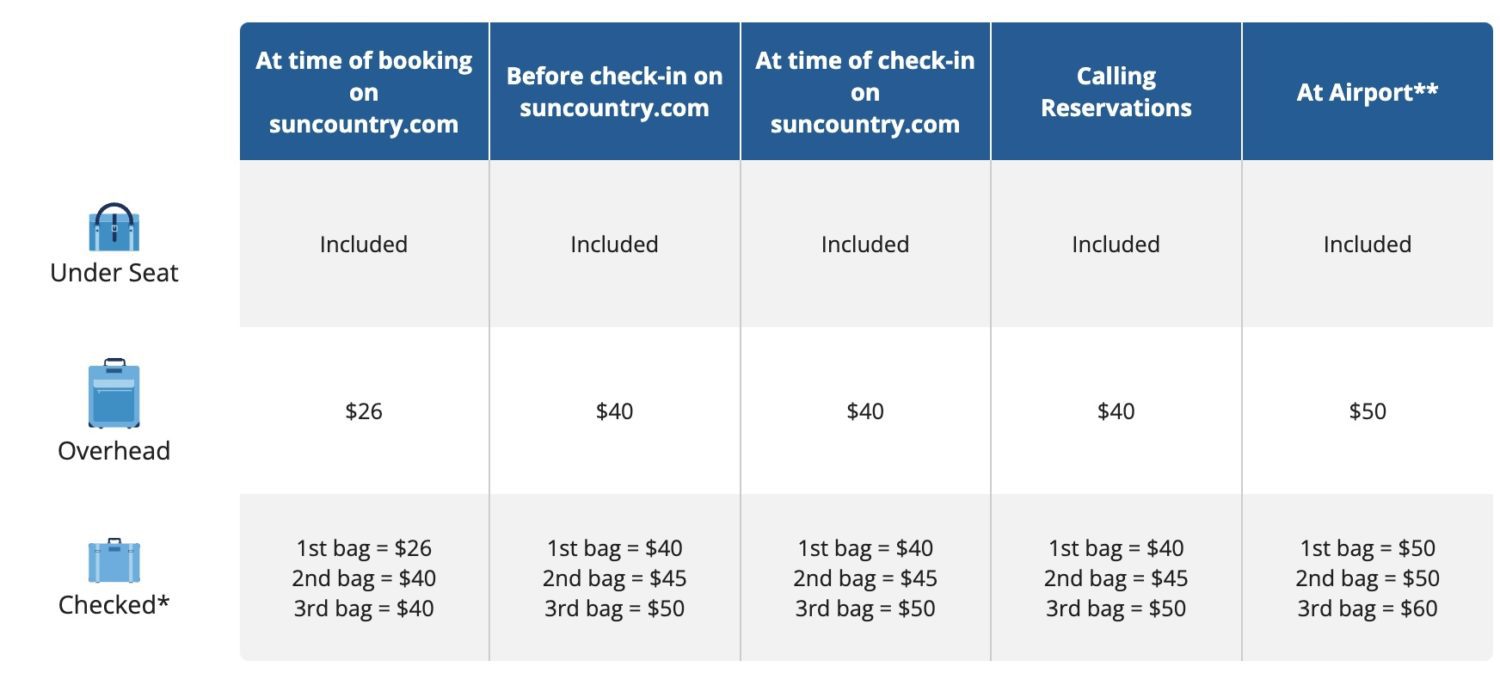 Meanwhile, here's a flight from Minneapolis to Los Angeles (LAX), with a slightly higher checked bag fee at check out of $34 each way. But a carry-on bag on the same route stays flat at $30 each way.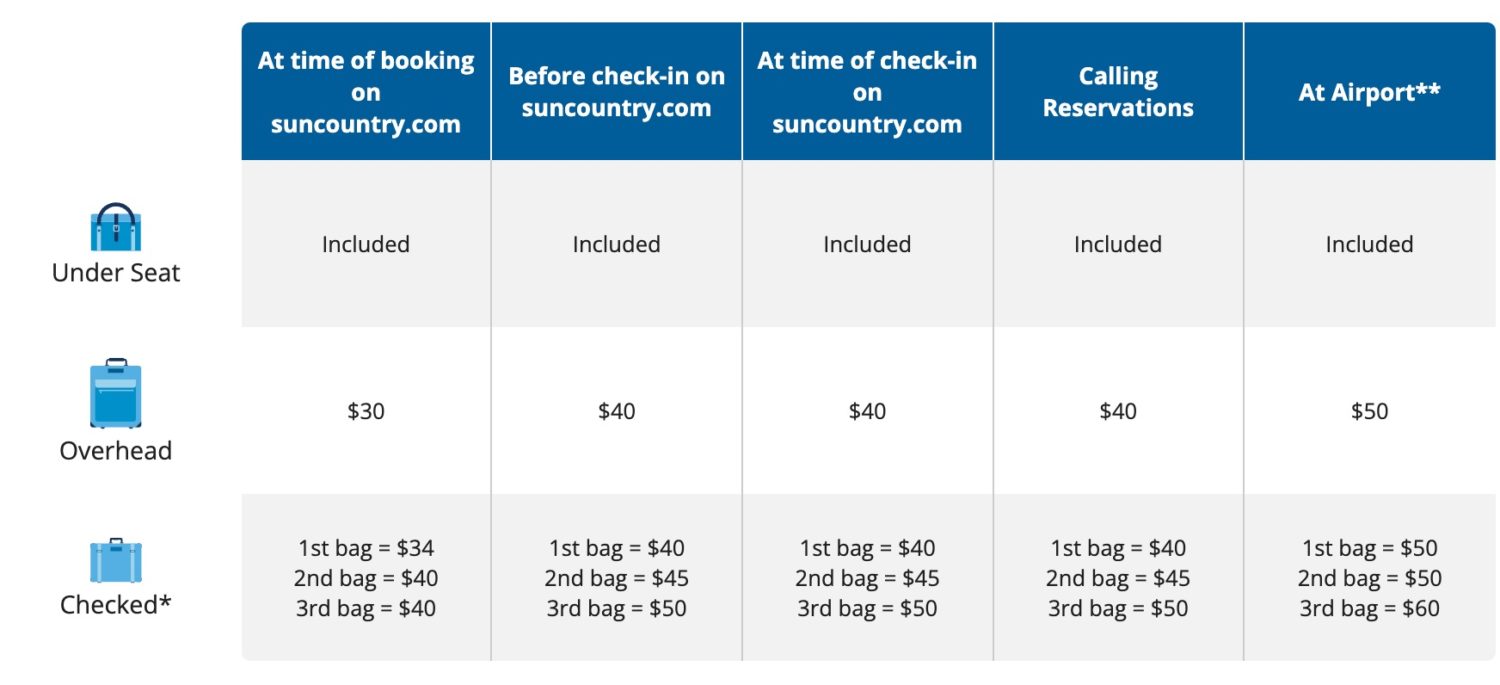 From the fees on these routes, here's what Sun Country Airlines baggage fees boil down to:
Adding a carry-on or one checked bag will typically cost $25 to $35 each way, so long as you purchase your bag during check out.
After that, bags are $40 each way if you add a bag to your reservation online or by phone.
If you wait to add a bag to your trip until you get to the airport, expect to pay $50 each way.
Oversize and Overweight Bags
Bag too big? Or too heavy? Sun Country's baggage fees get heftier, too.
If your bag is more than 63 linear inches (length plus width plus height) or more than 51 pounds, it's likely to be subject to some oversized baggage fees. The heavier it is, the more it may cost you.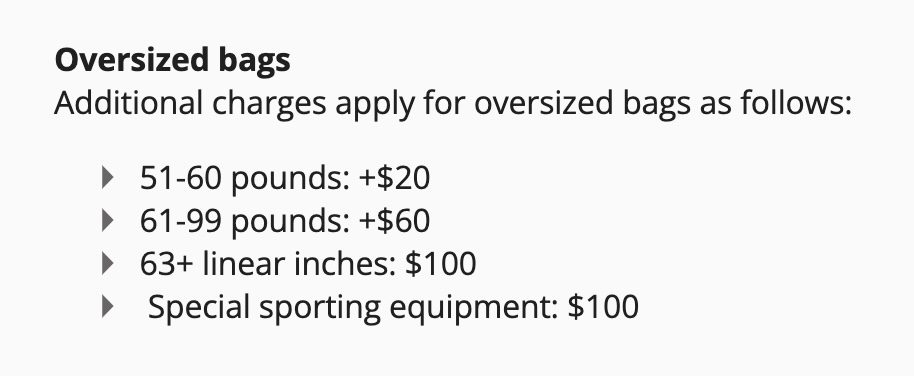 As you can see, bags between 51 and 99 pounds are subject to some hefty surcharges in addition to the normal Sun Country bag fees. This means that a 55 pound bag could cost you at least $50 each way – and $70 each way if you add it to your flight at the airport. A 62-pound bag, meanwhile, would likely cost you at least $90 each way … or $110 each way at the airport. Ouch.
Bags over 100 pounds are not accepted on any Sun Country flight, and bags over 70 pounds are not accepted on flights to or from Jamaica and Puerto Rico.
Free Bags on Sun Country Airlines
The only free bags available to all travelers on Sun Country Airlines are personal items.
In order for your bag to be considered a personal item, it has to fit underneath the seat in front of you and be less than 17 inches tall, 13 inches wide, and 9 inches deep.
All active duty U.S. Military can bring two free checked bags and one free overhead bag on all Sun Country flights. Active duty military must present a valid Common Access Card (CAC) with "Uniformed Services" affiliation at the airport.
How to Save on Sun Country Airlines Baggage Fees
The single best way to save money on Sun Country Airlines baggage fees is to purchase your bags when you book your flight.
The cheapest any bag is going to be is during checkout, and the bags only get more expensive from there. Purchasing bags at the airport is the most expensive time to do it.

In some cases, adding a carry-on or checked bags purchased at booking can cost half as much as bags purchased at the airport. It pays to be prepared and plan ahead when flying Sun Country.
The only other way to save money on Sun Country baggage fees is to hold Sun Country's Visa credit card. Sun Country Visa Signature cardholders get 50% off their first bag when purchased online. If you're traveling with a companion, that traveler will also get half-off their first checked bag so long as they're on the reservation with you.
Other Sun Country Airlines Baggage Policies
As always, there are tons of unique items that have special baggage policies and fees with Sun Country.
Sun Country Airlines Pet Policy
Cats and dogs are allowed as carry-on baggage on flights within the contiguous 48 United States.
Pets have to be reserved through Sun Country Reservations as there is a limit of four animals on each aircraft. Pets on Sun Country Airlines cost $75 each way. Walk-up requests can be accommodated for $100 per segment.
These restrictions do not apply to service animals, however.
Mobility Devices and Special Equipment
Mobility devices like wheelchairs, walkers, and canes are allowed on Sun Country flights free of charge … with some restrictions.
Walkers and canes can be brought onboard and stored in the cabin, while manual wheelchairs must be checked at the ticket counter. In all cases, those items are free of charge.
Powered wheelchairs must be able to fit through the aircraft cargo door, which is 48 inches wide and 35 inches tall. The batteries on each powered chair must be marked as spillable or non-spillable. All powered chairs must be checked in an hour before flight time.
Other items like portable oxygen concentrators (POC) must be approved by the FAA and be reserved by Sun Country 48 hours before their departure.
Car Seats, Strollers, and Infant Equipment
FAA-approved child restraint systems like car seats are permitted on board when a ticket is purchased for the child using the seat.
Both car seats and strollers may be checked at the ticket counter or at the gate – and both items fly free on Sun Country flights.
Items like diaper bags, breast pumps, and cribs are also allowed on Sun Country flights. One diaper bag per infant is permitted along with the passenger's personal item. Breast pumps are not subject to baggage fees, either.
Cribs, however, are considered regular baggage by Sun Country and are therefore subject to baggage fees. Booster seats are not allowed onboard.
Firearms and Ammunition
All firearms and ammunition are accepted only as checked baggage on Sun Country and can only be transported within the United States.
Ammunition must be packed in the manufacturer's container and can be carried in the firearms case up to 11 pounds, total. Firearms must be stored in a hard-sided, locked container and travelers have to sign a "Firearms Unloaded" declaration at the check-in counter before travel.
Nobody under the age of 18 may check a firearm unless they provide proof of firearm safety training. Pellet and BB guns are treated like regular firearms, too.
Paintball guns are allowed in checked bags and are not subject to regular gun case requirements on Sun Country. Customers do have to declare the paintball guns to check-in agents.
Musical Instruments
The size of your musical instrument will determine if you can bring it onboard the plane or have to check it. Normal baggage fees apply to all musical instruments unless they are your personal item.
Smaller-sized instruments in their cases can be brought on board if they fit into the overhead bin or under the seat in front of you.
Larger instruments, like cellos, tubas, and guitars, must be checked. The only exception is that you can also buy a bulkhead seat for your instrument to fly with you.
Sporting Equipment
Some sports equipment can be substituted for one checked bag, but other equipment may require an additional charge when flying Sun Country.
Below are the items you can substitute for one checked bag:
Ski or snowboard equipment (Includes boot bag, only two skis allowed)
Bowling equipment
Hockey equipment (includes up to five sticks bound together)
Fishing equipment (includes two rods, a boot bag, and a tackle box)
Golfing equipment (includes a bag, clubs, and a pair of shoes)
Lacrosse equipment (includes up two sticks bound together)
Other sports bags including baseball, softball, hockey, lacrosse, bowling, golf, dance, and more are considered normal bags
Some sports equipment is considered oversized and will be subject to those Sun Country baggage fees. Those include:
Scuba diving equipment
Surfboards, wakeboards, and kiteboards (maximum length of 5 feet)
Windsurfing equipment (maximum mast length of five feet)
Bicycles (non-motorized bikes only)
Antlers
Trailer hitches
Bottom Line
Just like any budget airline, Sun Country Airlines baggage fees can make or break the affordability of your next flight. While it starts with a low fare on the Minnesota-based carrier, the baggage fees can really add up.
The best way to save on Sun Country baggage fees is by purchasing whatever bags you need right when you book your fare – and make sure it's not oversize or overweight. The longer you wait to book your baggage on Sun Country, the more expensive those fees will get.