If you're looking to fly Delta One Suites to Asia, you cannot beat using Virgin Atlantic miles to book it. While Delta frequently charges 200,000 SkyMiles or more, you can book the exact same flights for just 60,000 Virgin Atlantic Flying Club Miles.
But finding these flights has become a real challenge in recent months: Award availability when booking through Virgin has all but dried up. And if you wanted to fly Delta One to Seoul-Incheon (ICN) in South Korea, it's been even harder – Virgin Atlantic's website hasn't listed Seoul as an option, meaning you'd have to call Virgin to find availability and book. It was a chore.
Until now. Virgin Atlantic has recently added Seoul to its website, meaning you can now search for availability and book Delta One flights to Seoul directly at VirginAtlantic.com. And we're seeing some fantastic availability with four or more seats throughout most of April and into May from Seattle (SEA), Minneapolis-St. Paul (MSP), Detroit (DTW), and Atlanta (ATL)! Return availability is equally excellent if you want to book a round-trip for 120,000 miles. And there are also plenty of seats in Delta One Suites this summer flying from Seattle.

Read our full review of Delta One Suites on the flight from Tokyo-Haneda (HND) to Minneapolis-St. Paul (MSP)
A trip this spring may be uncomfortable for many travelers, as the toll of the coronavirus continues to grow throughout Asia and the world. But while many major airlines have paused flights to China through the spring, they're still flying daily to South Korea and elsewhere in the region. The outbreak has been relatively mild in South Korea, and U.S. officials currently have no travel warnings for South Korea.
Still, this new ability to search for and book flights to Seoul online is a welcome change. Finding these cheap awards to Asia or even Europe through Virgin Atlantic has been difficult lately, so this amount of availability to fly each way for 60,000 miles is excellent. And Seoul itself is a marvelous city where you could easily spend a week or two.
Before we dive into all the dates where you can snag a cheap Delta One suite, read up on how to save on Delta flights by booking with Virgin Atlantic. And read the complete guide to booking Delta One suites!
Don't have Virgin Atlantic miles? You can easily earn them, as they're one of several Chase transfer partner as well as an Amex transfer partner, and Citi points! 
Thrifty Tip #1: Don't live in one of the cities with great Delta One availability? Use a positioning flight to get there. Otherwise, you can generally fly from any airport with Delta service to connect with one of these flights on the same itinerary for 82,500 miles each way. Just start by searching from your home airport on Virgin Atlantic's website.
Thrifty Tip #2:  If you're on the fence about booking, Virgin Atlantic awards have an insanely generous cancellation policy. According to our friends at Frequent Miler, you can cancel any award with less than $50 in taxes and fees for free and get your miles back. And even a round-trip ticket to Seoul would have just $45 or so in fees!
Minneapolis-St. Paul (MSP) to Seoul (ICN)
From mid-April through early May, you and three companions (or more!) can score Delta One suites from Minneapolis-St. Paul (MSP) to Seoul for just 60,000 miles each way.

In fact, many of these dates actually have eight or more seats available. That's a stunning amount of award space. And on this route, you're flying on Delta's latest and greatest Airbus A350.
Just to underscore how good this deal is, Delta itself is charging at least 105,000 for these business class flights – if not much more. For example, you could book this with Delta SkyMiles on May 1 for 180,000 SkyMiles each way.


By using Virgin Atlantic miles instead, you can book the exact same flight for one-third of the cost! Talk about an amazing workaround.


There's plenty of return availability from Seoul back to Minneapolis if you want to make the trip back in Delta One suites, too.
Thrifty Tip #3: Virgin's site may not pull up Seoul when you type "ICN" into your search. Just click "Full airport list -> Rest of World -> South Korea – > Seoul-Incheon" to force it to pull up ICN.
Seattle (SEA) to Seoul-Incheon (ICN)
It gets even better if you're flying out Seattle.
Not only is there near-daily availability with four or more seats from mid-April into May …

… but there's also plenty of availability in July, too!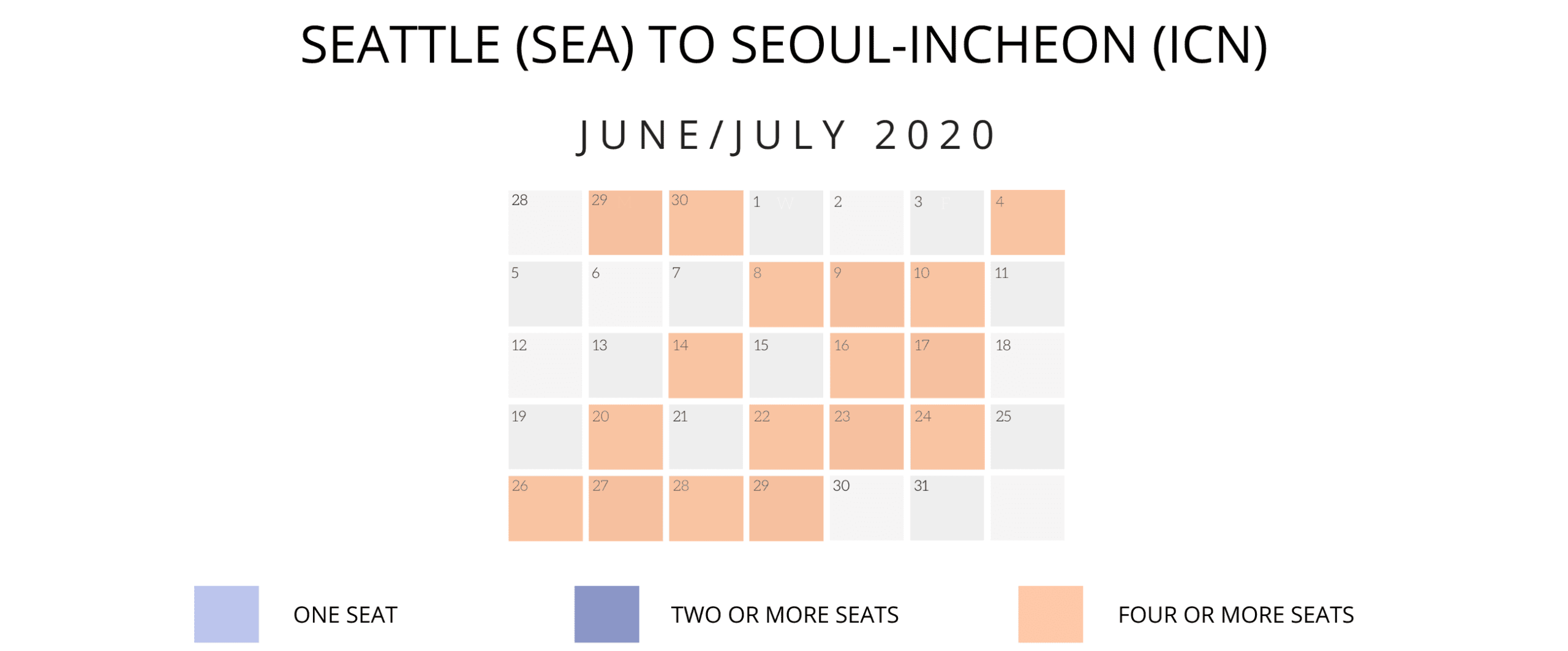 In this case, you'll be flying on one of Delta's newest Airbus A330-900neos. The suites onboard these birds still have closing doors, but the finishes look slightly different from what you'll get on an A350 or Boeing 777.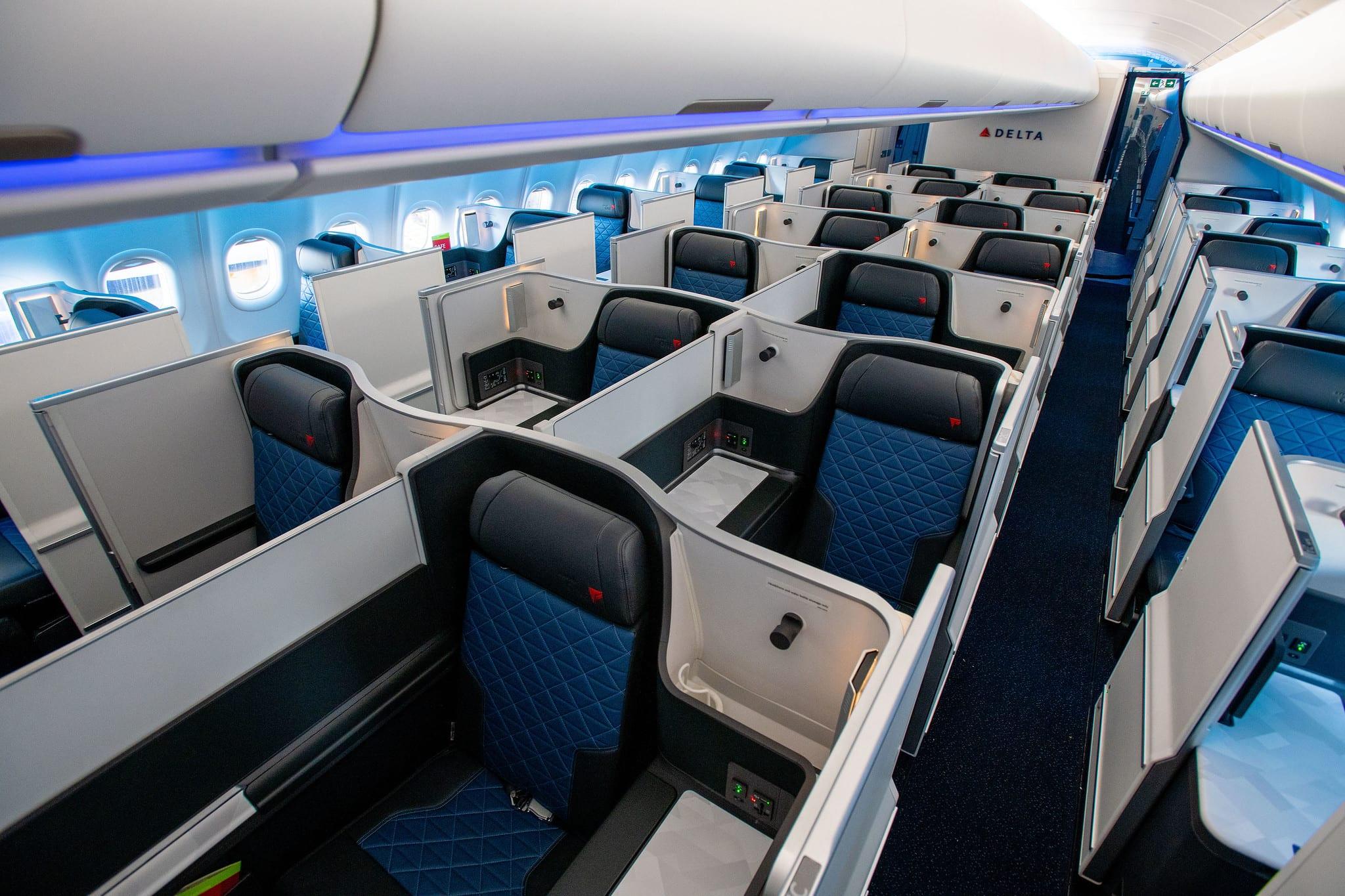 Atlanta (ATL) to Seoul-Incheon (ICN)
Scoring a great deal using miles out of Delta's megahub in Atlanta can be tough. The Delta SkyMiles hub penalty can be tough.
Read our guide explaining how Delta SkyMiles work – and how to make them work for you!
Yet there's also great availability to get to Seoul for just 60,000 Virgin Atlantic miles in April and May.

Once again, you'll be on an Airbus A350 for this long, 14-hour flight. Booking these flights with SkyMiles would cost you at least 105,000 SkyMiles each way, so you're saving a boatload by booking with Virgin Atlantic Flying Club miles.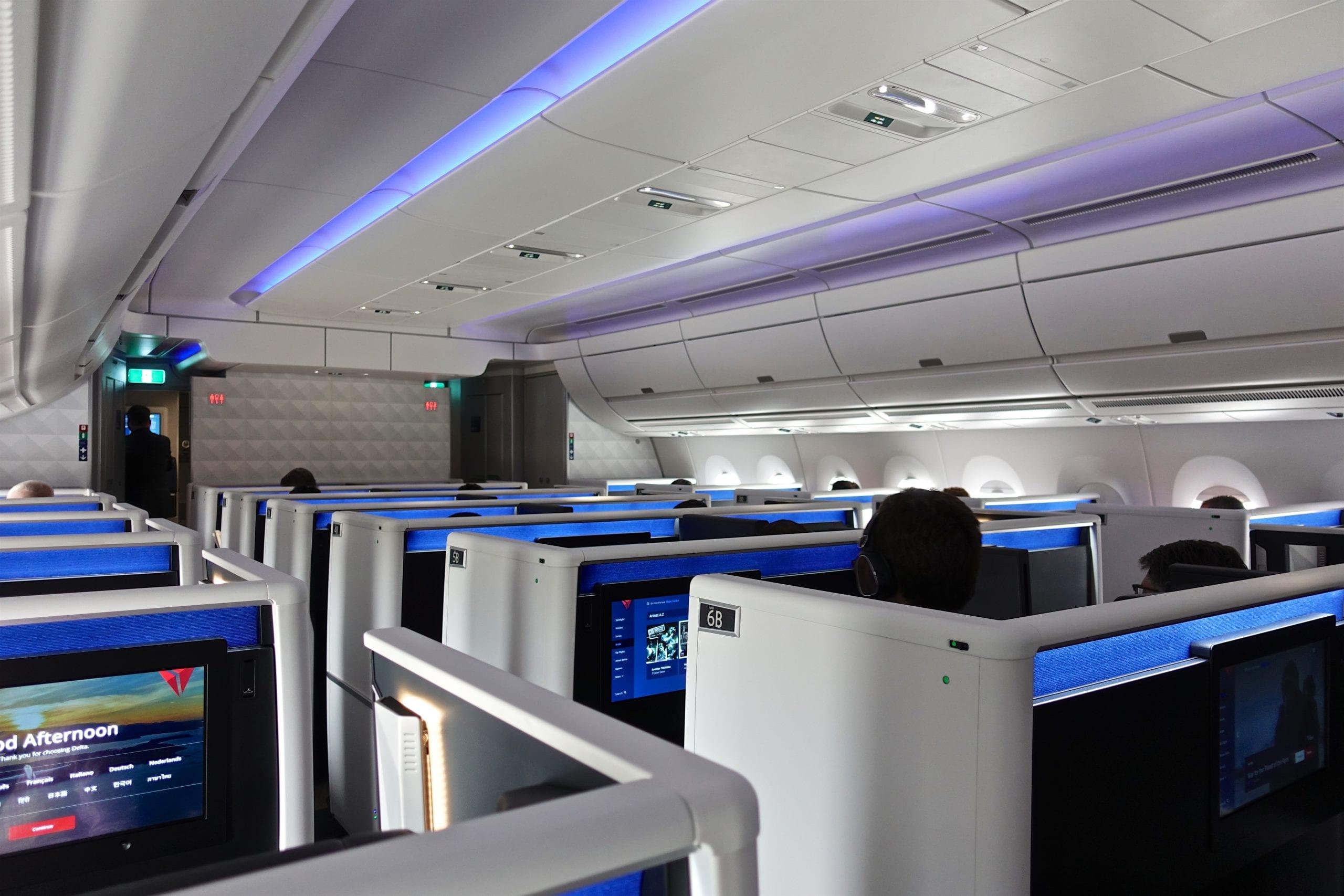 Detroit (DTW) to Seoul-Incheon (ICN)
Delta's final U.S. hub with direct service to Seoul also has some strong availability through April and May, although not quite as solid as the airports listed above.

This was one of the very first routes to get Delta's Airbus A350, so you'll have a cozy ride across the Pacific Ocean. Flights back home from Seoul to Detroit are also wide open over this period, so it should be easy to string together a roundtrip for 120,000 points and just $45 or so in fees.
How to Get Virgin Atlantic Miles and Book
To get in on one of these amazing deals for a Delta One suite, you need some Virgin Atlantic Flying Club miles. Unfortunately, you can't transfer Delta SkyMiles over to Virgin Atlantic, or vice versa.
But you can still easily earn the miles you need to get on the next great deal to fly Delta One suites.
That's because the airline is a transfer partner with three major bank points currencies: Chase Ultimate Rewards, American Express Membership Rewards, and Citi ThankYou points.
The American Express Platinum Card is a strong option for frequent flyers to get the Amex points they need to book a Delta One suite. The $550 annual fee may seem steep, but that comes with at least a 60,000-point welcome bonus after spending $5,000 within three months and an unbeatable set of travel perks. But be sure to check to see if you qualify for an even bigger bonus via CardMatch.
But it's hard to deny the value of the Chase Sapphire Preferred card in this situation. After spending $4,000 within three months, you'll earn a 60,000 point bonus – and the card carries just a $95 annual fee. Transfer those points over to Virgin Atlantic, and you're set!
Bottom Line
It's great that it's gotten so much easier to search for and book Delta flights to Seoul using Virgin Atlantic miles. Not long ago, it was once next to impossible to find the availability and book.
This lump of award availability is just the cherry on top.