One of the best transfer bonuses we've seen for using Chase Ultimate Rewards points is back: You can get a 30% bonus when sending your Chase points to British Airways, Iberia, and Aer Lingus.
These transfer bonuses are basically free airline miles – it's a great way to get even more value out of your credit card points. That's why it was such a big deal when Chase launched its first-ever bonus in 2019.
And a 30% bonus when sending points to British Airways or Iberia is outstanding. In this case, it can help you score flights to Hawaii for as few as 20,000 points round-trip or fly to Europe in business class for just 27,000 Chase points. Iberia and British Airways are certainly the two strongest options among these three airlines, while Aer Lingus redemptions aren't as lucrative.
The current 60,000-point bonus on the Chase Sapphire Preferred® Card can get you far with this transfer bonus. You can also transfer points to airlines from cards like the Chase Sapphire Reserve®.
This bonus is available through Sept. 26, which means you've got nearly a month to strategize how to put this to use. Keep reading for our favorite ways to maximize this bonus!
Read up on Chase transfer partners and how to transfer your points to airlines like British Airways.
You won't see your bonus points on the front end. Instead, they should deposit after the transfer hits your account. Transfers to all three airlines from Chase are instantaneous.
Keep in mind you have to transfer in increments of at least 1,000 points. You can also transfer Avios between the three sister airlines, though there are some restrictions to keep in mind with those inter-airline transfers.
And remember: These transfers from Chase to partner airlines are a one-way street. Once you send your Chase points to Iberia or British Airways, you can't get them back. That means it's important to have a gameplan for how to use these points, bonus or no.
Fortunately, there are plenty of strong options.
How to Maximize This Transfer Bonus
While travel may still feel uncertain right now, there are some great ways to put this transfer bonus to good use for future travels.
Fly to Europe for Less
Iberia has one of our favorite ways to get to Europe on points – and one of our favorite deals in the world of points and miles, period.
Using Iberia, you can fly from Boston (BOS), New York City-JFK (JFK), or Chicago-O'Hare to Madrid (Madrid) for as low as 34,000 miles round-trip. Factor in this transfer bonus and you need just 27,000 Chase points transferred to Iberia and you'll have enough to book.
But why not use your points to fly business class to Spain instead? You can do it for just 68,000 miles round-trip – less than most airlines charge for a one-way business class ticket. With this transfer bonus, you need just 53,000 miles to have enough to book a roundtrip flight in business class. Study up on how to book Iberia business class seats for cheap.
With Iberia business class, you're in for a treat. The seats are plenty spacious and recline all the way into a comfortable bed. The food is tasty, and the service is attentive.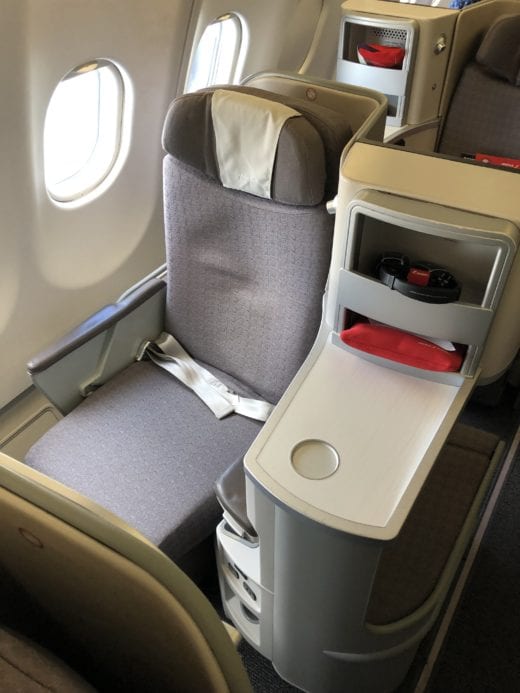 Considering it's $7,000 or more a ticket when paying cash, it's a phenomenal way to get even more value out of your points. And this transfer bonus makes it even cheaper.
Fly to Hawaii via British Airways
British Airways offers one of the cheapest ways to get to Hawaii. With this bonus, it gets even cheaper.
British Airways charges just 26,000 miles round-trip to fly from the U.S. to Hawaii. There's one catch: Thanks to British Airways' distance-based award chart, you have to start from either Los Angeles (LAX) or Phoenix (PHX). Luckily, you can fly to all four major Hawaiian islands for that rate.

Factor in this new 30% transfer bonus, and you can transfer just 20,000 points to book. Done!
Fly East Coast to the Caribbean
Instead of flying from the West Coast to Hawaii, head from the East Coast down to the beaches of the Caribbean.
British Airways' distance-based award pricing means these relatively short jaunts south start at just 7,500 miles each way. For example, you can fly from Miami (MIA) to Aruba (AUA) for just 9,000 Avios each way, or 18,000 round trip. Factor in this transfer bonus, and that's just 14,000 points for roundtrip flights to Aruba.
Here's a look at the British Airways Avios award rates based upon the distance of your flight down to the Caribbean:
0 to 650 miles: 7,500 Avios each way
651 to 1,150 miles: 9,000 Avios each way
1,151 to 2,000 miles: 11,000 Avios each way
2,001 to 3,000 miles: 13,000 Avios each way.
Just plug your flights into GCmap.com to measure the distance. And you'll want to ensure you're finding nonstop flights, as British Airways charges on a per-segment basis.
Fly to Dublin for Less
If there's one promising option using this transfer bonus through Aer Lingus, it's this: Flights to Dublin starting at just 13,000 Avios each way.
The trick is flying at off-peak times, as that's when you'll find these low rates. Fortunately, Aer Lingus is generous with what it considers peak season: Generally, only the winter holidays and mid-June to early September will price out higher.
With this 30% transfer bonus, you could book roundtrip flights from many major U.S. cities to Dublin using just 20,000 Chase Ultimate Rewards points! One downside is that Aer Lingus passes on some hefty fees: Roughly $130 for a one-way flight from the U.S. to Dublin and even more for the return.

Still, you could come out ahead booking a trip to Ireland this way.
Bottom Line
This is an excellent 30% transfer bonus to British Airways, Iberia, and Aer Lingus. You could easily make smart use of it whether you're planning a trip to Europe, the Caribbean, or even Hawaii.
You've got until Sept. 26 to make your plan before this transfer bonus disappears.