The only thing that's better than how easy it is to earn 70,000 American AAdvantage miles right now is just how far those miles can take you.
Even if you hope to never set foot on an American Airlines jet, AAdvantage miles are worth earning thanks to some amazing partner airlines you can book using those miles. And it's never been easier to rack up a ton of them: The AAdvantage® Aviator® Red World Elite Mastercard® just rolled out a record-busting welcome bonus of 70,000 miles after a single purchase. Buy a coffee or a candy bar, pay the $99 annual fee, and you'll have a huge stash of miles.
But just what can you do with those miles? Take a look at some amazing deals you can book for 70,000 AAdvantage miles or less.
Get deals to use your AAdvantage miles (and all your other points) with Thrifty Traveler Premium+!

Roundtrip Flights to Europe
Heading to Europe? You're in good company: Transatlantic travel is booming right now.
But whether you're heading for London-Heathrow (LHR), have your heart set on a trip to Paris-Charles de Gaulle (CDG), or want to schlep all the way to Athens (ATH), booking flights to Europe in economy is one of the most tried-and-true ways to redeem your AA miles.
Best of all, you can typically pull it off for around 50,000 to 60,000 miles round-trip – and sometimes even less! Exactly how much it costs can vary wildly as American has officially ditched its award chart with ironclad redemption rates when redeeming miles to fly American.
But deals like this one from Philadelphia (PHL) to Paris-Charles de Gaulle (CDG) next spring aren't tough to find.

Occasionally, we see award rates drop even lower. A few years back, we alerted our Thrifty Traveler Premium+ members to a nationwide sale to European cities like Madrid (MAD), London-Heathrow (LHR), Paris-Charles de Gaulle (CDG), and even Budapest (BUD) and Prague (PRG). Here's the amazing part: Whether you flew from big cities like New York City (JFK) and Miami (MIA) or smaller towns like Green Bay (GRB) or Omaha (OMA), it was just 34,000 AAdvantage miles roundtrip!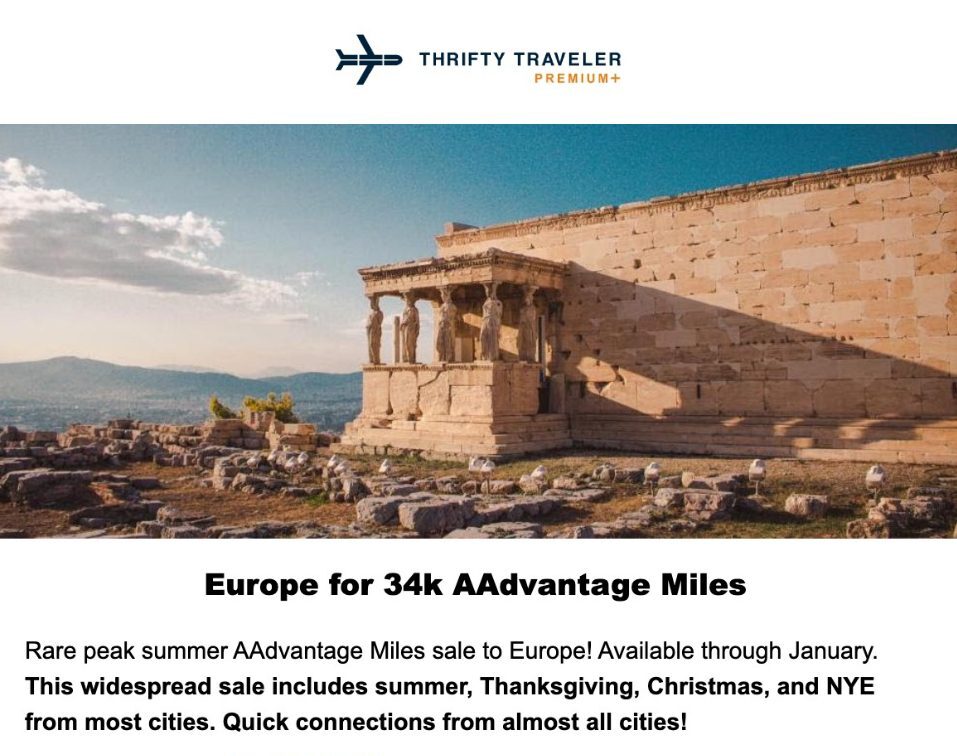 No matter how you slice it, 70,000 AAdvantage miles is more than enough to pull off a roundtrip flight to Europe this year or next – and if you're lucky, you can bring a buddy.
A Flight to Tokyo in Business Class
When you're flying 12-plus hours across the Pacific Ocean on the way to Tokyo, nothing beats a lie-flat seat. How about spending just 60,000 of your AAdvantage miles for this?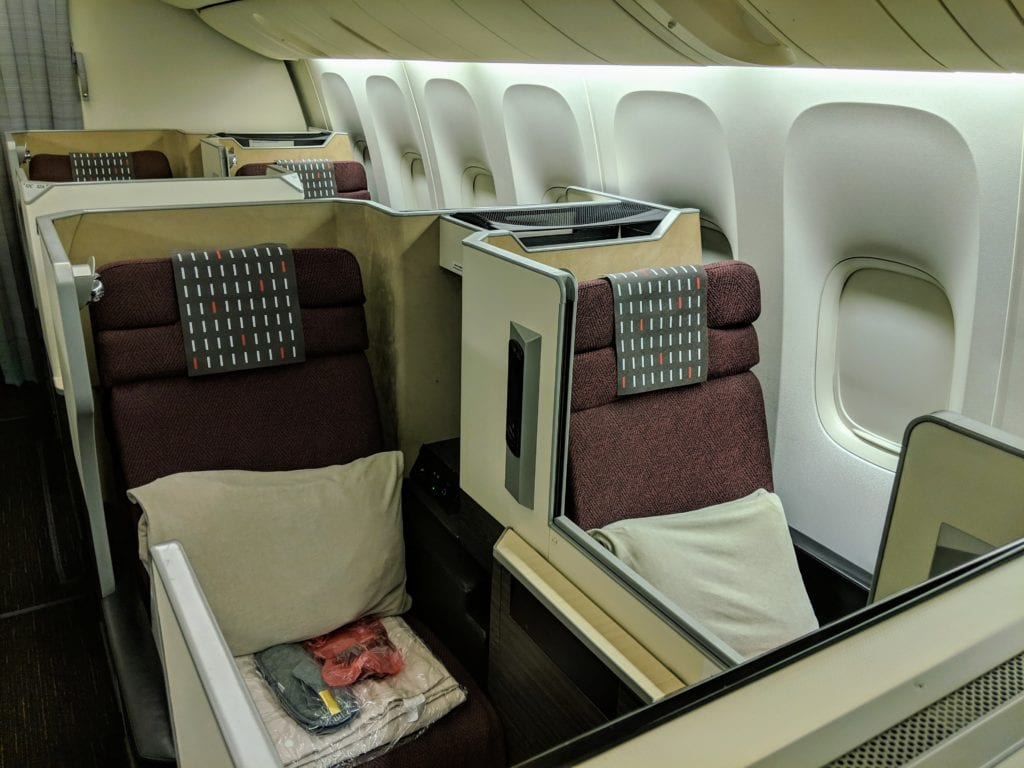 Whether you're trying to get to Japan for next year's cherry blossom season or hit the fresh powdery slopes up in Hokkaido during "Japanuary," Japan Airlines business class is one of the best ways to get there. And we're always looking for the award space so our Thrifty Traveler Premium+ members can use their American Airlines AAdvantage miles for a flight to Tokyo.

Get the next award alert like this one to fly business or first class with your miles with Thrifty Traveler Premium+!
One of the big advantages of using American miles is that you can often add in a connecting flight – like here, from Minneapolis-St. Paul (MSP) to Dallas-Fort Worth (DFW) – before or after hopping on the transpacific flight … and it still costs just 60,000 miles total!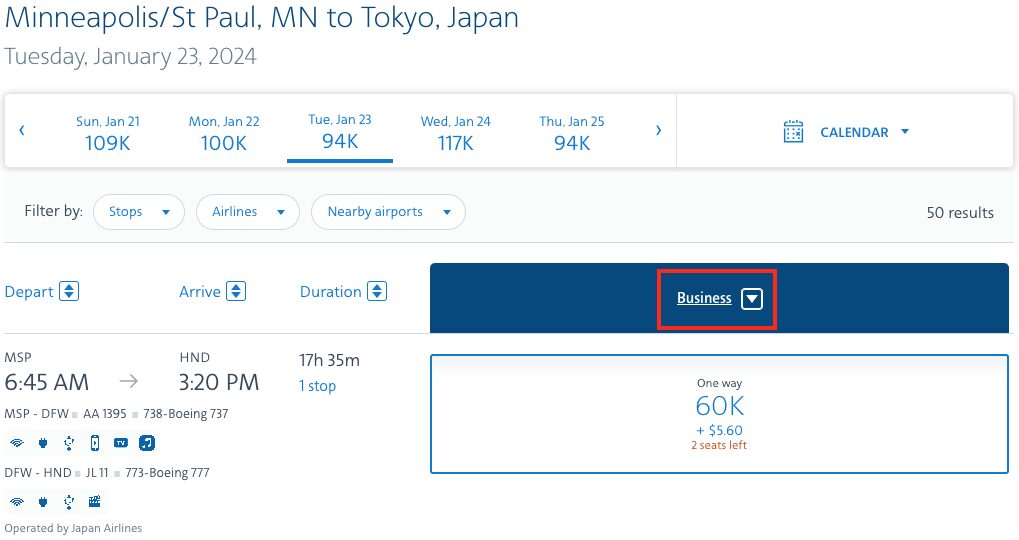 Or Roundtrip in Economy to Japan
Want to use your miles for a trip to Japan and back? We get it. And you're in luck: Japan Airlines Economy is better than just about any other airline.
Japan Airlines (JAL) has some of the most generous legroom and seat width you'll find in economy in the sky. They call them "Sky Wider Economy" seats, and they live up to the name. At up to 19 inches wide, these seats are substantially wider than what airlines like American flies on many of the same routes, where you'll get 16 inches to 17 inches of width. And in economy, every inch is critical.
Best of all, you can fairly easily book roundtrip flights to Tokyo in economy for 70,000 AAdvantage miles. Unlike hunting down award availability for premium cabin seats, finding dates that work at 35,000 miles each way is typically pretty easy.

Japan Airlines flies from Tokyo to 10 different U.S. cities all across the country – plus Vancouver (YVR) up in Canada. That gives you plenty of gateways to begin your trip with Japan Airlines. But you can often start your search from your home airport and get all the way to Tokyo with a connection through cities like Chicago-O'Hare (ORD), Dallas-Fort Worth (DFW), or Los Angeles (LAX) … and still use just 70,000 miles roundtrip!
Anywhere in Southeast Asia for 70K in Business Class!
Got somewhere else in Asia in mind? Whether you're dreaming of a trip to Thailand, want to visit the hawker stalls of Singapore, or have a trip to Hanoi in mind, 70,000 AAdvantage miles can get you there in style.
While it typically costs 60,000 AAdvantage miles to fly business class on a partner airline between the U.S. and Japan or Korea, you can fly to practically any other destination throughout Asia for 70,000 miles each way. And you've got two five-star carriers to pick from: You can easily book flights online at AA.com on either Japan Airlines and Cathay Pacific using your AAdvantage miles.

The trick is starting with finding business class award availability on the the long-haul flight across the Pacific to either Tokyo or Hong Kong (HKG). That's typically much easier with Japan Airlines than Cathay Pacific, which is notoriously stingy with allowing partner airlines like AA to book their business or first class seats.
Either way, we've got you covered. A Thrifty Traveler Premium+ alert like this could be the key for you to start searching instead for flights to Bangkok (BKK), Singapore (SIN), Taipei (TPE), or beyond.
Caribbean Getaways on the Cheap
Aruba? Jamaica? American Airlines miles can take ya.
Few airlines are better when it comes to getting to the islands of the Caribbean. And that makes AAdvantage miles indispensable … especially when the airline slashes award rates down to just 20,000 miles roundtrip.
We sent this alert to Thrifty Traveler Premium+ members in early 2022, with flights from airports big and small to almost any Caribbean destination you can think of bookable for just 20,000 AAdvantage miles total.

St. Thomas (STT) in the U.S. Virgin Islands? Just 20,000 AAdvantage miles. All the way to Turks and Caicos (PLS)? Still just 20,000 AA miles. Notoriously pricey islands like St. Lucia (UVF) or St. Martin (SXM)? You guessed it: 20,000 AAdvantage miles.
At those dirt-cheap rates, your stash of 70,000 AAdvantage miles could cover a trip to the beach for three!
Fly the World's Best Business Class to the Middle East
Flying doesn't get much better than this.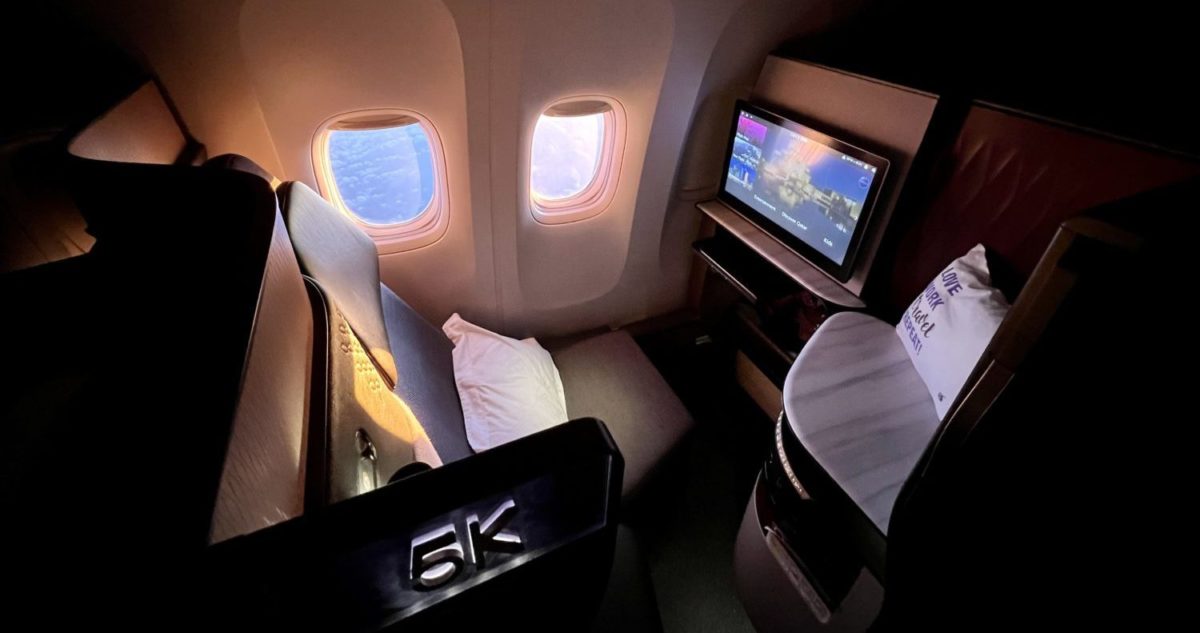 Qatar Qsuites are the best business class in the world, end of debate. With great meals, service, and a ton of space and privacy thanks to a door at your suite, the 15-plus hour flights to Doha (DOH) feel more like just five hours. And you can book it for just 70,000 AAdvantage miles each way. 
It's one of our favorite ways to use AA miles, period. That's why we're always looking for availability to book Qsuites with AA miles, letting our Thrifty Traveler Premium+ members know with an instant alert. In fact, we've sent more than 15 alerts to book Qsuites in the last year alone!

But the best part about using your 70,000 AAdvantage miles to fly Qsuites is that it can get you to some unbelievable places.
You can fly nonstop from a dozen U.S. cities to Doha for 70,000 miles
Or you can start from your hometown airport with AA service and make it to Doha with one stop for 70,000 AAdvantage miles
But you can also connect onward almost anywhere in the Middle East, India, or even the Maldives for … you guessed it, 70,000 AAdvantage miles
But there's one Qsuites deal that's arguably even better for just a few thousand AA miles more…
… Or 75K to South Africa
OK, this one is cheating. But just a few thousand miles more will help you pull off one of the best deals in the world of points and miles.
That's right. You can fly Qsuites from the U.S. to Doha or the Middle East for 70,000 miles … or you can tack on another 10-hour flight to the tip of South Africa for just 5,000 more American miles.
Flying in a Qatar Airways Qsuite for just 75,000 AAdvantage miles all the way from the states to Johannesburg (JNB), Cape Town (CPT), or anywhere in Africa is tough to beat, especially on the long journey to South Africa that clocks in at roughly 24 hours of flight time.


But actually finding the award availability to book this deal with AAdvantage miles can be harder: You need not just one long-haul flight, but two to make it all the way. We do the legwork for our Thrifty Traveler Premium+ members to make it happen, sending award alerts any time we find some solid award space to fly Qsuites down to South Africa.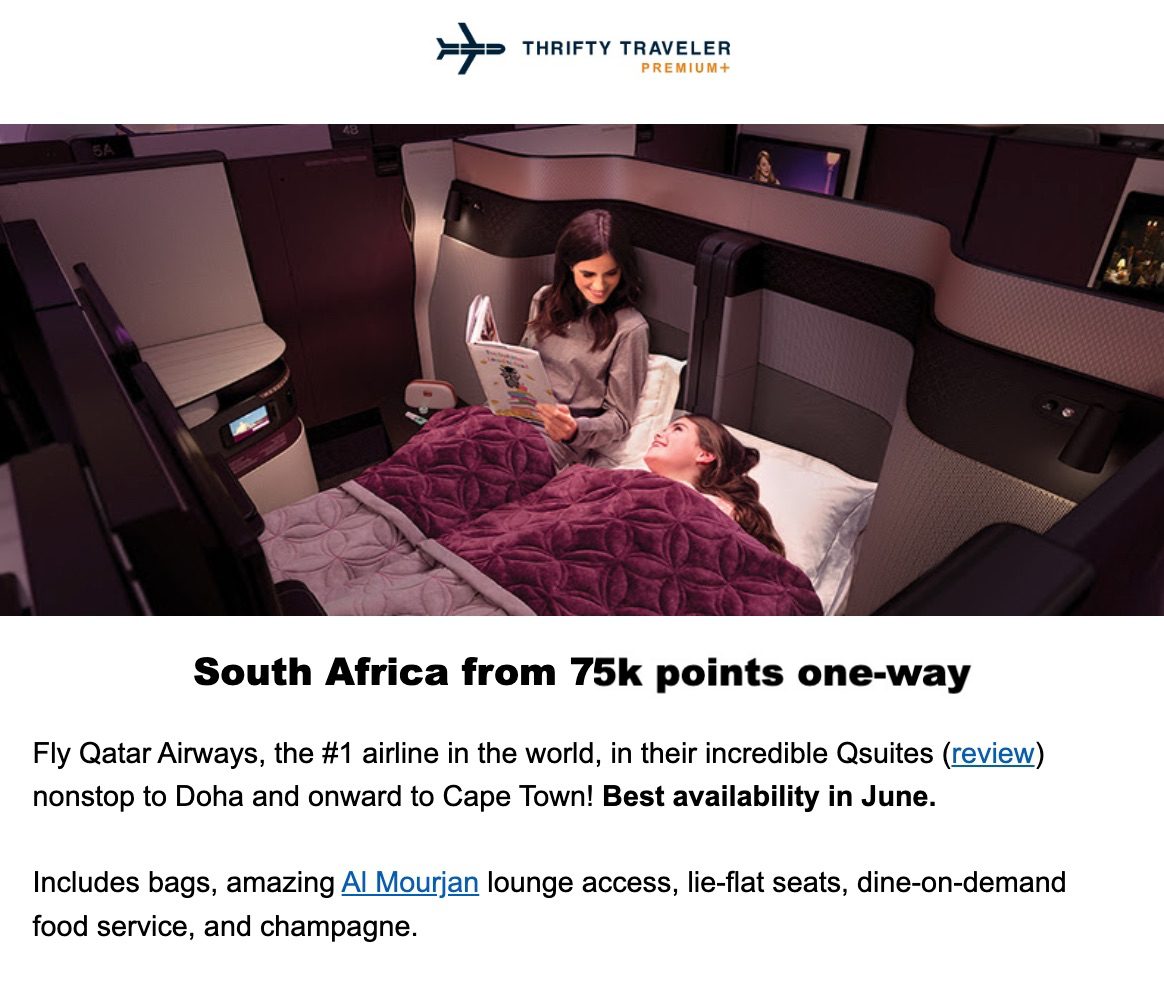 You've got a few options to get those extra 5,000 AAdvantage miles to pull off this unreal trip to South Africa:
Bottom Line
This list could be 14, 28, or 105 entries long – maybe longer.
There are so many great ways to redeem 70,000 AAdvantage miles. And given how easy it is right now to earn those 70,000 miles by spending a total of just $100 (or a little less) on the AAdvantage® Aviator® Red World Elite Mastercard® , all these deals and more could be easily in reach.
Get deals like these to use your AAdvantage miles (and other points!) wisely – start getting Thrifty Traveler Premium+ alerts now!