Mrs. TT and I recently flew to Europe on the new American Airlines 767-300 Business Class product. We both redeemed 100,000 AAdvantage miles for the flight from a prior 100k AAdvantage credit card offer in 2014. Originally we were booked on AA partner Air Berlin but one of the flights was canceled so we were rebooked, at no extra charge, on the Chicago to Dusseldorf route which normally requires 220k AAdvantage miles round-trip. If we paid cash this flight would have cost over $8500 round-trip so we got very good value for our miles.
Thrifty Tip #1: If there is a delay or flight time change/cancellation on your American flight booking you can call to possibly improve your routing. The only thing that must stay the same is the origin and final destination of the booking.
Check-in at the airport was a breeze through the Business Class priority line. As a Business Class flyer, American allows you to check three bags weighing 70 pounds each (210 lbs total). Mrs. TT and I travel light but we were surprised at the amount of baggage American allows you to fly with. Flying international first class also allows you free access to the Admirals Club lounge. When we arrived at the Admirals Club lounge at O'Hare we were each given two free drink coupons which were good for anything on the bar menu. We, of course, went for the high priced cocktails and some bubbles.
Boarding the plane was easy. The aircraft is laid out in the 1 x 2 x 1 configuration and we were seated in the second row in seats 3D / 3G.
Thrifty Tip #2: Always check out Seat Guru before your flight. It offers reviews of almost every plane and lets you know which seats are best and also which seats to avoid when booking. Simply google the aircraft type (American 767-300) and it should come up with the right plane.
.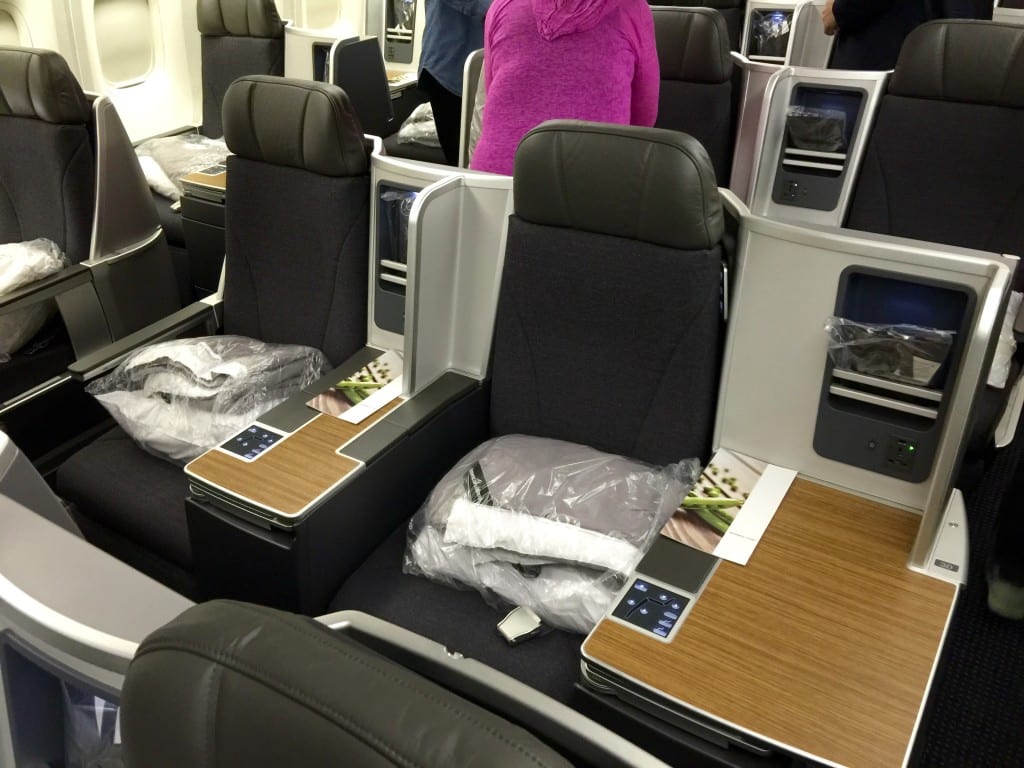 If I had been traveling solo I would have picked one of the A or J seats as they provide more space compared to the middle seats.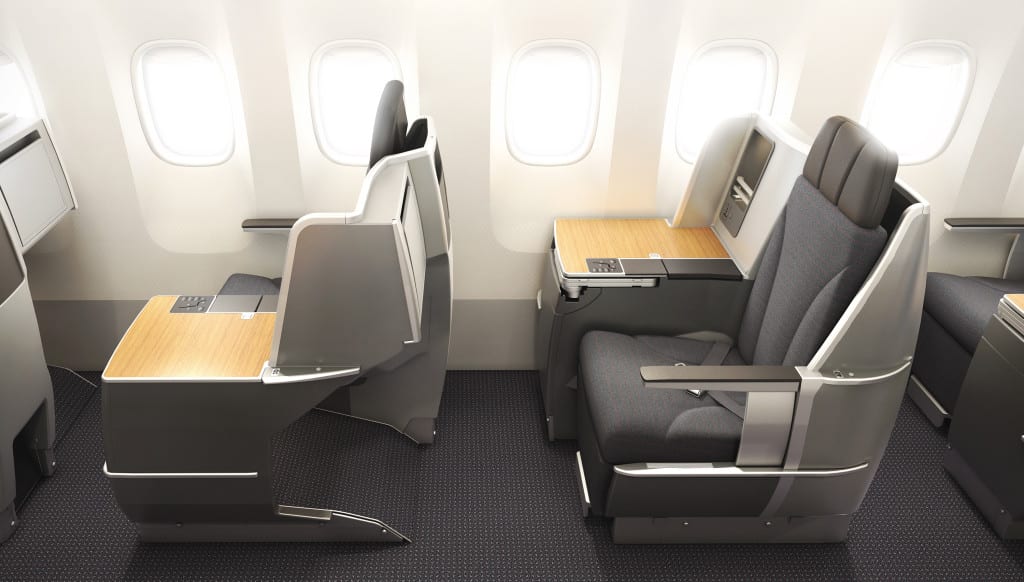 As soon as we were seated we were offered some pre-flight champagne. As you can see Mrs. TT was happy with the service. I felt bad for the coach passengers who all had to pass through Business Class while Mrs. TT and I were being served drinks.
The vintage throwback amenity kit provided onboard included essentials such as toothpaste, compression socks, and lip balm. American is featuring artwork on their amenity kits from many of the original airlines (AirCal) that now comprise American Airlines.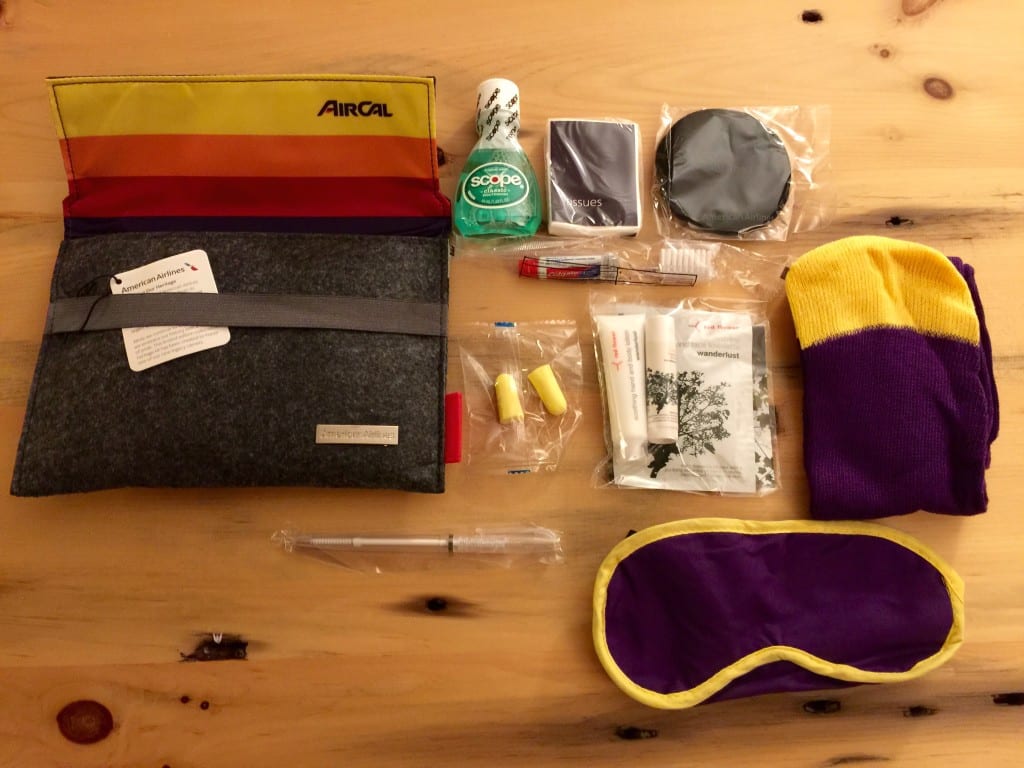 After boarding, we were given Samsung Galaxy tablets to view movies, books, and video games. It was a little awkward as they had to be plugged in and we had power and headphone cords running everywhere. I guess this allows American to stay up to date on the newest technology compared to the video screens being built into the seatback.
The complimentary Bose noise canceling headphones were a nice touch. The silence made the trip so much easier and more enjoyable.
The food was delicious and you could choose your meals online up until 24 hours before departure. Drinks, of course, were complimentary. Mrs. TT is a wine lover and was very impressed by the wine list.
I chose the peppered beef filet for my entree. It was a little tough but the presentation was very good. I devoured the ice cream dessert before it had a chance to be photographed.
The controls on the middle console allow you to change the seat position from upright to lie flat. I'm just shy of six feet tall and I had plenty of room in lie flat mode. For the most part the seats were very well designed. My only complaint about the seats were the tray tables that slide out. You honestly need an engineering degree to figure them out. Almost everyone on board had to be shown how they work by the flight staff.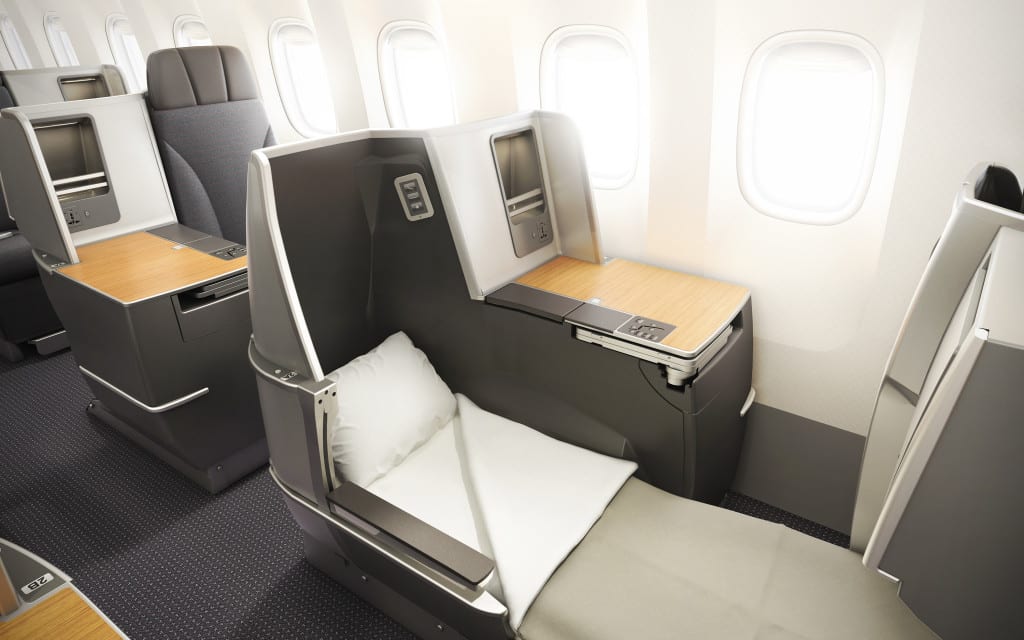 Breakfast in the morning right before landing in Dusseldorf was an added plus. We were able to deplane without worrying about finding something to eat. Overall we were very impressed by the food selections and quality.
Our eight hour flight was over before we realized it. It was great to arrive in Dusseldorf rested as we began our European vacation. While flying first class may seem out of reach for many people it really isn't. All that you need to do is develop a plan to start accruing points and almost anyone can do it by only opening a card or two. I would suggest one-way fares as the easiest way to fly first class. You would fly to Europe first class and fly back to the United States in coach, possibly on different airlines. It's still quite a few points but it's the easiest way to fly up front!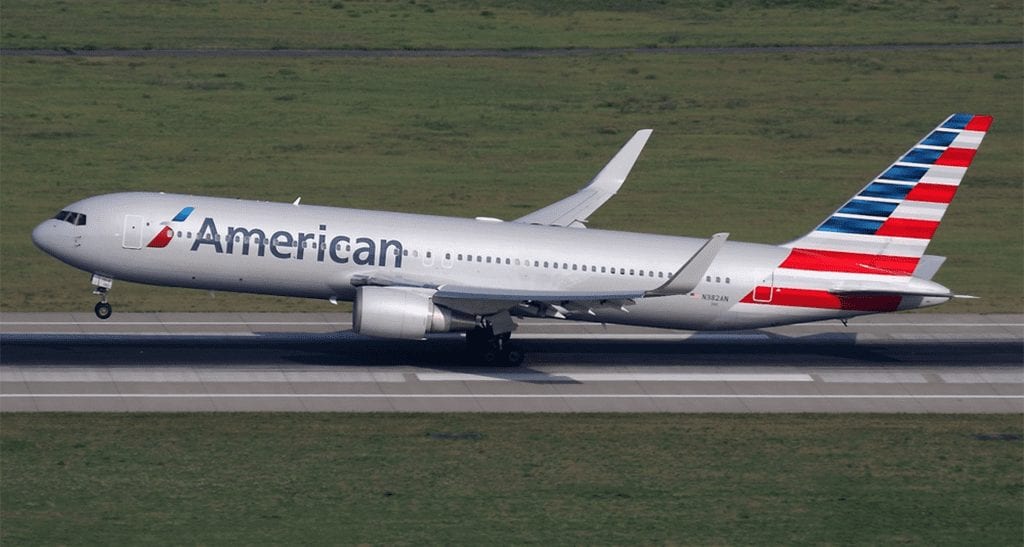 Check out our other flight reviews: