When Primera Air went bankrupt, I suddenly needed a new way to get from Paris to Minneapolis just a few weeks before my trip to France. Instead of purchasing an insanely expensive cash ticket to get myself home, I opted for using American Airlines AAdvantage miles to fly in a lie-flat business class seat for my first time. Mr. TT flew this same aircraft a few years back and had a good experience, and recommended this option.
Points are, in my opinion, best used for booking experiences you wouldn't otherwise be able to afford, or for when you're in a pinch and you need to change travel plans without breaking the bank. In this case, flying American Airlines business class home from Paris checked both those boxes.
Booking Process
The booking process was simple and straightforward. I booked through the American Airlines AAdvantage website for 57,500 AAdvantage miles and $80.60 of international taxes and fees. This is the price American charges for a MileSAAver award ticket between Europe and the US (or vice versa).
American Airlines AAdvantage miles are among the easiest points and miles to earn. Both Citi and Barclays offer co-branded American Airlines credit cards with large sign-up bonuses. To learn more about these cards, make sure to visit the airline credit cards section of our Top Credit Cards page.
Boarding Process
This was my first time flying business class internationally, so I was excited at the chance to board first. I waited patiently by the gate, waiting for them to call my group first. The gate at Charles de Gaulle was crowded, and when they called business class, it was a bit of a cluster to get everyone through to the walkway. We walked through a skyway, down a few flights of stairs, and out a door to take the bus to the plane.
We all crammed into the bus, Business and Economy customers alike. I know the bus is a necessary evil, but the bus always seems to add some frantic anxiety to the boarding process. It was a little less glamorous than walking onto the plane first with just the other business class passengers.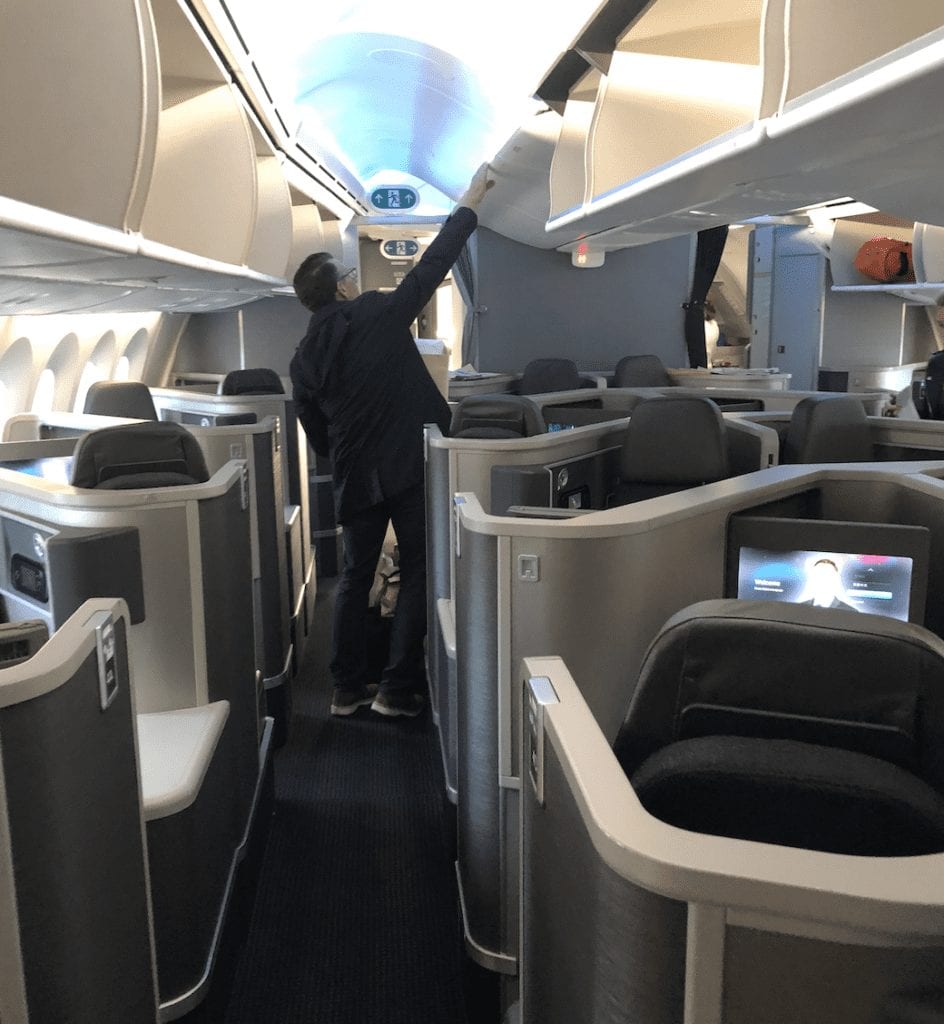 Turning left rather than right at the aircraft door, however, marked my entry into a whole new world of air travel. As I entered the business class cabin, I was enthralled with the seat size and organization. I had only seen these kinds of seats in photos before! I made my way up to seat 1A — my home for the next 6+ hours — and could feel my excitement build for the coming hours in business class paradise.
Seats
The American Airlines business class cabin on board the Boeing Dreamliner 787-8 provides options to sit in either forward- or rear-facing seats. Sitting backward sounded disorienting to me, so I opted for a forward-facing seat. 1A was open even just a few weeks before the flight when I booked, so I snagged this single seat with the first left-hand window on the plane. When boarding, the pilot cockpit door was open and I could see the pilots preparing for the flight.
There was more than plenty of overhead compartment space for my carry-on bag and personal item. I had packed carry-on only due to the restrictions on my Norwegian flight to Paris. I basically had an entire overhead bin to myself. We were required to put all items in the overhead compartments because there is no storage space underneath the seats in front of us. Considering the amount of space I had, I had no problem putting everything overhead.
As I got situated in my business class seat, I couldn't help but get a little giddy about my space for the next few hours. I tucked myself in with my Casper comforter and got acquainted with my surroundings. More legroom than I knew what to do with. A large entertainment system over my outstretched feet. A touch-screen remote controller. Plenty of charging ports for my phone and electronics. An amenity kit put out for me. A water bottle waiting for me, and a menu to browse.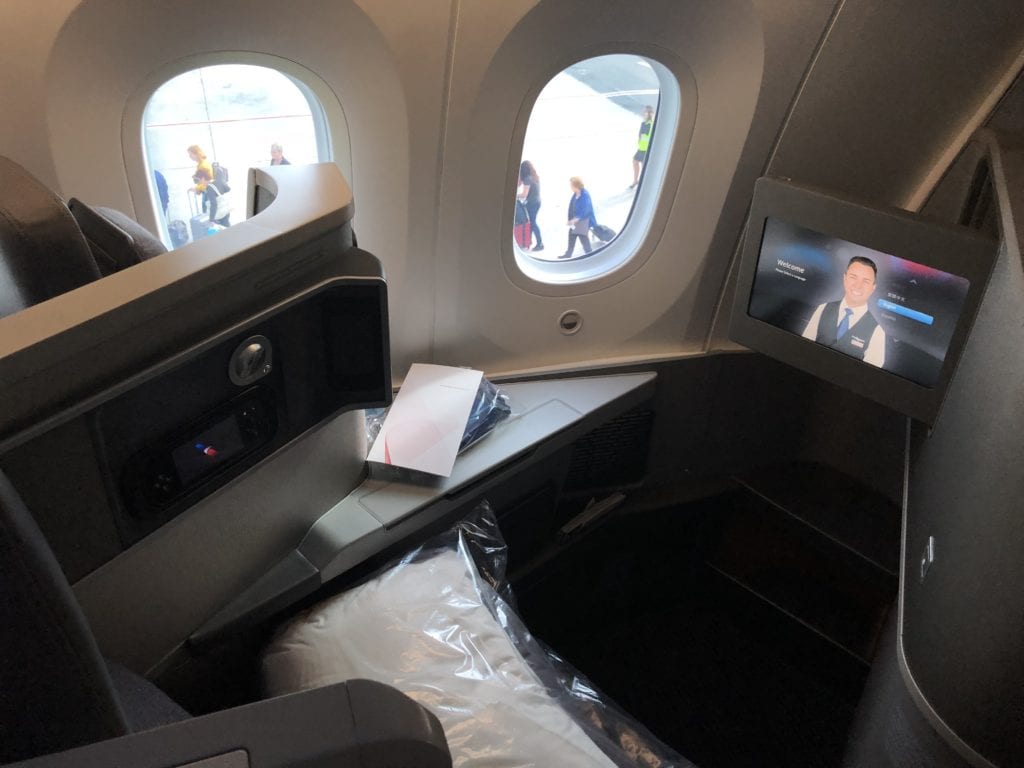 Once we were airborne, I toyed around with my seat remote. I could hardly believe I had all these options for seat adjustment! My feet were far from reaching the footstool when seated upright, so I moved my whole seat forward to rest my feet. Next, I tested out the reclining option, with my knees supported and chair reclined. Finally, I stretched out completely with the lie-flat seat button and let my chair glide me into business class bliss.
Lying completely flat with my feet comfortably outstretched on a plane is definitely one of my top travel highlights. For reference, see the photo of me grinning from ear to ear in my first lie-flat seat above.
Business Class Experience
The Business Class experience is more than just the lie-flat seat. It's the service, the food, and so much more. Here are the highlights of flying American Airlines' Boeing Dreamliner 787-8 business class product back from Europe.
The arrangement of seats in business class provides for maximum privacy and comfort. The seats are arranged forward-facing and backward-facing with separating walls: no rubbing elbows or fighting over armrest space like in the economy seats. Seats provide a side shelf, a countertop, and a fold-out desk for tons of surface space. Two outlets and two USB ports provide plenty of space for charging devices.
The amenity kit greeted me as I sat down in my business class seat. This basic yet functional kit included a sleeping mask, long socks, a toothbrush and toothpaste kit, tissues, earplugs, and a small toiletry kit. Also included were coupons from C.O Bigelow (the soap company that provides the business class lavatory soap) and Casper (the bed company that provides the comforter and pillow in each business class seat). These items were all packaged in a Cole Haan shoe travel bag.
The business class lavatory is essentially the same as an economy cabin lavatory, save for the fancy C.O. Bigelow soap provided. However, these toiletries bring the experience to the next level and allow you to keep all your personal toiletry items stowed above.
I got served a drink of choice — champagne, orange juice, or water — while the Economy cabin passengers were still boarding. Sitting in my throne with a beverage in hand before even taking off was such a fancy feeling.
Before takeoff at 12:15, I received a hot towel to refresh my hands and face. Once we were airborne, the attendant came around again, giving a choice of beverage and serving warm nuts at 12:45. The beverages were even served in real glasses!
At this time, business class attendants came around the cabin and provided us with a set of Bose Noise-Cancelling headphones. This is a major upgrade from the regular airline earbuds, and are perfect for relaxing with one of the hundreds of in-flight movie options.
The amenities provided in the business class cabin are all provided by business class-specific attendants. A bit to my surprise, the attendants seemed to follow a 'less contact, quick service' model, seeming to not want to bother the business class passengers. The flight attendants mainly came around the cabin to hand out the first beverage, the headphones, and quick meal service at the beginning and end of the flight. However, at one point during the flight, the pilot got up out of the cockpit and said hello to me as he walked by!
Food and Drink
The meal service was definitely one of the highlights of my first business class experience. Once airborne, the attendant came around with hot assorted nuts and a beverage of choice. Of course, I had to go with a glass of champagne to celebrate.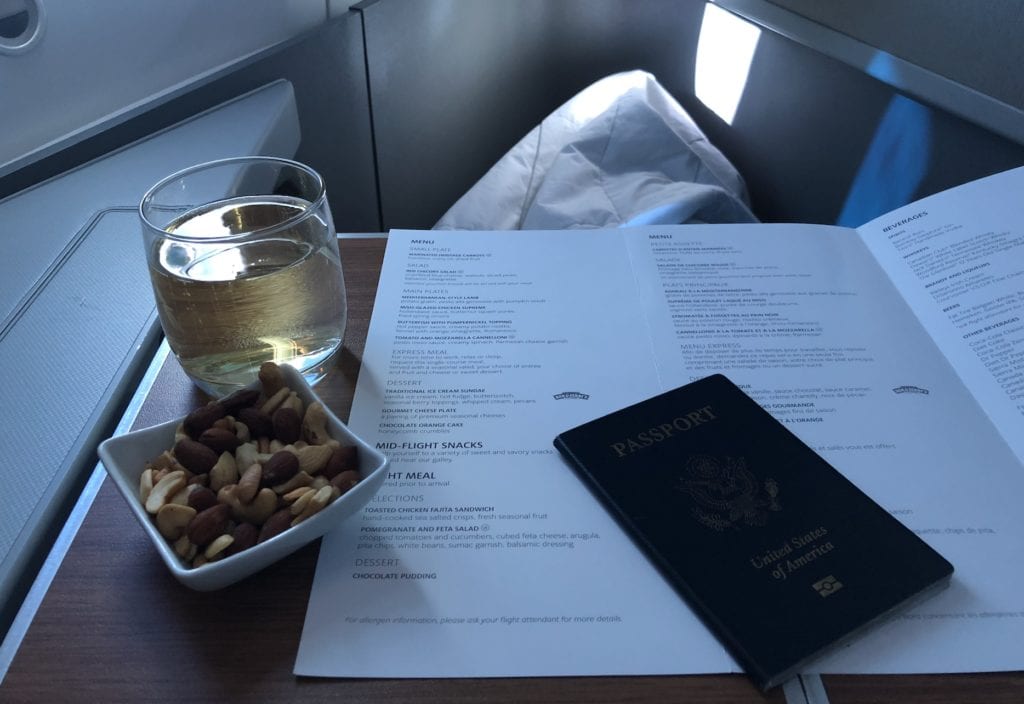 When booking my award ticket for this flight, I was given the option to preselect my meal beforehand. I had chosen the lamb main entree. However, I could have selected my entree on the flight, or even changed my mind. I decided to stick with the lamb and try it out. Also on the menu for the flight was a small plate or appetizer, salad, dessert, and a light meal before landing.
First up, the small plate and salad were served together shortly after departure at 1:10 pm, with bread being offered just two minutes later. Check out the cute little salt and pepper shakers and the mini olive oil bottle! The red chicory salad with blue cheese crumbles and candied pecans was spectacular. The marinated carrots were interesting: cold and pickled with an interesting texture, but uniquely tangy.
Fifteen minutes later, the attendant was quick to clear my first-course tray and replace it with the main course: my Mediterranean-style lamb. This dish was pretty underwhelming: the lamb was tough and overcooked, potato gratin lacked depth of flavor, and presentation with the watery tomatoes was definitely lacking in the aesthetic department. It wasn't inedible, but I definitely wished I would have switched to the miso-glazed chicken.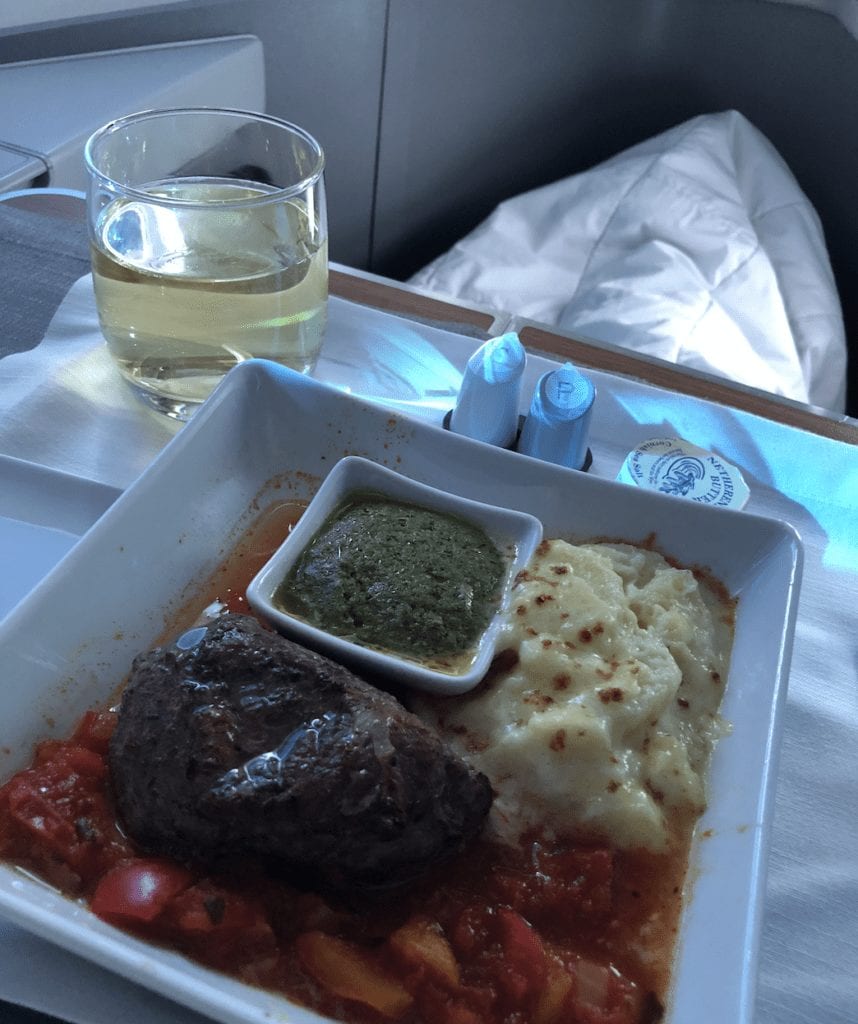 Getting to eat a multi-course meal on a plane with real silverware, real dishes, and glassware is a pretty surreal experience for a gal who is a little too familiar with Basic Economy. Again, the attendant swiftly cleared the main course tray and came back around to provide dessert options. He held a tray with small cheese plates and orange cake plates, two of the three options for dessert. The third option was an ice cream sundae. It was an easy choice: sundae with all the toppings available.
I enjoyed my sundae with berries, chocolate and caramel syrup, chopped nuts, and whipped cream with my legs stretched straight for ultimate relaxation.
Shortly before preparing for landing, the attendant came back around and took requests for lunch. I selected the pomegranate and feta salad over the chicken fajita sandwich. The chips were a bit stale, but I really liked the beans and feta in this Mediterranean-style salad. I absolutely loved the chocolate mousse cup. The small square packet on the left side was a moist towelette for a fresh end to the flight.
Although the main course could have been better, I absolutely loved the chicory salad, sundae, and feta salad that was served. Having a full tray with real plates and silverware instead of the Economy class foil-wrapped tin was a major upgrade.
Bottom Line
Now that I've had a taste of the sweet life lying flat and flying high, it will be really hard to get back in an economy seat for those long transatlantic flights. My first business class flight was a real treat. My favorite aspects of this experience were the lie-flat seat, multi-course meal, and luxurious privacy and space.
If you've got American Airlines AAdvantage miles to use, I highly recommend their business class product onboard the Boeing 787-8 Dreamliner. Using points to experience lie-flat seats is a great travel hack and a way to do something you wouldn't purchase with cash (roughly a $6,000 value). Now that I've been ruined with this lie-flat experience, I'll be stashing my points and miles to check out other business and first class products in the skies soon.
Lead Photo (CC BY 2.0):  John Taggart via Flickr