There's a new airline flying in the U.S. and it could very well be America's strangest airline.
It's Northern Pacific Airways, an offshoot of a small airline flying tiny prop planes throughout rural Alaska. Northern Pacific had a much grander vision: A low-cost carrier flying from the mainland U.S. to Alaska and onward to destinations throughout Asia. But the closure of Russian airspace amid its invasion of Ukraine made that plan impossible – and a backup plan to fly down to Mexico hasn't materialized yet, either.
Multiple pivots and a round of crowdfunding to back the airline later, Northern Pacific finally took flight for the first time last month … flying between Ontario (ONT) in California – not Canada – and Las Vegas (LAS) … on a 181-seat Boeing 757. As of publication, that's still the airline's only route, flying three times a week.
We had to see for ourselves what this strange new low-cost carrier was like, so I hopped on a Northern Pacific flight from Ontario to Las Vegas last week. Read on for the full review.
Booking Northern Pacific Airways Flights
You'll be able to find Northern Pacific's flights on Google Flights to compare with other airlines. But when it comes time to book, your best bet is to do so directly on np.com.
The airline started off flying just once a week between Ontario (ONT) and Las Vegas (LAS). But as of Aug. 3, Northern Pacific Airways flies this route three times weekly: Flights operate to Las Vegas on Sundays, Thursdays, and Fridays while flights departing Las Vegas leave on Sundays, Mondays, and Thursdays.
Oddly, the airline seems to only load the schedule up to one month in advance of travel. As of publication, you can only book flights through Sept. 4.
When I booked my flight, it was a straightforward process on Northern Pacific's website. You'll have the option to book a basic, standard, plus, or first class ticket. All fares include a carry-on bag plus a personal item. Since this was a short one-hour flight, I just chose basic.
The main difference between basic and standard is that standard includes advanced seat assignments and basic does not. Plus fares are seats with extra legroom and first class is a standard domestic first class recliner seat.
Interestingly, if you purchase a standard or higher-class ticket, you'll be given the option to pay more money to make your ticket fully refundable. It's $50 extra each way for standard, $100 for plus, and $200 for first.
You won't find Northern Pacific Airways flights available to book with Chase points through the Chase travel portal. If you'd like to use points to book, you could book the ticket with your *capital one venture x* or *capital one venture*, then remove the purchase from your statement using your points.
Upgrading to First Class
The coolest part about flying Northern Pacific Airways is the possibility of a cheap upgrade to first class.
I was given the option to upgrade to first class at the airport on the day of my flight for a mere $30 – and I had purchased the cheapest basic ticket. In total, I paid $124 one-way ($94 for a basic ticket plus a $30 upgrade) to fly first class on this short flight, which was $60 less than if I had booked a first class ticket initially.
While there's no guarantee this option will be available on every flight, it's worth asking an agent during check-in if there are any upgrades available to first class: It may be a lot cheaper than you'd think. Upgrades seemed to be offered on a first-come, first-served basis so you may want to head to the airport early if you're interested.
At Thrifty Traveler, we don't accept freebies. We use our own points, miles, or cash to pay for every single flight or hotel you see reviewed here – including this one.
Checking In & Departing on Northern Pacific
I got a text and an email approximately 24 hours before departure reminding me to check in for my flight online. However, when I tried to do so, I only got this message.
That left me a little concerned as this new airline didn't have the best track record. After the inaugural flight from Ontario to Las Vegas, it had to cancel its first flight from Las Vegas back to Ontario due to mechanical issues.
I called customer service to verify that the flight was still scheduled and on time. The phone agent assured me everything was good to go even though the website was having issues.
Northern Pacific flies out of Terminal 4 at Ontario International Airport. It's a fairly small airport but you'll find signage outside.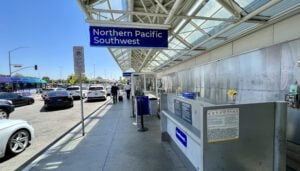 Once inside, you'll likely find a pretty empty terminal. I arrived about two hours before departure and there was no line to check in. The recommended check-in time is 90 minutes before departure and you must be checked in at least 40 minutes prior.
The airport agents were very friendly and seemed excited about the new airline. I asked to purchase priority boarding and the agent turned around and asked if I wanted to upgrade to first class for $30. Yes, please!
If you have any checked bags, you'll pay during check-in depending on the fare you purchased and number of bags. Bag fees start at $30 for basic and standard fares and are included for preferred and first class. Had I been checking a bag, the $30 upgrade would've already paid for itself.
Northern Pacific doesn't currently participate in the TSA PreCheck program but you can still get to the front of the line if you have a CLEAR membership, as it's available at Ontario's Terminal 4 as well as in Las Vegas.
Priority Pass Lounge at Ontario Airport
To my surprise, there was a Priority Pass lounge at Ontario Airport: the Aspire lounge. The agent at the desk was happy to tell me that I was the first passenger flying Northern Pacific Airways to enter the lounge.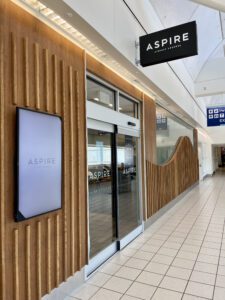 If you have lounge access as a perk from a credit card, this can be a great place to grab a drink and a bite to eat before your flight. It's on the other side of Terminal 4 than the gate for Northern Pacific Airways … but given the size of the airport, it's still only about a five-minute walk.
Boarding Northern Pacific Airways
The terminal seemed pretty empty overall and even more so near gate 402, which is where my Northern Pacific flight was departing from that day.
There was plenty of seating near the gate, which didn't surprise me at the time since I expected this flight to be fairly empty. As it turned out, the flight was actually pretty full so most passengers must have just been milling about the terminal.
Looking out the window, the newly-painted livery on this 28-year-old 757 was pretty slick.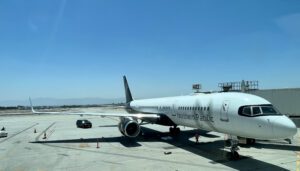 Boarding began about 40 minutes prior to departure, starting with passengers needing more time and assistance, families with small children, and active-duty military, followed by first class passengers and the economy cabin.
Northern Pacific Airways Cabin & Seats
Once I stepped foot on the plane, it was hard to tell that this was an older aircraft. The retrofitted seats upholstered in black leather with white accents look very sharp. And from the get go, it was clear that these seats were a huge step above the likes of ultra-low-cost carriers like Spirit or Frontier.
The economy cabin has a total of 129 seats, three on each side of the aisle throughout the cabin. Standard economy seats start at row 17 through row 38 at the back of the plane. These can be distinguished by an all-black leather seat (without the white stripe below the headrest).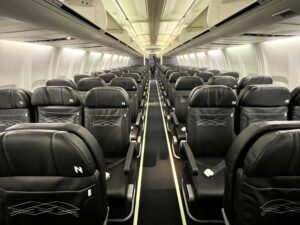 By far, the best seats in economy are the exit row in row 30 where you'll have plenty of legroom. The only downside is that it may feel cramped at the sides since the armrest holds your tray table.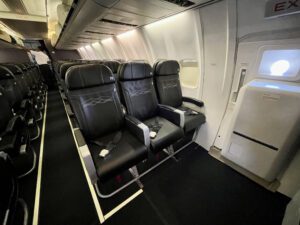 But you'll still find standard legroom, similar to major U.S. airlines, in any other row in the economy cabin. The foldable headrests will come in handy for sleeping if these planes ever start flying long-haul to Alaska and Asia … or for a quick nap after a night out in Vegas.
In economy, the seats are 17 inches wide with about 31 to 32 inches of pitch between the rows. That's identical to what you'll find flying Southwest between Ontario and Las Vegas … and a full three or four inches more than Frontier's cramped seating.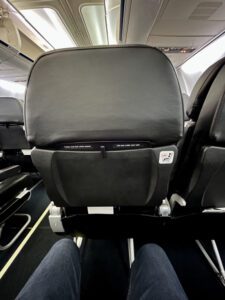 I only sat in the economy seat for a brief moment but it felt pretty comfortable. In fact, I'd say these seats are on par with a major carrier like Delta.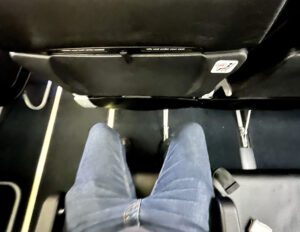 The tray tables are large so you can easily get some work done on your laptop and still have room for a beverage. Another neat feature is that there are USB charging ports at every seat – including both standard USB-A and ultra speedy USB-C.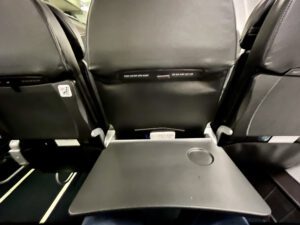 Northern Pacific Premium Economy Seats
In rows 10 through 16, you'll find 36 seats with slightly more legroom and recline. These are Northern Pacific's premium economy or "Plus" seats. You can recognize them by the white stripe under the headrest.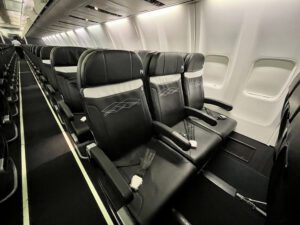 These seats could be nice for longer flights but it's probably not worth the quite substantial price difference for the short flight between Ontario and Las Vegas … unless you get lucky with a cheap upgrade.
The seat pitch for these seats measures in at 35 inches, but you'll get even more legroom if you choose a seat in the exit row 13 or row 10, just behind first class.
Northern Pacific Airways First Class
The first class cabin consists of 16 seats from rows 1 through 4, with two seats on either side of the aisle.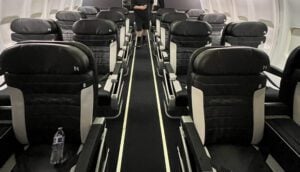 The seats are a standard domestic first class recliner. They're basically the same first class seats that American Airlines had on this aircraft before Northern Pacific picked it up and retrofitted the seats. That's not a bad thing.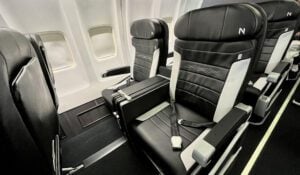 The first class seats are 21 inches wide with a 39-inch seat pitch, which is up to eight inches more legroom than economy. If you're on the tall side, you'll be happy to sit in these seats.
Between the seats, there is a shared tray table you can fold down to set a drink. This is helpful if you don't want to pull your tray table out of your armrest.
Inside the armrest, you'll find your tray table, which you can use as a half table if you'd like.
When you expand it to a full table, it has plenty of space for your laptop. And it felt sturdy enough to hold the weight, which isn't always the case for some of these trays.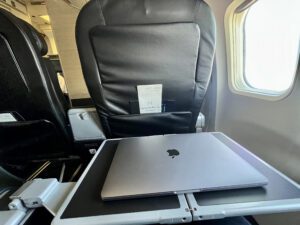 In front of the center armrests, you'll find both USB-A and USB-C charging ports to keep your phone charged during your flight. However, there isn't a way to plug in a laptop or other electronic devices.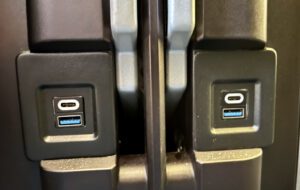 The first class seats recline even further than premium economy. It felt nice to lean back a bit and not feel like I was invading the space of the passenger behind me.
The headrest has extra padding and the ability to fold the sides inward for more neck support. I found it quite comfortable and helpful if I wanted to take a short nap.
Northern Pacific Airways Service & Amenities
On a one-hour flight, you shouldn't expect much as far as service. While it was short and sweet, I was surprised we were served anything at all.
We were only at cruising altitude for about 15 to 20 minutes, but the flight attendants still managed to serve the entire 181-seat plane a drink and a snack.
Everyone gets a cookie. On our flight, it was a strawberry bobadoodle … whatever that means. In economy, you'll get a bottle of water to wash it down, but up in first class Northern Pacific serves up California's own Korbel champagne.
It may not be the most expensive sparkling wine on the market, but for the handful of first class passengers on my flight, it didn't matter. It was a great way to kick off a vacation to Vegas and get the party started. And the flight attendants provided free refills until the bottle was empty.
First class passengers were also given a bottle of water during boarding and as we exited the plane. I guess they wanted to keep us hydrated before a Friday night in Vegas.
With all that hydration, you'll be glad to know that there are four lavatories on board. The one I visited seemed par for the course as far as airline bathrooms go. It was clean, tidy, and small.
You'll find air vents and reading lights above every seat. This is where I could tell it was an older plane. The old-school lights and faded color of the plastic coverings overhead showed. And I could feel a drip coming from the A/C unit above. But the 100-plus degree weather outside probably had something to do with that.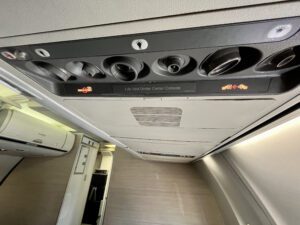 There is complimentary inflight Wi-Fi in all cabins, with instructions to join the network in your seatback pocket. That's impressive … however, when I tried to scan the QR code or go to the web address listed, I never got any page to load. I was never able to get connected to test it out.
There aren't any seatback screens at any of the seats so you'll want to bring your own entertainment. This won't matter too much for the short flight to Vegas, but it's something to keep in mind if Northern Pacific starts flying longer routes in the future.
Fortunately, I had a window seat so I could just gaze out at the scenery. Here's a shot of Lake Mead just before landing in Las Vegas. Even after decades of flying, this view never gets old.
Bottom Line
Northern Pacific's history is full of twists and turns, but it's finally flying its lone Boeing 757 between southern California and Las Vegas, with aims to expand in the future. Eventually, it hopes to fly between the U.S. and Asia with a stop in Alaska – much like how Icelandair operates over the Atlantic.
If my short flight was any indication, it should be an enjoyable experience, closer to major airlines like Southwest or even Delta. The chance for a cheap upgrade made it an even better value.
But only time will tell if this unique airline flying nearly 30-year-old planes will be able to work. For now, it's a cheap way to skip the traffic and fly to Vegas for a quick weekend … so long as there are no delays.