Everything is bigger in Texas, and that includes their airport lounges.
The American Airlines Flagship Lounge in Dallas-Fort Worth (DFW) is one of their biggest and best lounges in the country, reserved mainly for passengers flying somewhere abroad in business or first class. That means better food and drink, high-end finishes, and more amenities you won't find elsewhere.
But how does it stack up to the best airport lounges at home and abroad? I put the American Flagship Lounge Dallas to the test ahead of a recent flight on Qatar Airways business class. And while it's clearly a step up for American, I couldn't help but thinking American could have done much more for some of its top flyers in this space.
Here's why.

Getting into the Dallas Flagship Lounge
American's Flagship lounges at their biggest international hubs are big, big step above the average American Admiral's Club. And that means it's harder to get in.
Generally, any same-day international first class or business class ticket will get access to the American Flagship Lounge Dallas – and not just on American Airlines, but any Oneworld partner airline. That means a ticket in Qatar Qsuites, Japan Airlines business class, or flying up front with British Airways also gets you in.
But American goes even farther. Several transcontinental routes also get Flagship Lounge access when flying business or first Class, as do marquee routes from the mainland to Hawaii.

There's one little-known way to get into this Flagship Lounge – and any Flagship Lounge: You can also get in upon arrival from a qualifying first or business class flight, too. American's Flagship lounge access policies only require that you have a "a qualifying same-day international, transcontinental or other domestic flight" on American or its partners.
That means you can freshen up in the Flagship Lounge after arriving on a long business class flight from Europe, Asia, Australia, or southern South America. That's far more generous than United's Polaris Lounges, which only allow travelers to get in if they arrived on a United business class flight – not after flying Lufthansa business class or SWISS business class, for example.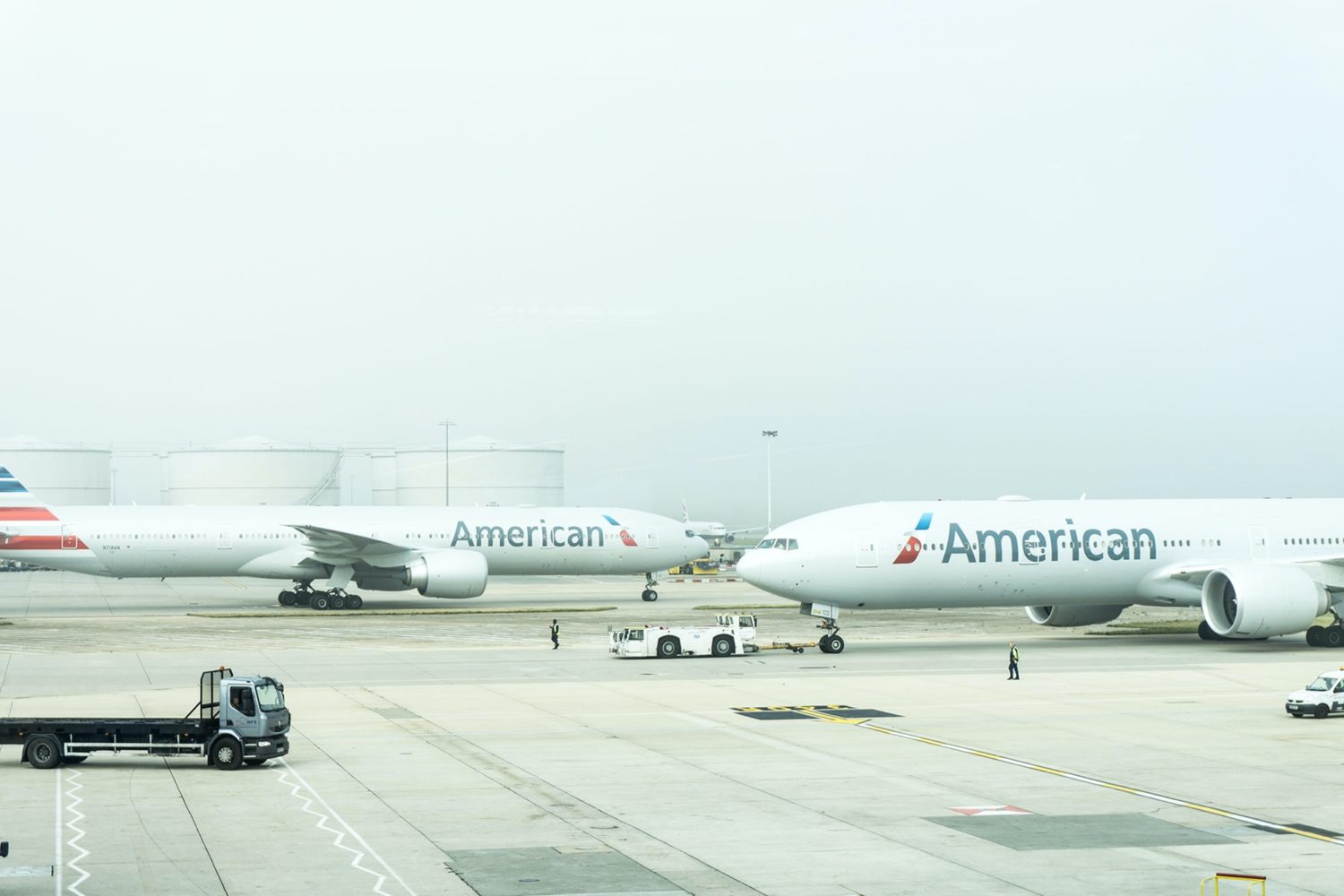 Some top American flyers with AAdvantage elite status and ConciergeKey can get in no matter what cabin they're flying, as can flyers with Oneworld Emerald and Sapphire status.
Not flying up front? So long as you're flying with American or a Oneworld partner airline, American now sells day passes to get into the Flagship Lounge … but it's not cheap. You can buy a single-visit pass to the Dallas Flagship Lounge (or any other location) for a whopping $150 – or 15,000 AAdvantage miles.
You can purchase access whether you're arriving or departing, though travelers must be at least 21 to purchase a day pass.
Flagship Lounge Dallas Location & Hours
Despite the fact that Dallas-Fort Worth (DFW) is American's biggest hub by far with plenty of long-haul departures to every corner of the globe, its  Dallas Flagship Lounge was among the last of American's top lounges to reopen after prolonged pandemic closures. It finally reopened in early March 2022.
As of publication, the DFW Flagship Lounge is open daily from 5 a.m. until 10:15 p.m.
It's located in Dallas's mammoth Terminal D, home to many American Airlines gates. But it's also where most other major Oneworld carriers depart from, including Qatar Airways, British Airways, Japan Airlines, and many more. That means you shouldn't need to to transfer terminals to catch your flight, though DFW's Skylink makes that easy.
You'll find it near Gate D22, just a quick elevator ride up. In fact, it shares an entrance (and an elevator) with the excellent Capital One Lounge in Dallas.

Head up one level inside the elevators and hang a right, where you'll immediately see the branding for the Flagship Lounge Dallas as well as a few desks staffed by lounge attendants to check in.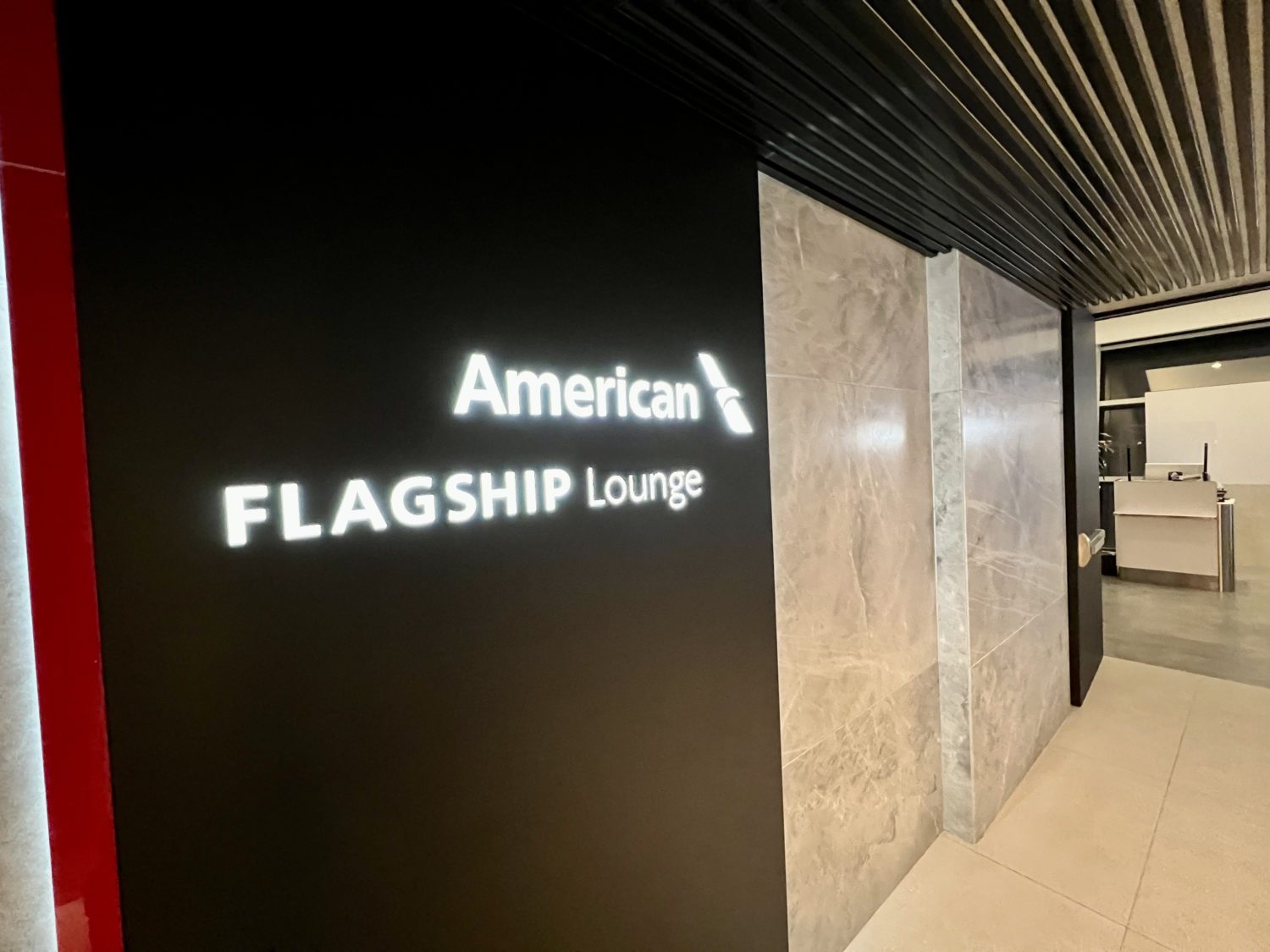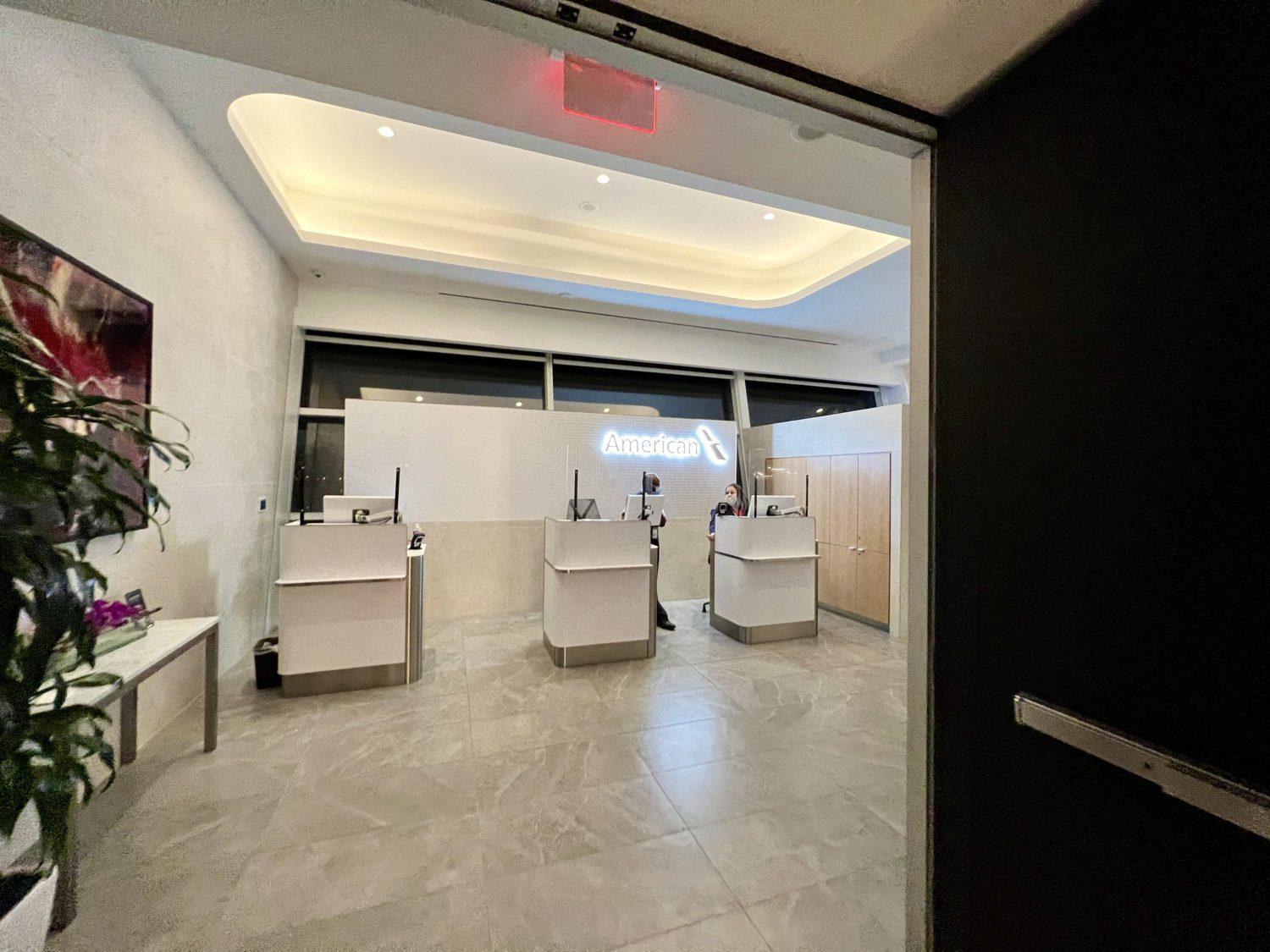 Hand over your boarding pass to an agent for a quick scan, hang another right and head inside the lounge.
The Lounge & Amenities
At nearly 25,000 square feet, the American Airlines Flagship Lounge in Dallas is a space befitting the airline's megahub.
It's huge, with a bigger footprint than any other Flagship Lounge aside from the Miami (MIA) Flagship Lounge. Really, it makes your average American Admirals Club look like a broom closet in comparison. And it gets all the basics right, from an assortment of seating to good food and drinks and a few critical amenities like quiet areas to rest and shower suites to freshen up before or after a long-haul flight.
American elevated the experience after re-opening with a nice touch: A champagne toast right just after you enter. A lounge attendant warmly offered me a free glass right after checking in. And Piper-Heidsieck isn't half-bad, either.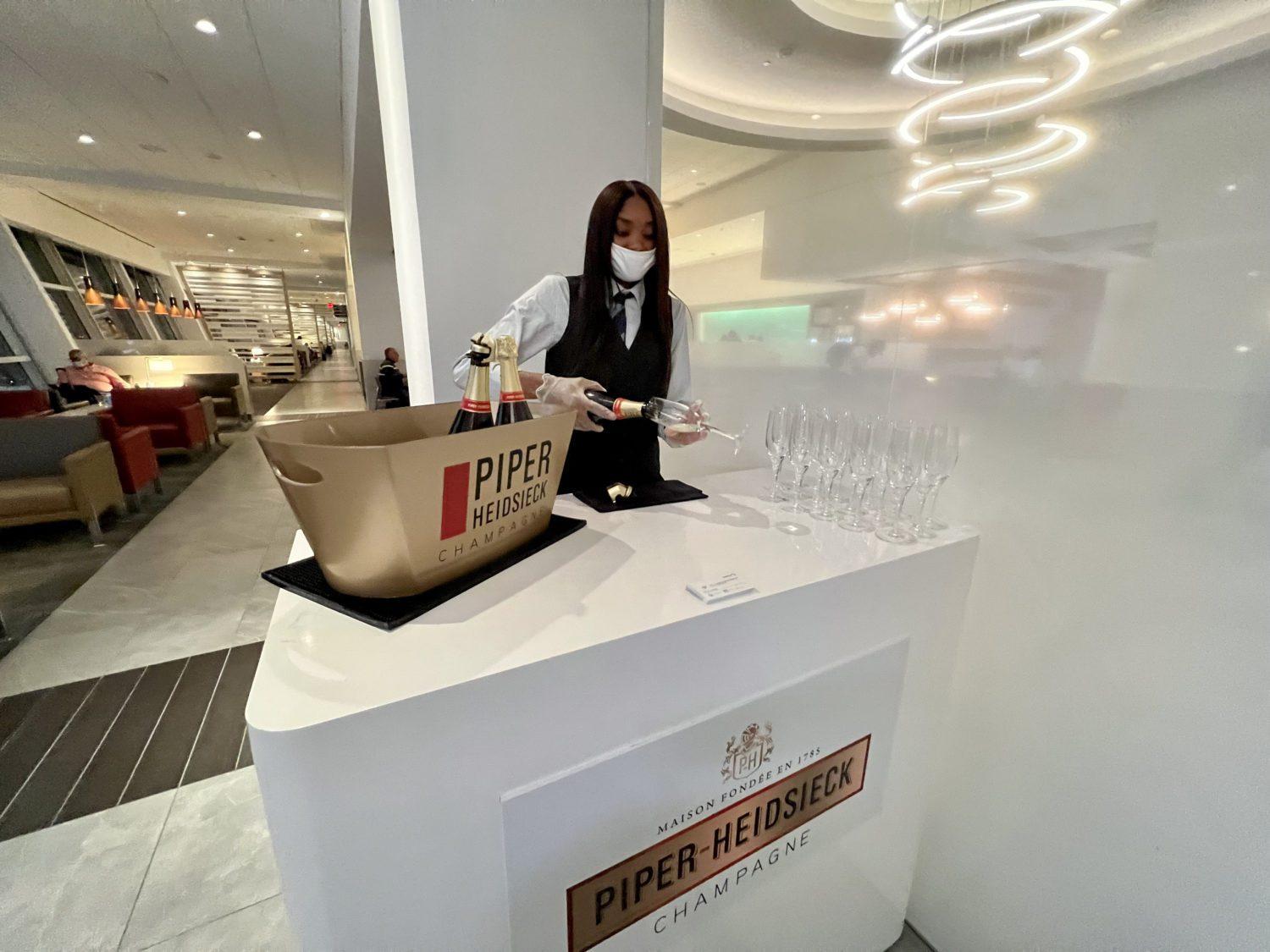 The lounge itself is kind of like a long corridor, with pockets of seating, workspaces, relaxation rooms, and dining spaces.
During the day, it's a bright space with excellent natural light (and plane watching!) thanks to the floor-to-ceiling windows overlooking the tarmac below. Unfortunately, the scorching sun sometimes means American brings down some heavy blinds. Still, it's quite nice.

But in the evening, the Flagship lounge has some nice lighting to give the lounge a cozy feel.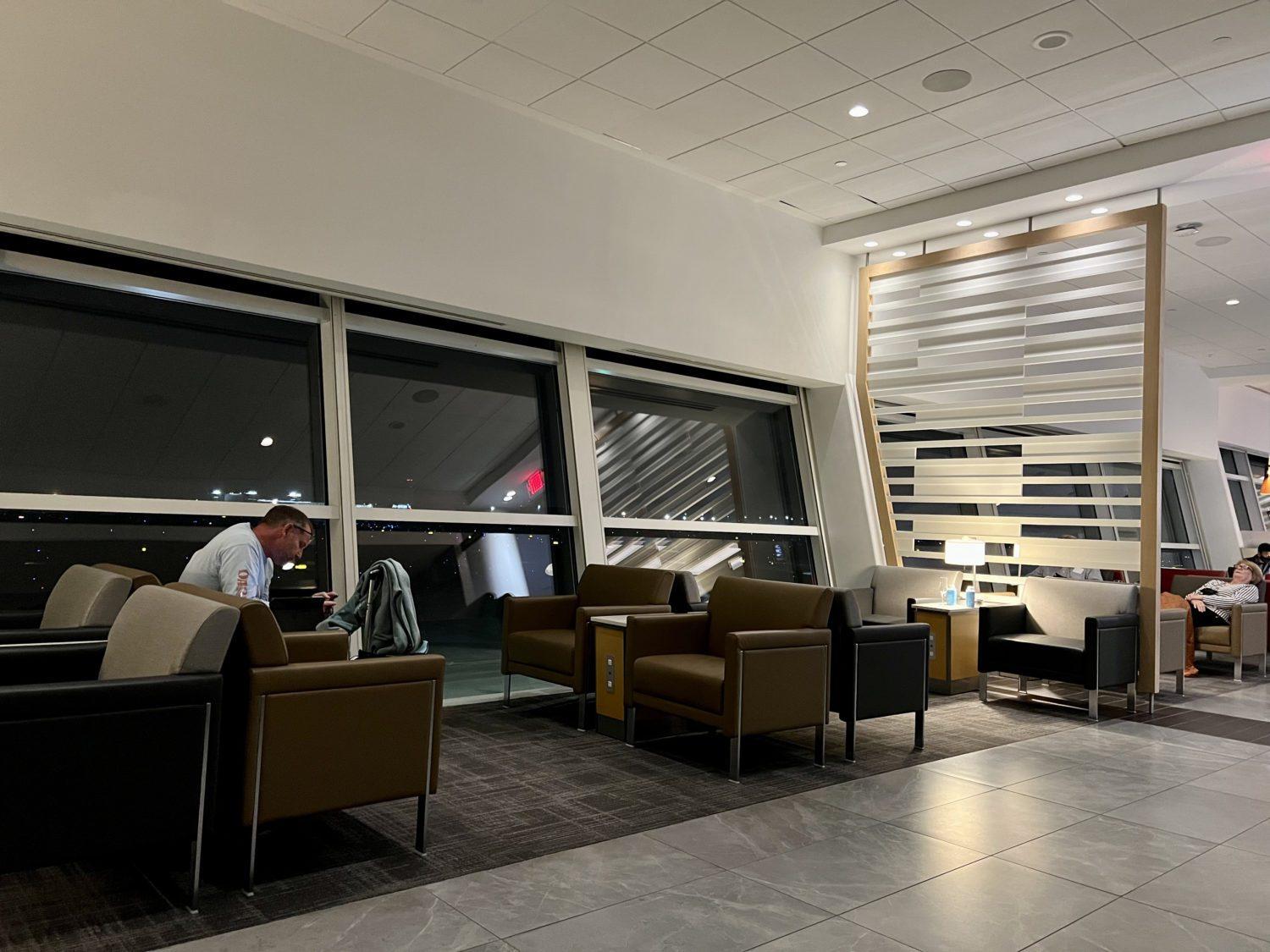 That said, I can't help but feel like the Dallas Flagship Lounge is a tad … boring? Don't get me wrong: It's a great lounge. But some of the finishes feel a bit sterile. To me, the design of the lounge just lacks a certain punch, an oomph, to set it apart. In a way, the design of all Flagship Lounges feels kind of cookie cutter – but for a pretty good cookie, at least.
If there's a single focal point in the lounge, it's the dining room located soon after walking in. The modern chandelier and the crescent moon couch look great, providing a nice area to sit for a bit or just relax.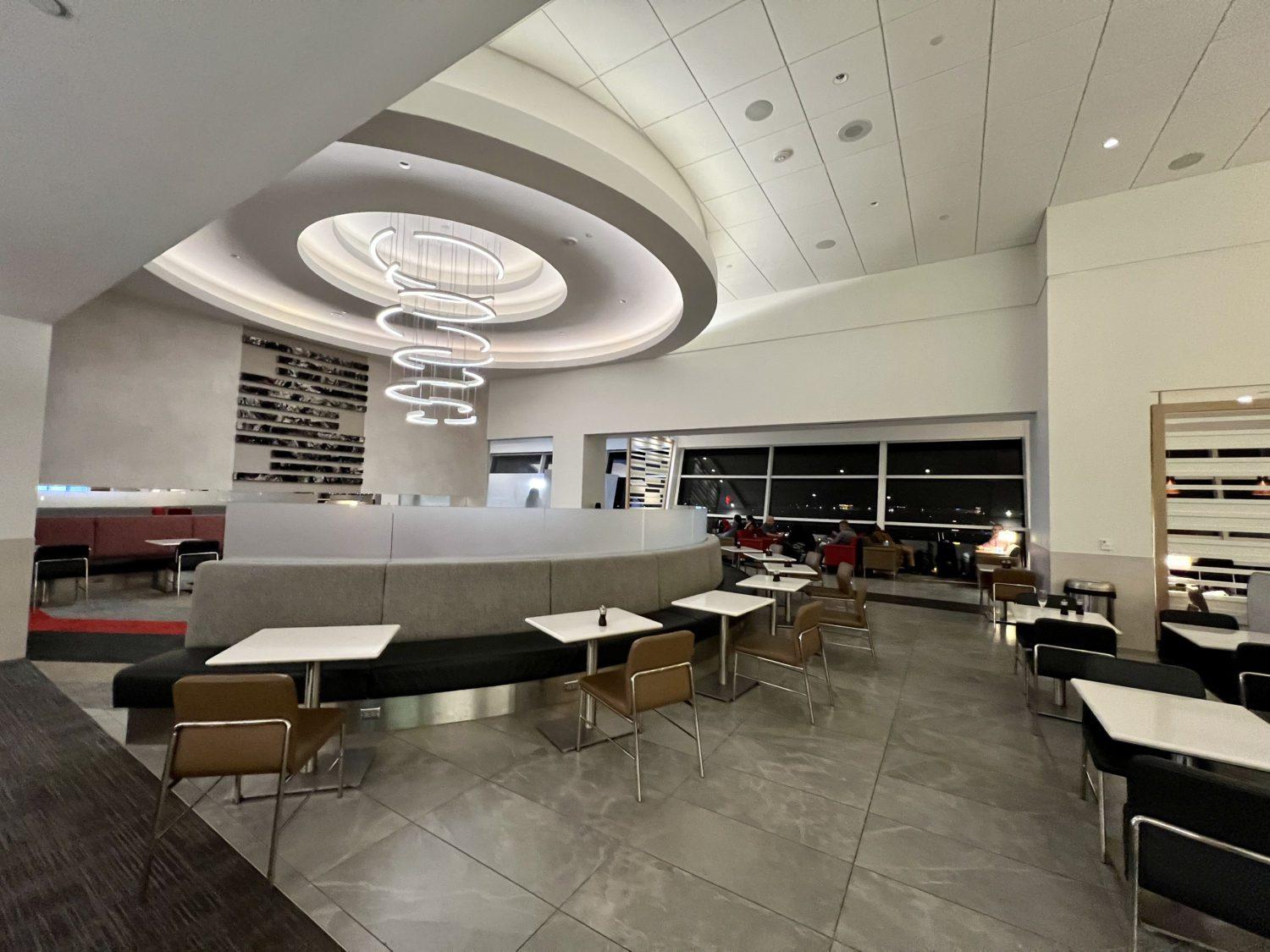 There's a nice accent wall at the back of this dining area, along with more benches, tables, and chairs to eat. Don't worry, we'll come back to the food later.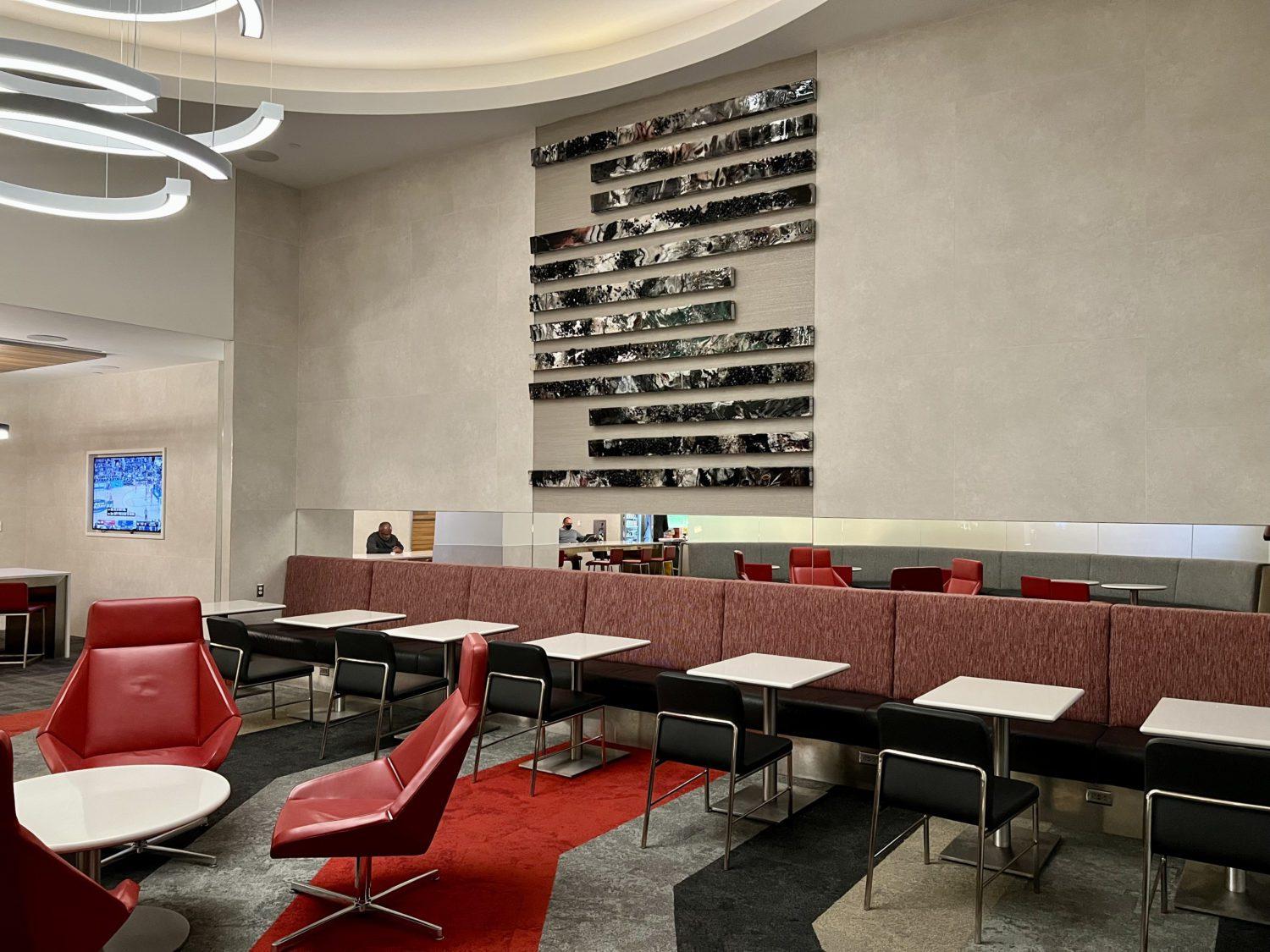 As you leave the dining area and continue back through the lounge, there's no shortage of seating. In fact, it feels like there's an endless collection of armchairs along either side. The lounge was fairly busy during my stay ahead of some late-night departures, but it was never tough to find a seat.
Plus, almost every seat had an outlet (or two) within reach. There are even some side tables equipped with wireless device charging pads, which is a nice touch.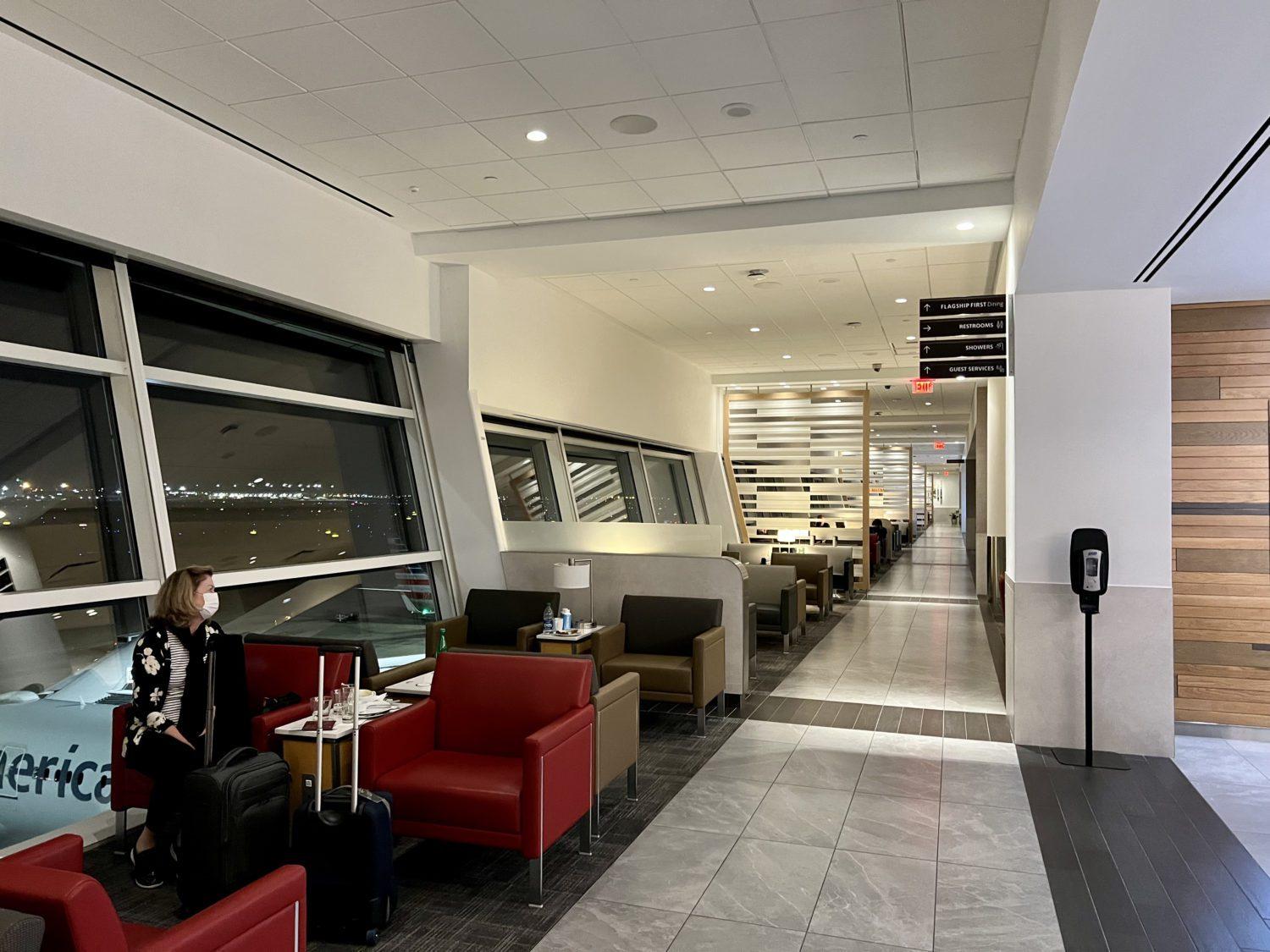 That said, it was clear that the lounge was drastically understaffed during my visit. The staff was hustling, but seating spaces and tables regularly sat with uncleared garbage, plates, and glasses for long stretches. Staffing was reportedly a major factor in why the Dallas Flagship Lounge didn't reopen until the spring of 2022, so here's hoping this has improved.

As you work your way farther into the lounge, there are some longer tables to get some work done – including a computer and printer available for use. I only briefly connected to the lounge Wi-Fi, but it seemed speedy enough. I do like American's use of the slatted dividers to divvy up the space a bit.

If you're just looking for a spot to relax, I'd recommend beelining it for the back of the lounge, which has the best assortment of seating you'll find throughout the lounge. Plus, it's noticeably quieter back here.

I particularly like these high-backed armchairs with side tables.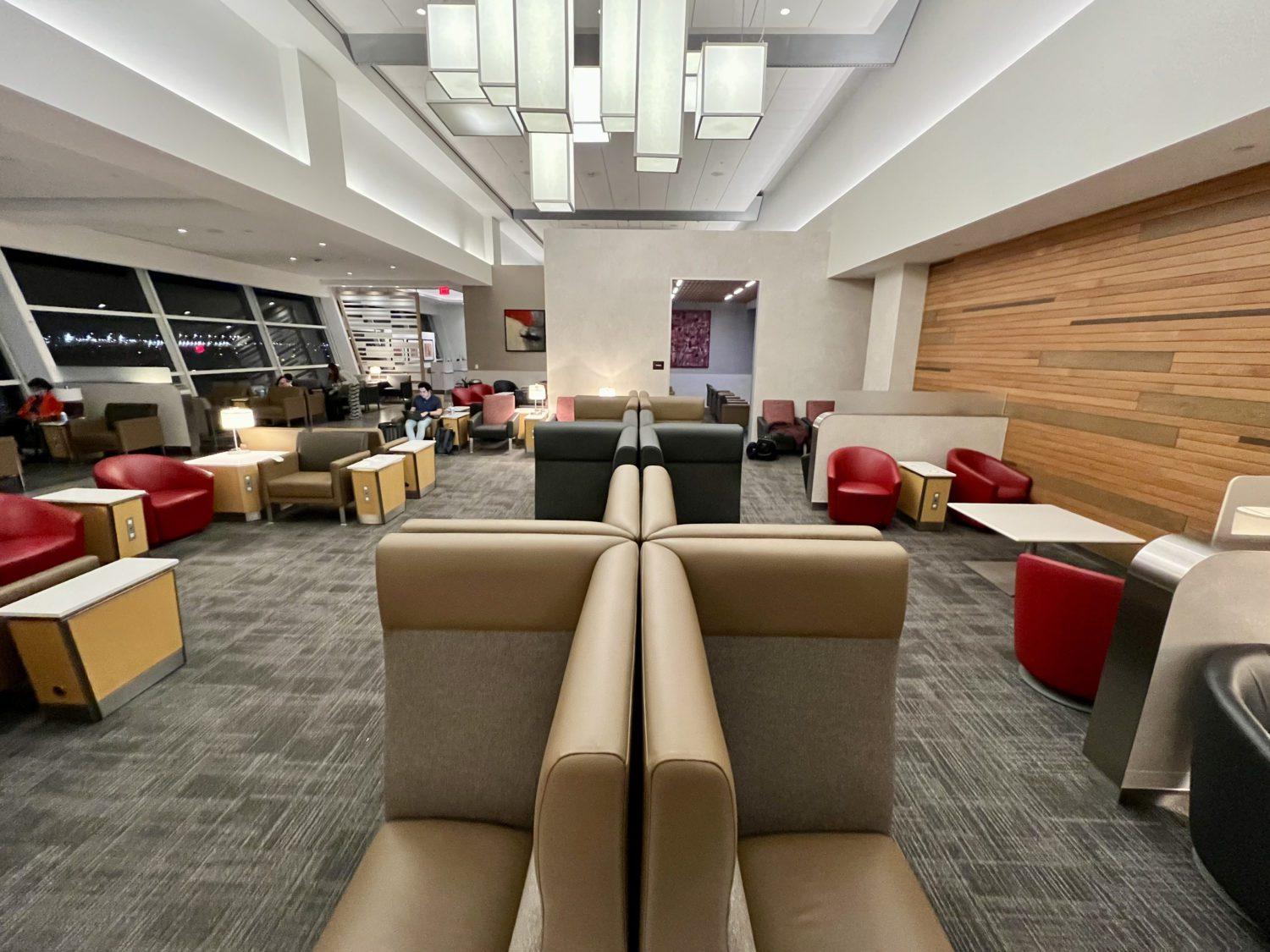 Back in this area you'll also find a small room with reclined lounge chairs, which would be the best spot to grab a quick nap. Unfortunately, this room isn't kept dark nor quiet from the rest of the lounge. Not offering a bonafide nap room in a lounge this size – with so many international departures – seems like a miss.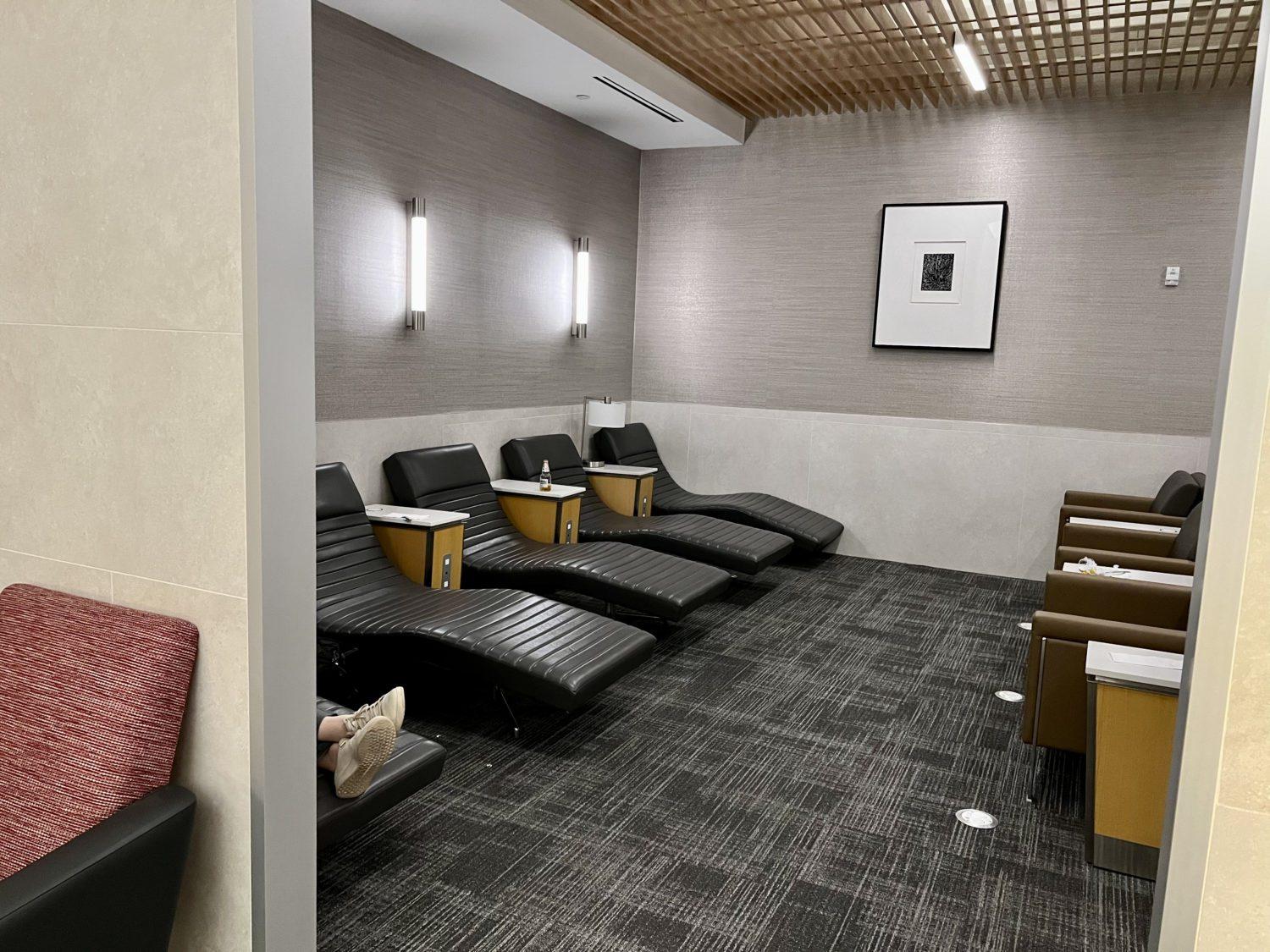 There are two main bays of bathrooms in the lounge: One near the dining room and another about halfway down the space. Both are quite large, with plenty of private stalls and urinals in the mens' room. While staff clearly had trouble keeping up with dishes, the restrooms were kept quite clean.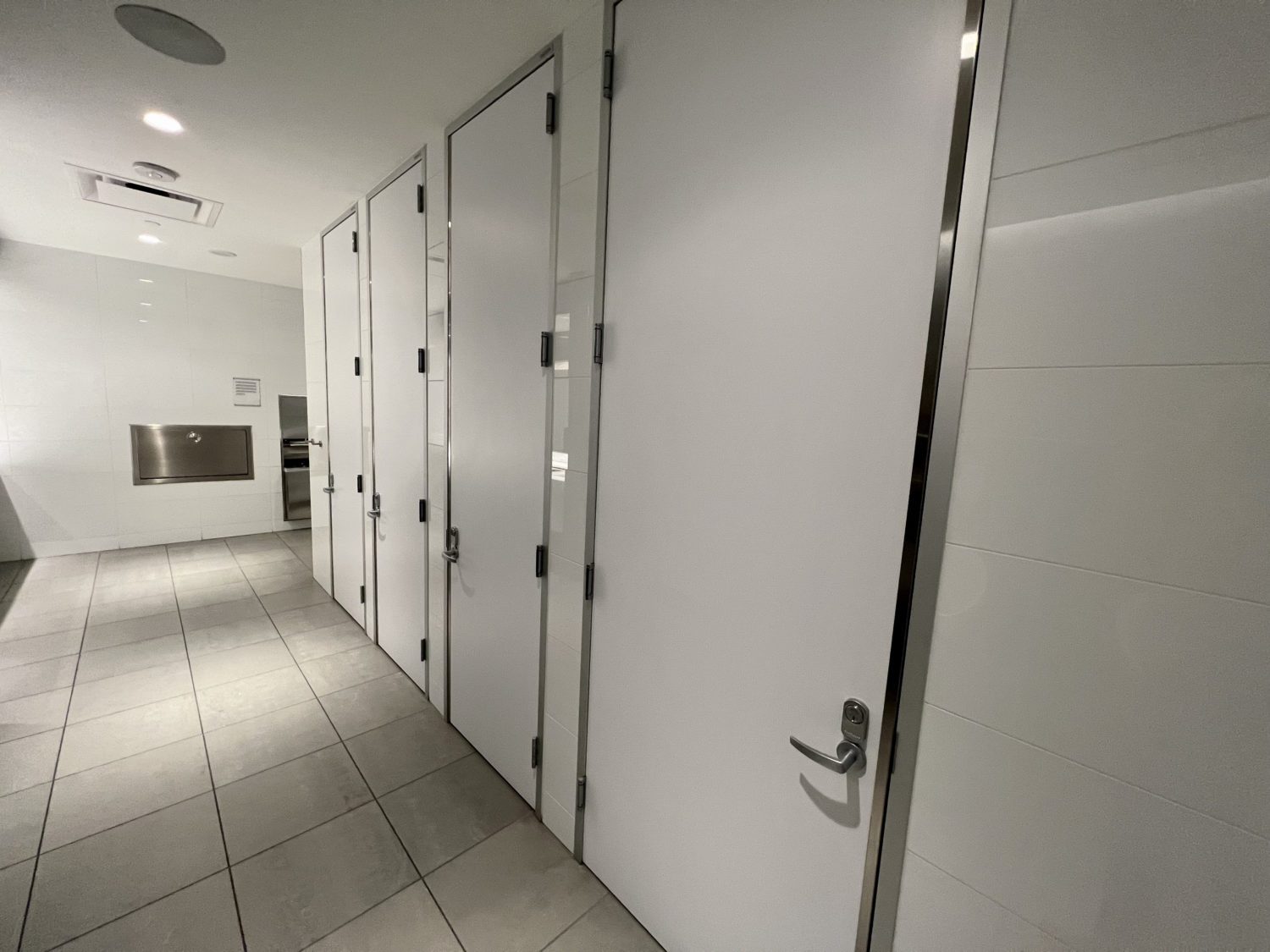 American stocks its Flagship Lounge restrooms with toiletries from DS & Durga, which are quite nice.

Toward the center of the lounge there's also a bay of 10 or so private shower suites, which you can reserve on a first-come, first-served basis. I didn't have a chance to check them out on this visit, but each suite is equipped with its own shower, sink, mirror, toilet, and … well, pretty much everything you'd need to freshen up before or after a flight.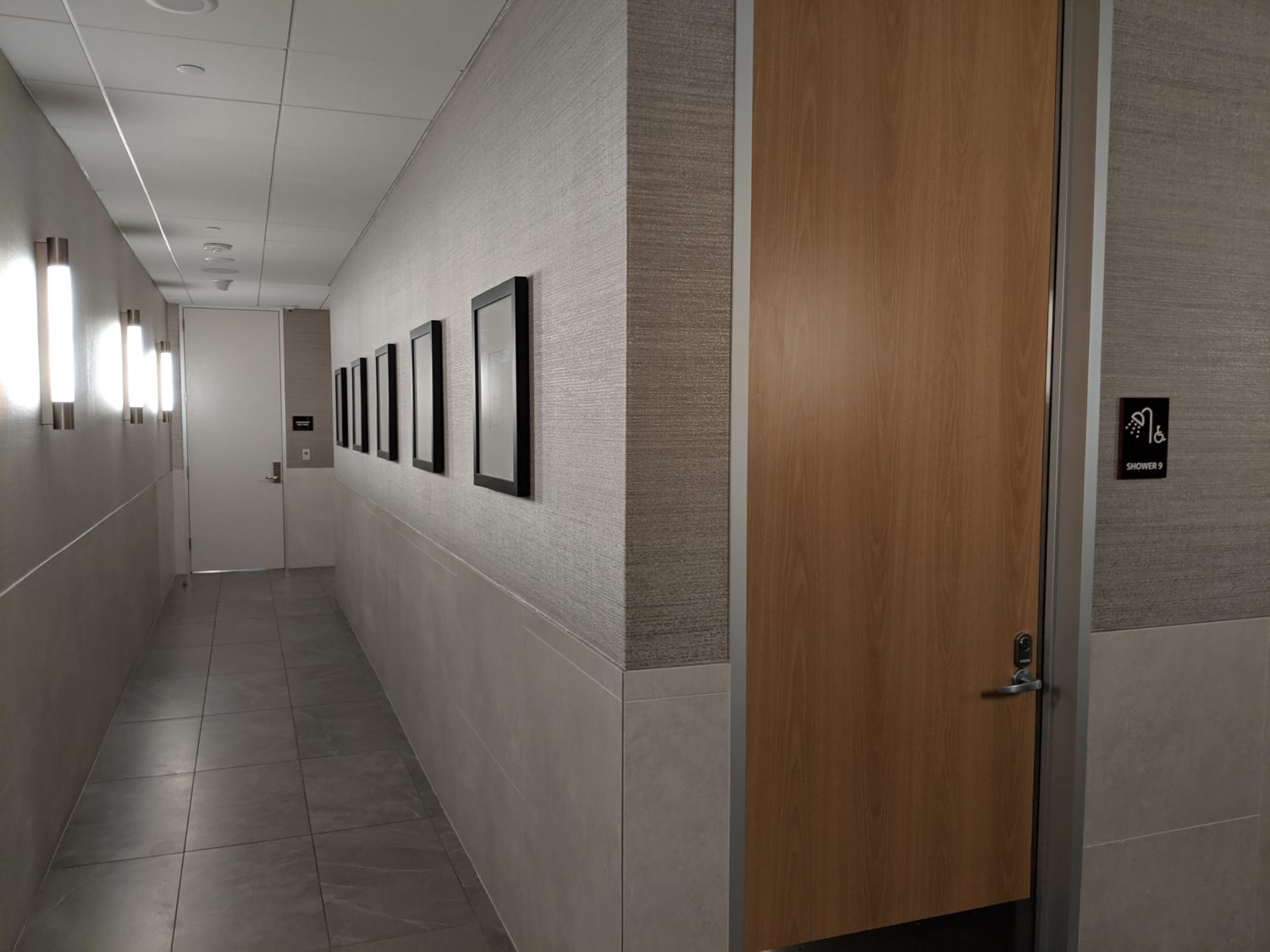 Food & Drink at the Flagship Lounge Dallas
The food and beverage situation is a mixed bag at American's Flagship Lounge in Dallas. Some aspects are truly stellar, while others feel a bit lackluster.
Let's start with the best of the best: This lounge takes things a step further with American Flagship First Dining. Located near the center of the lounge, this is a private dining facility inside the lounge … and it's only open to passengers flying in American's (somewhat rare) rare first class cabins (though British Airways first class passengers can get in, too).
Here, you can get a true restaurant-quality sit down meal, with made-to-order dishes and top-notch wines and drinks, too. But my Qatar Airways business class flight didn't qualify, so all I could do was look.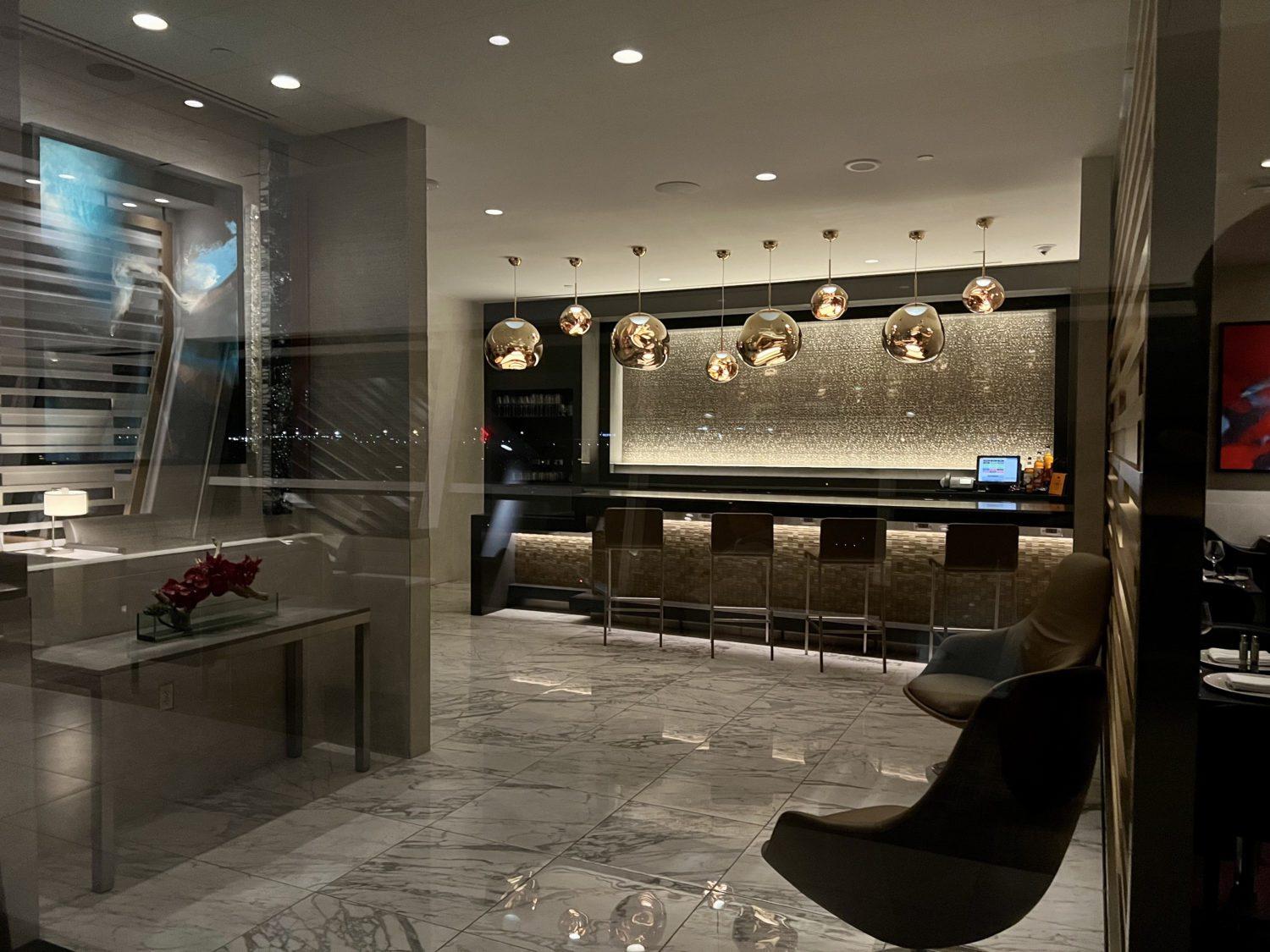 But for the rest of us, there's just the main dining room. It's still quite beautiful.

I really love the built-in champagne and wine display in the long counter here. Most American Flagship lounges have these: It's nice to be able to simply walk up and pour yourself (another) glass of Piper-Heidsieck or other wine.

There's also a fully stocked bar where you can pour or mix your own drink. Once again, it looks quite nice.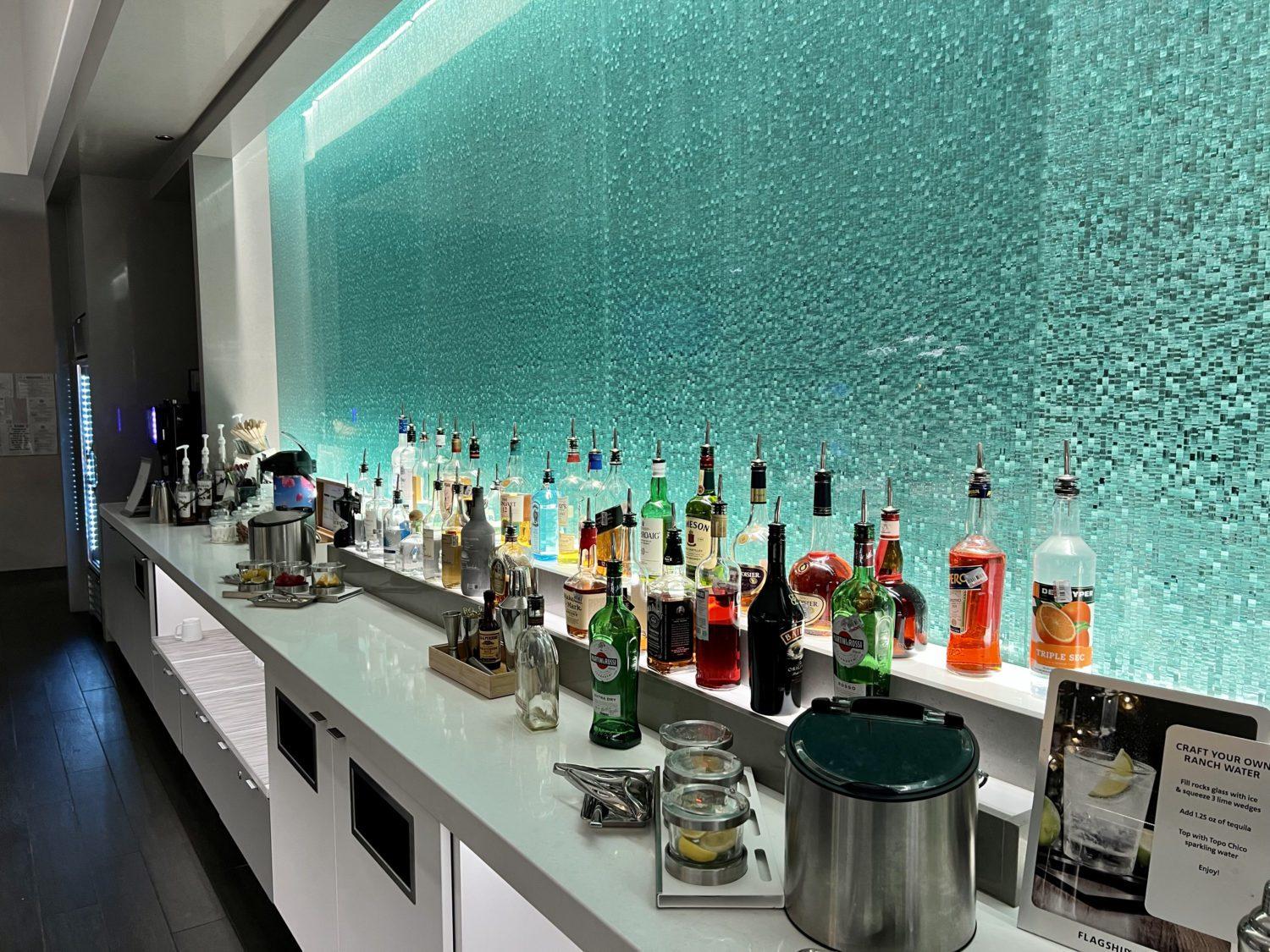 There's also a fridge full of beer and seltzer, as well as a few NA options. You don't see Yuengling inside of an airport lounge often!

For food, there are two displays where you can dish up your own plates. One has an array of cold bites, salads, and meats and cheeses, and another snacks – including some sushi rolls.

For a hot meal, there were dishes like barbecue burnt ends, sweet corn and zucchini succotash, grilled asparagus, roasted garlic potatoes, and penne pasta.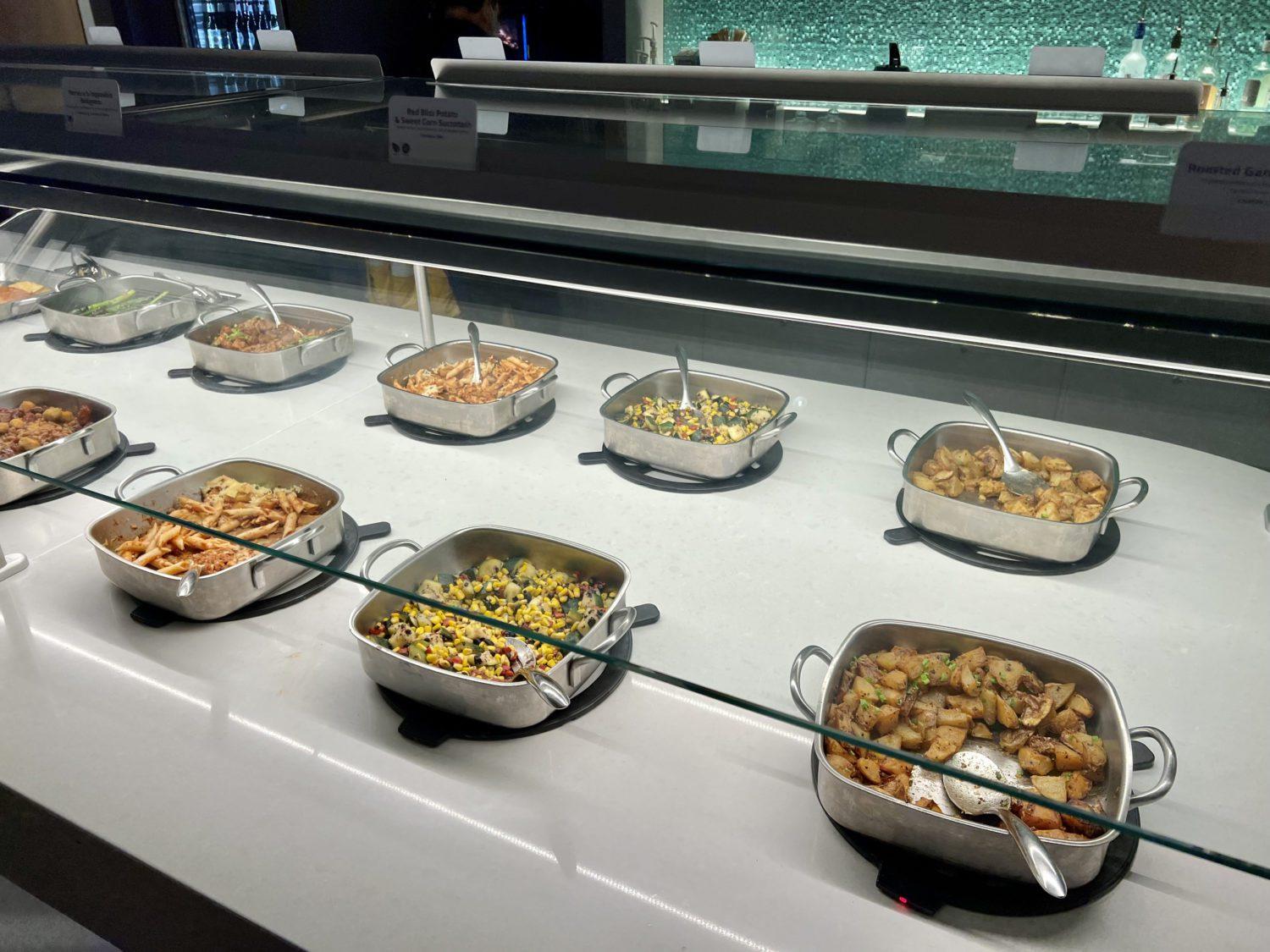 I sampled a few bites from the hot dishes as well as a scoop of orzo salad and it was all … completely fine, but also unmemorable. Believe it or not, the smoked salmon sushi was probably the best thing on my plate.

You'll also occasionally see a station where a lounge chef is making a small dish on the spot. During a past visit a few years back, for instance, there was a fresh-made bruschetta station.

American reserves its top treatment for first class flyers, so I get that a la carte meals may be out of the question, especially when they'd be serving so many passengers here. And there's no question that the food here is good – better than standard lounge fare.
But the difference between what you can eat at the American Flagship Lounge in Dallas flying business class and the excellent meal I ordered at the United Polaris Lounge Newark (EWR) is massive. That sums up the entire American Flagship Lounge Dallas: It's quite good, but it seems like it could be much better.
Aside from the bar area, there were two other beverage stations in the lounge with some drip coffee, tea, espresso machines, and Coke Freestyle fountain soda dispensers. There's also small snacks and candy available to grab.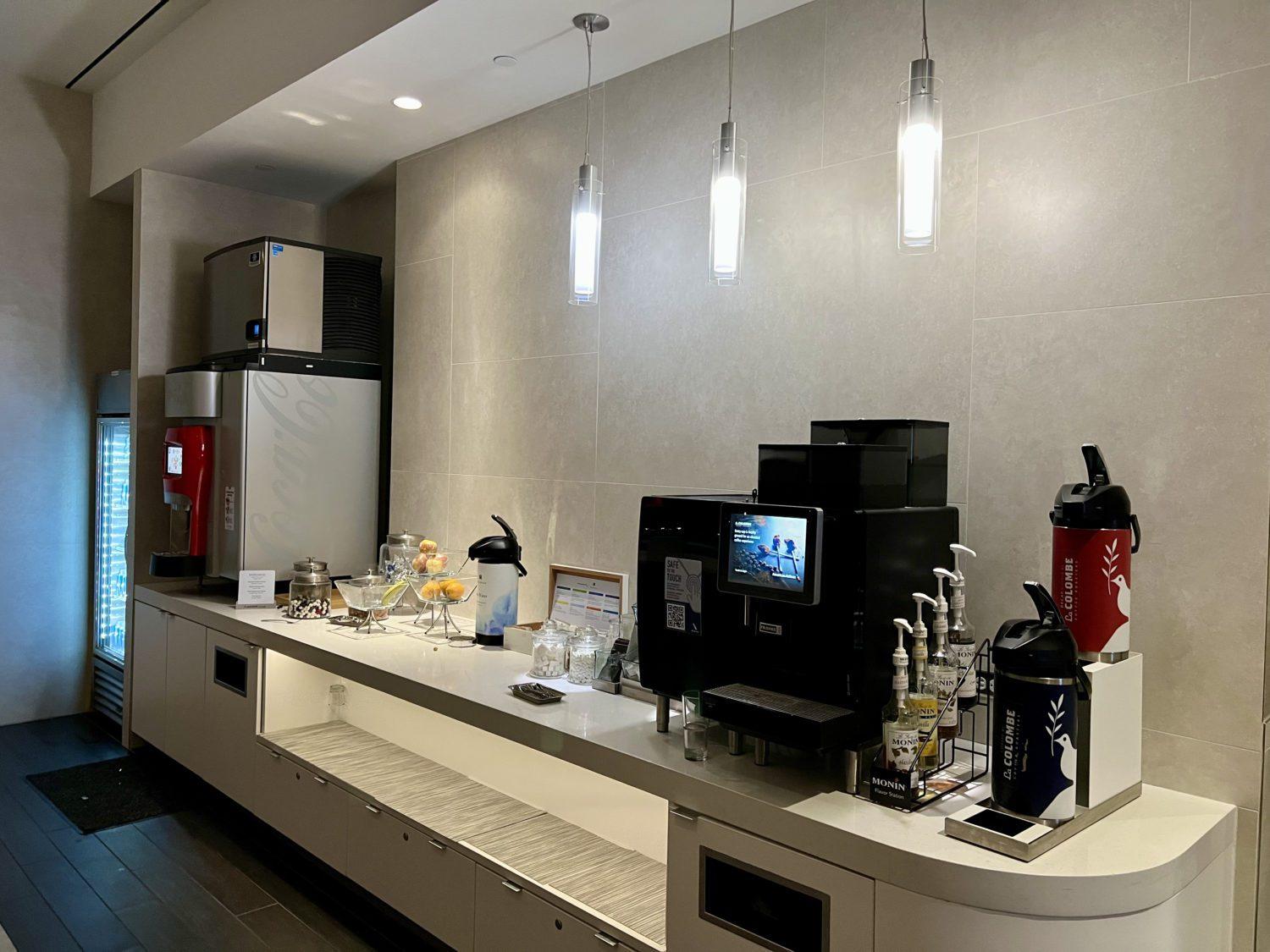 I absolutely love that American's Flagship Lounge in Dallas (and most, I believe) have fridges full of Just Water bottles, which you can grab before heading to the gate. Why don't more lounges do this?
Bottom Line
The American Airlines Dallas Flagship Lounge is a good lounge – maybe even great. It gets all the basics right: A large footprint, shower suites, good food and drinks, and plenty of places to sit.
But the bar is much higher than that for a stellar business class lounge. From the finishes to the food, I think there's plenty of room for improvement at the American Flagship Lounge Dallas. The champagne toast as you walk in is a great touch, but this lounge is still certainly a step down from United Polaris Lounges for business class passengers – and even some of the nicest Delta Sky Clubs.