No matter what they do, some airlines just have a bad reputation. Flyers swear they'll never fly Spirit or Frontier again or warn friends to stay away from airlines near and far after one bad experience.
But few foreign carriers generate as much contempt as the Portuguese flag carrier TAP Air Portugal. 
At Thrifty Traveler, we've fielded more concerned questions about flying TAP over the years than perhaps any airline. How could an airline selling $300 roundtrip fares (or less) to Europe possibly be pleasant? The seats and service must be atrocious like other notorious budget carriers, flyers believe. And then there are the justified concerns about customer service, especially after thousands of travelers fought with TAP over refunds throughout the pandemic – more on that later..
That's why I just put TAP to the test, flying to their hub in Lisbon (LIS) in business class and back home in economy. And if you ask me, all the angst surrounding TAP is overblown. I'd gladly fly them again.
With a new and modern fleet, a great network to fly throughout Europe, and incredibly cheap fares, it's time to get over your fear of TAP.

A Good Flight in Any Cabin
TAP Air Portugal has had a bit of a makeover in the last decade. The result is a modern fleet, with planes far newer than even your go-to U.S. carrier equipped with Wi-Fi, crisp entertainment screens, and new, well-padded seating.
For flights between the U.S. and Portugal, TAP typically uses either their Airbus A330-900neo or single-aisle Airbus A321neo  – most under five years old, if that. And like most airlines you can fly across the Atlantic, there are two seat choices: Economy or Executive Class, TAP's name for business class.
If you ask me, these economy seats on TAP's A321neo were more or less comparable to any other airline I've flown between the U.S. and Europe.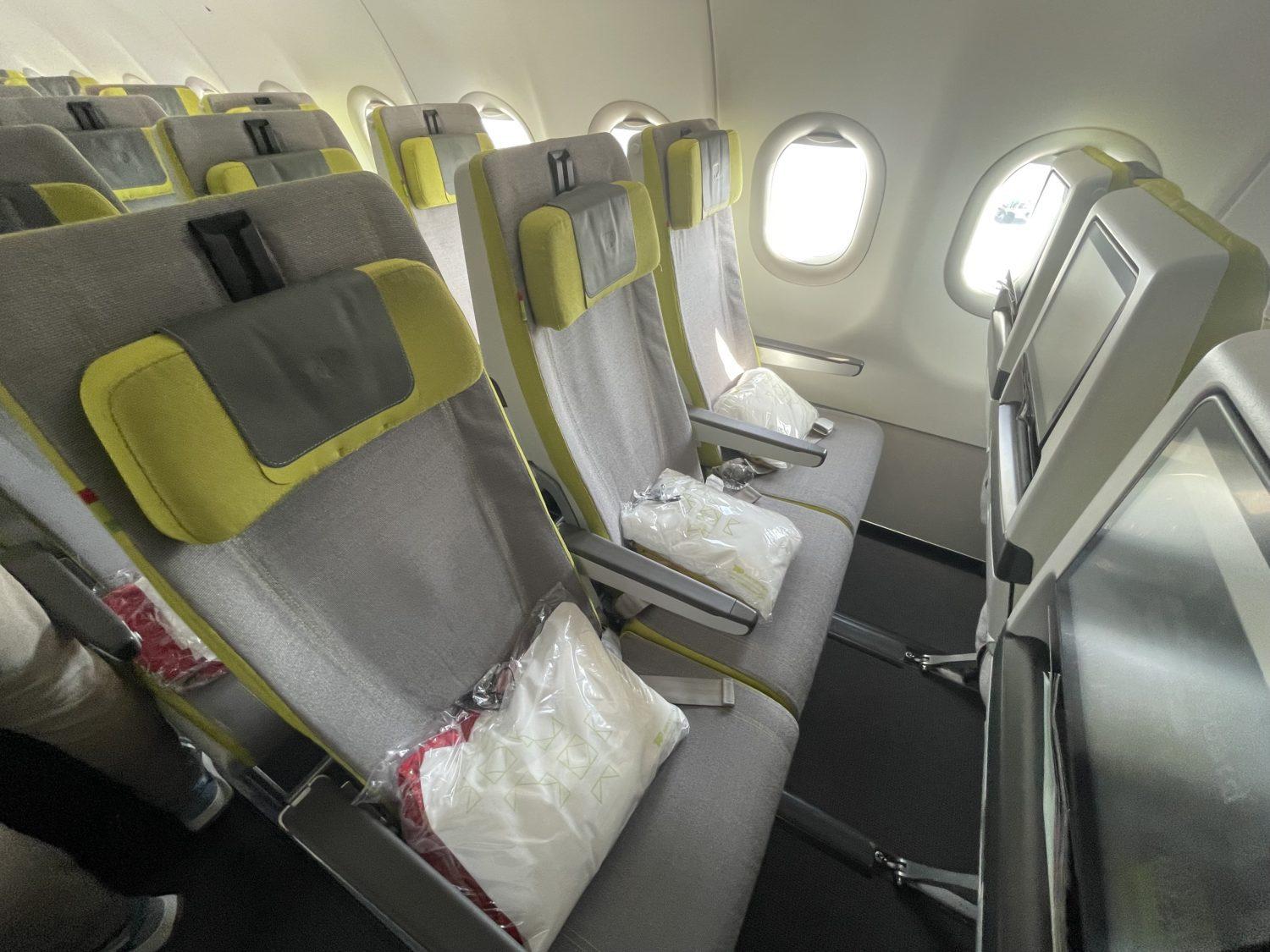 Each seat was just under 18 inches wide, with about 31 inches of legroom. While that's not the most generous economy seating you'll find in the world, it's on par with what you can expect on most carriers. It perfectly adequate for the 7-hour flight from Lisbon (LIS) to Boston (BOS).
The seats weren't much different from any United or Delta flight I've ever taken overseas – except, in this case, everything was brand spanking new. The entertainment screens are large and crisp, offering ample distraction to get you from to or from Europe.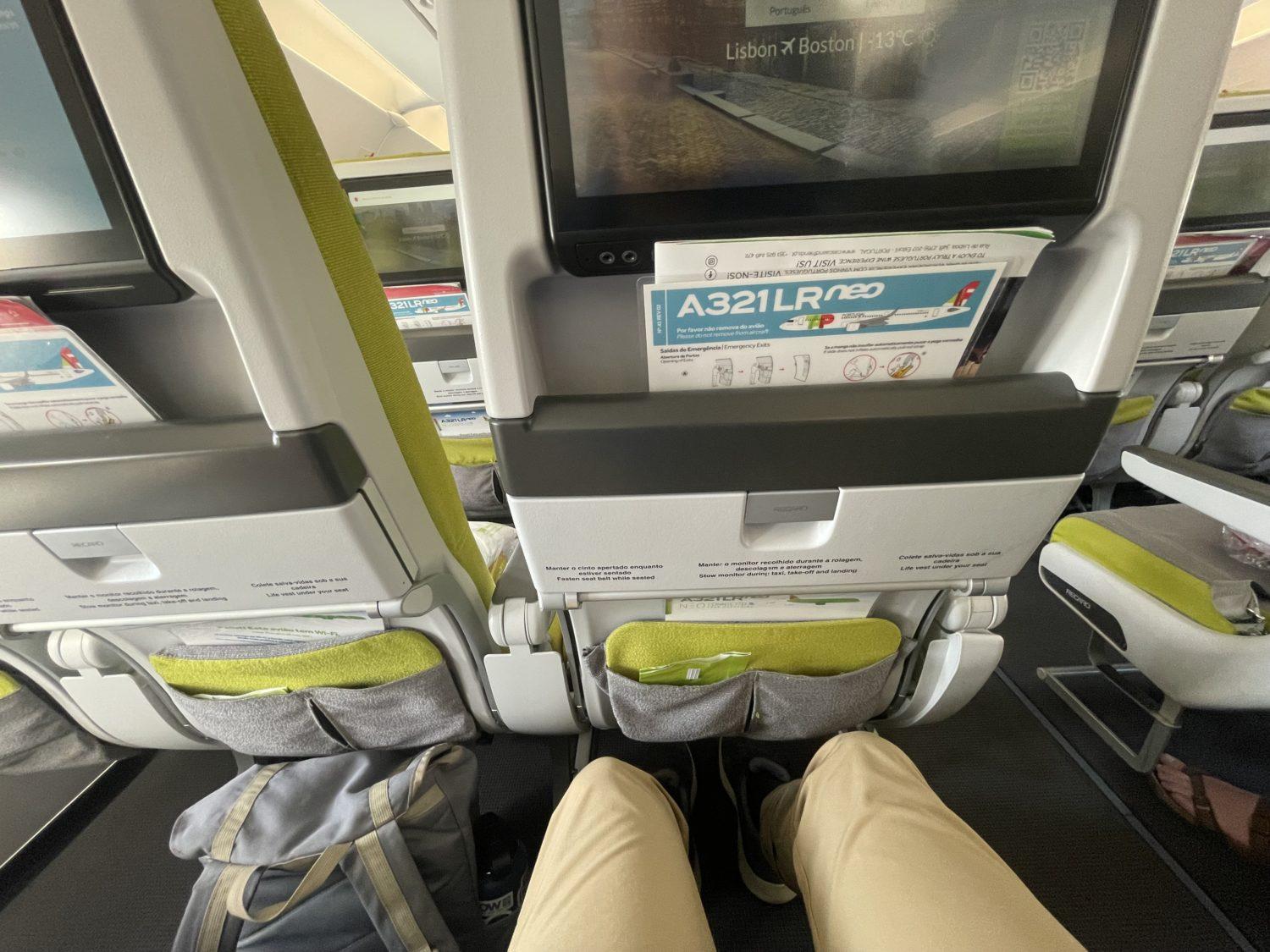 As you can see, my 6-foot frame fit easily into the seat, although it was definitely a little more snug with my backpack underneath the seat in front of me. We were served one hot meal after we takeoff and a sandwich and snack shortly before landing in Boston. Neither meal was outstanding, but they were just fine.
But depending on which plane you're flying, it's even better up in business class.
I flew from New York City (JFK) to Lisbon on TAP's A330-900neo, which is equipped with their best business class seats. These aren't just TAP's best seats – they're up there with some of the best seats you can find flying to Europe with a design similar to United Polaris and even Air France business class.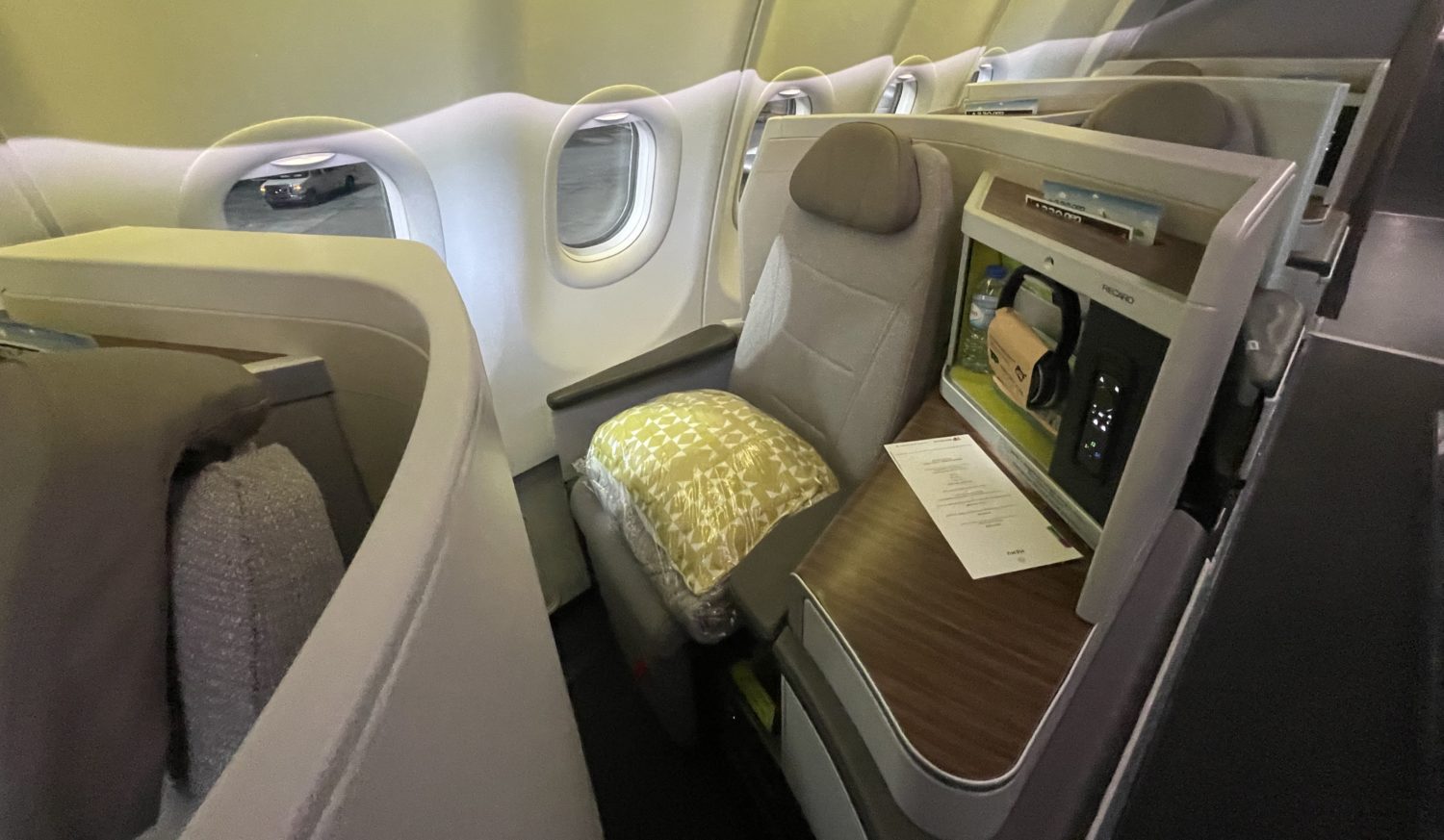 You'll generally find these widebody planes flying to Portugal from New York City and TAP's longer routes, including Chicago-O'Hare (ORD), Miami (MIA), Los Angeles (LAX), and San Francisco (SFO). With a 1-2-1 arrangement, every seat has direct aisle access, easily reclining all the way back into a bed.
It was a super comfortable lie-flat seat, had a terrific selection of food and drink, and included an amenities kit with headphones, some hygiene products, and even a pair of TAP-colored socks. The lie-flat mode of the seat was downright roomy, more than comfortable enough to allow me a few hours of good sleep on the short trip across the pond and arrive refreshed.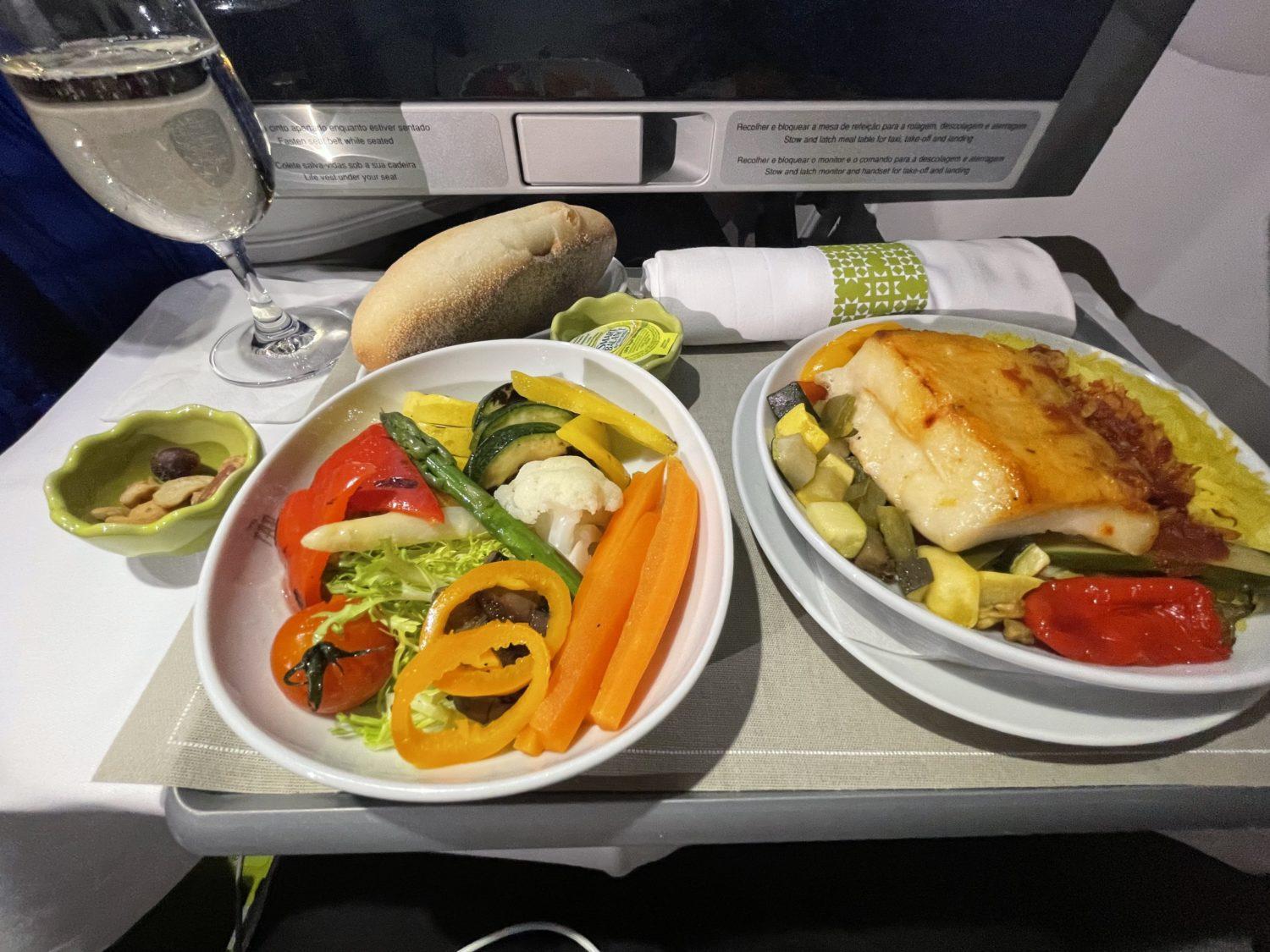 Both legs of the journey exceeded my expectations. While I went into these flights unsure, I now see TAP as a perfectly comfortable way to travel to and from Europe. I'd do it again in a heartbeat.
The Price is Right
In the end, this is why people fly TAP Air Portugal: Low prices.
TAP has built its business by attracting travelers with the lowest fares possible. Along with ultra-low-cost carriers like Norwegian Air, they've helped lower the bar for what's considered a cheap flight to Europe. How cheap?
Search for flights to almost anywhere in Europe using Google Flights, and you're bound to find the lowest price is on TAP Air Portugal. We regularly find and send our Thrifty Traveler Premium roundtrip fares to cities throughout Europe on TAP under $300 – and sometimes closer to just $200. When other airlines are charging $600 or more, you can't beat that price.
Last year, we unearthed fares to Paris as low as $220 roundtrip. That's as cheap as it gets.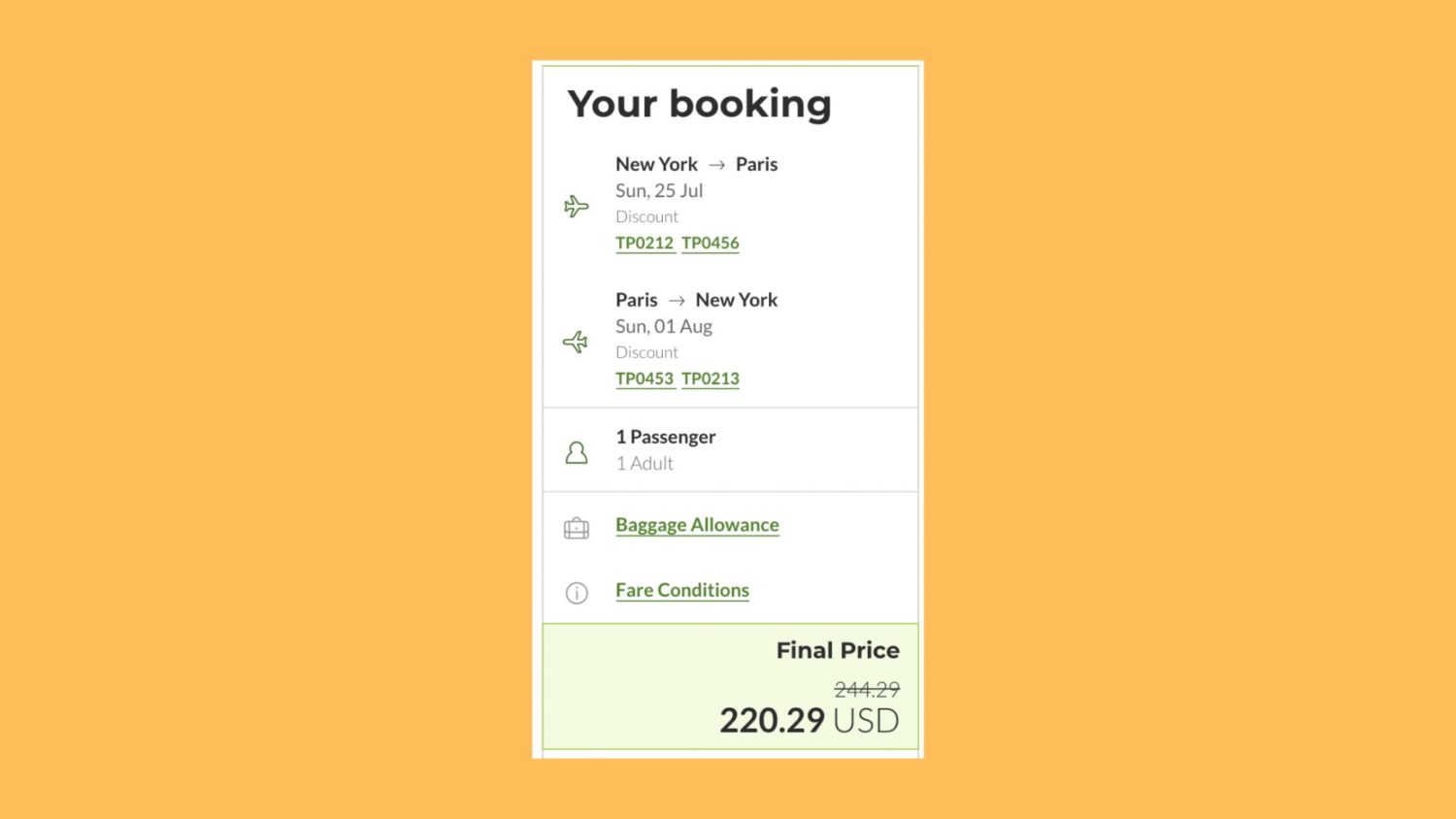 More recently, we sent our Thrifty Traveler Premium members a deal on TAP Air Portugal to fly to many European hotspots including Amsterdam (AMS), Dublin (DUB), London-Heathrow (LHR), Madrid (MAD), and even Rome (FCO) for just $243 roundtrip.

Flying to Europe just doesn't get cheaper than this. But even if you're looking to cross the pond in business class, it doesn't break the bank – so long as you're booking with points and miles.
Because TAP is part of the Star Alliance, there are plenty of airline programs you can use to book a business class seat to Portugal including Air Canada Aeroplan, Turkish Airlines, United, and more. To get to Lisbon last month, I utilized an incredible sweet spot to fly to Europe using points and miles.
While Avianca LifeMiles typically charges 63,000 miles each way for business class, there's one exception: Flying from New York City (JFK) to Lisbon (LIS), it's just 35,000 miles! 

While Avianca isn't our favorite airline to work with due to a somewhat clumsy website and some less-than-stellar customer service, it's worth it for this price. Consider this: Flying economy on this same flight costs 30,000 miles. For 5,000 miles, you can get a great meal and a lie-flat seat!
The best part about this is that it's incredibly easy to earn the LifeMiles you need to book with credit card points. LifeMiles is an American Express transfer partner, Capital One transfer partner, and a Citi ThankYou points partner, too. That means transferring 35,000 points from the Capital One Venture X Rewards Credit Card American Express® Gold Cardor the  is all you need to book.
Routes to Get to Europe & A Stop in Lisbon
Beyond its cheap fares, TAP is all about flying you from the U.S. and connecting onward to pretty much anywhere in Europe – with a pitstop in Lisbon.
TAP Air Portugal and its brand new fleet of planes fly to 10 cities in North America, including:
Boston (BOS)
Cancún (CUN)
Chicago (ORD)
Miami (MIA)
Montreal (YUL)
New York (JFK)
Newark (EWR)
San Francisco (SFO)
Toronto (YYZ)
Washington, D.C.-Dulles (IAD)
And thanks to its position at the entryway to continental Europe, it's a great option for fliers weary of long-haul journeys. From the East Coast to Lisbon, flights typically clock in at just six hours or so.
From there, TAP connects fliers onto tons of European cities, including pretty much ever major popular destination throughout western Europe. In addition, TAP is a great way to travel to the Azores (see why we love the Azores) or the Canary Islands, with roundtrip flights from Lisbon starting at just $67!
But it gets even better…
TAP Portugal's Stopover Program
One of the coolest features of TAP's is its Lisbon and Porto stopover program. En route or on the way home from your European destination, you can build in a multi-day stopover anywhere from one to five nights … without any additional fees!
This program is great for two reasons. First, you're getting to visit one of our favorite, budget-friendly countries at the beginning or end of your trip. Lisbon is an incredible yet underrated city that should be on everyone's list.
And second, it likely doesn't cost you a euro more to do it!
On TAP's website, just type in your departure city and the destination of your choice, and the system will tell you if you can build in a stopover. I wasn't able to squeeze one in on my latest trip, but if I had to do it again…

This itinerary would fly me through Lisbon (LIS) to Madrid (MAD) on April 21, give me a week on the ground in Madrid, and then the ability to spend two nights on the ground in Lisbon before my flight home on April 30.
Just think about it this way: If you could add an extra night or two in another European city to your itinerary for free, would you do it? You know the answer.
Customer Service is a Concern
If you have a negative view of TAP Air Portugal – or have heard from someone who does – it probably has something to do with their customer service.
TAP earned its place on many travelers' personal no-fly lists when it refused to issue refunds after canceling flights as the pandemic first struck, violating federal rules regarding refunds. The Portuguese airline was the subject of more than 5,000 complaints to the Department of Transportation regarding refunds, according to data from the department – second only to Air Canada, a much larger airline who was hit with a major fine last year for repeatedly breaking refund laws during COVID-19.
Many Americans have had a hard time getting through to TAP's customer service when they need to change or cancel their flights, too. After initially booking one leg of my TAP journey, I had to make a small change to my itinerary and did so on TAP's website without any issue, however.
If all goes well, I think those potential customer service headaches are offset by the low fares you're getting from the airline. Then again, nothing went catastrophically wrong on my journey. If something did go wrong, it might have changed my takeaways from this trip.
Bottom Line
Forget what you've heard and take it from me: TAP Air Portugal is a perfectly comfortable way to travel across the Atlantic.
Is it the best airline in the world? No. But neither are any of the other carriers flying to and from Europe, either. TAP's customer service can leave a lot to be desired, and that's worth keeping in mind when you're booking.
Whether you're flying economy or up in business class, TAP's in-flight experience holds its own against other transatlantic airlines … often at a fraction of the cost.