It's hard to put a price tag on the comfort of a lie-flat seat during an overnight flight to Europe, but the airlines always do – and it's usually steeper than the Alps.
While using points and miles to book business class or premium cabin seats to Europe is typically where you'll find the best value, we've been seeing more and more cheap business class fares lately. Buying a business class flight for a low cash price saves you the headache of stacking up points and miles and then finding the award space to actually use them. Plus, with business class cash deals, you can use Google Flights – the most powerful flight search engine – to hone in on the very best flights at the very best times for the very best prices, too.
We search for business class flight deals every day and send our Thrifty Traveler Premium members alerts about the best ones as soon as you can book them. It's a labor of love because we love hearing our subscribers' reactions when we send them roundtrip deals like this memorable mistake fare from just a few days ago!
Business class for $899…roundtrip. If you did a search for those same flights right now, you'd probably find the same fare…for economy!
This is what we're seeing all over the U.S. and Canada for business class fares to Europe right now, though: Business class fares at economy prices.
If you've given up on flying business class because it's simply too expensive, think again. Read on for the best business class flight deals we've found in just the past few months.
A Mistake Fare for the Ages
You've seen the fare, but what exactly happened here? This unbelievably cheap fare to London (LHR) only lasted a few hours, but we heard from plenty of our subscribers who booked this.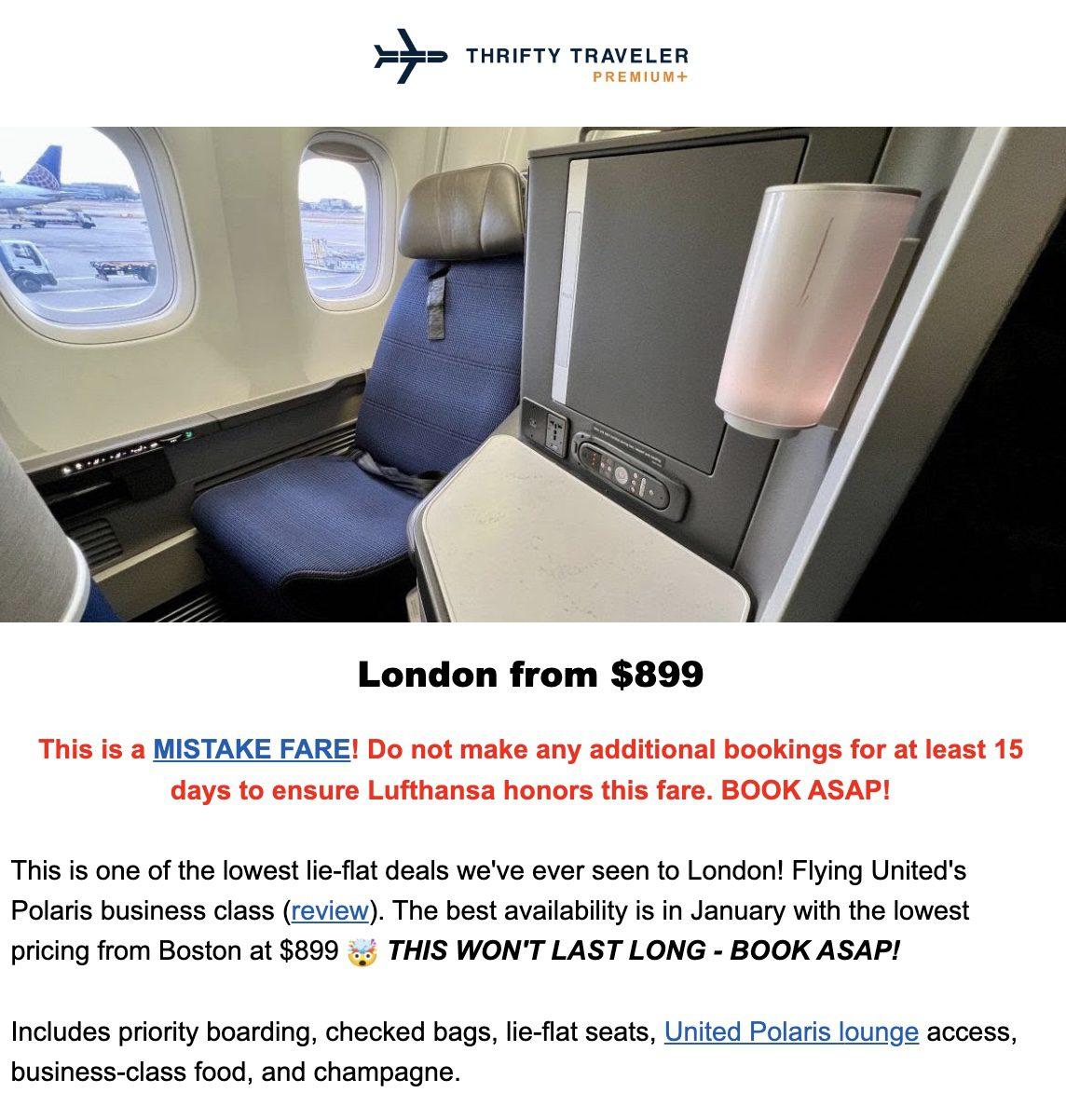 These United Polaris business class seats don't go on sale very often…if ever. And the starting rate from Boston (BOS) to London (LHR) starting at $899 roundtrip led us to believe immediately that this was a mistake on Lufthansa's part. Their computer system forgot a digit somewhere in the taxes and fees surcharges, which led to this unfathomable fare on Lufthansa's partner United.
And this wasn't just Boston, either. From coast-to-coast, in big airports and small, Lufthansa was selling these fares for insanely low rates.
Sign up for Thrifty Traveler Premium+ to get business class deals like this in your inbox! 
It's safe to say these are the cheapest Europe business class fares that have ever been recorded from cities like Des Moines (DSM), Grand Junction (GJT), and Fresno (FAT).
Delta One Business Class to Spain
Delta One Business Class also doesn't go on sale very often, but if there's one sweet spot, it's from either New York (JFK) or Boston (BOS), where hundreds and hundreds of business class seats fly across the pond every day.
With a quick connection in New York (JFK), you could fly Delta One Business Class to Barcelona (BCN) or Madrid (MAD) this year or next with this deal.
But there was something even more special about it: Holiday availability.
Thanksgiving, Christmas, or New Year's Eve availability is so rare on business class deals, but this one had all three. The fare above would give you Christmas in Barcelona!
Business Class from Canada Starting at $1,600
Another sweet spot of cheap business class fares we keep finding is from our neighbors to the north in Canada, but if you're an American, don't stop reading this section!
Here's why: This month, a member of our Thrifty Traveler team booked this insane, sub-$2,000 business class flight deal on Condor Airlines from Toronto (YYZ) despite living here in the U.S. Why, you ask? Well, the positioning flight to take advantage of this low fare, combined with the low fare itself, was still about $2,000 cheaper than anything he could find from his home airport.
And, in the end, he got to fly Condor's ultra-stylish new business class product to Germany.
But the business class bonanza out of Canada didn't stop there. Air France and KLM also put a ton of its beautiful business class seats on sale this year for travelers flying from Canada.
And the fares were even lower! Starting at just $1,600, you could fly from all of these Canadian cities with Air France or KLM service to Amsterdam (AMS), Paris (CDG), or tons of other European cities in a lie-flat seat.
The lowest fare was this bonkers Ottawa (YOW) to Florence, Italy (FLR)  business class ticket that would run you just $1,600 roundtrip, in the middle of July no less!
Booking a flight deal to or from Canada might be the savviest move you can make. If you're OK clearing immigration an extra time each way, it could save you thousands on a lie-flat seat to Europe.
JetBlue Mint Business Class from $1,894 Roundtrip
When it comes to business class flights to Europe, we check JetBlue every single day. Five years ago, that might have seemed crazy. But not only does JetBlue fly to Europe now, but they also fly these lovely Mint business class suites with them on every route.
The latest addition to JetBlue's route network is Amsterdam (AMS), and the day those flights went on sale, the Mint seats were only $1,898 roundtrip.
JetBlue's first foray across the Atlantic was to London (LHR and LGW), and we still see cheap Mint seats pop up every few months or so. This latest example was from just a few days ago.
It's not the absolute lowest fare we've ever seen, but like the Delta One sale we gushed about above, this deal included Thanksgiving, Christmas, and New Year's Eve availability!
Christmas in London, anyone?
JetBlue also started nonstop service to Paris (CDG) on Airbus A321LR planes with Mint seats onboard, too. And wouldn't you know it…
We might sound like a broken record about these JetBlue Mint fares, but JetBlue is really changing the game with how they're pricing these business class seats. These price points are pretty unbelievable given how nice the product is, and these luxurious seats can get you to some of Europe's top destinations, too.
TAP Air Portugal to the Azores
If you're looking for a cheap business class flight across the Atlantic, it always pays to check TAP Air Portugal.
The Portugese flag carrier is known for putting all of its seats on sale, including its business class. Just a few days ago, they outdid themselves once again, offering lie-flat seats across the Atlantic and business class connections onward to the islands of the Azores and Madeira.
This deal is long gone – get the next one in your inbox with Thrifty Traveler Premium! 
Thanks to some competition from Azores Airlines, which runs nonstop flights between many of these cities, TAP was forced to lower their lie-flat seat prices to these amazing rates.
And while Azores might offer a more direct flight, these TAP fares will be much more comfortable and feature lounge access, champagne, and all the other bells and whistles we love about business class travel.
Bottom Line
Don't write off a chance at flying business class to Europe this year or next, because right now we're seeing some of the lowest premium cabin cash fares we've ever seen across the Atlantic – some for even cheaper than what you can find flying economy.
You don't have to have a huge stash of points and miles to book these incredible seats. We search for business class flight deals every day, and Thrifty Traveler Premium members get alerts sent to their email inboxes as soon as we find them.