Whether you're a novice traveler, aspiring travel hacker, or a savvy Thrifty Traveler Premium subscriber, you've likely heard of Skyscanner.
Of all the go-to flight search engines out there, Skyscanner is among the most popular. In the best of times, it's capable of shaving $30 to $100 or even more off the price of your flight.
But what, exactly, is Skyscanner? How does it manage to provide some of the cheapest flights to book? And is it all it's cracked up to be? Read on to find out.
What is Skyscanner?
Skyscanner is a travel fare aggregator, or "metasearch engine." So instead of selling flights itself, Skyscanner aggregates fares from online travel agencies (OTAs). Think of it as an OTA of OTAs.
What are OTAs, you ask? Websites like Expedia, Priceline, and Kayak are some of the most well-known online travel agencies. But then you get into smaller and lesser-known OTAs, like Trip.com, GotoGate, Vayama, TravelMerry, and many more. OTAs get discounted fares from the airlines one way or another, sometimes adding a small markup, and offer fares to online customers.
Skyscanner (and similar websites like Momondo) aggregate all of these available fares and populate the options when you search on their website. When you book Skyscanner flights, you're booking a flight deal through an online travel agency that is actually offering the fare. Skyscanner just happened to find that deal for you.
Are Skyscanner Flights Safe to Book?
So are these smaller OTAs you may find through Skyscanner safe?
Even though some of the smaller OTA's names may seem sketchy, they're typically safe. These OTAs are all subject to the same regulations as required by IATA – the "United Nations" of travel that sets standards for the aviation industry.
However, it's important to note that some of these smaller OTAs are not as large as Priceline or Expedia, so their customer service may be lacking and cancellation policies limited. Critically, fares booked with many OTAs through Skyscanner do not include free 24-hour cancellation.
Why You Should Check Skyscanner Flights
So, why are we even telling you about Skyscanner flights? Even with all the hype we give Google Flights to search for travel, Skyscanner can often make a sweet flight deal even sweeter with extra savings.
Take this Thrifty Traveler Premium deal from Boston (BOS) to Shanghai (PVG), for example. On Google Flights, prices for a roundtrip ticket from Boston to Shanghai were $560, booked directly with Air Canada. Note that Google Flights is a "metasearch aggregator," too – you can see options to book directly with the airline, or with an OTA, like CheapOAir.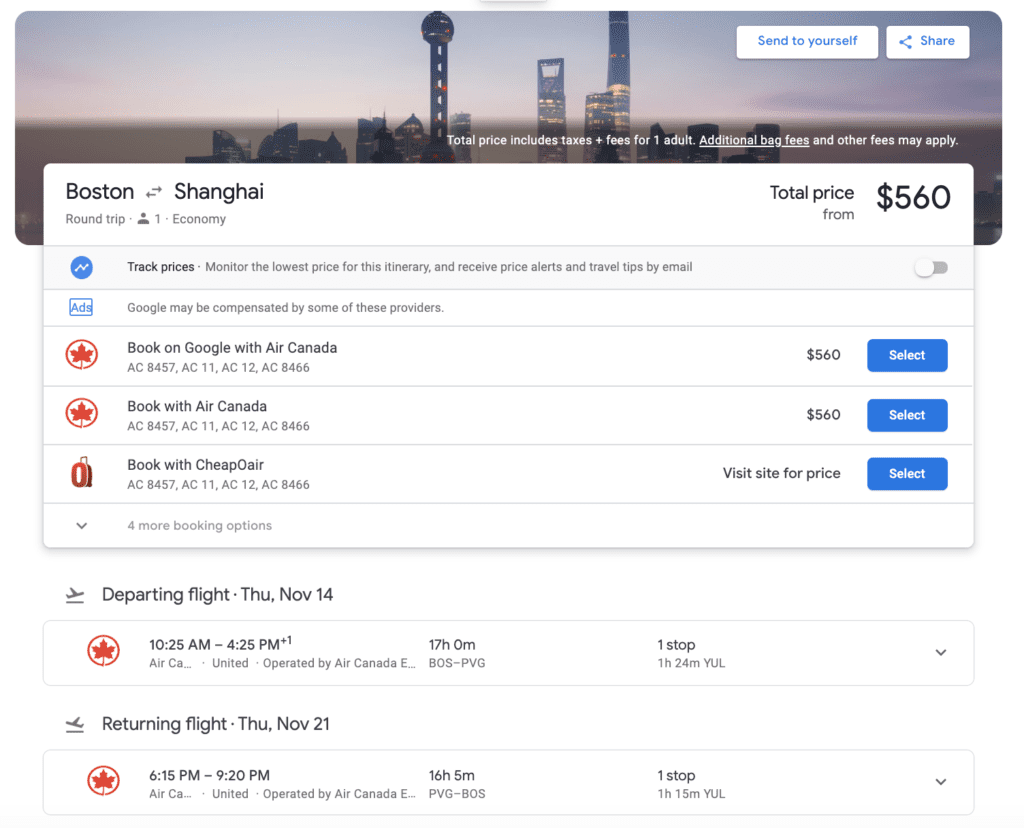 Put the same route and dates into Skyscanner, and voila! The price dropped to nearly $370, saving more than $180, just by checking Skyscanner flights.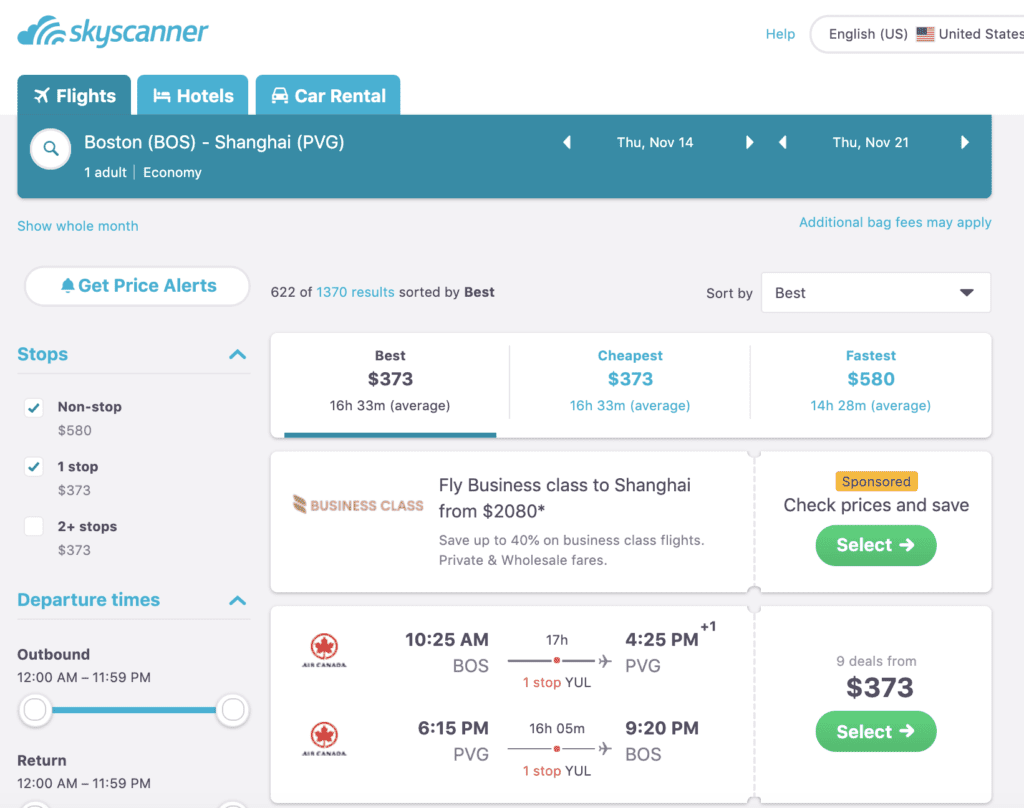 Typically, these flight savings are in the range of $30 – $80 on Skyscanner. But you might get lucky and save much more, as with this example.
If it's a price difference of $30 or less, it may not be worth booking through Skyscanner. When the savings are marginal, we always recommend booking directly with the airline. Because the OTA fares offered on Skyscanner do not include a free 24-hour cancellation policy and may come with questionable (or non-existent) customer service, it may be worth the extra $30 or so to have that safety net.
How to Search and Book Flights with Skyscanner
Searching flights with Skyscanner is easy. We recommend first finding a cheap flight and your preferred dates in Google Flights, and then cross-checking for any cheaper airfare on Skyscanner.
Once you hit search, you'll see a search results page like this. You can toggle between "best" and "cheapest" flights, but watch out for some longer layovers on the "cheapest" options. Skyscanner's "best" options take both time and price into consideration.
You can also filter the Skyscanner flights on the left side by number of stops, departure times, and more.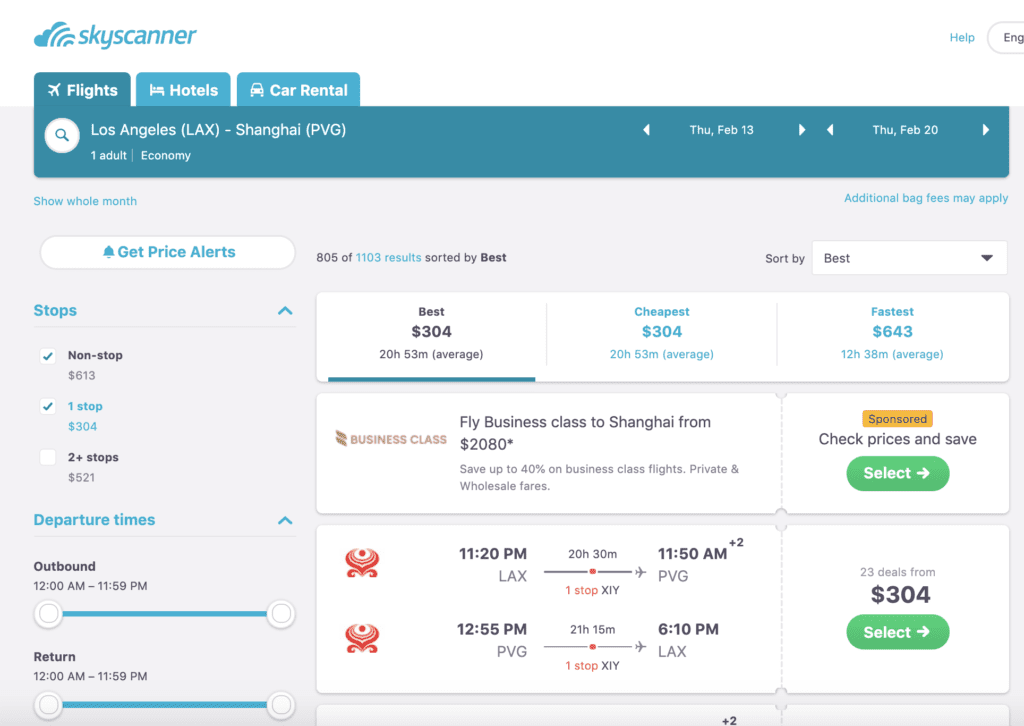 You'll notice there is a "Select" option to the right of each fare in the search results. Above, it will tell you how many OTAs are offering flights and the starting price. Click "Select" to see all the OTAs offering flights.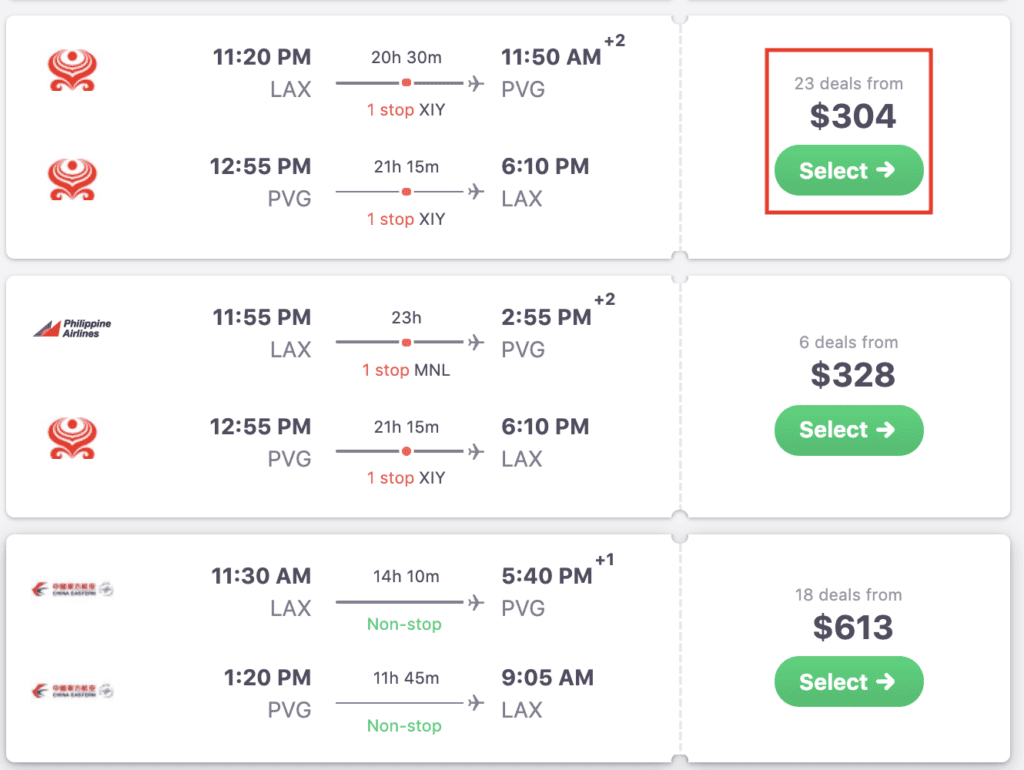 Skyscanner uses a 5-star review system, which does its best to tell you what other users' experiences with each OTA have been. We recommend booking flights with the highest-rated option whenever possible. In this case, I chose to book with Vayama.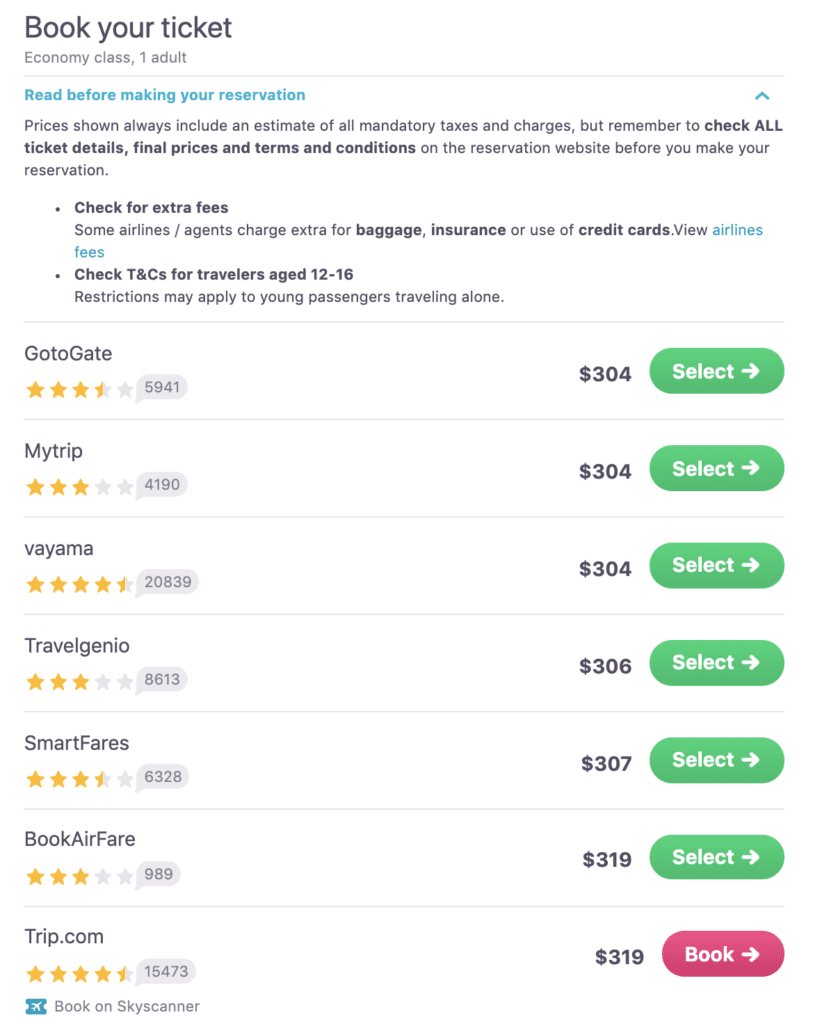 Then, because Skyscanner flights is just aggregating options, you'll be taken to the OTA website you chose to purchase from.
Once you've made it to the OTA website, you'll go through the process of adding your personal information and booking your ticket.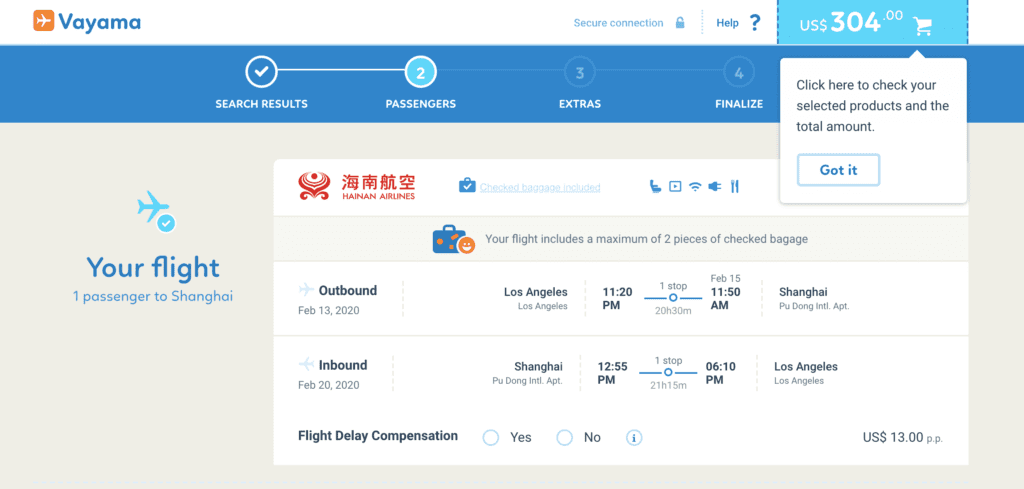 This particular OTA, Vayama, charged me an extra $10 each way for seat assignment (which would be free on the airline Hainan's website). OTAs will sometimes charge extra for seat assignments or other ancillary fees to make a bit of a markup, so be sure to take note upon checkout.
All booked!
Things to Remember When Using Skyscanner Flights
Customer service with

some of the smaller OTAs

is generally lackluster to nonexistent, so know that this is the price you may pay for a cheaper fare. If this doesn't sound worth it to you or there's only a slight price difference, book your flight directly with the airline by searching with Google Flights instead. That's more true than ever with all the uncertainty surrounding travel due to the COVID-19 pandemic.
Note that most small OTAs do not offer a free 24-hour cancellation policy.
Make sure you know what should be included on your fare if you were to book directly with the airline. Some OTAs may charge a small fee for seat assignment while the airline itself may not. Weigh the money you save with the add-on fees or charges the OTA tacks on to make sure it's worth it.
Booking through an OTA may be eligible for cash back on Ebates, our favorite way to earn cash back on purchases online. I earned $5 cash back on my booking from Los Angeles to Shanghai!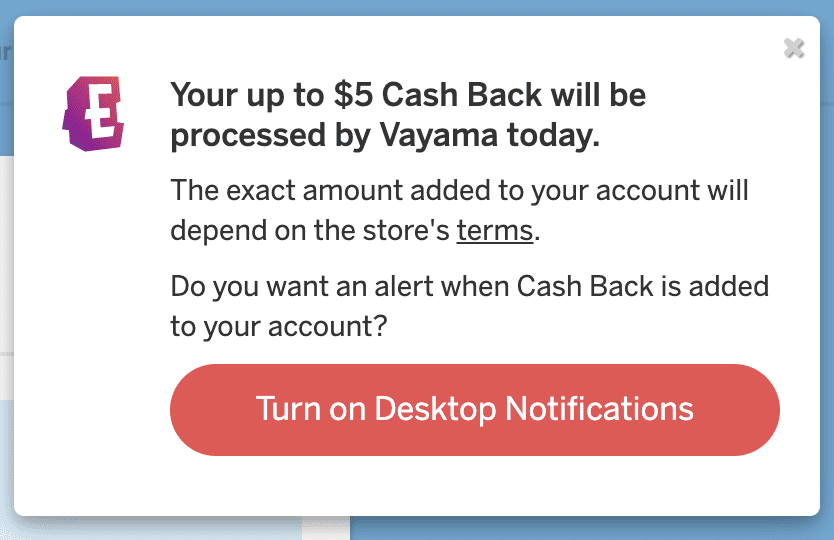 The Bottom Line on Skyscanner
We still think Google Flights should be your starting point for finding any flight deal. It's the most powerful tool to find cheap flights, period.
But there's no question you can save some additional money by booking through a site like Skyscanner. So it could easily be worth cross-checking with Skyscanner on any flight you find to see if you can score a better deal. Just keep in mind the potential pitfalls and drawbacks of booking with an OTA like Skyscanner before you hit "Book."