Travelers entered hibernation in 2020 and re-emerged in 2021. But no airline, travel company, or bank made up more for that lost time last year than Capital One.
For travelers with Capital One cards in their wallet, 2021 was a transformational year. The company launched a long-awaited premium travel card called the Capital One Venture X Rewards Credit Card, and it's been a home run with travelers from day 1. It opened its very first lounge in Dallas-Fort Worth (DFW), a space that raised the bar for what airport lounges can offer in the U.S. And it drastically improved its portfolio of transfer partners while rolling out a solid travel booking portal, making Capital One Venture miles far more valuable.
Capital One isn't done yet. In a recent interview with Thrifty Traveler, a pair of Capital One executives made clear more is on the way in 2022. And while they wouldn't say where or when, they signaled clearly that more lounge locations are on the way beyond upcoming locations in Denver (DEN) and Washington, D.C.-Dulles (IAD).
Lessons from the DFW Lounge
The airport lounge wars are on, and it's hard to imagine a better opening salvo than Capital One's DFW Lounge.
Hand to heart, this might be the single best airport lounge in the U.S. From the airy, well-designed space to top-notch food and beverages to unique amenities you won't find in almost any other lounge, there's really not another space like it in an airport.
That's no accident: Capital One's first airport lounge coincided with the launch of the Venture X Card – the only card that will get you into these lounges for free. And in both regards, Capital One decided to push the envelope and make a splash.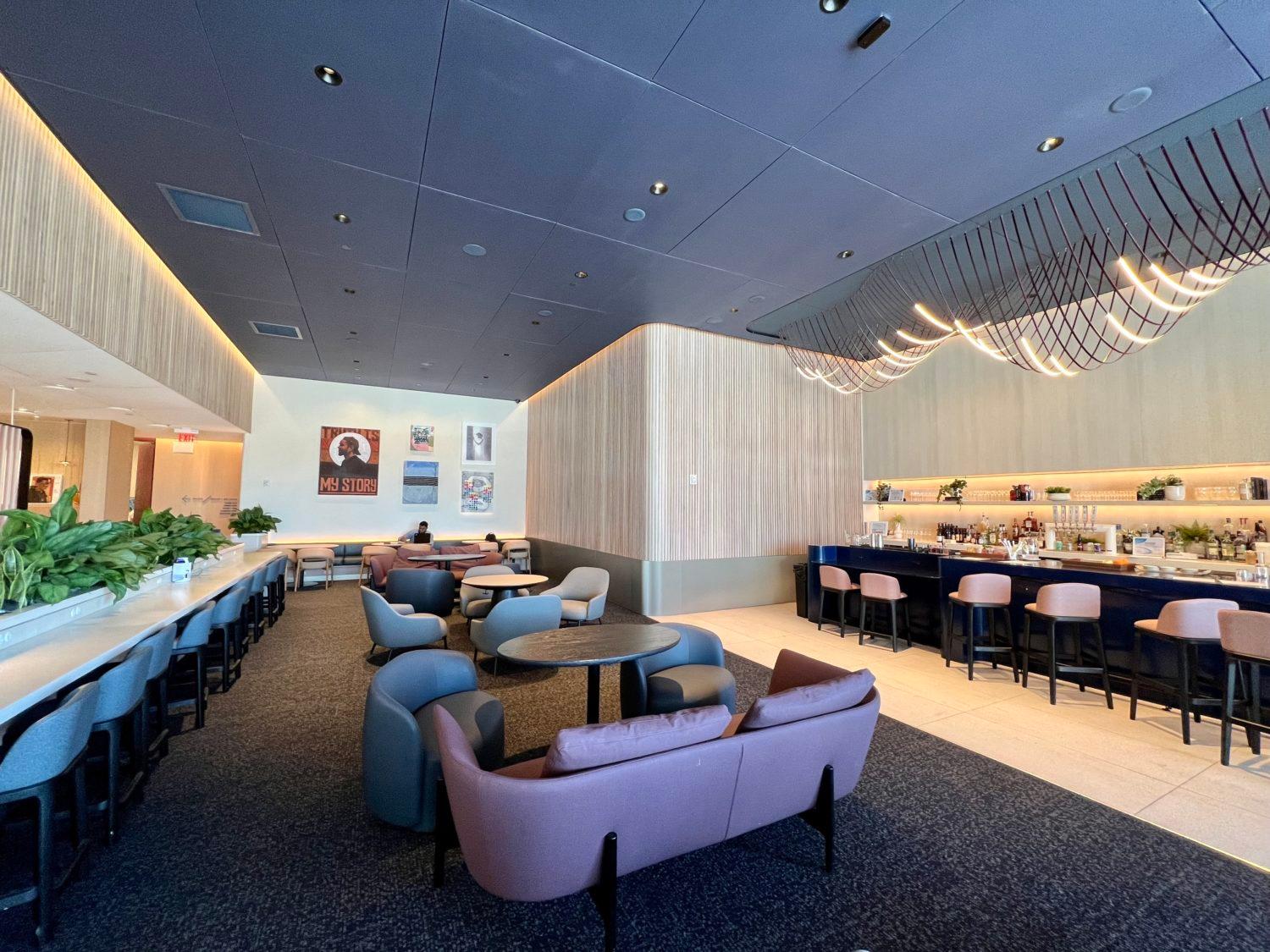 Read our full review of the Capital One DFW Lounge!
Matt Knise, Capital One's managing vice president of U.S. card, said they purposely ditched the template of airport lounges that cater to business travelers in Dallas and "focused a lot on the details" – a warm atmosphere, chic finishes, and food and beverage options you won't find elsewhere.
"We want to bring to life a special concept. We want to hold a high bar," Knise said.
They succeeded. I'll be honest … these lounges are almost too good.
Forget simple finger food, there's restaurant-quality mac and cheese with thick bacon, Korean bulgogi bowls, fresh-made hummus with warm pita, and cute charcuterie cones. The bar menu screams top shelf with a mix of on-tap cocktails, handmade concoctions and solid beer and wine offerings. There's even a grab-and-go cooler full of drinks, snacks, salads and sandwiches. And it's all free.

How can Capital One keep this up as more and more travelers pick up the Venture X Card, return to the skies and head for the lounge? Capital One said there's no reason to worry about substantial cutbacks.
"Our goal over time is to maintain the level of experience that you see today in Dallas," said Jenn Scheurich, Capital One's head of travel. "We've really structured our program and our investment in a way that it is sustainable."
At some point, Capital One will inevitably face the same issues that have plagued other stand-out spaces like Amex Centurion lounges: overcrowding. As travel has rebounded, travelers have found lounges across the country packed to the gills – if they can even get in at all. What good is a lounge if you can't find a seat?
Capital One brass knows that part of the allure of their new lounge is how easy it is to find a seat and spread out. if that changes, Scheurich said Capital One Lounge access policies are up for revision when necessary: "There are some good levers to make sure we can manage crowding."
Whether one of those levers Capital One could pull to ease crowding is cutting back on the unbelievably generous ability to add up to four authorized users free to a Venture X account – each getting their own lounge access – remains to be seen, as does free access for two free guests for every Venture X cardholder.
Read more on how to get into Capital One Lounges!
But at least on paper, Capital One started with a fairly strict access policy that only lets you get into the lounge within three hours of departure – unlike Amex Centurion lounges, there's no special exemption during a layover. And the company intentionally chose not to make the lounge accessible through programs like Priority Pass or Plaza Premium – the very company Capital One partnered with to build and operate its lounges.
Scheurich also said they're working on an activity monitoring system to check on how busy the lounge is ahead of time and even an online reservation system to secure a spot in advance. Amex has rolled out both in recent years, albeit with mixed results.
By the end of the year, Capital One should have more than one lounge location to worry about…
Denver & Dulles on the Way
From houses to condos to airport lounges, construction is tough these days. Costs are skyrocketing and delays are common at airports even in the best of times.
Still, Capital One confirmed their next lounge locations in Denver (DEN) and Washington, D.C. – Dulles (IAD) are actively under construction and still on track to open later this year. That could be a slight delay: Capital One initially targeted mid-2022 for its Dulles location.
While Capital One wouldn't set a target opening date for either lounge, Scheurich said the two new locations should open roughly around the same time.
"The construction is a little crazy right now," Scheurich said. "We're working really hard on that."
Tempting though it may be to copy its successful Dallas lounge to paste in Denver and D.C., Capital One is shaking things up with a different approach at its next two outposts.
"Our lounges are not designed in a way that's one size fits all," Scheurich said.
The plans in Denver call for a slightly larger footprint of 11,200 square feet in Concourse A. And because Capital One knows many of its cardholders connect through Denver, they're placing even more emphasis on lounge amenities like more relaxation rooms and shower suites.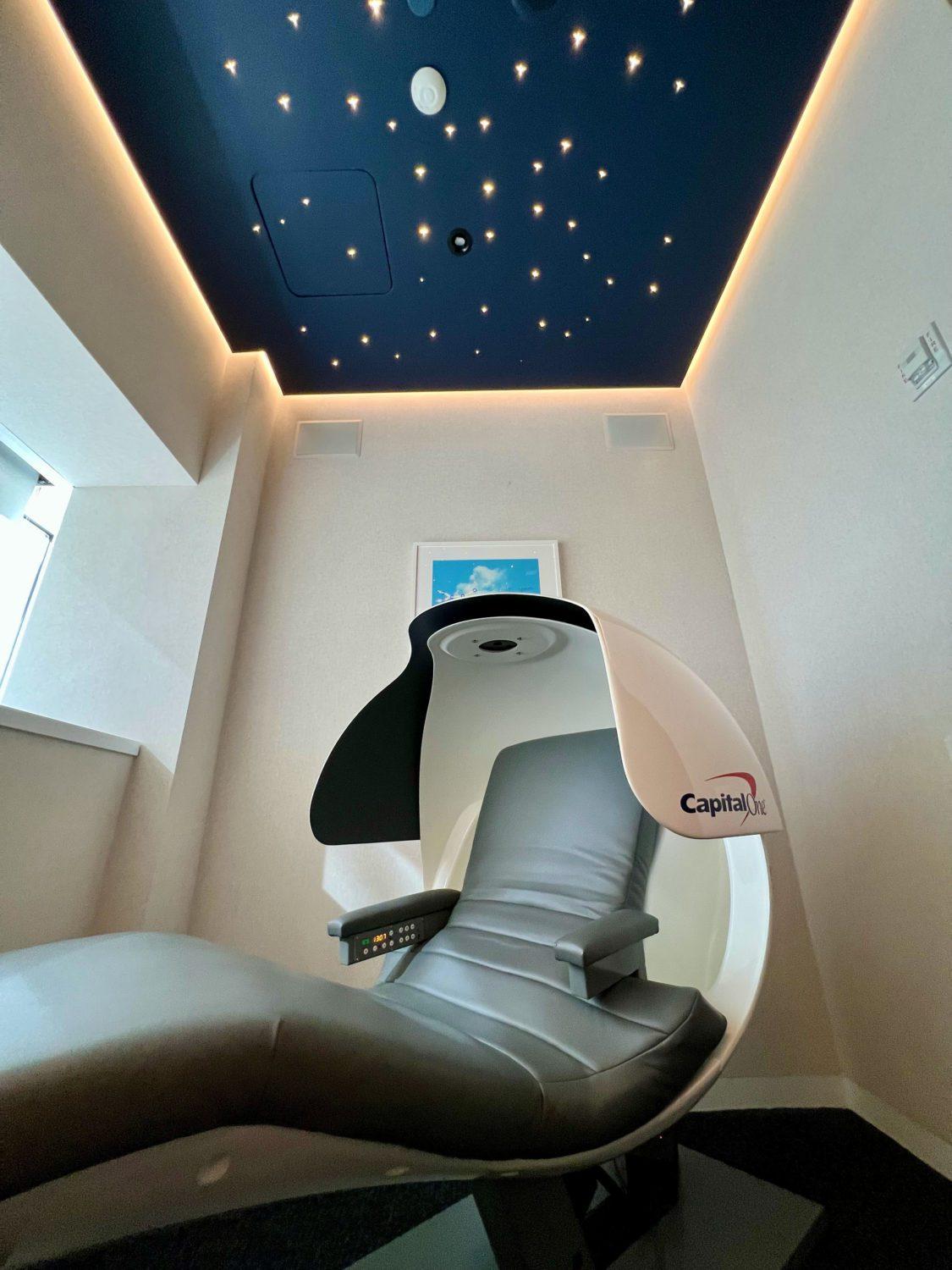 In Dulles, Capital One felt they needed to address the extra time and stress of getting from the terminal to the gate. So they're devoting even more resources to the novel grab-and-go concept so cardholders can simply drop into the lounge, grab something to eat, and head to their flight.

More Lounges Are Coming?
One thing is clear: After the launch of the Venture X Card and fanfare surrounding its first lounge, nothing is more important to the Capital One team than building out more lounges. More are coming.
"We really see these lounges as a flagship benefit for our cardholders, particularly for our Venture X cardholders," Scheurich said.
In our interview, Knise and Scheurich repeatedly hinted at announcements on the horizon. Pressed for details on when and where the next Capital One lounge would open, Knise replied craftily: "We hope to have more to share soon."
But opening more lounges is much, much easier said than done – and Capital One knows it. Airport real estate is notoriously cutthroat, and Capital One isn't the only credit card company bidding for precious space.
American Express has aggressively expanded in the last two years. Chase is getting into the mix with five Sapphire Lounge locations in the works and counting. In fact, Capital One lost a bid for a lounge space in Phoenix (PHX) earlier this year to Chase.
For Capital One, the focus is on finding quality space in airports where they know their cardmembers are going, and that data is a closely held secret. Knise dodged a bit when asked how long it might take for Capital One to have five or more airport lounges open, saying that timeline will be dictated by whenever the right spaces become available and that's tough to predict.
But he also made clear that when it comes to these lounges, quality trumps quantity.
"As we look at the future of our network, we want to keep growing, but we're not going to sacrifice those bars on quality," Knise said.
While the initial focus is on lounges within the U.S., could an international Capital One location be on the horizon? Chase is planning a Hong Kong (HKG) location along with American Express, which opened its second international Centurion lounge in London-Heathrow (LHR) last fall.
Again, Capital One is keeping its vision under wraps – at least for now.
"This is totally going to be driven by where we're seeing appetite from consumers," Knise said.