Using credit card points to book dirt-cheap flight deals for a free trip is one of our favorite ways to use points. And thanks to the bonus you get when booking with points earned from cards like the Chase Sapphire Preferred Card, Chase is a clear winner for using points to book cash flight deals.
But Chase isn't perfect. Since Chase partnered with Expedia to power its Ultimate Rewards travel booking portal, we've heard a common complaint from readers: The prices they get through Chase are often higher than what they found through Google Flights or an international fare alert from Thrifty Traveler Premium. It's a known issue and a persistent and confusing problem.
After digging through dozens of examples, we think we've figured it out. It appears that Chase's travel portal regularly doesn't correctly display basic economy prices in search results for flights to Europe. Instead, it often displays the higher, main cabin economy fare upfront.
But here's the thing: Once you select your flights to check out, the fare generally reprices. Chase bills it as: "Good news! The price of your flights dropped."
The pricing issue seems contained to flights to Europe, and it can be unpredictable – sometimes the pricing misfires, other times it's correct. We haven't seen this same issue on domestic U.S. flights or flights to Central America or the Caribbean.
A Chase spokeswoman didn't acknowledge recurring issues with the Ultimate Rewards pricing: "The lowest cost fares are shown in a cardmember's initial Ultimate Rewards Travel search, and fares are confirmed at check-out. Cardmembers also receive a prompt at checkout with the option to upgrade, if they choose."
But that doesn't square with our research, nor the experiences of many of our readers.
What's Going on With Chase Ultimate Rewards Pricing?
We haven't run into any similar pricing problems with basic economy in the U.S., or to the Caribbean, Mexico or the rest of Central America. Basic economy fares aren't yet sold to much of the rest of the world.
But with flights to Europe, it's a recurring problem. We found this issue in several dozen searches, though it's not a constant.
Take a great deal to fly nonstop from Newark (EWR) to Rome (FCO) and back for just $331 for a basic economy fare – a deal we first sent to Thrifty Traveler Premium members earlier this week. It's still bookable at that price.
Yet when you punch that exact flight into the Chase Ultimate Rewards Travel, the initial price you see is much higher: Almost $505.

Although the "details and baggage fees" indicate this is a basic economy fare – where you'd have to pay extra to select your seat – it turns out Chase is displaying the higher price of a standard economy fare in the search results.
But if you power through the sticker shock and select both the departing and return flights, something changes. The price drops down to the basic economy level.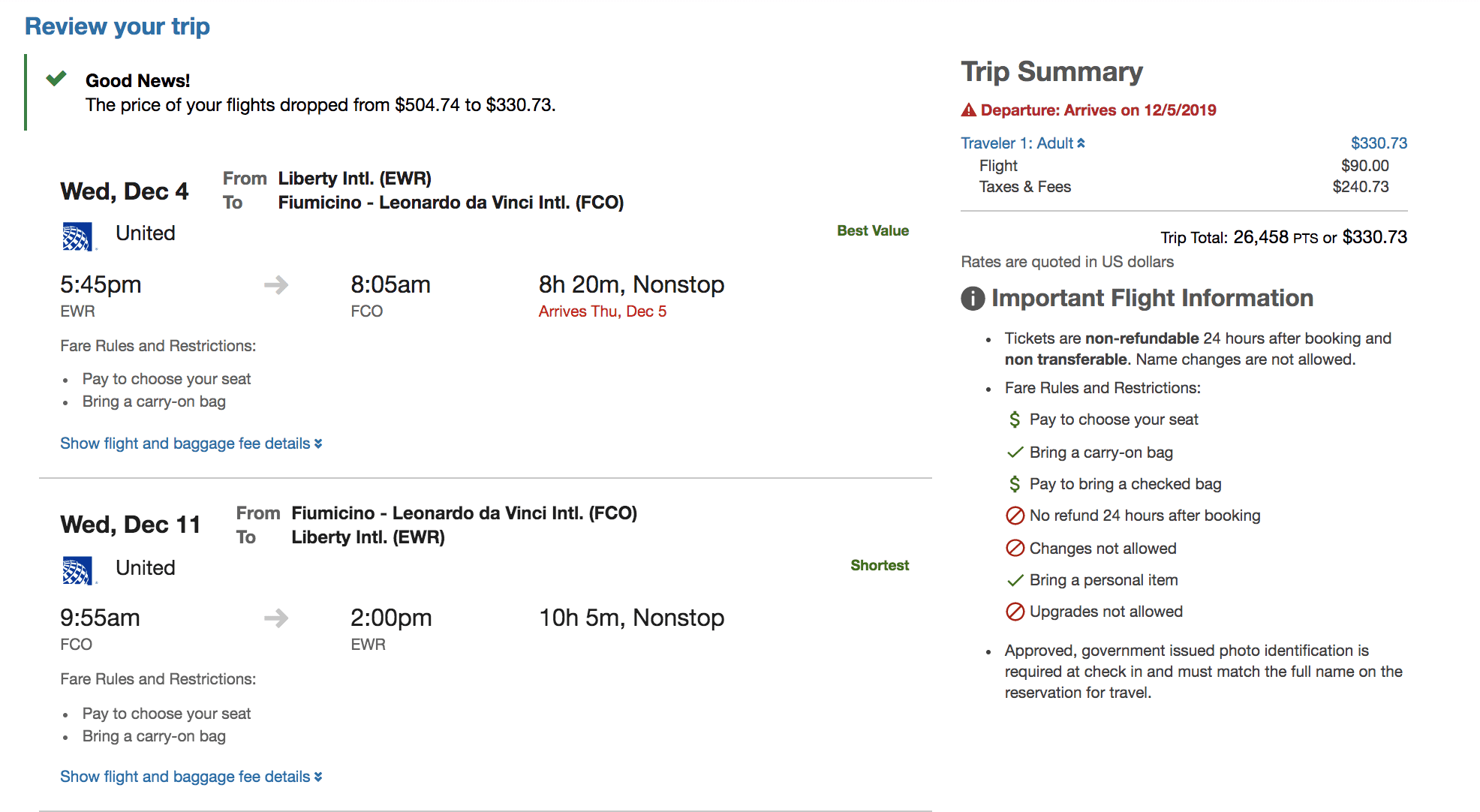 Time and time again, a similar pattern has played out. Here's a basic economy flight from Boston (BOS) to Madrid (MAD) for $230. And again, Chase shows a higher price until you select both flights and get ready to check out.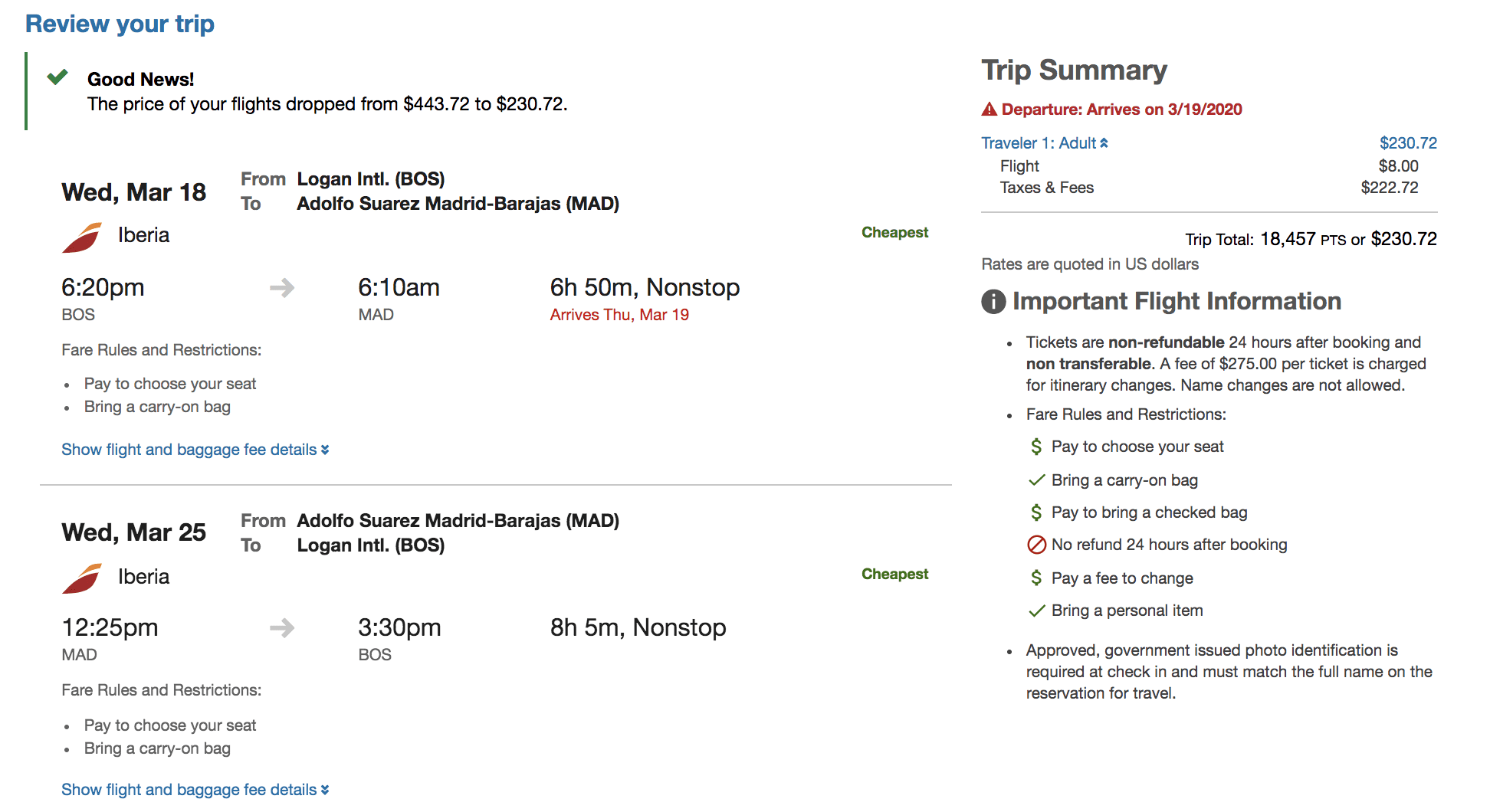 What's odd is that Expedia itself seems to always show the lowest, basic economy price in the initial search results. And considering Expedia runs Chase's Ultimate Rewards Travel portal, you'd think the results would be identical.
Again, the same thing happened with a one-stop flight from Los Angeles (LAX) to Madrid (MAD), on which you can nab a basic economy fare for under $290 round-trip. You just have to be patient with Chase.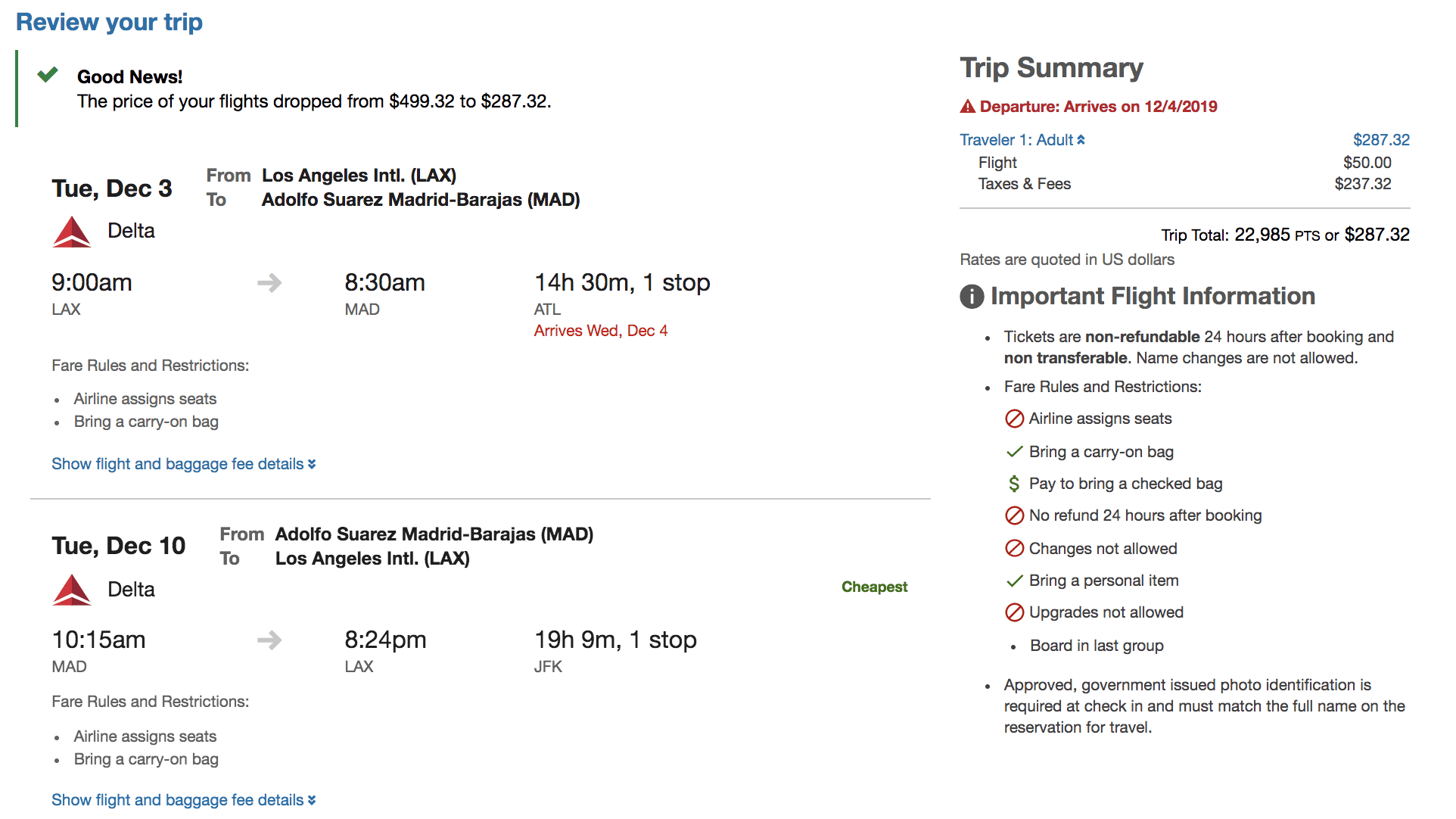 Our Analysis 
This pricing problem is sporadic. Sometimes you'll see the lowest basic economy price in your initial search results. Other times, you won't be able to pull it up at all – even after proceeding to check out.
But it seems clear that there is a prevalent issue here, no matter what Chase says. There are no clear patterns between different airlines, airline alliances, nonstop, or connecting flights – they can all be mispriced too high in the initial search results. But when it strikes, it's frustrating.
When calling in to see if we could book a lower-priced flight, a Chase agent was able to see and book a cheaper, basic economy fare that did not appear in the initial search results. And that agent said that while agents can see international basic economy fares, consumers often cannot. 
Thrifty Tip: If the price you're expecting doesn't show up through Chase, try selecting your flights and seeing if the price drops at check out. If not, call the Chase Ultimate Rewards Travel Center at 1-855-234-2542.
In response to our questions, the Chase spokeswoman merely said that there are "a few factors that could impact prices across booking outlets such as current inventory, carriers, and time of the search."
Bottom Line
It's sporadic, confusing, and frustrating, but it seems clear that there's an issue with getting basic economy fares to Europe to show up at the right price through Chase – at least initially.
We hope Chase sorts out what's clearly a frequent glitch. Until then, power through and see if you can pull up the lower, basic economy fare when checking out to pay with cash or your Chase points. And if not, give Chase a call and see if they can find it for you.