A big new benefit could be on the way for Delta flyers with the top-tier Delta SkyMiles® Reserve American Express Card: Discounts when redeeming your Delta SkyMiles.
American Express quietly updated some of the terms of its official application page for the Reserve Card to add a new benefit it's calling "TakeOff 15." Just log into your account with a Reserve Card attached, search for a flight using your SkyMiles, and you'll get a 15% discount when booking an award ticket on Delta operated flights – not partner bookings with carriers like Air France or KLM.
No official announcements have been made, and representatives from both Delta and American Express did not respond to a requests for comment. Within hours of publishing, American Express removed the mention of the TakeOff 15 benefit altogether.
Current Reserve cardholders aren't seeing these discounts while searching at Delta.com just yet. The website Eye of the Flyer first spotted this possible new benefit, though it later deleted its story without explanation.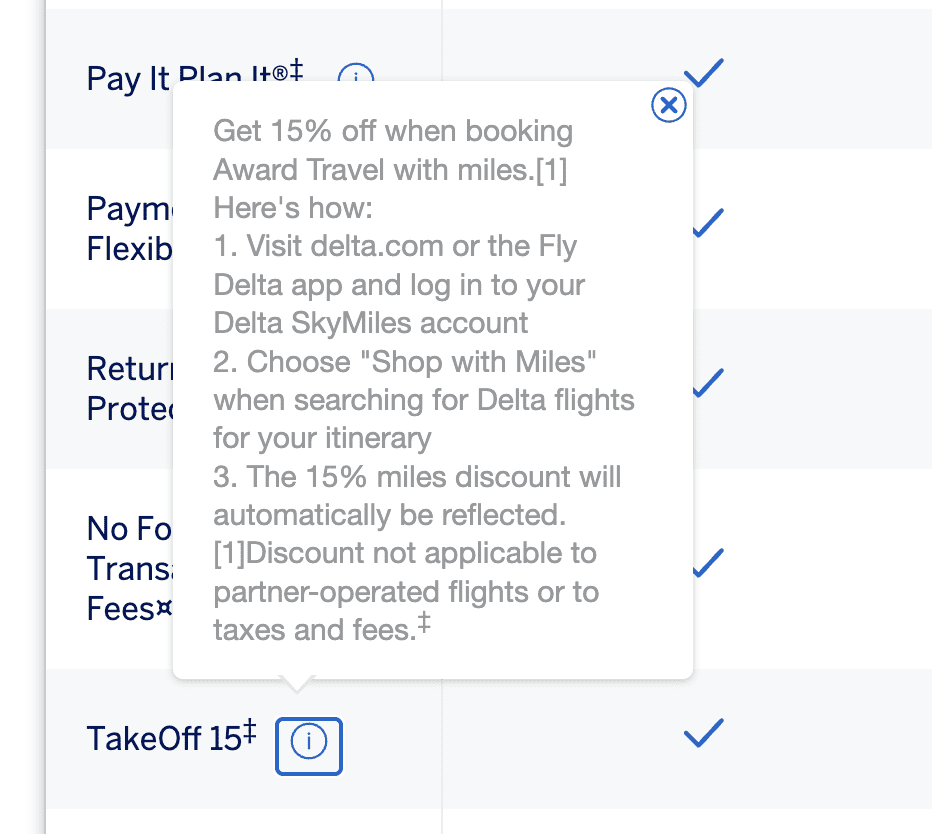 Beyond that small snippet (which records show was added sometime last week before it was removed Wednesday evening), there's next-to-no information available about this TakeOff 15 benefit. Seeing as Delta typically rolls out bigger bonuses on its suite of SkyMiles cards several times a year, it seems possible this addition could coincide with Delta and Amex offering another round of eye-popping SkyMiles bonuses to lure in more customers.
Based on what little has been published in the terms and conditions, this new TakeOff 15 discount could be used an unlimited number of times. There's not a word about how often this benefit could be used, whether it's available for a limited time, or if it's only available to new applicants. The wording suggests Reserve cardholders would see that discount on the front-end – not after booking in the form of a rebate.
But it was all buried. To see a word about TakeOff 15 and whatever it was, you'd have to head to the official application page, and then click on the "Compare Cards" button. Once there, you 'd see the benefit listed directly above the Centurion Lounge Access information.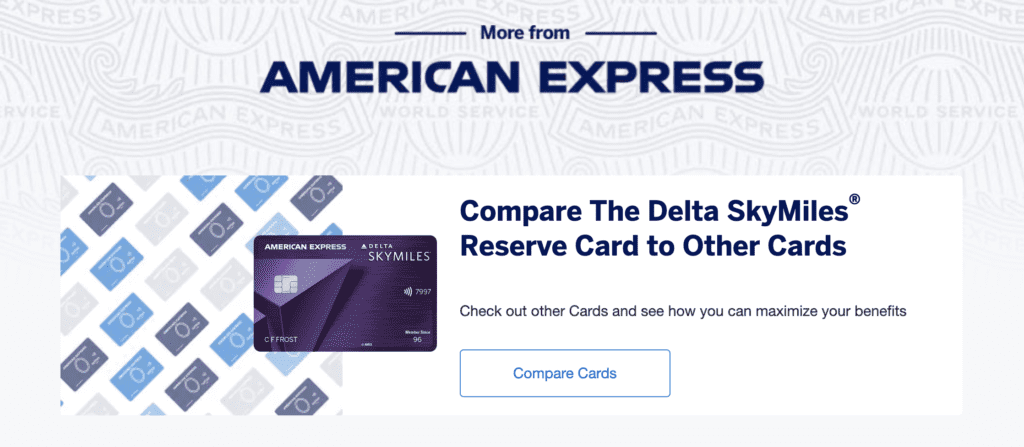 None of the other Delta co-branded American Express credit cards listed this TakeOff 15 benefit, including the Delta SkyMiles® Reserve Business American Express Card. And again, American Express promptly removed it altogether after word spread Wednesday.
But features and terms like this don't just happen by accident. And considering it was apparently up for a week before it was caught and removed from American Express materials, we'd be surprised if this was an error.
TakeOff 15 is Not Yet Live
After poking around on Delta's website, it doesn't appear this new benefit is active for Reserve cardholders just yet.
I hold the Delta SkyMiles® Platinum American Express Card and after running a number of searches on the Delta website, I saw the same award rates as our editor Kyle, who has a Delta Reserve Card.
For example, on this award search from our home airport of Minneapolis-St. Paul (MSP) to Cancún (CUN), both of us show the same award pricing for all cabins.
Our Analysis
Is this new TakeOff 15 benefit part of a bigger change to the Delta Reserve card? Are there updates coming to other Delta American Express cards? Will Delta be rolling out a limited-time offer for their co-branded cards soon and couple this new benefit with that announcement? Is this actually happening?
We simply don't know the answers to these questions yet.
If it moves ahead as written, this is a mixed bag. There's no question that a 15% discount each and every time you book an award ticket using Delta SkyMiles would be exciting, maybe even unprecedented. At a time when banks and airlines are chasing after premium customers, this is yet another piece of evidence.
But then there's the other side of the coin: This would clearly tilt more travelers toward picking the Reserve Card the Delta SkyMiles® Gold American Express Card or the Delta SkyMiles® Platinum American Express Card. And since Delta Reserve cardholders get complimentary access to Delta Sky Clubs when flying Delta that day (plus American Express Centurion lounges), this could exacerbate Delta's well-established issues with overcrowded lounges.
Delta has made a slew of moves to combat crowding, going so far as to block employees from visiting the Sky Club during many trips. By encouraging more travelers to pick up a credit card offering free lounge access, this could be another step backwards.
Then again, there's no guarantee that this 15% discount (or something like it) doesn't extend to those other Delta cards if (or when) it goes live.
Bottom Line
Nothing is confirmed or available just yet, but this could be a tantalizing new benefit for travelers with Delta's top SkyMiles Reserve credit card. If it moves ahead as written, TakeOff 15 would get Reserve cardholders automatic 15% discounts when using SkyMiles to book flights with Delta.
Neither Delta nor American Express have responded to requests for information. We'll stay tuned.