At long last, the Denver Centurion Lounge from American Express will finally open its doors soon.
First announced way back in early 2018, the Denver Centurion Lounge was supposed to open sometime in 2019 only to be beset by delays – and then the pandemic. But on Friday, American Express announced that its Denver lounge will finally open next Monday, Feb. 1. 
It'll be American Express's 13th U.S. Centurion Lounge and its 14th overall, with the international branch in Hong Kong (HKG). And by the looks of it, travelers flying through Denver are in for a treat. It clocks in at more than 14,000 square feet, making it among the largest lounges in the Amex network. Once inside, you'll find some Colorado flair, including Rocky Mountain-inspired artwork, complimentary craft beer from Denver-area breweries, and locally inspired cocktails.
Amex is planning an Italian-inspired menu from James Beard award-winning chef Lachlan Mackinnon-Patterson with a new feature we haven't seen before in a Centurion Lounge: A made-to-order cooking station.
The new lounge is located in Denver's Terminal C, home to Alaska, Southwest, Spirit, and Allegiant. But since all of Denver's terminals are connected airside with an easy-to-use tram system, anyone can easily get there. To start, it will only be open from 7 a.m. to 3 p.m. each day.
American Express has been on an absolute tear building new Centurion lounge locations and improving old ones, through the pandemic and all. The new Denver lounge will be the fifth new Centurion lounge to open just since 2020, after new outposts in Charlotte (CLT), Los Angeles (LAX), Phoenix (PHX), and New York City (JFK).
After shutting down all its lounges last spring as the COVID-19 pandemic roared, American Express has now reopened nearly all of its U.S. Centurion lounges. Only the New York City-LaGuardia (LGA) lounge remains closed as it moves to a new location in the airport.
American Express has also overhauled its lounges and services in light of the pandemic:
Amex launched a new mobile-check in process for Centurion Lounges through the Amex smartphone app – though you'll still need to show your Platinum Card and boarding pass at reception.
American Express says they will limit capacity with socially distanced seating inside.
Face masks will be mandatory inside all Centurion lounges except while eating and drinking.
Buffets are out: Amex lounge agents are preplating meals for guests instead.
Wine lists remain unchanged, but Amex says it will serve a "shorter cocktail menu"
Many Centurion Lounges are equipped with showers, but they remain closed.
Read our master guide to Amex Centurion Lounges!
How to Get Into the Denver Centurion Lounge
Just like any Centurion Lounge, there a handful of ways to get into this new Denver location.
The easiest way is by carrying the Platinum Card® from American Express, which will get you (and up to two guests) into any Centurion lounge for free. The Business Platinum Card® from American Express will get you in, too.
The personal Platinum card comes with a $695 annual fee (see rates & fees), but getting into these lounges is just the tip of the iceberg of benefits in the Amex Platinum Card, including $200 in annual credits for airline fees and Uber, a $100 credit for Global Entry or TSA PreCheck, and more.
You can also get in with the Delta SkyMiles® Reserve American Express Card, Delta's top-tier card. But there's a hitch: You have to be flying Delta that day, and you must have paid for your ticket with your Reserve card.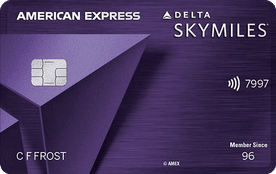 Click Here to learn more about the Delta SkyMiles® Reserve Card from American Express.
Amex has tightened up on when you can get into Centurion lounges to combat crowding. As of March 2019, you can only get into a Centurion Lounge within three hours of your originally scheduled flight departure. Luckily, this policy doesn't apply if you're at the airport during a layover.
And you can no longer get into the lounge upon arrival – only departing flights will qualify for a visit.
Bottom Line
It's about time. The Denver Centurion Lounge has been in the works for nearly three years. But by the looks of it, this new Centurion Lounge could be worth the wait.
Photos courtesy of American Express