Starting in April, American will introduce Basic Economy on some transatlantic flights. This new expansion is also being made with partners British Airways, Iberia, and Finnair. There have not yet been any specific route announcements.
Our take – Basic Economy is bad for the consumer. It has replaced your normal Main Cabin economy fare. which included seat assignment (for the same price). You now have to pay more for what you previously got for free.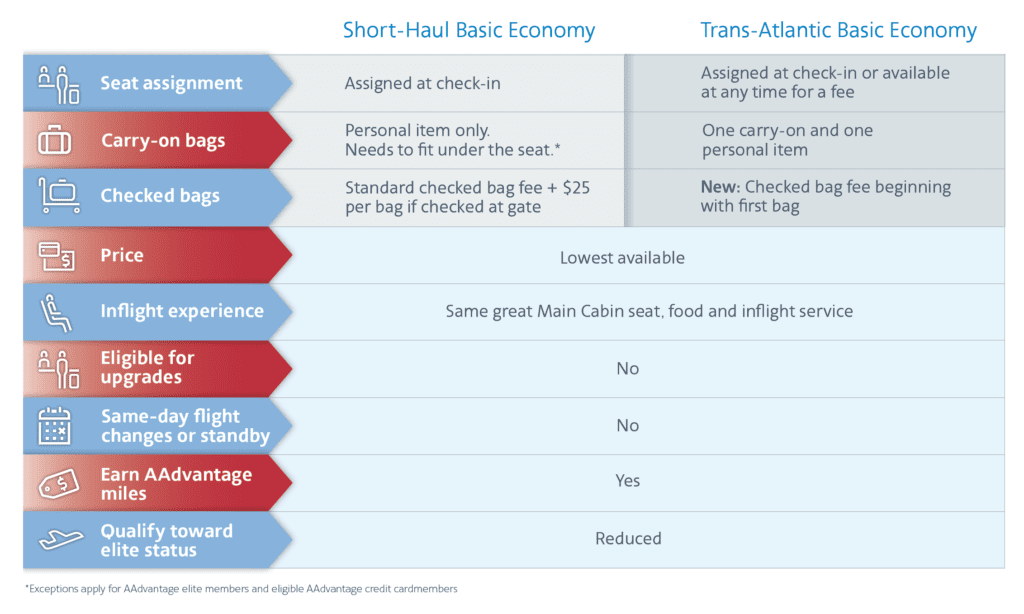 American Airlines Basic Economy
American tested out basic economy fares in several markets in early 2017 and then rolled out nationwide in September, and then to the Caribbean in December, and will now roll out to transatlantic fares next month. One positive development is that carry-on bags will be allowed (unlike their domestic Basic Economy fares). American fares still earn elite credit (albeit reduced).
One carry-on and one personal item
Seat assignment at check-in (or anytime for a fee)
No flight changes or refunds
Not eligible for upgrades
Board in Group 8 (last to board)
Tricks to help beat Basic Economy 
AAdvantage elite status members and Citi AAdvantage or Barclaycard AAdvantage Aviator cardmembers are exempt from certain restrictions. Check out the specifics here.
Elites and AA credit card holders can:
Keep your priority or preferred boarding privileges
Keep your checked bag benefits
Award miles and elite qualification
Award miles and Elite Qualifying Dollars (EQDs) earned based on ticket price
Elite Qualifying Miles (EQMs) and Elite Qualifying Segments (EQSs) earned at a reduced rate of 0.5 per mile/flight segment flown
Bottom Line 
Make sure to watch out for those basic economy fares next time you're searching for a cheap flight. We will be posting American Airlines transatlantic fares, because they do include free carry-on, unlike domestic basic economy fares. A great way to avoid seat and checked bag fees it to pick up an American Airlines credit card. If you would like to apply for a card, make sure to visit our Top Credit Cards section.