Basic economy fares aren't exactly as they seem. While airlines advertise the harsh restrictions of these no-frill fares – mostly to convince passengers to pay up for a standard economy ticket – there are loopholes and workarounds to make it better.
American Airlines' basic economy fares are a great example. There are some great ways to beat AA basic economy, but you can take it even further … if you're lucky.
We'll show you a way to snag one of American's Main Cabin Extra seats with more legroom at the front of the plane for free – even with a basic economy fare.
Picking Seats with AA Basic Economy
On paper, American Airlines warns that you can't pick your seats when flying basic economy. In practice, that's not entirely true.
Starting seven days before departure on domestic flights, American allows basic economy travelers to pay up for a seat assignment. Prices will vary by flight, but they typically start at $10 for a middle seat to $12 to $20 or more for a seat on the aisle. Read our full guide to beating basic economy on American Airlines.
You can also pay up for Main Cabin Extra seats, which are toward the front of the plane and come with up to six additional inches of legroom. These seats are typically far more expensive, at $50 or more per person each way.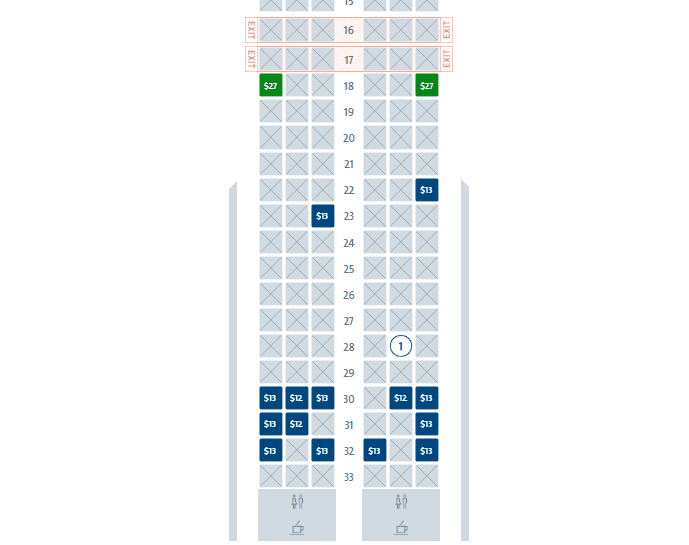 And while it can be tempting to secure your seat in advance, you might be able to do even better. You just have to be patient.
Level Up to Main Cabin Extra
If you don't pay for a seat assignment upfront, American will typically assign your seat as you check-in for the flight. What you're automatically assigned is based wholly on what seats are left at the time you check in.
And you can use that to your advantage.
American's app allows you to view the available seats on your flight without actually checking in. Here's a look at the seat map for a recent flight from Minneapolis-St. Paul (MSP) to Washington, D.C.-Reagan (DCA) when the check-in window opened 24 hours before the flight.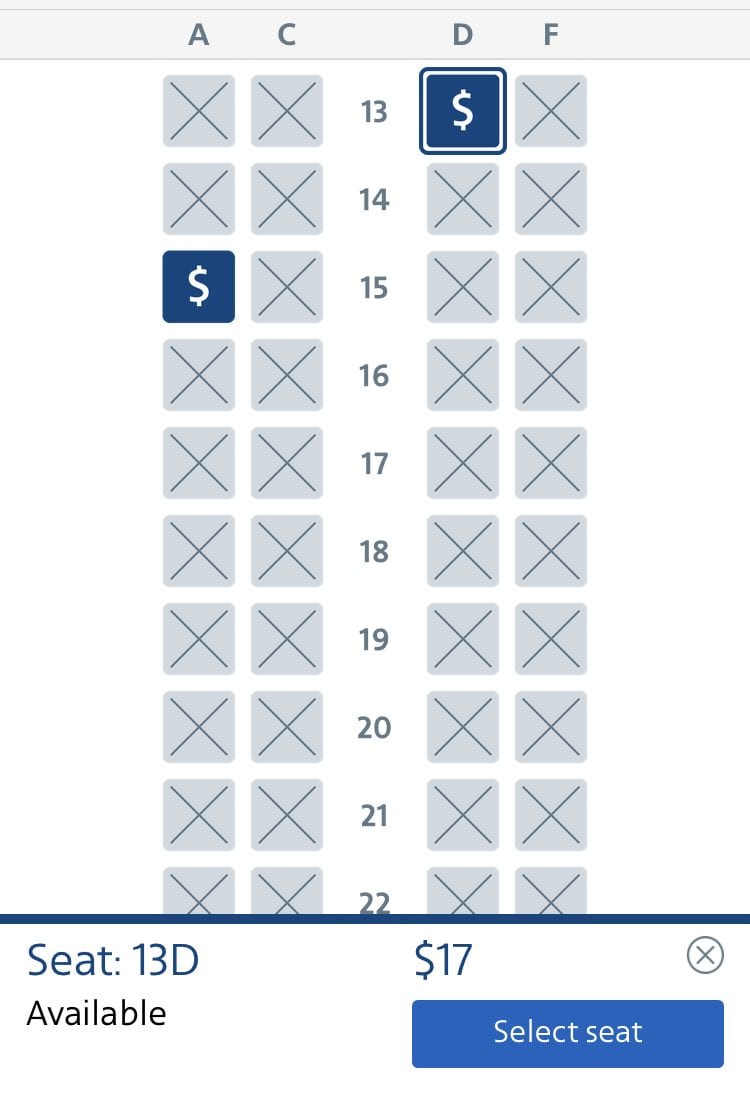 With just a few seats remaining in the main cabin (at $17 a pop), I held out rather than checking in immediately. I continued to monitor the seat map, hoping and waiting for the final available seats in the main cabin to disappear.
A few hours later, it happened – every seat in the main cabin was assigned. That's when I checked in for my flight, and voila – I was placed in a Main Cabin Extra seat.
Had I paid for this seat, it would have cost $67. By waiting to check in, I got it for free. And it was a big upgrade: On this Embraer 175, these seats had an extra four inches of legroom over the standard economy seat. The 34 inches of pitch was pretty spacious.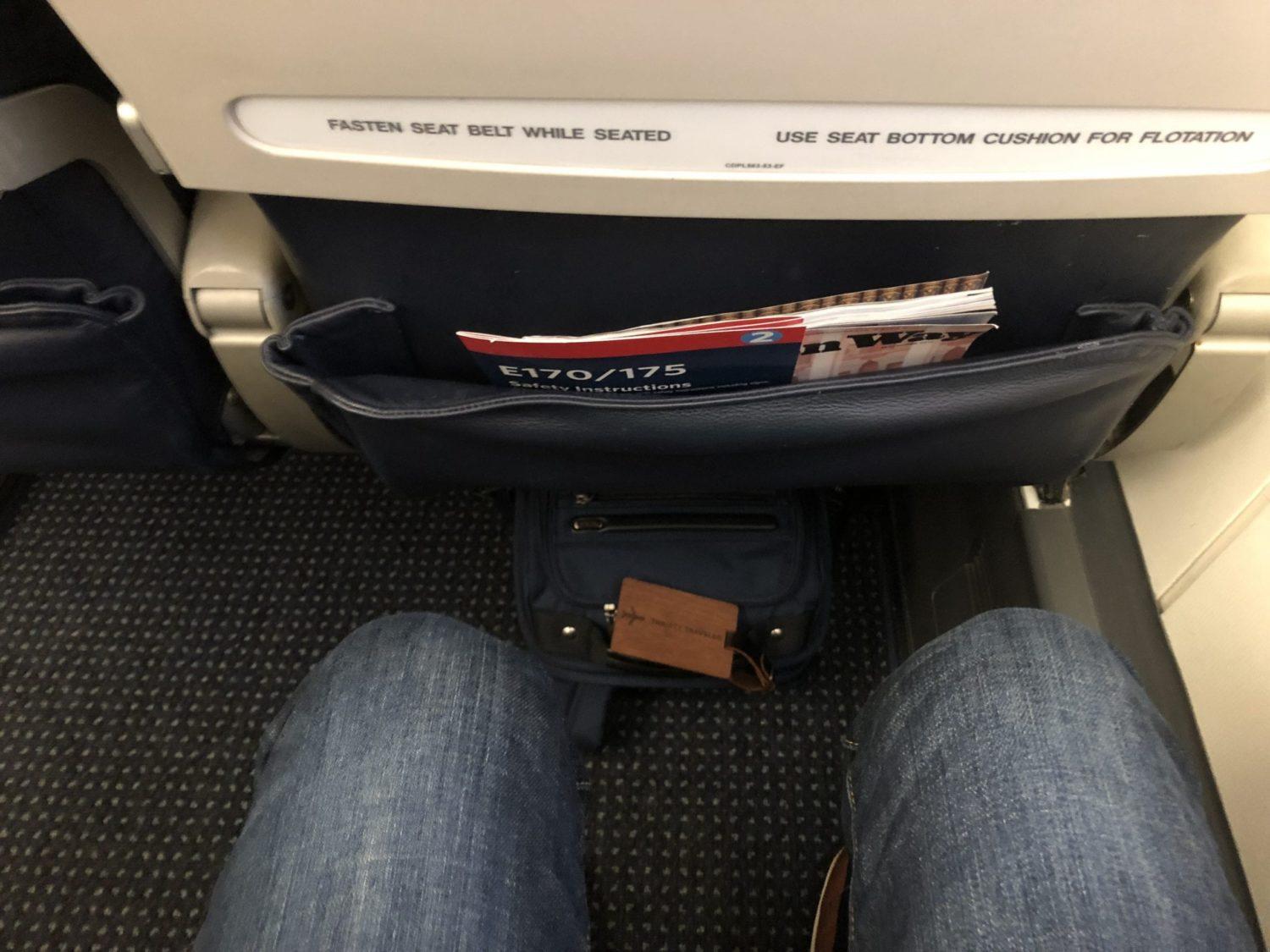 What's more,  I had the entire row to myself – on both sides of the aisle!
Of course, it won't work out this well every time. Your success rate will depend on the size of the plane, how many fellow basic economy travelers are on board, and who decides to pay up for a Main Cabin Extra seat. And if you're looking to sit next to a child or travel companion, you're much better off paying in advance for seats next to one another.
But considering you can score an upgraded seat for free while paying for a basic economy fare, it's worth a shot.
It's worth stressing that the extra legroom and better spot on the plane are the only perks with this workaround. While paying Main Cabin Extra customers will get priority boarding, you'd still board last in Group 9 – unless if you hold an American Airlines co-branded credit card.
Bottom Line
It's not a slam dunk, but this can pay off huge with some patience and luck. What's better than saving some money on your airfare and still getting a prime seat on the plane with extra legroom?