The next total solar eclipse is coming April 8, 2024. If you're set on seeing it, you're planning a trip around a grand total of four minutes of totality next spring – maybe less. And you need to plan ahead.
Planning for a weather-dependent event on a single day breaks so many of our rules about booking travel, like using the Flight First Rule to travel when it's cheapest. But you just don't have that luxury for this potentially once-in-a-lifetime chance to catch a total solar eclipse. Plus, everyone I know who caught the last total eclipse in 2017 said it was a must-see, even a life-changing visual display.
So I'm joining the millions of Americans making plans to see this terrestrial phenomenon. It won't be easy, but it can be done. And the earlier you make your plans, the better (and cheaper) your trip will be.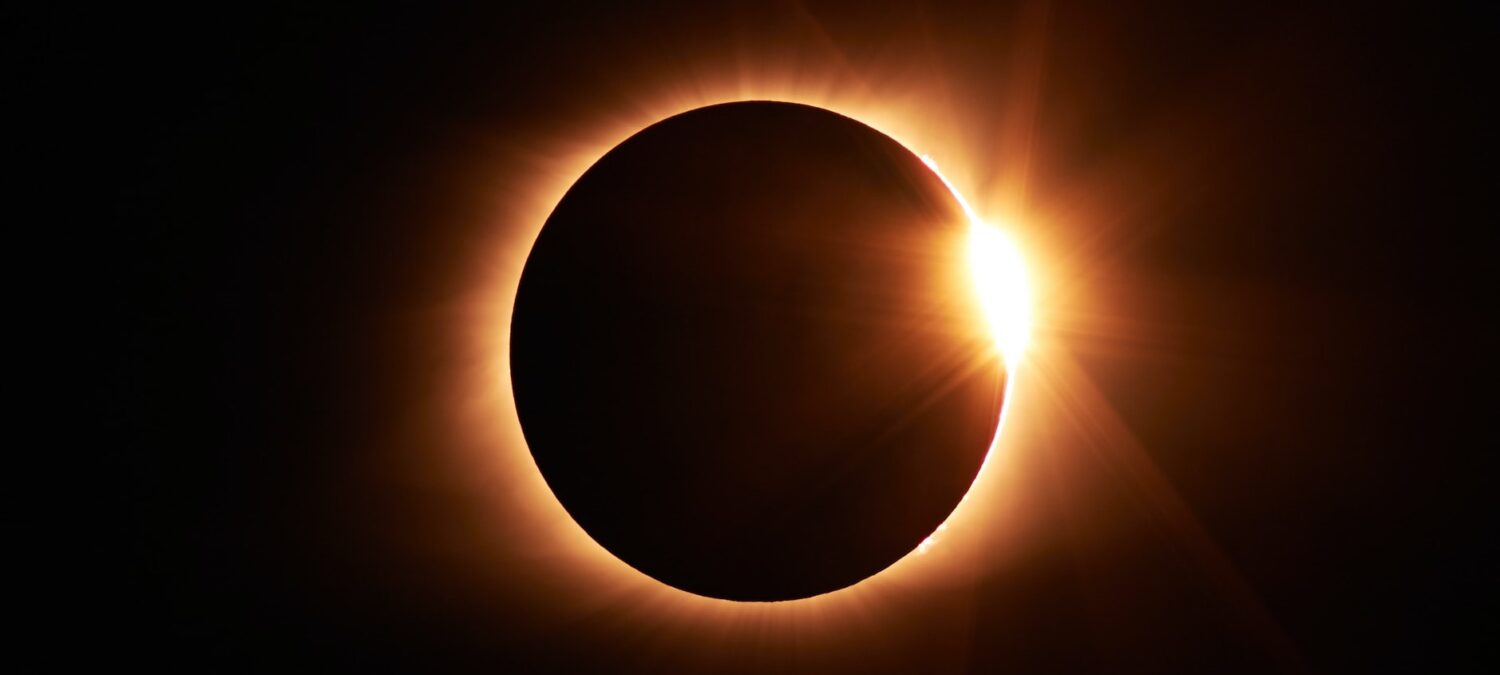 Here's where to start.
Where and When Will the Total Eclipse Be Visible?
The total solar eclipse falls on April 8, 2024. It will be visible in southern Texas starting at around 1:30 p.m. local time and exit the northeastern part of Maine around 3:30 p.m. ET, just an hour later.
According to NationalEclipse.com, the path of totality, where the total solar eclipse will be visible, follows this line that arcs across the United States.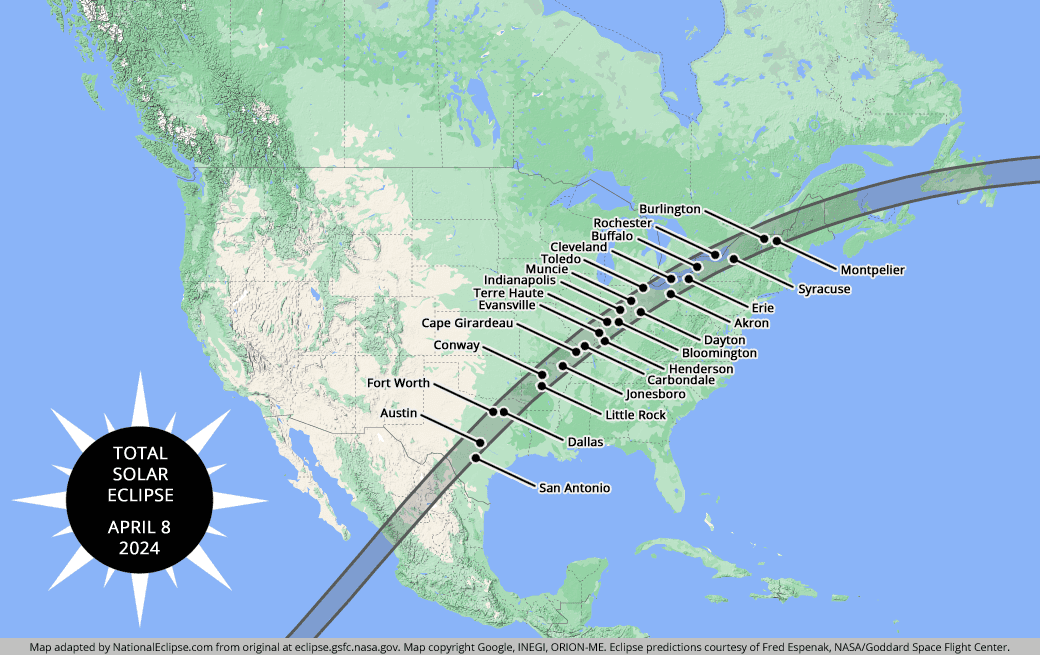 As you can see, the total solar eclipse will enter the United States in Texas and exit in Maine. Before that, though, it will be visible in the Mexican cities of Mazatlán, Durango, Nazas, and Torreón, too. After the eclipse leaves the U.S., it will be visible in Montréal, Moncton, and Gander in Northeast Canada as well.
If you'd rather take a big trip abroad to catch this total eclipse, you're out of luck. This is a North American event only.
Texas will certainly be among the most popular places to go see the eclipse with the major cities of San Antonio, Austin, Waco, Dallas, and Fort Worth all in the path of totality. Many eclipse chasers will also set their sites on Niagara Falls, which should be a stunning backdrop for the phenomena. The same goes for the Burlington, Vermont area and the Green Mountains. Plus, there are other interesting spots celebrating the eclipse like in Indianapolis where Indianapolis Motor Speedway will be packed with eclipse watchers, too.
Here are some of the most interesting places to travel to see the solar eclipse on April 8, 2024:
Mazatlán, Mexico
San Antonio, Texas
Austin, Texas
Waco, Texas
Dallas-Forth Worth, Texas
Indianapolis, Indiana (At Indianapolis Motor Speedway!)
Buffalo, New York (At Niagara Falls!)
Burlington, Vermont (and the nearby Green Mountains)
Montréal, Québec, Canada
Moncton, New Brunswick, Canada
Gander, Newfoundland, Canada
While this list seems fairly large, it's likely many travelers will be targeting a select few of these locations. For instance, the weather in April is a much better bet in Texas than it will be in Newfoundland.
And it's likely hundreds of thousands of Midwesterners will flock to Indianapolis Motor Speedway to watch the eclipse at that huge gathering. Would it be better to road trip to nearby Carbondale, Illinois to beat the crowds instead? That depends on your appetite for crowds.
TheGreatAmericanEclipse.com has more detailed maps of every region on the continent to show you exactly where and when to expect it and which towns will be in the path.
Book Your Eclipse Lodging (ASAP!)
Because the date and time of the event are set in stone, we're abandoning the Flights First Rule for the eclipse.
The first thing you should do is start looking for lodging options. Remember: Everyone else is already doing the same, so time is of the essence. You might not be able to find the cheapest accommodations you've ever stayed at, but it's time to start looking.
For my own eclipse-viewing plans, some go-getter friends of mine already secured our Airbnb near Austin in Texas for next April … but they said the pickings were already getting slim in the path of totality for that time period. 
If you are hoping to view the eclipse in private, look through Airbnb to find a place with a backyard, or near one of your viewing points. Airbnbs can help you if you're traveling with a group, or if you've run out of hotel options on your search.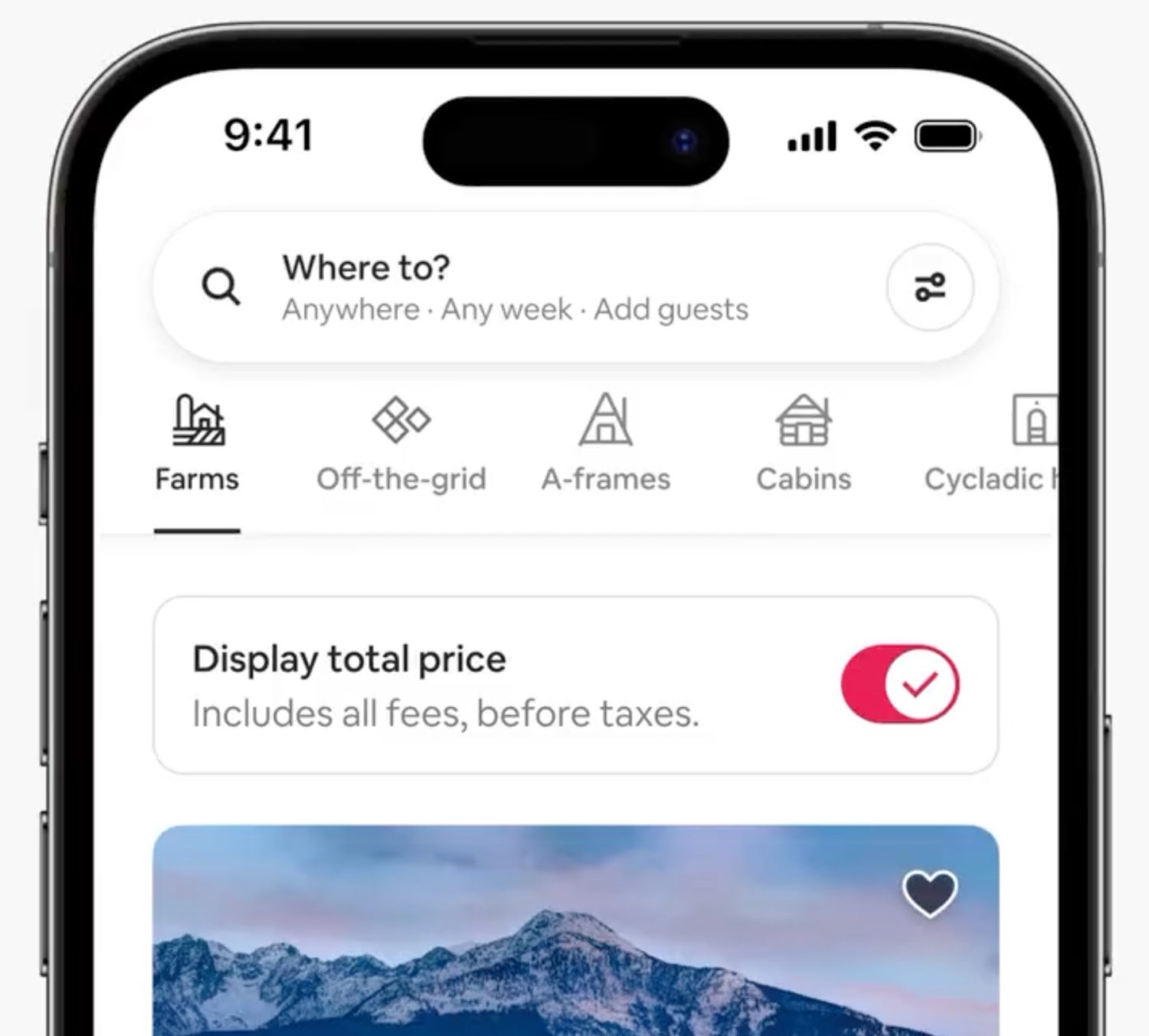 Of course, a good old hotel room will also do the trick for most travelers. We love using Google Hotels to start our hotel booking searches. Google Hotels is most useful because of its search filters. You can narrow down exactly what hotel amenities you require, when you want to stay, and your budget and Google Hotels handles the rest, including showing you the best spot to book.
Finally, in the warmer climates where the eclipse will be visible, many eclipse watchers will opt to camp outside. You could use this method as a last-minute lodging band-aid, or an intentional escape for a few nights under the stars. If you're looking for a unique campsite like a glamping setup, a rustic cabin, or just a plain old fire ring and picnic table, use HipCamp to start your search.
Book a Cheap Flight to See the Total Eclipse
You don't necessarily have to rush to book your total eclipse flights for one important reason: Southwest Airlines hasn't released its entire spring schedule yet.
You might be thinking: I don't even want to fly Southwest. Why should I care about the Southwest calendar?
As a low-cost carrier, Southwest offers some extremely cheap fares. That, in turn, puts competitive pressure on the airlines you might prefer like American, Delta, and United, leading them to drop their fares. Right now, however, American, Delta, and United don't have that competitive pressure around April 8 just yet.
That's because Southwest handles its flight schedules a bit differently. While most airlines allow you to book flights up to 11 months in advance of your travels, Southwest releases it fares in batches, going as far out as about seven months. As of publication, it's only possible to book Southwest flights through March 8, 2024, which leaves out eclipse day for now.
The airline is currently set to extend its schedule again on Aug. 3, releasing flights as far out as … you guessed it, April 8: Eclipse day. So be sure to set a reminder in your calendar for Aug. 3 and fire up Google Flights or Southwest.com that morning – at least you can get a cheaper one way flight to see the eclipse, right?
If you really want to make sure you've got something, be sure to book at least a Main Cabin fare to your desired eclipse-viewing destination, then set a Google Flights Price Alert on the flights you booked. That way, if the price of your flight goes down between now and April 8, you can rebook the flight at the new, lower price – or just change your flight and get a voucher for the difference!

Eclipse Airports and Cheap Flights
The following major U.S. and Canadian airports are all in the eclipse's path of totality or within an hour's drive of the path.
Austin (AUS)
Buffalo (BUF)
Burlington (BTV)
Cincinnati (CVG)
Cleveland (CLE)
Dallas (DFW)
Dallas (DAL)
Detroit (DTW)
Indianpolis (IND)
Little Rock (LIT)
Louisville (SDF)
Montréal (YUL)
Ottawa (YOW)
San Antonio (SAT)
St. Louis (STL)
As you can see, that's a significant list with tons and tons of nonstop flight options from all over the country. Some stand out more than others – either for good weather or cheap flights.
For instance, there are hundreds of nonstop flights a day into Austin (AUS) and Dallas-Fort Worth (DFW) alone. With the weather expected to be the best in Texas on April 8, many travelers are going to target the Lone Star State for their eclipse festivities.
Just this week, we compiled all of the cheapest domestic flights to Austin (AUS), Dallas-Fort Worth (DFW), and San Antonio (SAT) for our Thrifty Traveler Premium subscribers so they could get the first chance at booking these low, low fares.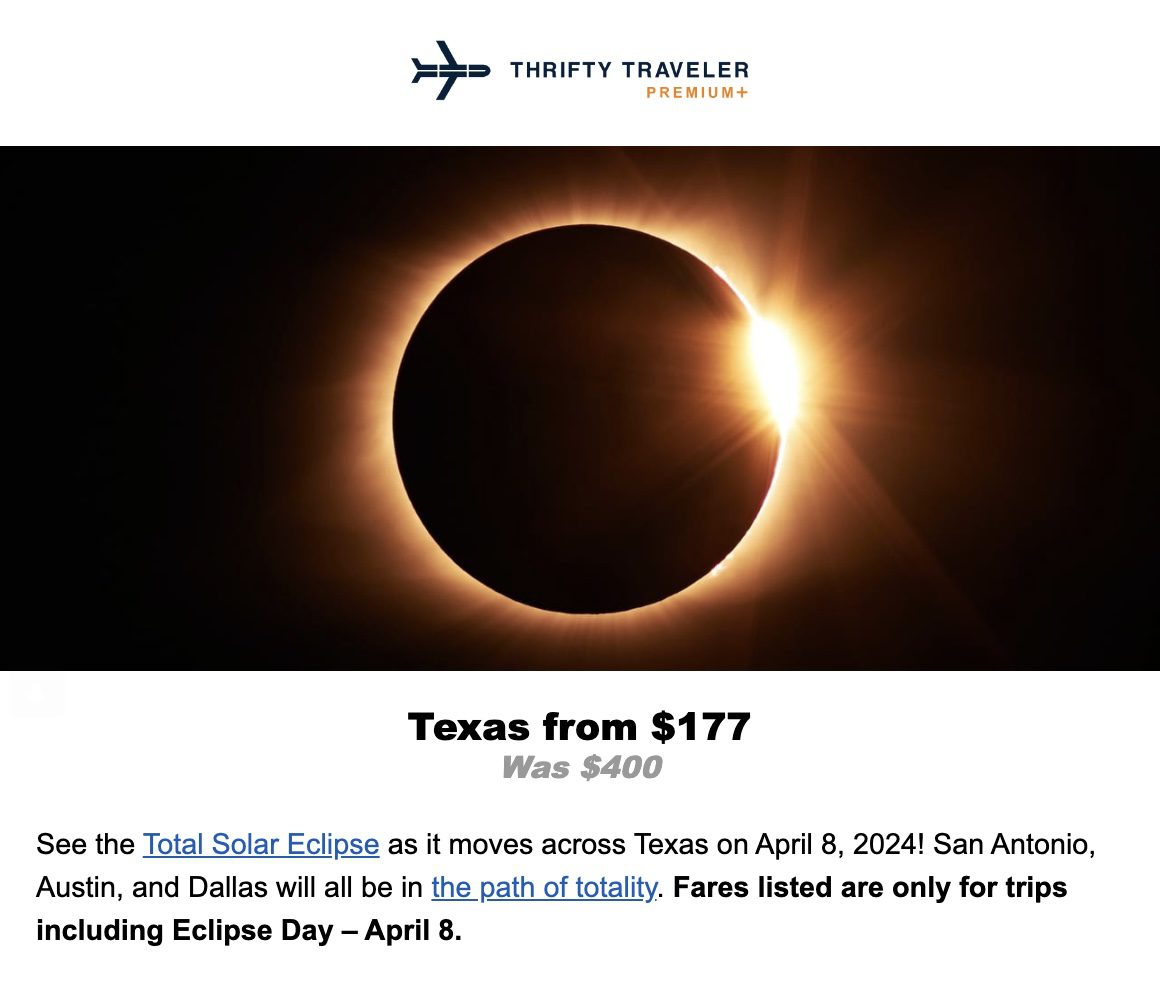 It featured low fares from Colorado to Massachusetts and everywhere in between for eclipse-goers looking to mess with Texas next April.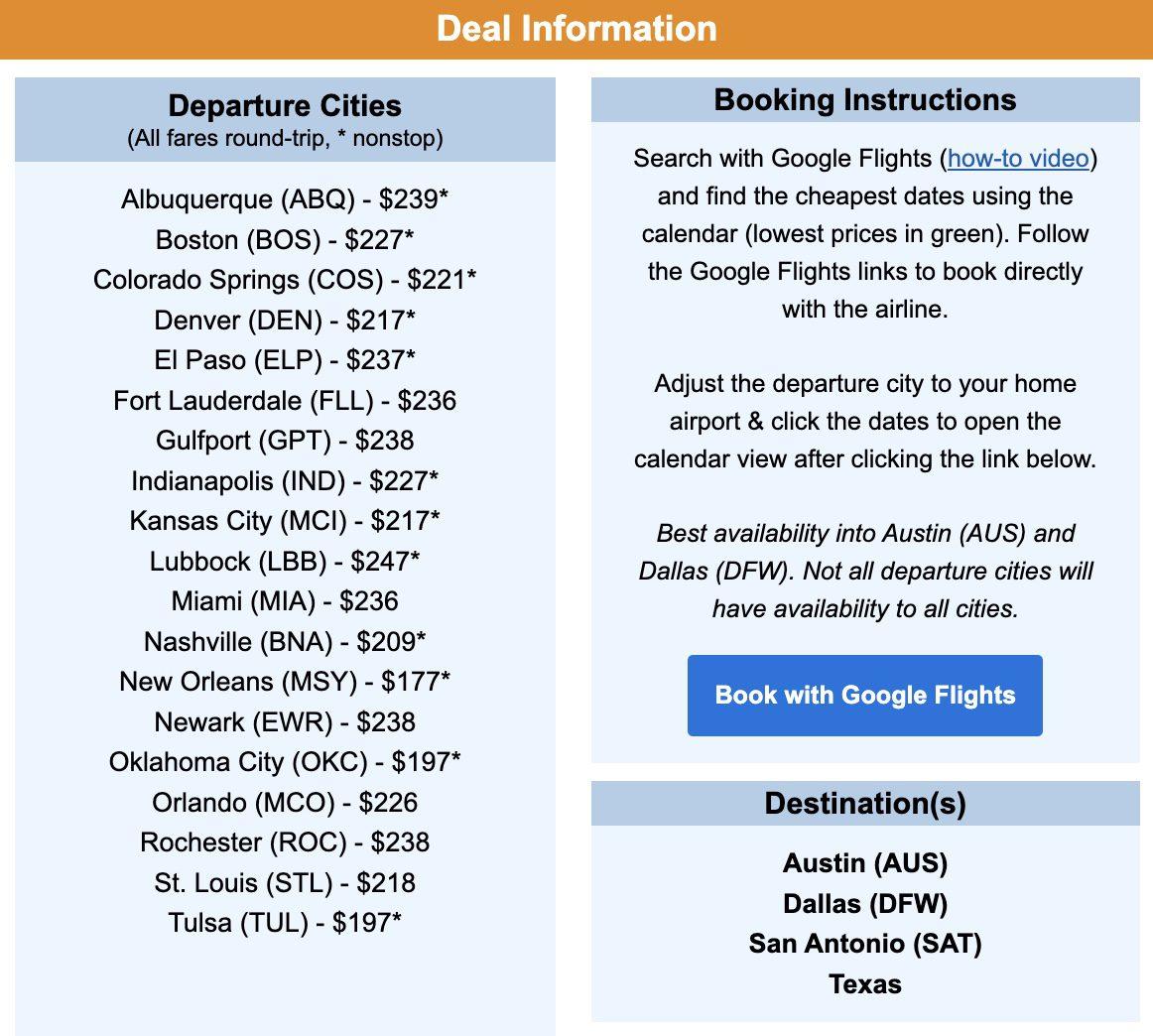 The cheapest fare on this deal is from New Orleans (MSY), where it would only cost you $177 roundtrip to get into the path of totality on eclipse week.


We've also recently sent flight deals to many of those eclipse cities and anticipate some more low fares will come in the near future. We recently found a Buffalo (BUF) deal to help travelers get to Niagara Falls and a Burlington (BTV) deal to get people to the Green Mountains. We're watching those airports and the rest of the spots on this list for cheap flights every day and are keeping a special eye on that first week in April!
You're Going to Need a Rental Car
Let's say you pull into a city park and set yourself up for some perfect eclipse viewing … and then the clouds roll in.
Many eclipse chasers have said the same thing: On the day of the eclipse, you have to be mobile and agile. That's why you are going to need some wheels for your journey.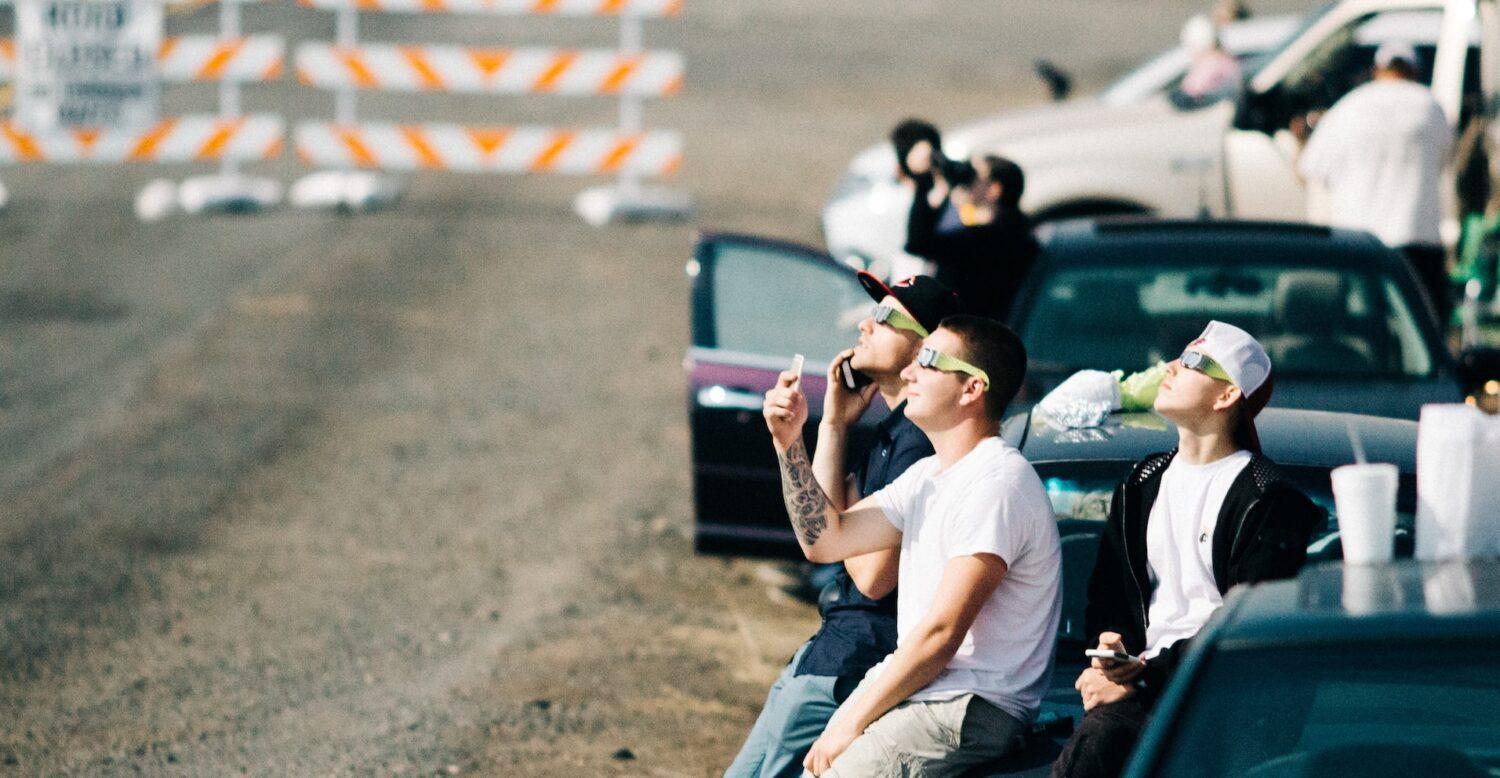 When it comes to rental cars, we'll keep this simple. The number one tool is called Autoslash. Start your search there if you want to rent a car through the traditional car rental outfits at major airports. Autoslash will even track your reservation and alert you if you can rebook for less.
If good cars are scarce or too pricey, your next stop should be Turo: the Airbnb of cars. Turo rentals are shockingly easy and convenient, plus you can filter for the exact car you require instead of rolling the dice with whatever mid-size SUV the rental car company has ready for you.
Otherwise, if you have annual travel credits from credit cards like the Chase Sapphire Reserve® or the Capital One Venture X Rewards Credit Card, consider deploying those funds toward the cost of a rental car – just keep in mind you'll need to book through the Capital One portal to use your $300 Venture X credit.
Don't get caught flat-footed on eclipse day without any transportation!
Where to Go and What to Do Around the Eclipse
From the southern border of Texas to Northeast Maine, communities are looking to take full advantage of the influx of visitors around April 8 by throwing festivals, viewing parties, and celebrations.
Burlington, Vermont estimates it'll see an influx of 250,000 or more visitors to the area to see the eclipse, which would increase the population in the city by 40%, according to a report from the Burlington Free Press. Crucially, this expected uptick in tourism during the month of April comes during what is typically one of the slowest months of the year in the Northeast.
Nearby Jay Peak, a ski resort in northern Vermont, is hosting an eclipse viewing event on April 8. The resort said it will be running its chairlifts and trams to get eclipse viewers to the top of the resort for the best viewing angles. Plus, Jay Peak is throwing a party afterwards with live music to cap off the celebration.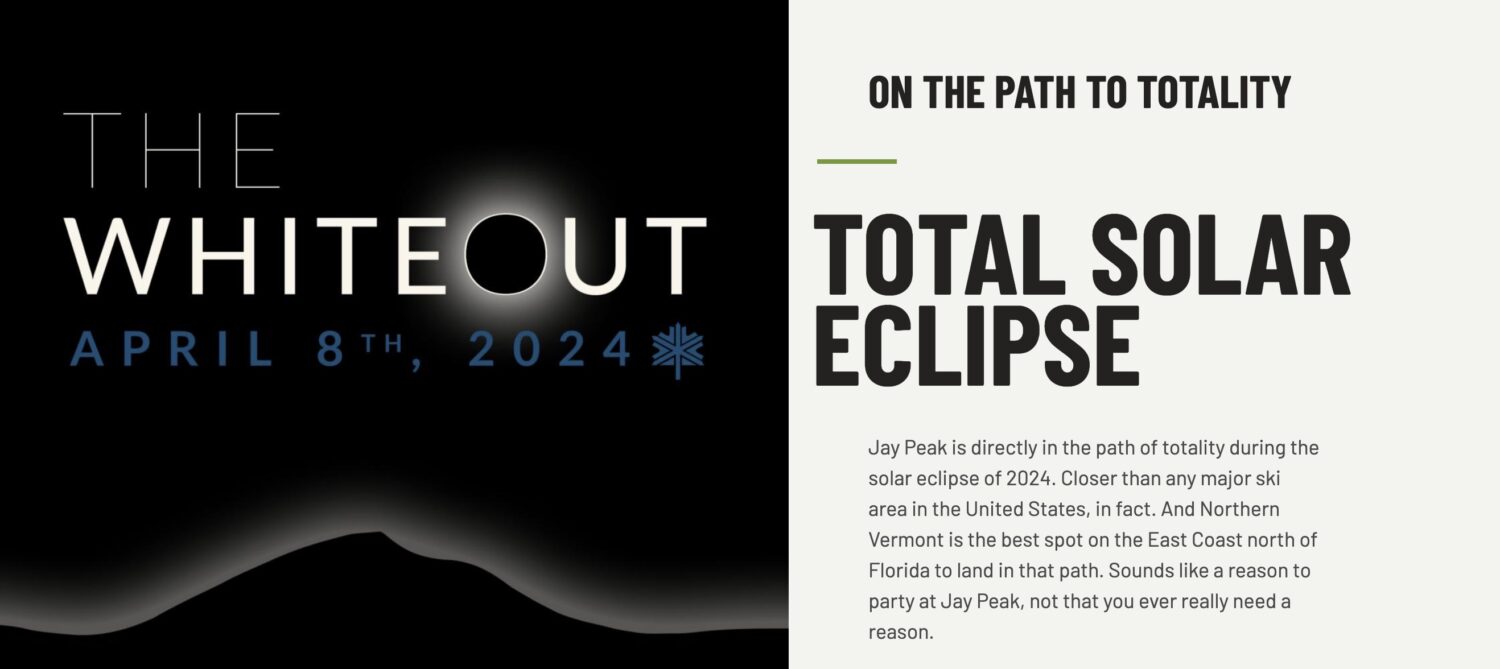 Indianapolis Motor Speedway is planning to host an eclipse watch party if you want to cozy up with 235,000 of your closest friends in Indiana, for instance. Niagara Falls is also bracing for huge crowds on April 8.
All over the country, towns and cities are going to turn into madhouses of travelers looking to see the total eclipse and many are preparing to turn it into a celebration like no other. In fact, the organizing group around the 2024 eclipse has published a list of the celebrations you can find in every state where the total eclipse will be visible.
Whether you want to visit the Kerrville, Texas Total Eclipse Festival, the Mill Shoals, Illinois Eclipse Music Festival, or any other celebration in small town America, that list from National Eclipse is exhaustive and is updated regularly.
Bottom Line
Travelers all over North America plan to chase the total solar eclipse that will arc over the United States on the afternoon of April 8, 2024. If you hope to be one of them, it's time you start planning.
Luckily, there are dozens of interesting places from where you can view the eclipse next April. The challenge will be securing lodging, flights, and transportation so you can make sure you see it.
This story has been updated. A previous version contained data about the length of eclipse totality from the 2017 eclipse, not the 2024 event.