For years when people have asked where I love to go during the snowy winter months, Phoenix is always at the top of my list. And no, I'm not a retiree.
Phoenix is always a cheap (nonstop) flight away from my city – and many cities around the country. Most importantly, it checks the boxes on all my cheap warm-weather getaway must-haves: awesome food, spectacular hiking, and fun attractions on a budget. And I'm clearly not alone: Travelers flocked to Phoenix this winter and spring as travel began its rebound from the pandemic.
Let's take a deeper dive into these top thrifty recommendations in Phoenix. Make it the next U.S. city you explore on the cheap!
Want to see all of my favorite things to do in Phoenix on a map you can take with you on your trip? Check out my Phoenix Google My Maps – organized by category with all the best Phoenix spots!

Affordable Lodging
You're in luck: Phoenix is one of the best major cities for cheap accommodations! There are plenty of hotel options as well, but we've had great luck with thrifty-yet-stunning Airbnbs in the area.
If you're looking for a little getaway for two, there are tons of casitas that Phoenix locals rent out, separate smaller unit in a backyard. The perks of this arrangement? You'll get your own entrance, your own space, and still have access to the backyard amenities  – pools and hot tubs are very popular in Phoenix!
Take this casita we stayed in recently, for example. We had the backyard, pool, and hot tub completely to ourselves and the comfiest casita with a kitchenette for just $100 per night! Check it out for yourself on Airbnb!

Another of my favorite Airbnbs in Phoenix is this little studio casita near Roosevelt Row. The location is perfect, it has a sweet outdoor shower (and indoor one too, don't worry!), and is only $74 a night. Check out Studio B on Airbnb.
If you're looking to go ultra-thrifty, there are a few hostel options in Phoenix as well. Read my review of the HI Phoenix hostel.

Thrifty Eats
One of my favorite things to do in Phoenix? Eat! If you're looking to dine deliciously on a budget, I've got some recommendations for you.
A friend and Phoenix local recommended the Sonora Taco Shop for the best tacos he's had in Phoenix. He wasn't wrong! Sonora is a little hole-in-the-wall with a short menu written on a chalkboard overlooking the kitchen. But don't let its simplicity fool you: This place is a must-visit during your stay in Phoenix. Get your fill of tacos, burros, vampiros, and carmelos here.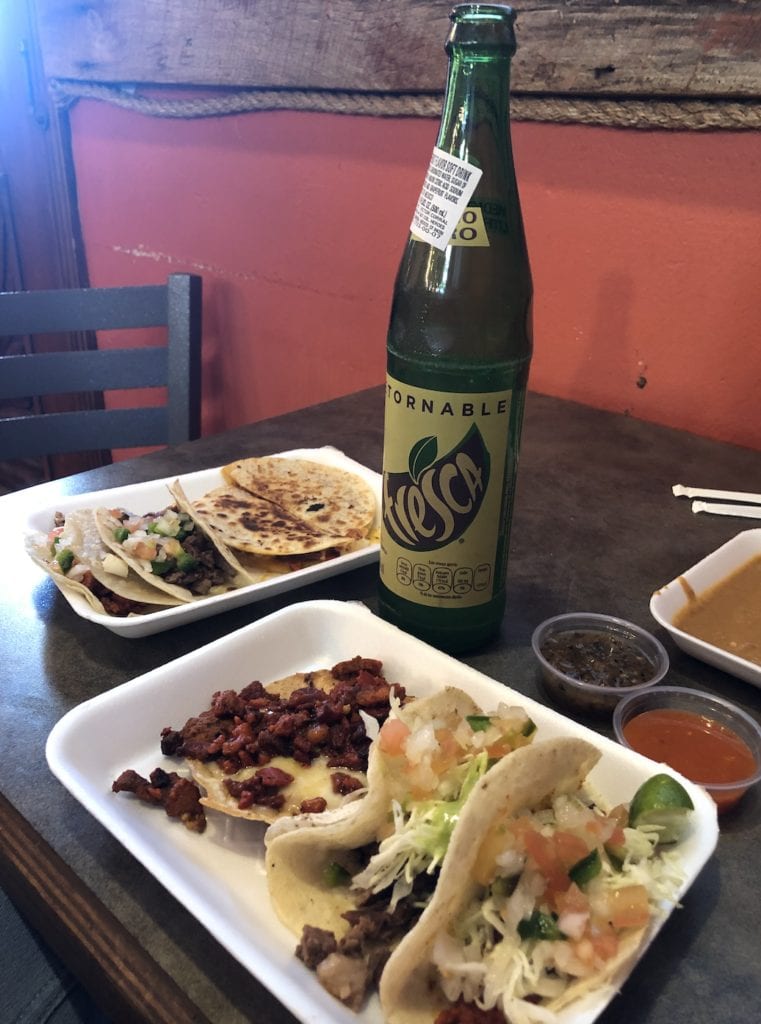 Phoenix is home to some of the most delicious – and most affordable – Mexican food I've had in the U.S. My list of quick, cheap, and mind-blowing Mexican restaurants is long, but put these on your list:
Tacos Huicho
Los Reyes de la Torta
Tacos Chiwas
Kiss Pollos Estilo Sinoloa
El Norteño
Irma's Kitchen
The list goes on and on. Irma's Kitchen will fill your belly with delicious brunch or lunch for under $6, and we loved El Norteño so much we went back a second time before our flight home recently.

Looking for some good eats with a side of fun? Check out unique dining experiences like The Churchill and Culinary Dropout. Both offer several dining options under one outdoor shed roof, and although they aren't the cheapest bite in town, they offer free entertainment. There are tons of yard games to play!
Grab an acai bowl, beer, or appetizers from one of the several restaurants that are part of this conglomerate and play some bags and ping pong. Come during happy hour for cheap drinks and apps and free entertainment.

We love window shopping and dining in the popular Scottsdale Old Town area, but many of those restaurants are pretty spendy. Several Thrifty Traveler subscribers recommended Postino, and it did not disappoint! It's just a few blocks from the heart of Scottsdale Old Town, and they have an awesome happy hour with cheap wine, beer, and charcuterie boards.
It's Always Free Exploring Outdoors
To me, the best free activity on any vacation or getaway is exploring outdoors. And despite Phoenix's reputation as a retirement mecca, it's also an epicenter for tons of hiking and outdoor adventures.
Exploring the mountains, desert landscapes, and hikes is one of the most popular things to do in Phoenix. With so many spectacular mountains and hiking trails nearby, it's the perfect sunny day activity that will make you feel great and provide some stunning views of the city from above.
Phoenix is pretty spread out, so I'd recommend renting a car to drive to these different trails. We made a habit of hiking in the morning and getting a good sweat in before heading to a local spot for lunch.
Bring your own water bottle, hat, and sunscreen, and read the trailhead maps and download the AllTrails app to select a route that matches your difficulty preference.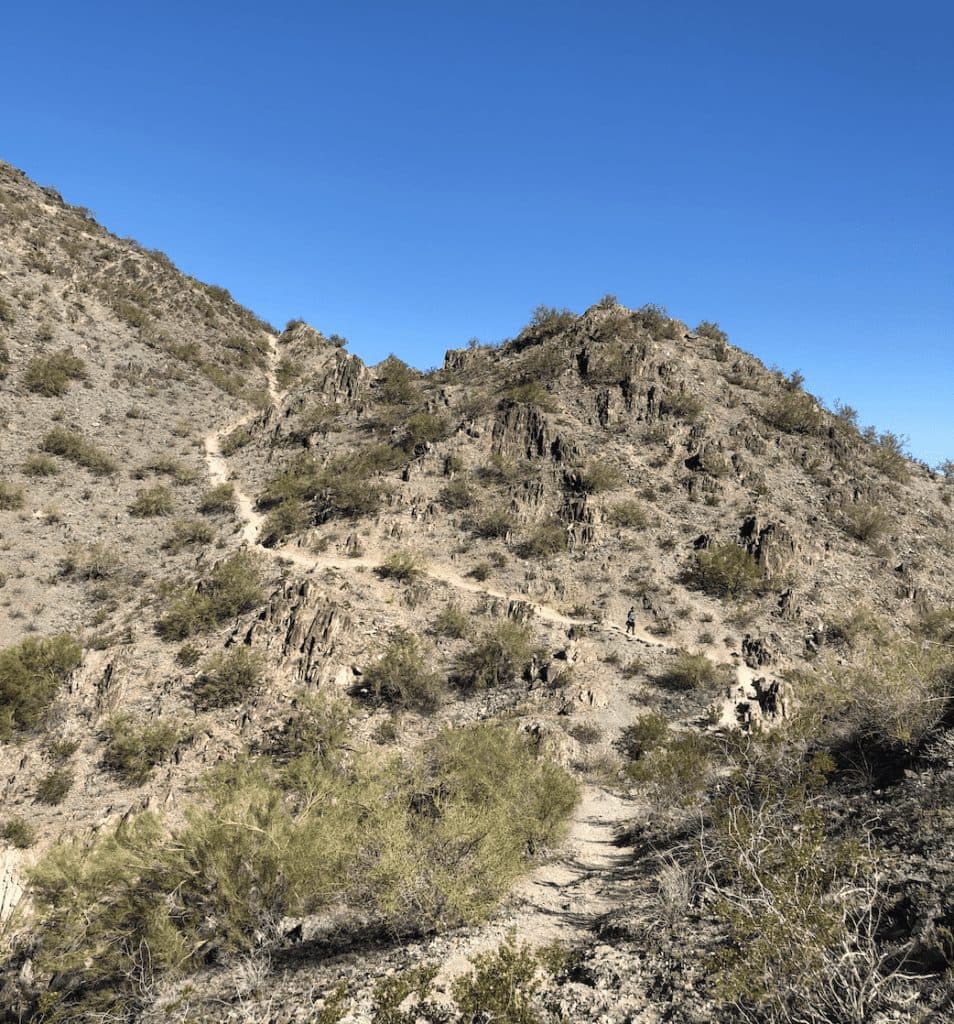 Some of our favorite trails are: Camelback Mountain, Piestewa Peak trails, Papago Park (check out the Hole in the Wall!), and Phoenix Mountains Preserve trails.
Want to skip the hiking part, and just get the view? Drive up to Dobbins Lookout before sunrise for an awesome (and free) show from Mother Nature herself.

Another great way to explore Phoenix outdoors? Head to Roosevelt Row! This is an arts district that is home to stunning outdoor murals, quaint cafes, and art exhibits and galleries.
I highly recommend spending an afternoon exploring this area, snapping shots of the murals, browsing the art galleries, and sipping a coffee in one of the local coffeeshops or a brew on the outdoor patios.

One of my favorites in the area is Be Coffee. Just walk through the indoor gallery attached to the cafe!
Thrifty Things to Do in Phoenix
Explore the gorgeous hill-top Wrigley Mansion (yes, Mr. Wrigley of Wrigley gum!) built in 1929.
Tours are available for $15 a person, but we came late enough in the afternoon that all tours were out already, and the kind hostess let us and others look around the mansion at no cost. This stellar home is outfitted with spectacular tiled bathrooms, vibrant colors, and special features.

If you're a Frank Lloyd Wright fan, you've got to check out Taliesin West. This was the famous architect's winter home and is open for tours. Check out the several tour options, but we opted for the self-guided audio tour. Students, be sure to bring your student ID for a discount!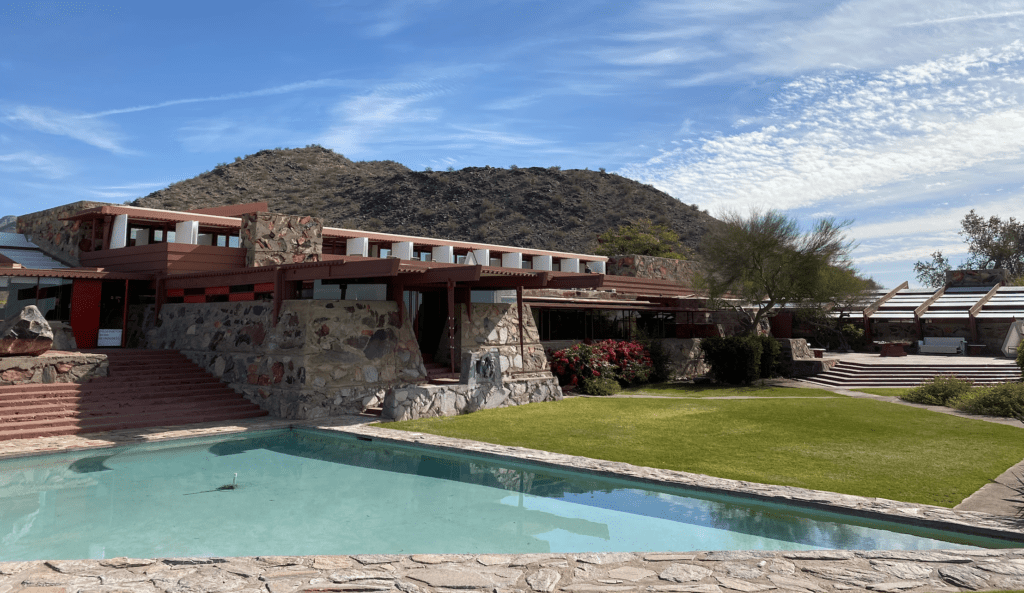 Last but not least: the Desert Botanical Garden! I'd venture to say that this was the highlight of our trip to Phoenix our first year, and we've been back each year to show it to friends and family.
You can walk for miles through the different cacti, succulents, plants, and trees on the garden paths. This is one of the coolest botanical gardens I've been to!
Tickets aren't cheap at $29.95 per person, but plan ahead and visit on the second Tuesday of the month, and get FREE admission!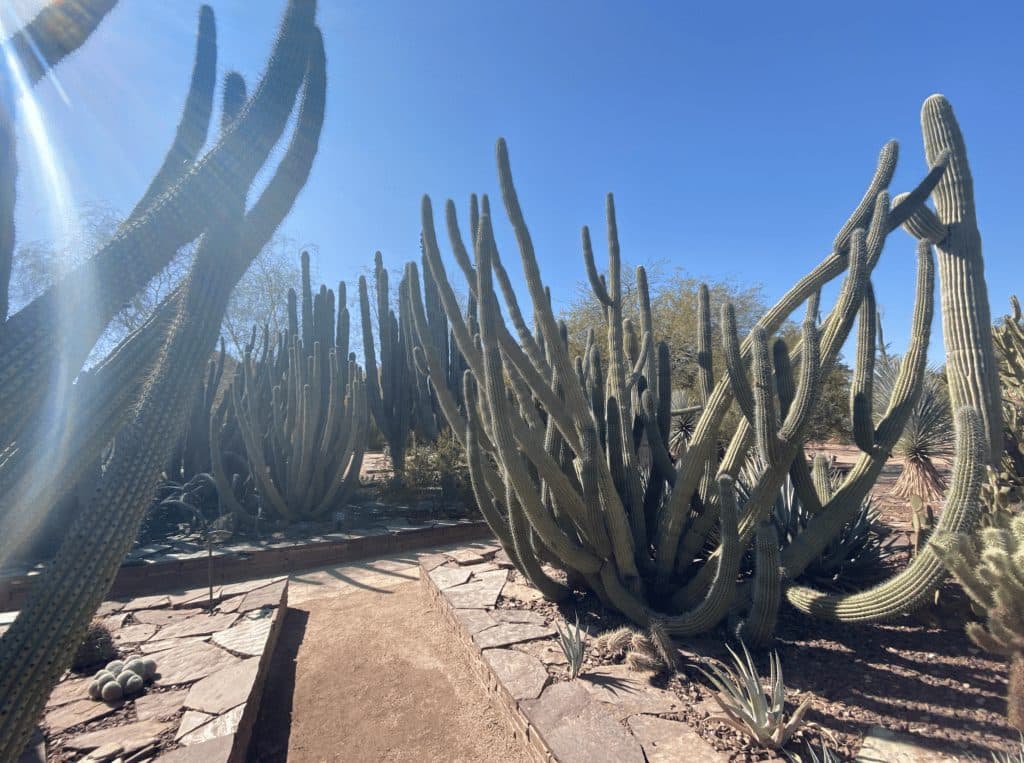 Bottom Line
Have I convinced you Phoenix should be your next thrifty U.S. getaway? There is so much to see, do, eat, and explore in Phoenix – and on a budget!
If you're already planning out your future trip, use this: see all of these recommendations (and more!) on this Google My Maps I made for exploring Phoenix.