Italy has its espressos, Colombia has its homegrown beans, and there's the … earthy kopi luwak coffee in Bali. But if you're a coffee fiend, you cannot sleep on Vietnamese coffee.
All across this magical Southeast Asian country, cafes big and small are turning out some of the most delicious, creative, and strong coffee preparations you've never heard of. Skip the lattes, cappuccinos, and macchiatos. And if you even step foot in a Starbucks, you're doing it wrong.
Here's a taste of what to expect when you order your coffee in Vietnam.
All About Coffee in Vietnam
Coffee is more than a drink in Vietnam. It's a cultural experience.
And while there are chain stores like Starbucks and Highlands Coffee to get your caffeine fix, that's missing the point. To fully soak in the Vietnamese coffee culture, you need to sip on a coffee inside one of its cafes – preferably while sitting on a tiny stool.
A word of warning: There's strong coffee, and then there's Vietnamese coffee. This stuff is seriously potent, and that's the way the Vietnamese like it. So if you're a strict black coffee drinker like me, you're in for a treat – or a rude awakening.
And if you're expecting milk with your coffee, you're in for a sweet treat. Any classic Vietnamese coffee instead comes with sweetened condensed milk. It's a holdover from French colonization of the country, when coffee drinkers wanted to lighten up their drinks with milk but couldn't get it in Vietnam, which didn't have a dairy industry. The tins of condensed milk they shipped in have become a mainstay in the country's coffee culture.
The Classic Pour-Over
When you order your first coffee in Vietnam, this is what you're getting.
It's called ca phe sua, and it works like this. Your server will pack a boatload of beans inside one of these tin filters, called a phin. And as the brewed coffee drips down, there's a layer of that sweetened condensed milk waiting to be stirred in.
The sweetness of the milk helps perfectly balance out the strong, bitterness of the coffee. It's the perfect morning pick-me-up.
And here's the best part: Vietnam is so cheap, and so is its coffee. You can get a good, strong cup of ca phe starting at just 15,000 Vietnamese Dong – about 65 cents! 
Iced Coffee
I promise you've never had iced coffee this good.
Take the typical vietnamese coffee with condensed milk and put it over ice, and you've got magic. And considering the heat in Vietnam, you'll probably want ice. There's nothing better in a city like Ho Chi Minh, where a 90-degree Fahrenheit day with 70% humidity is considered pretty mild.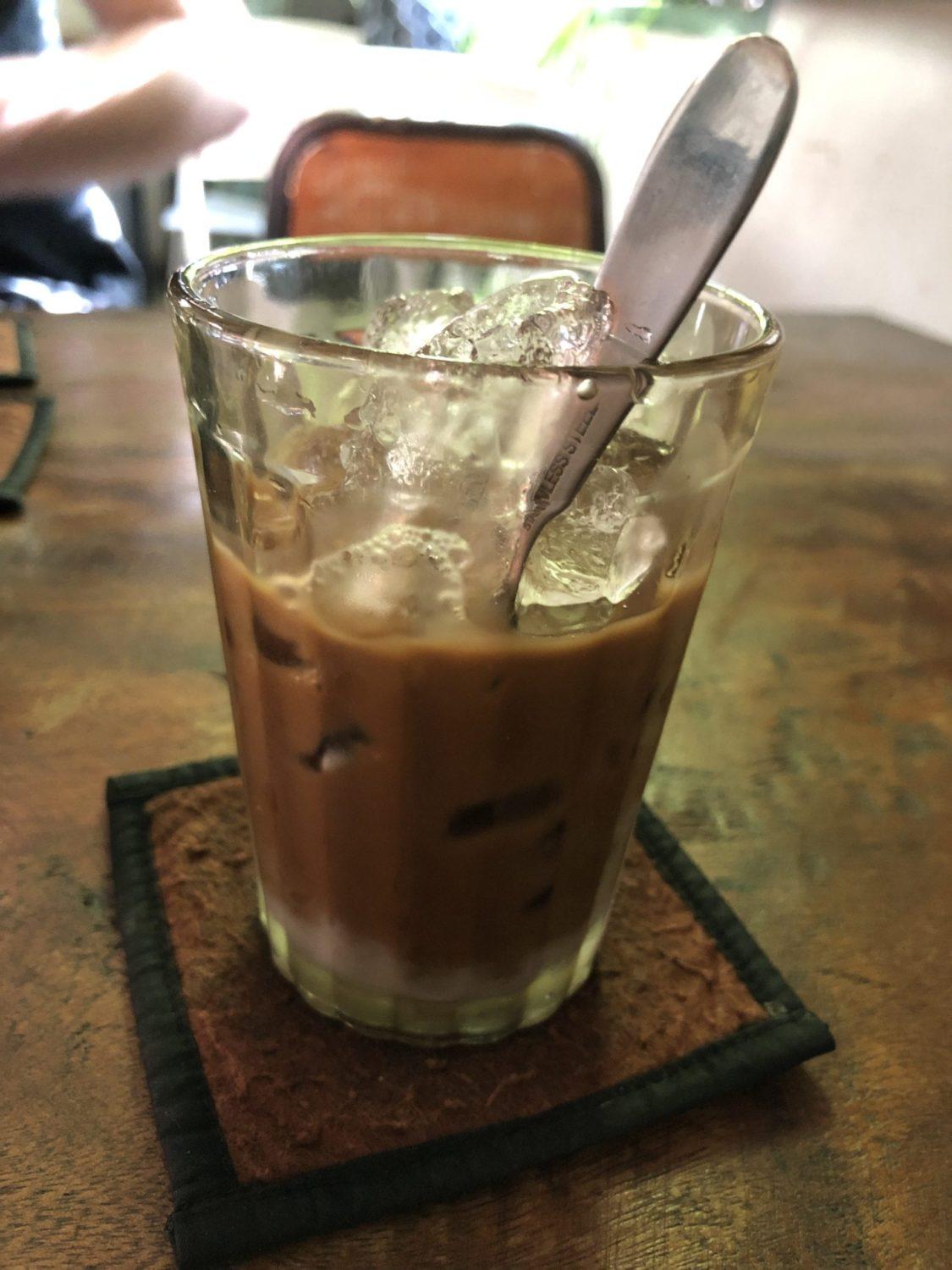 If you want your coffee iced, da is the word to know in Vietnam. Order a ca phe sua da, and this is just what you'll get. It's creamy, it's strong, and it packs a serious punch. And like it's hot version, you can find a glass for just 65 cents or so!
Egg Custard Coffee
If you've heard the tales of Vietnamese coffee, this is what you know.
Called simply "Egg coffee," it's a bit of a misnomer. Ca phe trung is better described as liquid tiramisu. Your cafe tops off a glass of coffee with a creamy egg custard. It's decadent, delicious, thick, and quintessentially Vietnamese coffee.
Yogurt Coffee
What do you get when you mix Vietnamese iced coffee with a heaping dollop of yogurt? Deliciousness, that's what you get.
Of all the incredible ways to drink your coffee in Vietnam, this one might be my favorite. Called sua chua ca phe, you can find it in almost any Vietnamese coffee shop. It's sweet but not overly so, putting it somewhere squarely between "normal coffee" and "dessert."
Bottom Line
You keep your french presses and your nitro cold brews. I'll take Vietnamese coffee – in all its shapes and sizes – any day of the week.