We often feature cheap deals into Phoenix from all over the US. It is a lovely getaway, especially in the dead of winter. Bask in the sunny dry heat, do some great hiking, and enjoy some great eats. See my guide to Phoenix, Arizona below for my top recommendations of things to do and ways to save on your next trip to the desert.
Plan Your Visit During Off-Peak Times
Look at both hotel and flight pricing for a few different weekends before you lock into specific dates. I was just in Phoenix for a vacation away from the Minneapolis snow, and the timing was perfect. My flight was $160 nonstop and roundtrip from Minneapolis for the first week in February. The timing was great as the snowbirds had already arrived earlier in the winter season, and the spring break crowds hadn't come yet. Our resort was nearly empty, so we got a great room and our pick of sunbathing chairs at the pool!
Thrifty Tip #1: Be flexible with your dates. Locking into dates before booking hotel rooms can prove to be expensive. When hotel room demand rises, so do room prices. Keep an eye out for Thrifty Traveler deals to Phoenix from your city to get the best deal!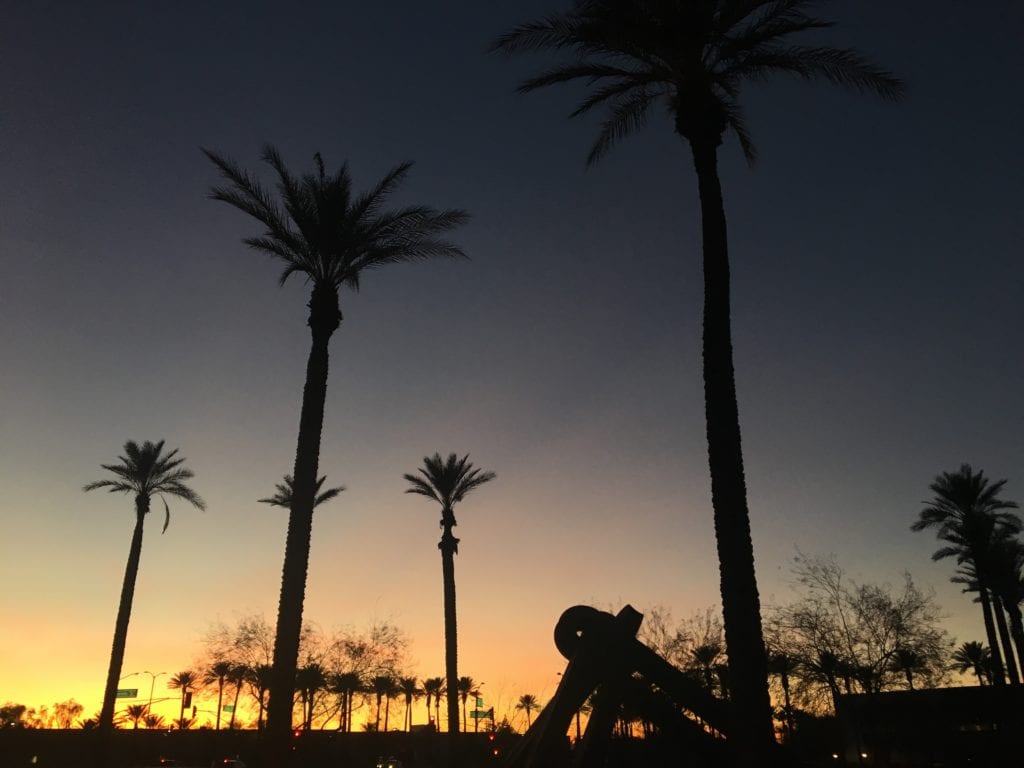 Accommodations
We stayed at the Pointe Hilton Tapatio Cliffs in Phoenix and loved it. We booked our stay at Hotels.com and paid with our Capital One Venture Rewards Credit Card. I love using Hotels.com because after booking 10 nights, you earn a free night valued at the average price of the previous 10 nights. We had a free night racked up, so we used that for part of our stay.
The best parts of the Pointe Hilton Tapatio Cliffs Resort were the hiking trails that started just feet from our room, and the Hidden Valley Pool – a private pool and hot tub nestled into the side of a mountain.
 Rent a Car with Turo
The best way to see Phoenix, Scottsdale, Sedona and other surrounding areas is to rent a car. Everything is spread out in the desert terrain. Skip the long lines and high fees at the car rental kiosks at the airport. Turo is an easy car rental app and website that allows you to select your car type, dates, features, and amenities. You can even have it delivered to your location in the city of your choice! I wrote about Turo in my article on smartphone app recommendations; learn more about Turo and other money-saving apps.
Fun in Phoenix
There are hundreds of amazing hiking trails in Phoenix, and guess what: they're free! We started each day with a 2-hour hike. Multiple trails even started on the Pointe Hilton Tapatio Cliffs Resort property. I highly recommend North Mountain Park trail.
When the sun goes down, Phoenix offers great nightlife. A great way to see Phoenix and have some fun is to check out Culinary Dropout. This awesome spot on 7th Ave in Phoenix (they also have locations in Scottsdale and Tempe) has a few different bars and restaurants under one covered roof. The open-air outdoor space is gorgeous, with high-top tables and heat lamps in the "winter". They have great cocktails and make-your-own appetizer plates, many available during happy hour. I highly recommend the cheddar pork cracklings and BBQ pork belly nachos!
After a bite to eat and a cocktail in hand, check out the awesome free games they have for customers to play. We played bags, foosball, and ping pong. Reserve a game at the host stand and have some fun.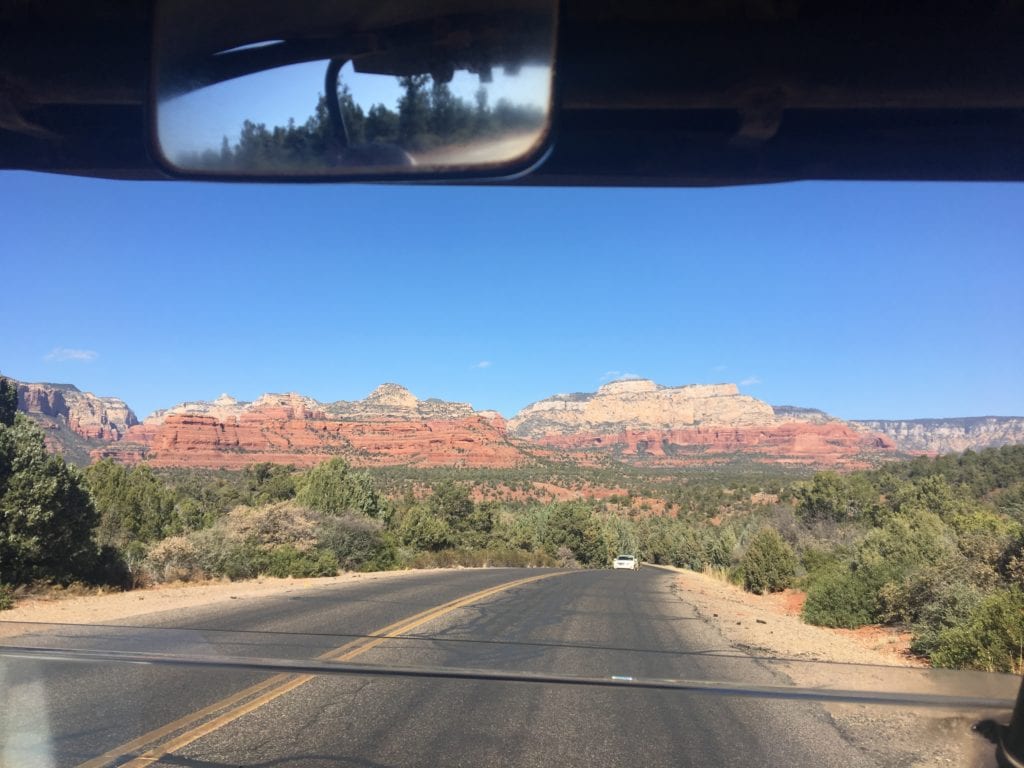 Dining in Scottsdale
We drove to Scottsdale a few different times to walk around Old Town Scottsdale and have dinner. Once you get to Scottsdale, take the free trolley. If your feet are sore from a morning of desert hiking, this is a great way to get around and see the sights for free.
Old Town Scottsdale has lovely handicrafts, boutiques, gelato shops, and jewelry stores. We enjoyed sharing tapas on the patio while listening to a live piccadilly band at Tapas Papa Frita. We also adored the patio with strung lights and fireplaces at Olive & Ivy. Get to Olive & Ivy before 6 pm to enjoy their happy hour. It is a great deal.
If a glass of wine is needed after a day of exploring, we highly recommend Kazimierz World Wine Bar.  With live music and a massive wine list featuring many great wines at a bargain price, it is a great way to experience Scottsdale like a local.
Amazing Views in Sedona
If you haven't been to Sedona yet, the 1-hour 45-minute drive from Phoenix is so worth it. There are a few ways to see Sedona. The thrifty option is to drive the scenic routes of Sedona in your car, which is free. It's easy to drive along, enjoying the views with the windows down. The Red Rock Scenic Byway is clearly labeled as you come into Sedona from Phoenix and is a gorgeous drive.
A pricier, but highly recommended activity, is to see Sedona by ATV. We rented a two person ATV  for 4 hours. The cost was $299 with Sedona ATV and it was a blast. We used the purchase eraser statement credit from the Capital One Venture Rewards card to offset the cost of the rental.
The trail provided by Sedona ATV includes a visit to the Honanki Ruins, which displays dwellings and petroglyphs from 1100 AD. Definitely worth the price, and a fun way to travel the dirt backroads of Sedona. Wear clothes you don't mind getting dirty in. You will be covered in red Sedona dirt.
Hungry for a bite after a big day exploring Sedona? We loved West Side Deli! Check in to West Side Deli on Yelp to get 50% off your second sandwich.
On the way back to Phoenix from Sedona, stop in the little mountainside town of Jerome. This is an old mining town with lots of character. There are adorable artist shops and lots of history to explore.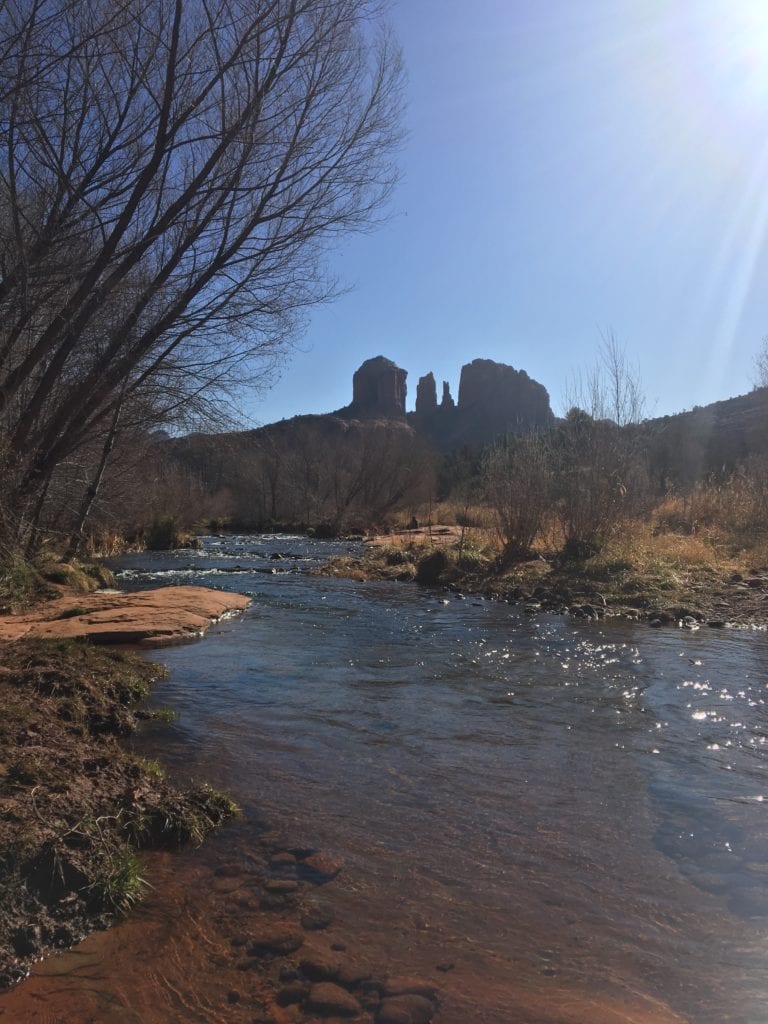 Bottom Line
Phoenix and the surrounding areas of Scottsdale and Sedona are a blast. The next time you are in town, use Thrifty Traveler's guide to Phoenix, Arizona for a great experience without breaking the bank.