With nearly all international travel on pause and many travelers staying on the ground, this could just be the summer of the road trip. And that got us thinking … what are our team's favorite road trips?
For each of us, the answer was different. For some, road trips close to home in Minnesota are still vivid in our minds. For others, lengthy road trips across the country stirred up fond memories. These are just a few of our favorite road trips, near and far.
Read up on how to plan the perfect road trip this summer or fall!
Drive Along The North Shore, Minnesota
Thrifty Traveler team member Mikhala's favorite road trip that comes to mind is a popular one from Minneapolis: a road trip along the North Shore. On the drive from Minneapolis to Grand Marais, there are a few must-stops along the way:
Break for lunch in Duluth. Grab a sandwich at Northern Waters Smokehaus and walk down to the lift bridge for great views.
Pull over for a quick dessert in Two Harbors for the famous Betty's Pies.
Further north, make a few scenic pit-stops at Gooseberry Falls and the Split Rock Light House.
If you packed your hiking boots (and you should), hike out to the sweet view at Palisade Head.
If you prefer to make a few days out of this drive north, there are a few campsites and cute towns along the way.
When we did this trip up north, we made Grand Marais our home base and I'm so glad we did. A group of us split a woodsy cabin along the shore, where we could walk down to the beach for a bonfire, rock skipping, and awesome views. This was the view from our Airbnb cabin — the price was steep during peak-summer season, but split between several people it was well worth the price.
Thrifty Tip: Check out our tips for booking the most unique Airbnbs, and how to save on your stay each time.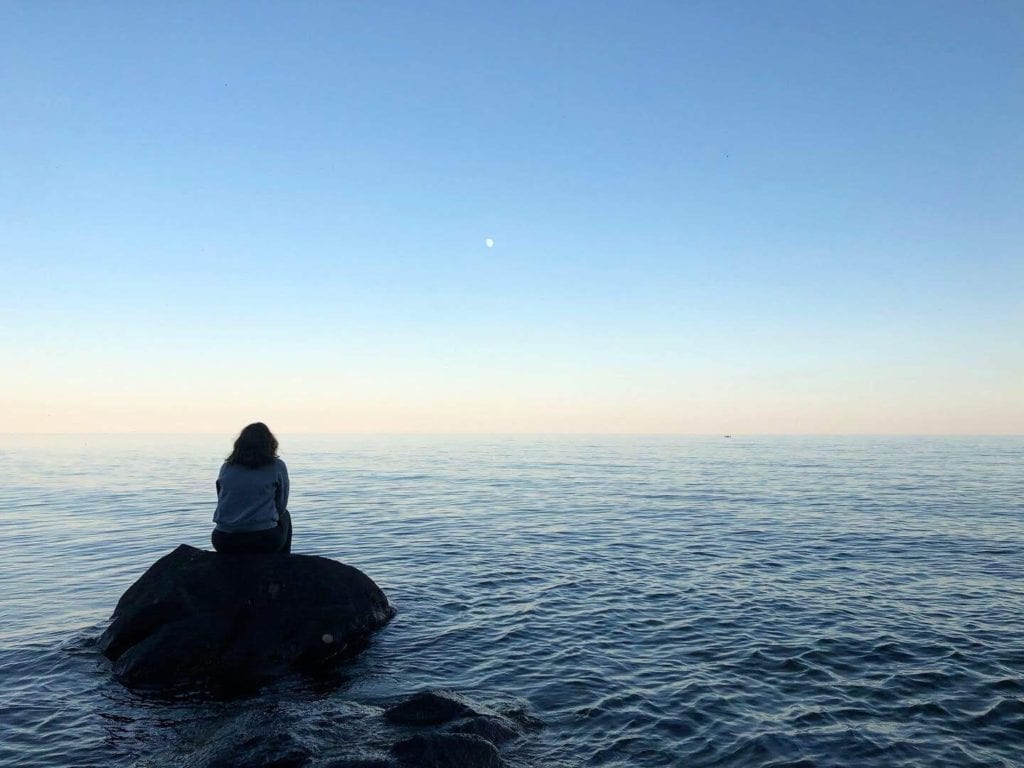 There are so many cute shops, bars, and restaurants in Grand Marais, but a few of our favorites were Hungry Hippie Tacos and Voyageur Brewing Company. Definitely walk out to Artist's Point peninsula for some stunning views like the photo below. If you're looking for more hiking, check out Pincushion Mountain trail for a stunning viewpoint.
Road Trip to Alpine Valley, Wisconsin
Thrifty Traveler's chief flight deal analyst Jon immediately knew his favorite road trip: the five-hour drive from Minneapolis to East Troy, Wisconsin to see Dave Matthews Band at Alpine Valley outdoor amphitheater.
While concerts seem like a distant memory, this road trip reminds us of better days. On this road trip, Jon recommends:
Stop off at the Ho Chunk Casino for a round of craps
The Wisconsin Dells are a must!
Stop through Milwaukee for some good eats and river views
Visit Lake Geneva – and stay at the Grand Geneva Lodge
Want to do a road trip, thrifty style? If you're renting a car, check out our tips to save on rental cars. Make the most of your gas, stays along the way, and other road trip spending with the right credit cards. And before you head out, check out these apps and tools we love to plan your road trip.
Annual Ski Road Trip to Bozeman, Montana
Thrifty Traveler founder and CEO Jared's favorite road trip is an annual ski trip he makes with eight friends to Montana. This 980-mile road trip may seem like a heavy lift, but it's all fun with friends in tow.
For the best ski resorts in town, look no further than Bridger Bowl, Big Sky, and Red Lodge.
Jared's best tip for saving in Bozeman? "Always rent a VRBO or Airbnb: it's an incredible value split 8 ways. We've always stayed in a massive cabin in the woods or near one of the mountains." You just can't beat the views, space, and convenience of an 8-person cabin on a trip like this.
An Epic Golf Weekend in Brainerd, Minnesota
There is perhaps no better outdoor activity in the socially distant world we are living in than golf. So naturally, a favorite road trip of the best golf courses in the area come to mind. Golf is one of Thrifty Traveler co-founder Nick's favorite pastimes, and living in the Twin Cities of Minnesota, he is just three hours south of one of the best golf destinations in the United States: Brainerd.
With hundreds of courses in the area and many stay and play packages available for booking, it is one of Nick's favorite long weekend getaways. Don't just take our word for it: here's a roundup of the best golfing in Brainerd, Minnesota. Stay at Gull Lake Golf Resort and play Dutch's Legacy, Bobby's Legacy, and the Reversible 9.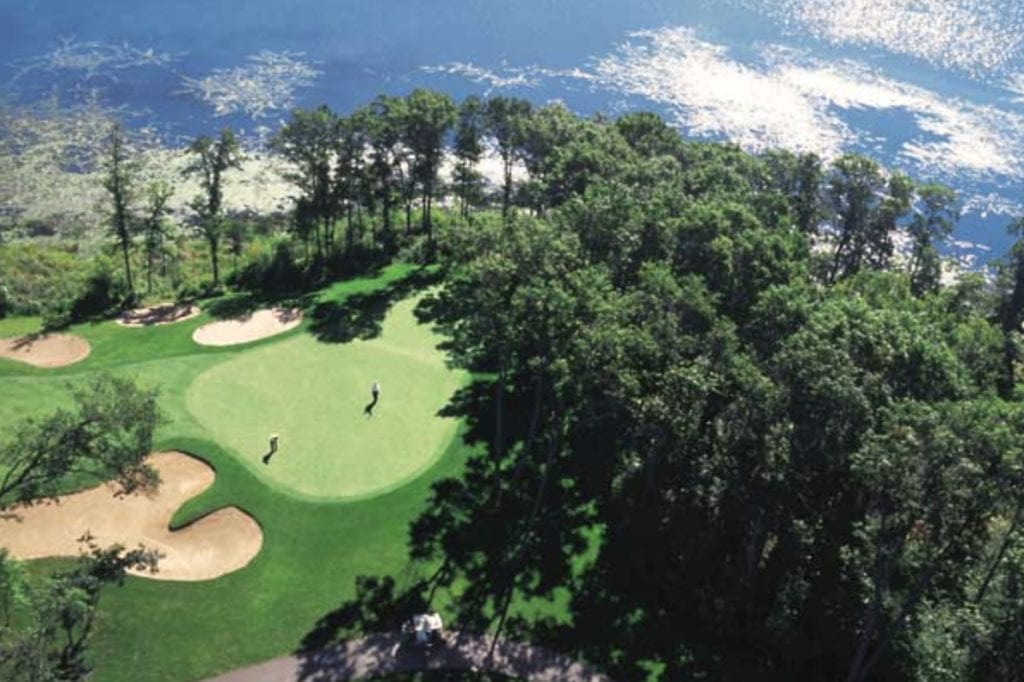 Dutch Legacy Champion Golf Course, photo courtesy of Cragun's Resort & Hotel on Gull Lake
Most of the courses are part of a resort that has "stay and play" options. One of Nick's favorite options is the Craguns Bay View Villas. You can book lodging, golf, and food accommodations for a very reasonable price.
Beyond golfing, Brainerd has much more to offer. There are 450 lakes in the Brainerd area, so rent a boat or take a swim in the refreshing waters.
Exploring Utah's National Parks
You may need to get in a plane to pull this epic road trip off. But trust Thrifty Traveler editor Kyle: It's worth it.
Score a cheap flight to either Las Vegas (LAS) or Salt Lake City (SLC), and grab a cheap rental car, too. No matter where you start, you can spend a few days (0r a week or more!) making a circuit around Utah, soaking in some of the country's most beautiful national parks – with plenty of jaw-dropping sights on the drive, too.
Zion National Park is a must, of course.
And so is Bryce Canyon National Park, not too far north from Zion.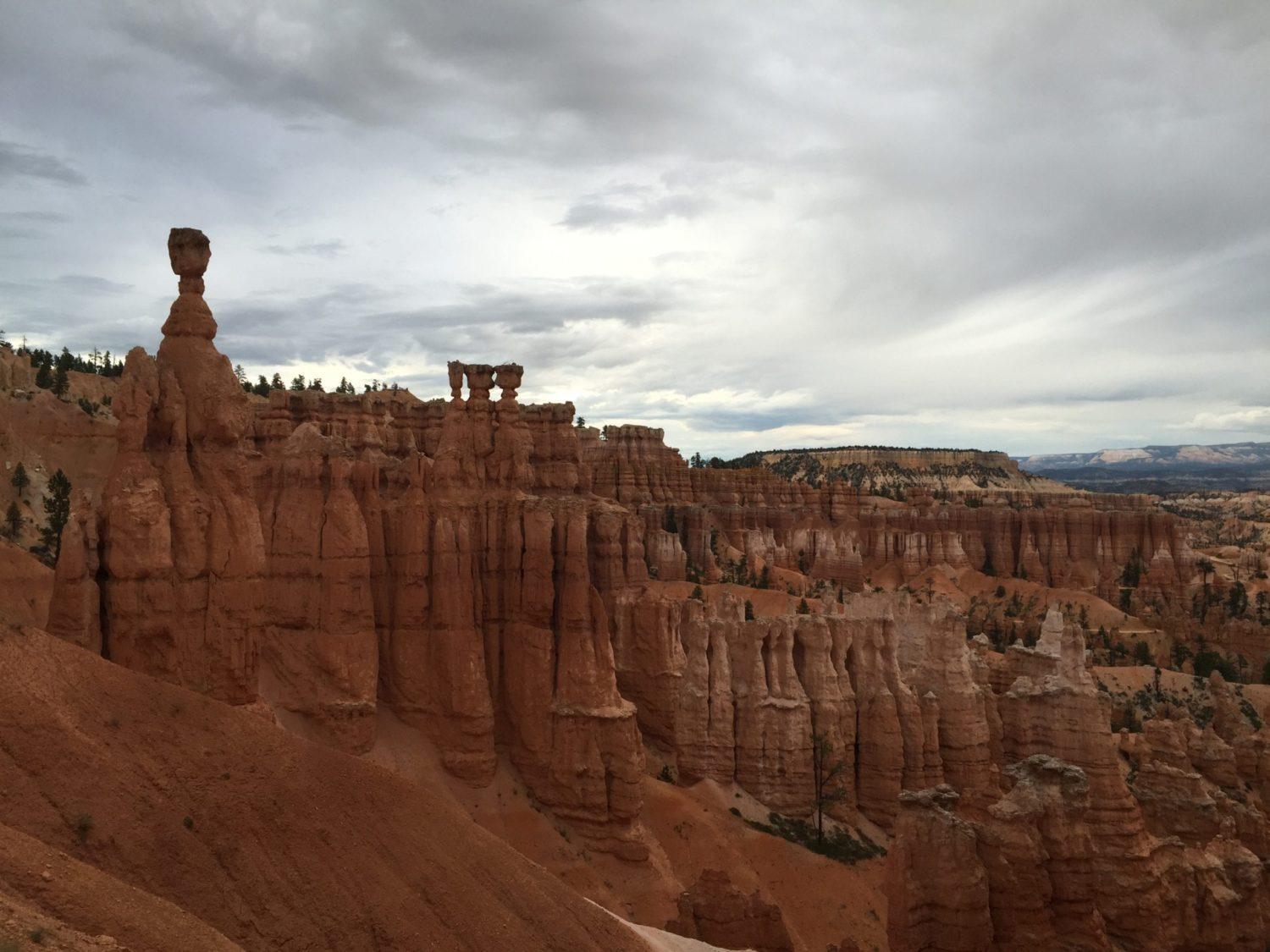 You can't miss Capitol Reef National Park, smack dab in the center of Utah.

In eastern Utah, you'll find the iconic Arches National Park.
But Kyle's sleeper favorite was right next door: Canyonlands National Park. Be sure to spend at least a night or two in nearby Moab, Utah.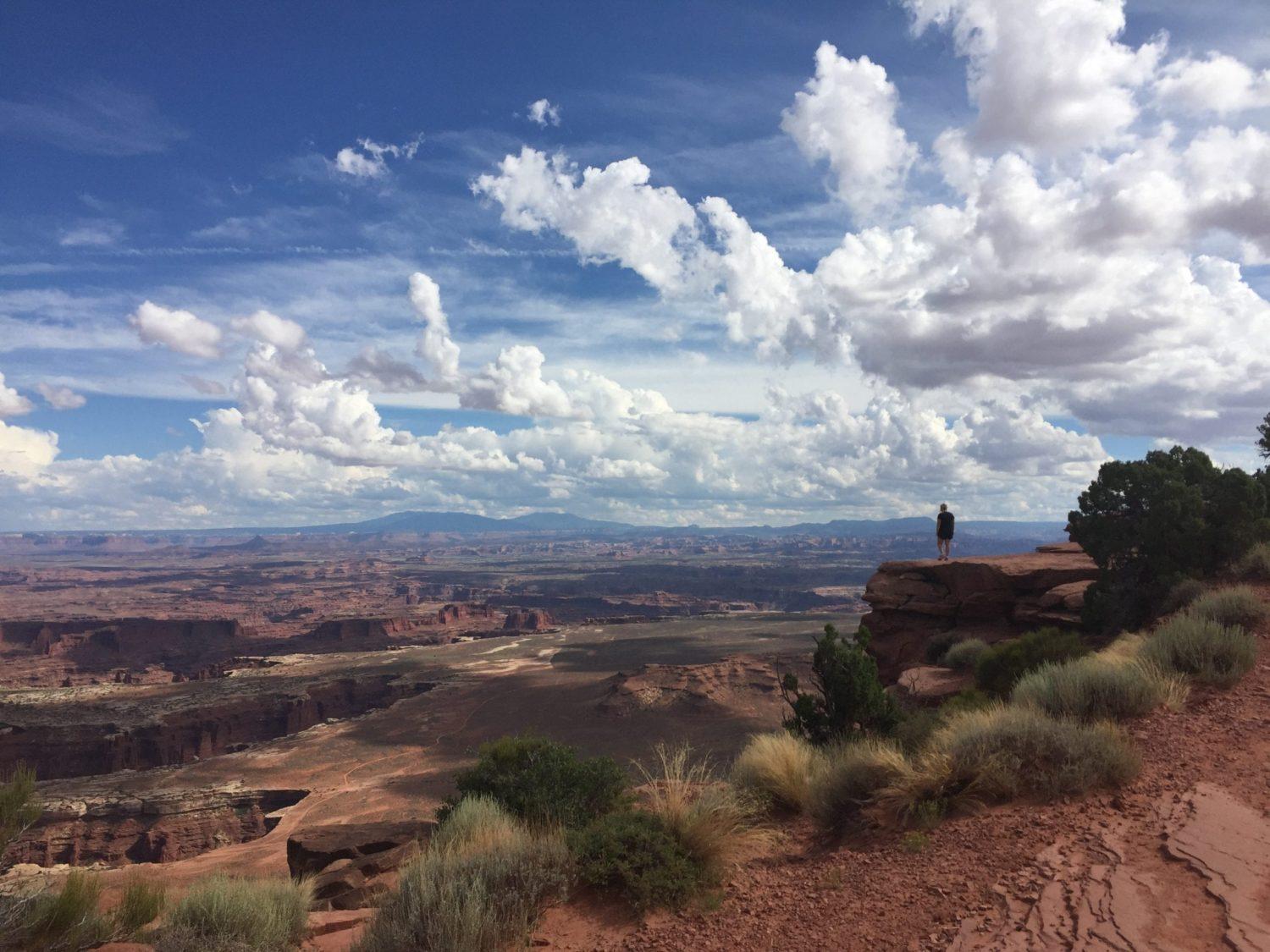 Visiting all these National Parks, your entrance fees can add up fast. So be sure to pick up an annual National Parks Pass – you'll start saving on your third park. And if you've got a fourth grader in the family, you can get one of these passes for free!
Have some extra time? Head south for the border of Arizona and make a stop in Page, Arizona. It's the home of the incomparable Antelope Canyon as well as the aptly named Horseshoe Bend.

There may be no better road trip in the U.S. than crisscrossing Utah to hit some (or all!) of these stops.
Read more: How to Plan the Perfect Road Trip through Utah National Parks
Bottom Line
No matter where you're starting point might be, there are so many wonderful ways to explore the states via car. These are just a few of our team's favorites.
Which of these road trips have you done? What favorite road trips have you taken that aren't on this list? Tell us in the comments below!