Airlines have made it easier to book future flights by waiving cancellation and change fees on tickets booked within the next few weeks. Hotels have made similar moves with fully refundable bookings.
Airbnb is doing much the same. The popular home rental platform has continually expanded its cancellation policy for upcoming stays. But if you're planning a future trip, Airbnb is also expanding the availability of flexible, refundable stays too.
All you have to do is turn on a new filter and you'll see only reservations that allow partial – if not full – refunds. Here's how it works.
New Flexible Listings Filter
Airbnb is making it easy for users to search only for properties that have flexible cancellation policies. And the rental platform has incentivized homeowners and renters to offer more listings with refundable policies.
There is a brand new filter available to users that is front and center. Just click on the toggle and save it so all of the listings you see will have flexible policies.

What is a Flexible Stay?
A flexible stay is one that has some sort of cancellation policy that allows for a full refund within a certain period of time.
Cancellation policies will still differ depending on the host, so make sure to read the cancellation policy on each individual listing. Just scroll down toward the bottom of each listing for that policy.
Airbnb did not respond to a request for comment on how many listings on the site are now offering flexible cancellation policies. But from our research, many listings are offering a full refund minus a service fee. Service fees can range from zero dollars to over $100 depending on the length of stay.
Some hosts offer a full refund up to five days before your stay – minus the guest service fee.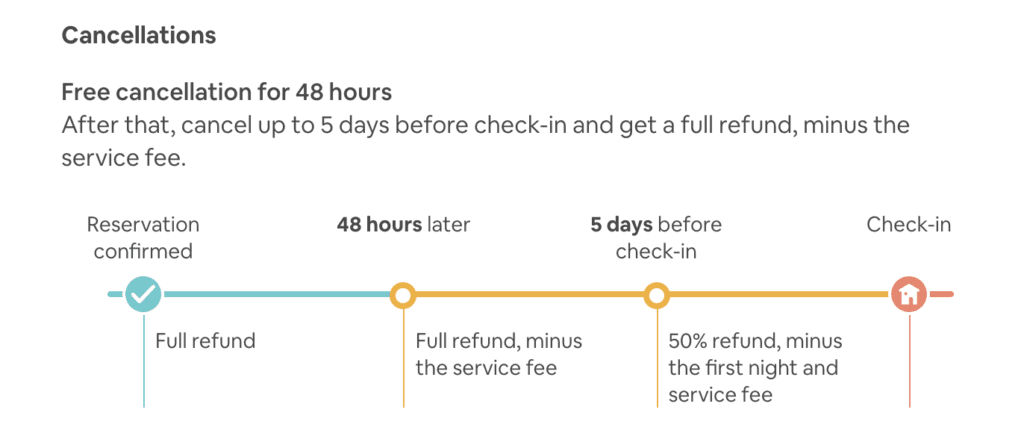 Other stays are offering generous policies that allow a full refund (minus the service fee) even if you cancel just 24 hours before check-in.

If you enter the dates of your stay, the timeline on each individual listing will update to show you exactly when you need to cancel by for a full refund.

What about the Service Fee?
For any bookings made now through June 1, 2020, Airbnb will refund  100% of the guest service fee if you cancel and the host doesn't refund it. But in this case, it will get refunded as a travel coupon that you can use for future travel.
Will This Mean Fewer Listings to Choose From?
It might seem that only filtering for flexible stays might limit your options, but Airbnb has taken some steps to reward flexible hosts.
They are waiving the normal 3% hosting fee for flexible listings through June 1, 2020. Airbnb is also promoting listings with these policies to make them more visible through the new filter. Plus, they are making it easier for hosts to refund guests themselves with new tools.
Hosts can choose to be incredibly flexible and offer refunds up to 24 hours before a stay or up to five days before a stay. While this may not guarantee hosts more income, it gives travelers and hosts alike some peace of mind and could drive more bookings at a time when travelers are wary of making nonrefundable plans.
Bottom Line
It has never been easier to book a trip with a guarantee that you won't lose most – if not all – of your money. Watch for more of these refundable listings on Airbnb.