You know Airbnb. Maybe you've even booked a stay in one during your recent travels or vacation rentals.
But there's more to Airbnb than your typical apartment or stuffy, standard home. There are tons of quirky, unique Airbnb options waiting for you to stay in? Igloos, boats, castles, and caves – you name it, it's bookable.
All it takes is an open mind … and Airbnb's "Unique Homes" filter – to find a unique and unforgettable property. Let's take a look at some of the most unique Airbnb stays around the world, and how to book them yourself.
How to Find a Unique Airbnb
Airbnb has recently updated its search engine, so browsing and finding unique Airbnbs around the world has gotten much, much easier.
To start your search, click on the location box on Airbnb's homepage. From there, click the "I'm flexible" box that pops up beneath it:


This, my fellow traveler, is the hub for Airbnb's most unique listings. As you can see, they've highlighted some favorite categories along the top, such as castles and treehouses. This list also includes newly-added categories such as "offbeat", "A-frames", "off-the-grid", and "ski-in/ski-out".
You can simply go down the rabbit hole and browse these perfectly bizarre homes. But if you have a month, week, or specific dates in mind, you can set that – and other preferences like guest count – in the top right-hand corner on this page.

You can also filter for unique listings on any specific search on Airbnb. From your search results page, select "More filters".
From there, scroll down until you see "Unique homes." Here, you can select one of these types of unique homes – or several of them. Note that several of these unique home types are available only in certain areas, so I'd suggest casting a wide net and selecting many options.

Once you've selected the unique homes you'd like to browse, hit search and enjoy browsing through all of your unique options available for your search terms.
Unique Airbnb Stays
The list of unique Airbnb homes is seemingly endless, but I'll highlight some of my favorites out there. Read on for a glimpse at some of the most magically unique homes of Airbnb.
You probably never thought you'd be drooling over a barn, right? Think again. This Rice Barn in Chiang Mai is so cool and only $44 a night.

This adorable boat in Quebec is the perfect "unplug" getaway! This water oasis is just $64 a night. There are also plenty of great options for houseboats in major cities across the U.S. and Europe that can save you a fortune on accommodations.

Airbnb is seriously spicing up camper life! Camper van Airbnbs are plentiful across U.S., and trust us: They're not all bare-bones. Take this Airstream camper-in-the-sky in Georgia: it even has a private hot tub onsite!

If this doesn't make for a unique Airbnb stay, I don't know what will. Sleep in a literal tube at this round-stay campsite in Portugal for $34 a night! How fun is that little deck? Campsites are also popular in New Zealand and several regions of the U.S. on Airbnb.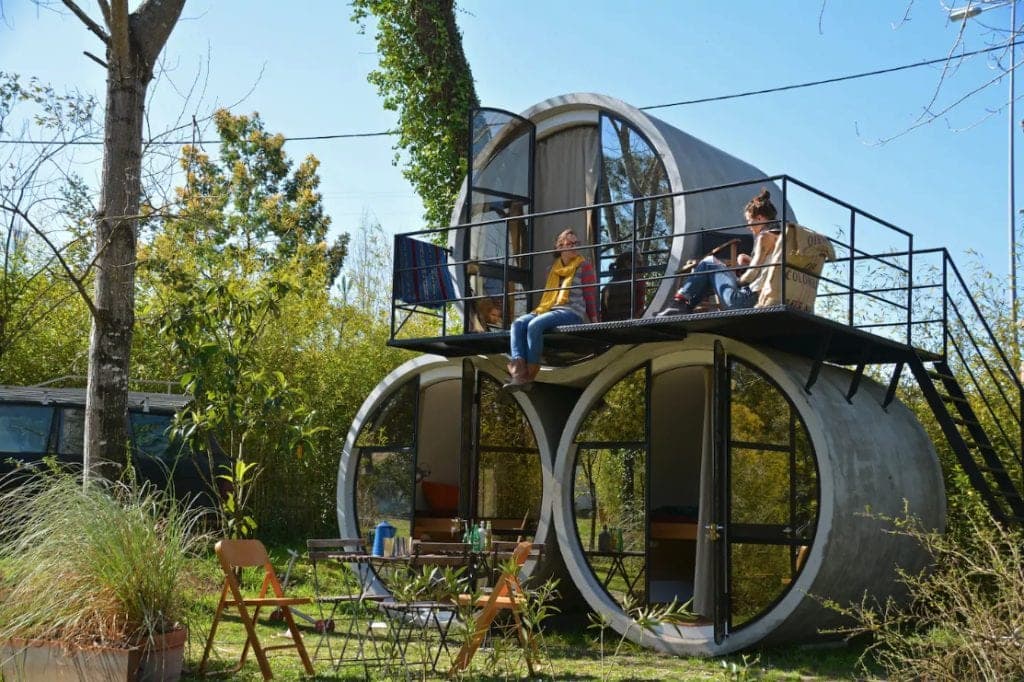 Cross sleeping in a castle off your bucket list! Split between the five people this Irish castle can accommodate, each person pays just $93 a night. Turns out, pretending to be royalty is pretty cheap! Most of the castles on Airbnb are located in the U.K., Ireland, and small towns in Western Europe.

If you're like me, A-frame cabins have taken over your Instagram and Pinterest feeds, and it's all you want to do for a cozy fall or winter getaway. Lucky for you, Airbnb's new A-frame category lets you browse these into oblivion. This is even better than spending hours on Zillow!
Here's just a look at some of the gorgeous A-frame listings:

Tthis one is a bit of a splurge, but look at that view! There are many caves available along the Mediterranean for your next stay in Greece, Turkey, Italy, Croatia, or the south of France. This looks like the perfect place to stay in Santorini.

How cool is the interior of this dome house? Most popular along the Mediterranean in Italy, Greece, Egypt, and Lebanon, these dome houses are a quirky alternative to the traditional Airbnb home. Plus, they stay nice and cool in the summer!

Turns out you don't have to fly to New Zealand to make your hobbit vacation dreams come true! This is the ultimate underground earth house, located in Washington state. There are several other amazing earth houses in the U.S. I'm dying to check out.

Yeah, a farm stay looks like the ideal way to experience Iceland. Also popular in the U.K., Scotland, India, and Nepal, farm stays are a great way to meet locals and have a place to stay for cheap.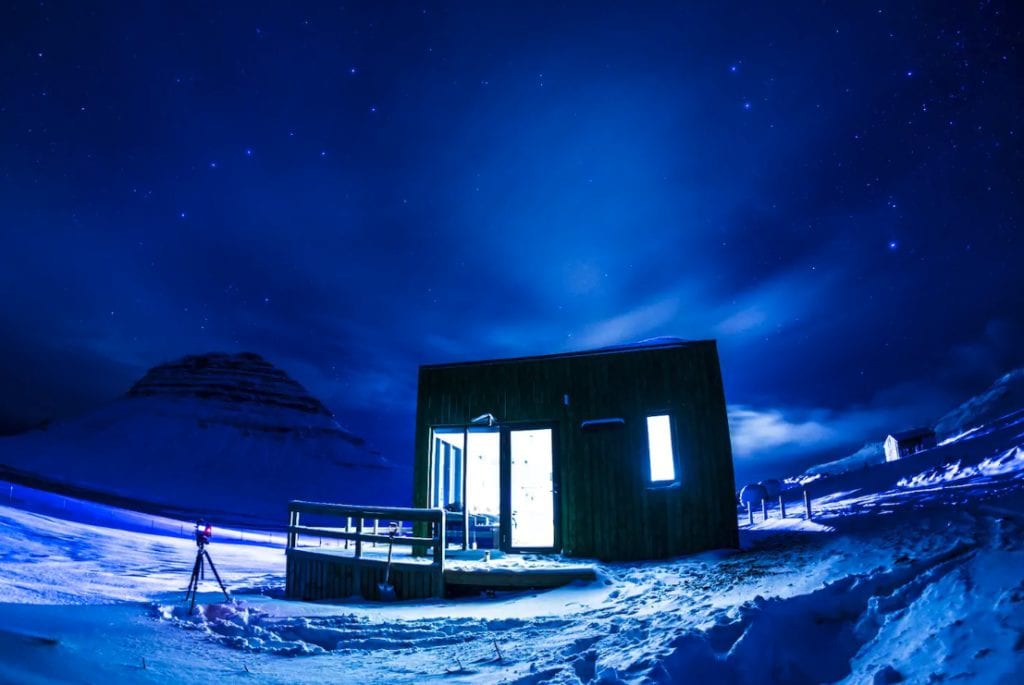 This is THE way to stay in Asia. Stay in one of these luxury huts in Indonesia, Japan, Taiwan, or Laos. There are also some really cute glamping huts available in the U.S. and throughout Europe. Oh, and did I mention this hut in Bali, Indonesia is $58 a night? Talk about luxury for less.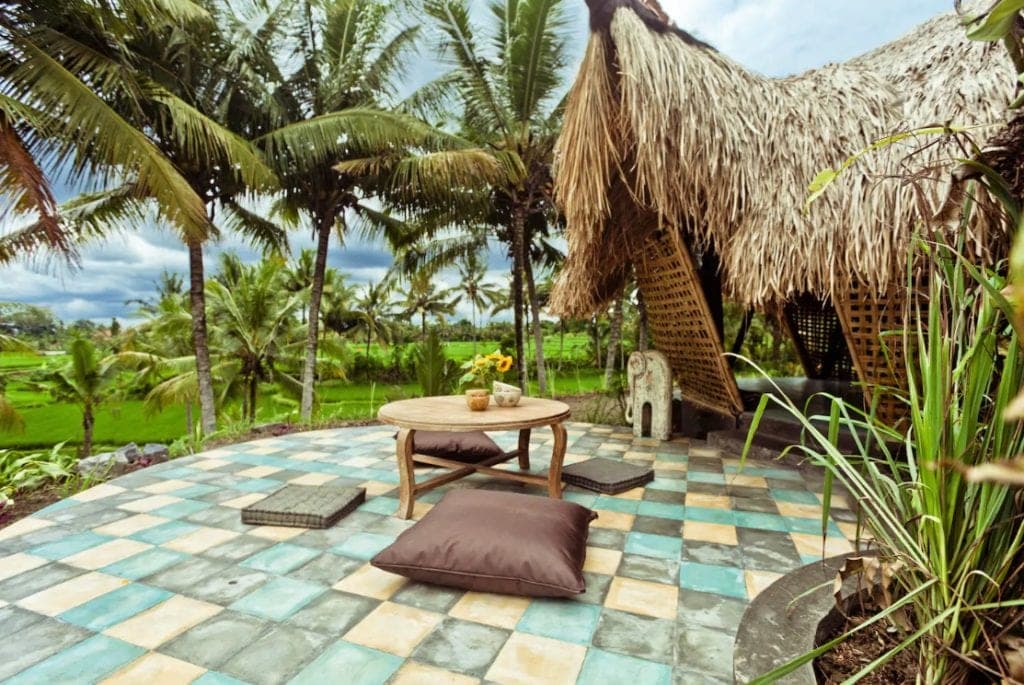 HGTV fanatics, unite! If you've been curious about the shipping container trend that's taking the building world by storm, why not stay in one? You seriously won't believe how crazy cool these homes look, inside and out. Here's a peek at just how these literal shipping crates can make gorgeous abodes: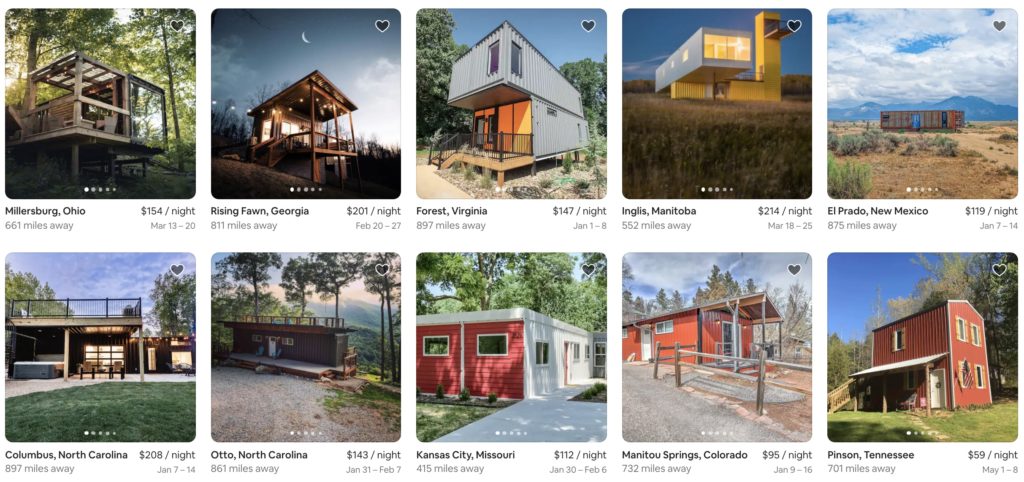 This is definitely a bucket list item for me! Stay in an igloo (basically clear bubble tents) to experience nature all around you. This unique Airbnb dome house in Canada is decked out with awesome lounge areas.
Ever dreamt of waking up on your own private island? It's not necessarily cheap, but it's possible with Airbnb. Some of the private room options are under $100, but for $365, this island is all yours.
Want to make your beachside stay even more memorable? Book a lighthouse. This one below in Wellington, New Zealand has crazy gorgeous views.

I'm not entirely sure what classifies an Airbnb as a "nature lodge", but I'm not asking questions. There are funky eco treehouses in Sri Lanka, full-blown resorts, and secluded lodges. However, one of my favorites on the first page of Nature Lodge options is this one: a Jungle House in Nicaragua with a volcano view. At a whopping $91 per night, this nature lodge sleeps 4.

This one's for the avgeeks out there.
How cool would it be to stay in a plane on your next weekend getaway? This kind of unique Airbnb may not be everyone's cup of tea, but I bet plenty of kids would freak out if they found out they were staying here on vacation rather than a hotel. Oh, and there's a UFO listed on Airbnb, too…

Have you ever heard of a Trulli home? They are limestone dwellings crafted using a prehistoric building technique specifically in the Puglia region of Italy.
Now that you know what they are, they're probably on your bucket list, too. Don't worry: Airbnb has an entire category for these exceptionally unique homes!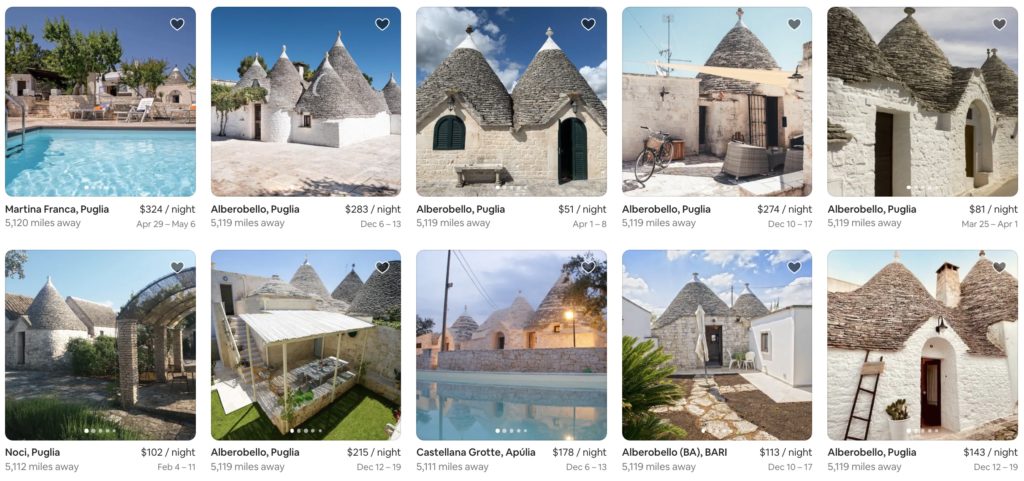 Now, this is glamping! I love a good treehouse, and the top picks on Airbnb are unreal. This particular treehouse is unbelievably whimsical, from exterior to interior. Go on, take a look…

My jaw dropped when I saw these tiny houses. They're so cute! And if you're nervous about using Airbnb for the first time, there are plenty of verified Airbnb Plus homes available in this category.
Many of the top-rated Airbnb Plus tiny houses are in our favorite U.S. getaway destinations: Charleston, Phoenix, Denver, Nashville, and Sedona. This gorgeous tiny house in Charleston sleeps four and comes with two cruiser bikes, beach chairs, an outdoor patio with a hammock, books, and games.

Looking for seclusion and bliss? Check out the amazing tipis on Airbnb. Several of the most gorgeous tipis are on Madeira, a tiny island off the coast of Portugal that is part of the Azores. These aren't bare-bones accommodations, either: These tipis have indoor fireplaces, a communal kitchen and pool, hammocks, and yes, even Wi-Fi.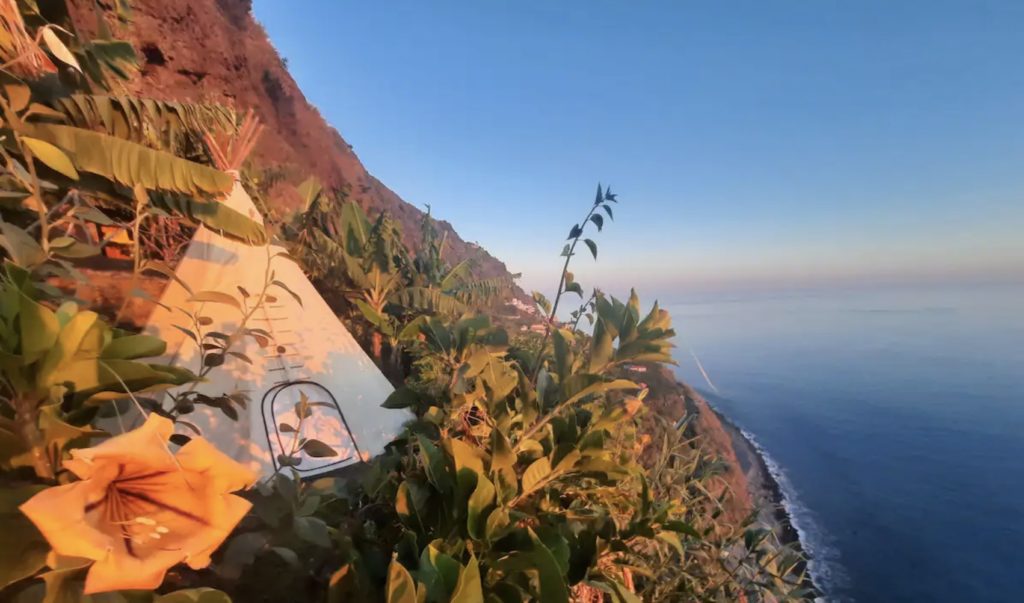 I am geeking out about this one! Perfect for a family trip that will wow the kiddos or a fun friend group getaway, stay in one of these retrofitted trains. Check out this adorable one below. This unique Airbnb can sleep six and make a trip to Australia one you won't soon forget.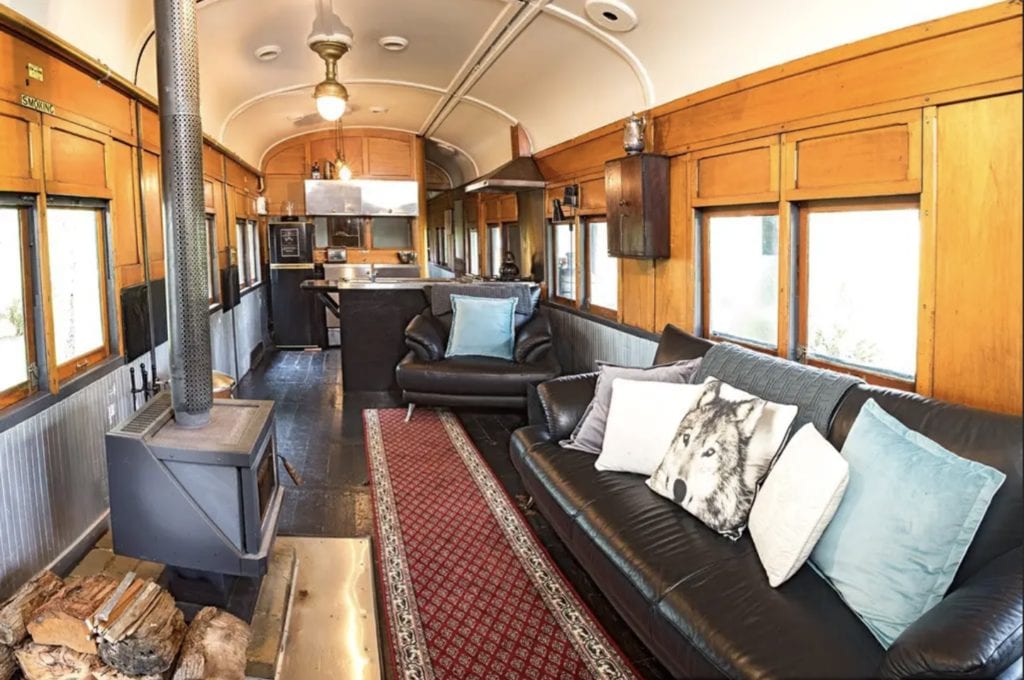 There are tons of magical treehouses available on Airbnb all over the world: Miami, Thailand, San Diego, New Zealand, and everywhere in between. However, I don't think the treehouses listed in Bali can be beaten. All of THIS can be yours for an unbelievable $57 per night.

While preparing for an upcoming trip to Japan, I stumbled into the world of ryokans – traditional Japanese inns – and now I can't stop thinking about them. You'll don robes and slippers in these cozy accommodations which often include multi-course meals prepped in-house and other services or classes.
At least one stay at a ryokan is a must-do during a trip to Japan. Airbnb has made it easy to compare and book the top-rated ryokans in the country:

Most popular in the U.K. and Greece, these windmills make for a cool place to stay and an epic view of the surrounding water. I love this unique Airbnb on the island Tinos, right next to Mykonos.

Yurts are more than just a silly name: They're the ultimate, trendy way to go glamping. There are hundreds of amazing yurts to pick from on Airbnb in lush forests, near lakeside retreats, on dairy farms, and beside grand mountains. This yurt in Boise, Idaho really drew me in.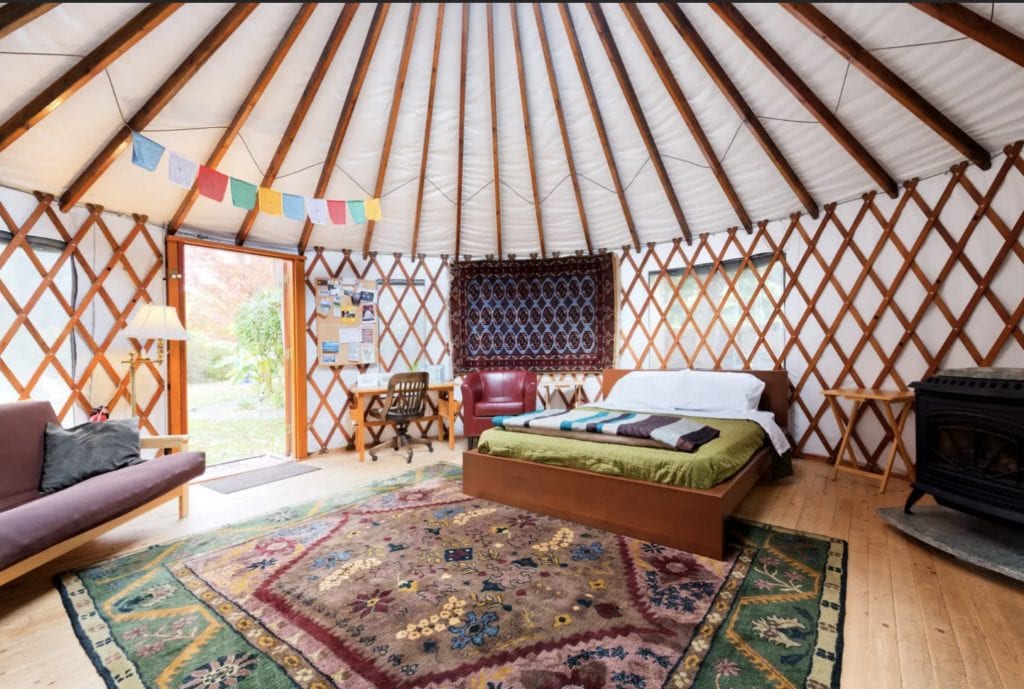 Bottom Line
Some of these Airbnbs might seem quirky or unusual, but that's part of the joy of travel. While hotels can often provide amenities and easy accommodations when traveling, there are so many other unique and memorable options out there on Airbnb.
These unique Airbnb options can thrill your kids on a family vacation, spice up a friend reunion, or make for a magical honeymoon spot without a huge price tag. Which of these unique Airbnb stays would you book?
Want to dive into the rabbit hole of unique Airbnb stays yourself? Start here.