You know what's better than a cheap flight? A free flight.
We live for flight deals here at Thrifty Traveler, whether you're scanning the site for domestic deals or booking an international trip through Thrifty Traveler Premium. Saving you hundreds of dollars on your next plane ticket is our life's work.
But it does, in fact, get better. If you have some points or miles through a travel rewards credit card, you can use them to cover part of the cost of that flight or book it for free. It's one of our favorite uses of points and miles, and the only way to truly book a flight for free.
So if you've ever asked yourself, "Are points and frequent flyer miles even worth it?" here's your answer and your guide to do it.
Airline Miles vs. Bank Points
First, we need to draw an important distinction. There are two different types of currencies in this wide world of travel: credit card points and airline miles. And they're not interchangeable.
Airline miles are what you collect for taking a flight. There's Delta SkyMiles, American AAdvantage miles, and dozens more.
Airlines each set their own pricing for how many miles they charge. Most airlines do it based on zones, so a flight between the U.S. and Europe will cost a set amount and a flight from the U.S. to Southeast Asia will cost a different amount. A handful of airlines charge based on the distance of the flight you book. And then there's Delta, where the amount of SkyMiles you need can vary wildly. Read up on understanding Delta SkyMiles.
But the points that you earn through credit cards from banks like Chase, Capital One, or American Express are an entirely different animal. In many ways, they're even more valuable than airline miles.
Thrifty Tip: Read our guide on the questions you should ask yourself before applying for a credit card.
While airline miles are stuck with that airline, you can transfer many bank points to different airlines. Check out our master list of all the airlines and hotel partners to which you can transfer different bank points.
But you can also use bank points to book directly with the airline or through a designated travel booking portal. This way, you're basically using each point to cover a part of the cash fare. And sometimes, this can be even better than using airline miles directly for a few reasons:
When you see a great flight deal, you can often save some serious miles by using bank points rather than airline miles to book
You don't earn miles when you book a flight with airline miles. But you can keep earning miles when you pay with credit card points. 
If you use airline miles to book an award flight, you'll always pay some cash fees – sometimes just $5 or so, but they can be exorbitant. Meanwhile, using bank points to book is the only way to get a truly free flight. 
And that brings us to the subject of this post, and some of our favorite ways to do it.
Get More Free Flights with Chase Ultimate Rewards
Most banks keep it simple when you use points to book flights. Each point is worth a cent toward your airfare, so a 50,000-point stash = $500 in free travel. But it's even better with Chase Ultimate Rewards.
If you get the Chase Sapphire Preferred® Card, each point is worth 1.25 cents. So the card's current 60,000-point welcome bonus is worth $750 in airfare. Have Chase's top-tier card, the Chase Sapphire Reserve®? It's even sweeter, as each point is worth 1.5 cents toward travel. So that card's same 60,000-point bonus is worth $900 in airfare.
Chase's Ultimate Rewards Travel portal is simple to use, as it's now powered by Expedia. And in general, most flights you see here or in your inbox through your Thrifty Traveler Premium subscription are going to show up. Read our full guide to booking flights directly with Chase Ultimate Rewards points.
Let's look at an example. A while back, we found great deals on flights to San Juan (SJU), Puerto Rico. It's one of our top cheap winter escapes, with fares from Minneapolis-St. Paul (MSP) as low as $297.
Punch in the dates that work, and here's what you'll find through Chase if you hold the Chase Sapphire Preferred card.

Under 24,000 points to fly to Puerto Rico and back. If you've got the Chase Sapphire Reserve card, it's better: You'd need just 19,850 points to book the round-trip flight. This method works whether you're flying to the Caribbean, halfway across the world, or just for a short, weekend trip.
Are you sold on the value of Chase Ultimate Rewards and need a card to open? Our favorite card for getting started with points and miles is the Chase Sapphire Preferred. You'll get a 60,000-point welcome bonus after spending $4,000 within three months of opening the card. You also earn 3x points for every dollar spent on dining, and 2x points per dollar spent on travel. You won't be charged pesky foreign transaction fees when you use the card abroad.
If you're a frequent traveler but haven't dabbled in Chase Ultimate Rewards cards, the Chase Sapphire Reserve® could be a great fit. The $550 annual fee may seem hefty, but this card comes with some unbeatable benefits. That includes $300 in annual credits that cover any travel expense, a $100 credit to sign up for Global Entry or TSA PreCheck, a free membership in Priority Pass Select that will get you into 1,000-plus airport lounges, and more. You also earn 3x points for every dollar you spend on travel and dining.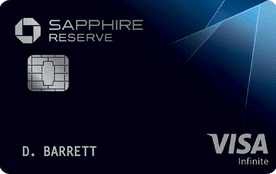 Click here to get more information about the Chase Sapphire Reserve. 
Use the Capital One Venture Card to Cover Your Flight Costs 
There's no simpler way to take a cheap flight and make it free than the Capital One Venture Rewards Credit Card.
The card's 75,000-point sign-up bonus is good for $750 in free travel. Much like Chase, you can navigate through Capital One's travel portal and use those points to cover the cost of your flight. But there's an even easier way. Read up on how to save $750 on your next flight with the Capital One Venture Card.
Capital One has a unique "Purchase Eraser" feature you can use to go back and cover any travel purchase with points. And it's insanely versatile.
You can use as many – or as few – points as you'd like to cover all or part of a travel expense. Every point is worth 1 cent.
Book direct through the airline or through an online travel agency (OTA) like Priceline, Expedia, Kayak, and more – it doesn't matter! You'll still be able to go back and cover the purchase with points.
Flights? Sure. Hotels? Why not! Uber? Go for it. A cruise through the Caribbean? OK! Any travel-related purchase will work.
All you need to do is log in to your Capital One account and navigate to the "Cover Your Travel Purchases" tab to get started. Capital One recently took a page out of Chase's book and introduced the ability to transfer these points to more than a dozen different airline partners. But there's no easier way to make a flight free than using the purchase eraser function.
That makes the Capital One Venture Card a mainstay in many traveler's wallets. But there are other great perks, as well.
First, you'll get 75,000 points after spending $4,000 in the first three months with the card. You'll also earn 2x points for every dollar you spend, no matter what. The card also covers up to $100 in application fees for Global Entry or TSA PreCheck. And yet the annual fee is just $95, and that's waived in the first year.
Click Here to learn more about the Capital One Venture card. 
Bottom Line
Cheap flights are great, but free flights are better. Mixing the allure of the flight deals you see here with points and miles is a powerful combination. Get started with travel rewards credit cards, and you can make that next great fare deal even better.