Think flying to Hawaii is expensive? Think again: Cheap flights to Hawaii have been in steady supply recently. Now you just need to find some cheap lodging – and that's no guarantee.
While the flights may be cheap, staying on the islands almost certainly won't be as travelers have flocked to the Hawaiian islands in record numbers. Whether you're looking to stay in a hotel, resort, Airbnb, or some other type of lodging, finding halfway decent deals to stay in Hawaii has been a major challenge recently – especially if you're traveling with a family.
But by traveling at the right time, searching in the right places, or using points and miles to cover your costs, you can save a few (or a few hundred) dollars on your trip to Hawaii.
See our best deals to fly to Hawaii with cash or points! 

Go During the Off-Season
With picture-perfect weather pretty much year-round, there's really no bad time to visit Hawaii. But there are low seasons for tourism in the islands, and that's when you're likely to find a better deal on lodging.
We're always touting the benefits of traveling during shoulder season, the period right before or after some of the busiest travel times like spring break and summer. It's when you're likely to find fewer crowds and better rates on hotels and lodging. The same holds true for Hawaii.

The busiest times to visit Hawaii are January through March and the peak summer travel season of June through August. Travel demand slows down in Hawaii from mid-April to Mid-June and September to mid-December. Hotel and resort rates tend to be cheaper during those times, and so do tours and other activities you might want to enjoy while you're there.
While scheduling your trip during the off-season will certainly help you save, even just staying during the week versus over a weekend might help you net a better rate.
Search for Lodging with Google Hotels
Google Flights is the site we always pull up first when searching for flights. And the same goes for Google Hotels when it comes to looking for lodging.
Like Google Flights, Google Hotels allows users to filter for the exact accommodations they want, exactly when they want them while seeing nearly every option available. It's integrated with Google Maps, so you can see exactly where each property is located, which can be extremely helpful if you know you want to stay in a certain area of one of the islands or near a specific beach.
For your upcoming Hawaii trip, you could start by searching the entire island you're visiting to get a sense of what options are available in different areas or you can narrow down your search to a specific city, like Honolulu.

Google Hotels allows you to filter for either hotels or vacation rentals – in fact, it's one of the few that allows you to search for both. From there, you can filter for hotel star ratings, prices, special offers, pools and other amenities, class, brands, and much more. You can even check the box for hotels that offer free cancellation, are wheelchair accessible, have beach access, or much, much more.

There's no shortage of hotel booking sites you could use when looking for lodging for your trip, but Google Hotels is the one we always pull up first.
See our full list of the 17 best hotel booking sites to book lodging at cheaper prices! 
Larger Group? Consider Airbnb, VRBO or Vacasa
When traveling with more than two people – and especially if you're traveling with a family – booking a vacation rental through a platform like Airbnb or VRBO is going to be your best bet for saving on lodging.
You can book an entire home on Airbnb with space large enough to sleep everyone in your group, and split the bill. A kitchen will help you save on meals, too.
Set your Airbnb search for the number of people in your group, including children, or filter for how many bedrooms you'll need and see what options come up for your travel dates. Airbnb has greatly improved its filters over the years, so now you can narrow your results to properties with onsite pools or beach access or stays that are ideal for golfers or surfers. You can also filter for amenities like laundry facilities, Wi-Fi, air-conditioning, and more.
Follow these five steps to find the best Airbnb no matter where you're heading!

For example, on a previous trip to Hawaii with five friends, we rented a four-bedroom home in Kailua-Kona on the Big Island for far less than what it would have cost to book three separate rooms at a resort. We didn't have to pay extra for parking, we were able to cook some of our own meals in the spacious kitchen, and we had our own private pool to enjoy.
Plus, we were only steps away from a popular snorkeling spot. Depending on the dates of your stay, you could wind up paying less than $100 per night.
While Airbnb and VRBO are the go-to home rental platforms, there's another option that could be even better – especially if you've got if you've got Wyndham points … or Capital One Venture miles!
Check out Vacasa, too. Wyndham allows you to book select Vacasa properties for a flat 15,000 points per bedroom each night, which can be an incredible value in expensive destinations like Hawaii. You can transfer Capital One miles from cards like the Capital One Venture X Rewards Credit Card to Wyndham.
Book Your Stay, Then Cover it with Capital One Venture Miles
Experiencing sticker shock when searching for hotels or vacation rentals in Hawaii? It's time to turn to your points and miles for help.
If you've got a Capital One card like the Capital One Venture X Rewards Credit Card, there's an easy way to book a stay and make it free. Simply charge your hotel or vacation rental to your Capital One Venture card, then go back and cover the purchase using Venture Miles. It's one of the only ways to use points for an Airbnb or VRBO stay.
Venture Miles are worth 1 cent each this way. That means I could cover this $883.30 Airbnb charge from my statement for 88,330 Venture Miles.

Capital One allows you to apply any amount of points you want to your booking, so even if you don't have enough points to cover the cost of your entire stay (or you just want to save some), you can at least take some of the sting out of the high price tag.
Have you been piling up points from travel cards like the Chase Sapphire Preferred® Card? Use Google Hotels to narrow down on the hotel or resort you want, then book through the Chase travel portal. Since every point is worth 1.25 cents toward travel with the Chase Sapphire Preferred Card, you could book a $ 300-a-night hotel room with just 24,000 Chase points.
Use Hotel Points to Stay for (Nearly) Free
Hawaii has no shortage of properties to spend your hard-earned hotel points whether you've got a stash of Hilton Honors, World of Hyatt, Marriott Bonvoy points, or credit card points you can transfer to any one of these programs.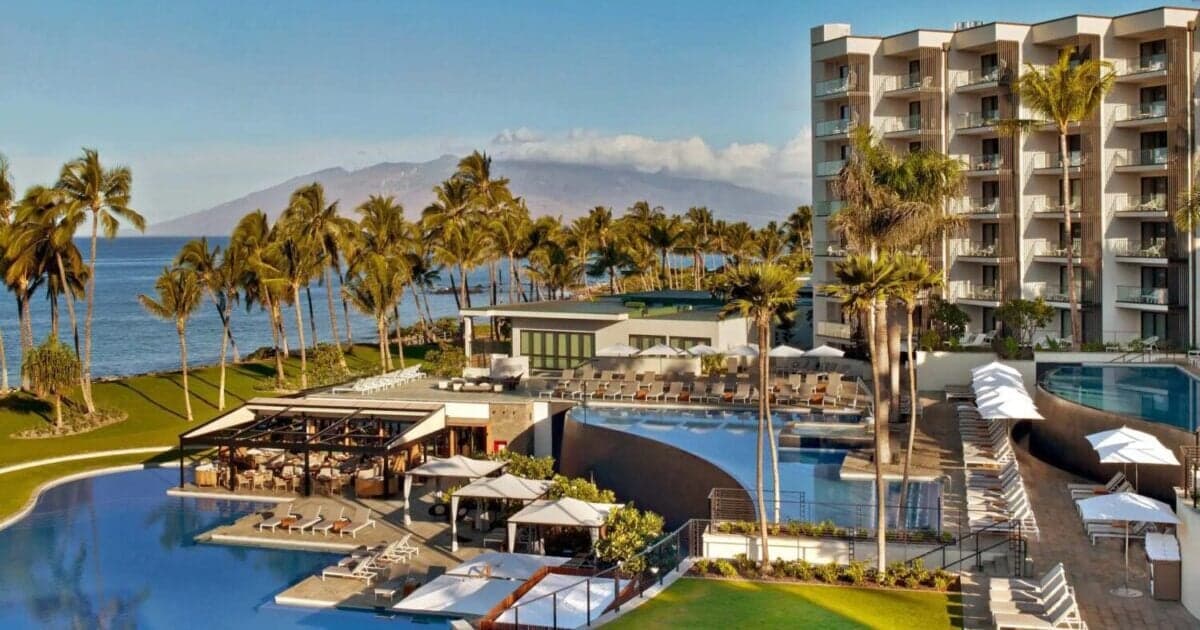 Depending on which island you're heading to, there are plenty of options. Here are just a few of our favorite hotels on each island you can book using hotel points.
Oahu
The Hilton Hawaiian Village Waikiki is bookable for as low as 70,000 Hilton Honors points per night
You can book the Hyatt Regency Waikiki Beach for 20,000 points per night – or even less during off-peak periods
The Royal Hawaiian is a historic Marriott property that you can regularly book for 60,000 Bonvoy points or less per night
Maui
The Andaz Maui at Wailea is a fantastic Hyatt property you can book for 35,000 to 45,000 points per night
The Grand Wailea Waldorf Astoria is great Hilton option if you can spare 110,000 points per night
The Hyatt Regency Maui Resort and Spa is bookable for as low as 25,000 Hyatt points a night if you want to stay in Kaanapali in northern Maui
The Big Island
Mauna Kea Beach Hotel is an excellent Marriott property for 70,000 to 90,000 Bonvoy points per night
Kauai
The Grand Hyatt Kauai is one of the best properties in all of Hawaii, and you can book it for 25,000 to 35,000 points per night depending on when you go
The Koloa Landing Resort at Poipu is another Marriott option on Kauai's southern coast.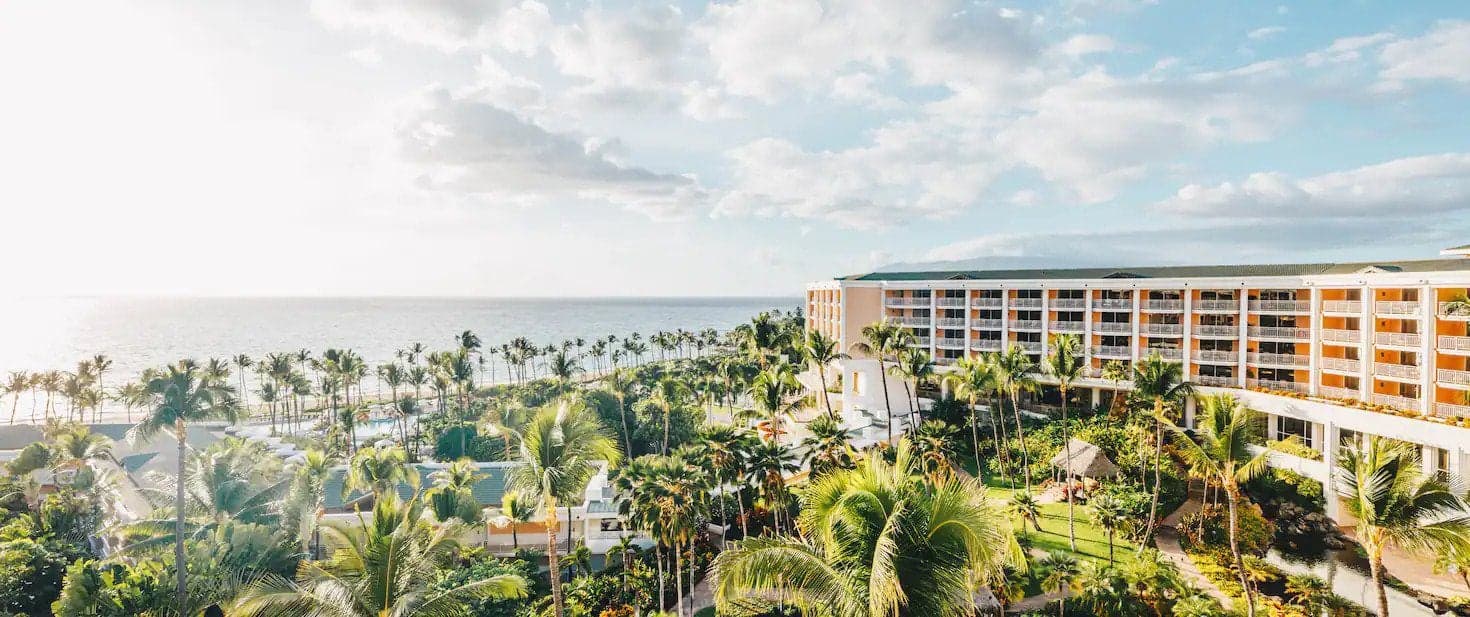 Finding consecutive nights to use your points for a longer stay can be easier said than done – and for some top-tier properties, it can prove impossible. Let us do the work for you: Subscribe to our free daily newsletter to be the first to know when we unearth award availability at some of the most coveted properties to stay at with points in Hawaii.
Thrifty Tip: Hilton and Marriott each offer a fifth-night free when you book using points – and if you've got IHG points, it's even better: your fourth night on an award stay is free!
Redeem a Free Night Certificate
All of the major hotel chains like Hilton, Marriott, Hyatt, and IHG offer free night award certificates you can easily earn from many of their co-branded credit cards or by having hotel status. And what better way to save on lodging in Hawaii than by redeeming one of these certificates to stay in Hawaii for free?
Each hotel chain has different rules about how you can use a free night certificate. Some can only be redeemed for certain categories of hotels and resorts. Others allow you to apply points on top of your certificate to stay at pricier properties.
Check out our list of the best credit cards offering hotel free night certificates! 
Bottom Line
Cheap flights to Hawaii have made a serious comeback in recent months. But while you might save on airfare for your next tropical vacation, finding affordable lodging on the islands is another story.
From how you search for hotels to using points and miles to cover some (or all) of the cost, these tips will help you save on your stay during your upcoming trip to paradise.