There are two kinds of people in this world: Those who love Hawaii and those who are wrong. If you're in the right, you're in luck.
We just found a ton of award availability to book a stay using points at the Grand Hyatt Kauai Resort & Spa – one of the best properties on the island of Kauai and typically one of the hardest to book, too. Aside from a dry spell around Christmas and New Year's, it should be fairly easy to lock in a stay at this amazing resort using Hyatt points through the end of the year and into early 2024.
After a recent increase, a standard stay at the Grand Hyatt Kauai will now cost you 30,000 points per night. Thanks to Hyatt's peak- and off-peak award pricing, that can fall as low as 25,000 points or jump to 35,000 points during busier times. But considering rooms here often go north of $700 per night, this is an excellent use of your Hyatt points (or even transferring Chase points) or a Category 1-7 free night certificate, if you've got one.
There's no such thing as a bad Hawaiian island, but Kauai is beloved for its laid-back vibe and healthy mix of relaxing beaches and unbeatable hiking. The Grand Hyatt is located in southern Kauai, which stays drier than the northern part of the island.
While no one on our team has stayed at the Grand Hyatt Kauai yet, we've heard nothing but great things. It's a beautiful, sprawling property, with plenty of pools, pristine beach access, and some coastal hiking steps away from Shipwreck Beach. You can easily go off and explore the charming town of Poipu by foot, too.

What's even better is that unlike some other hotel chains, Hyatt waives the $45 per night resort fee on award stays for all World of Hyatt members. That means that your free night booked with points actually feels free.
How to Book the Grand Hyatt Kauai
There is currently standard room award availability at the Grand Hyatt Kauai Resort & Spa on many dates from now through May 2024, as of publication.
Many months have at least 20 nights with standard room availability bookable from 25,000 to 35,000 points per night.
Log in to your World of Hyatt account, search the property, add your dates, and make sure you select "Use Points" before clicking "Find Hotels."
Try searching for one-night reservations at a time to ensure every night of your planned stay is available. If not, Hyatt will show you far more expensive suite availability – or nothing at all.
You should be able to easily find availability to book a standard room with one king bed or two queen beds.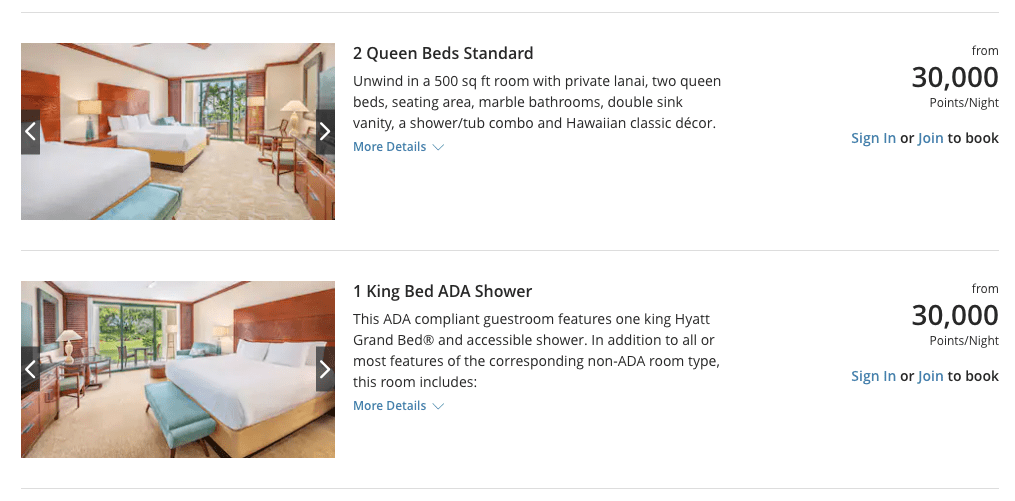 Current Grand Hyatt Kauai Award Availability
Award availability is pretty wide open from now through May of 2024. During this time frame, many months have 20+ nights available with some pricing at an off-peak level of 25,000 points per night.
To start, log into your Hyatt account and search for the property. You can click the "Points Calendar" option, highlighted below. Fair warning: This won't show you actual availability that you can book with your points, but it can help you identify nights that have either off-peak (25,000 points per night) or standard (30,000 points per night) award availability.


After clicking on "points calendar" it should open up a calendar view where you can see how much each night will cost in points, depending on whether it is a peak, off-peak, or standard night.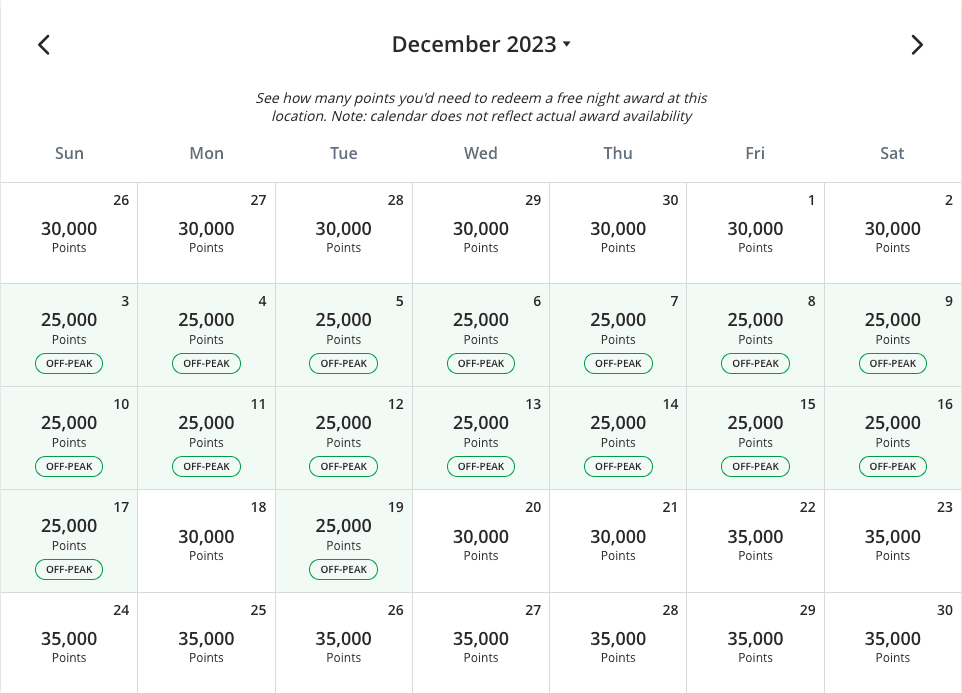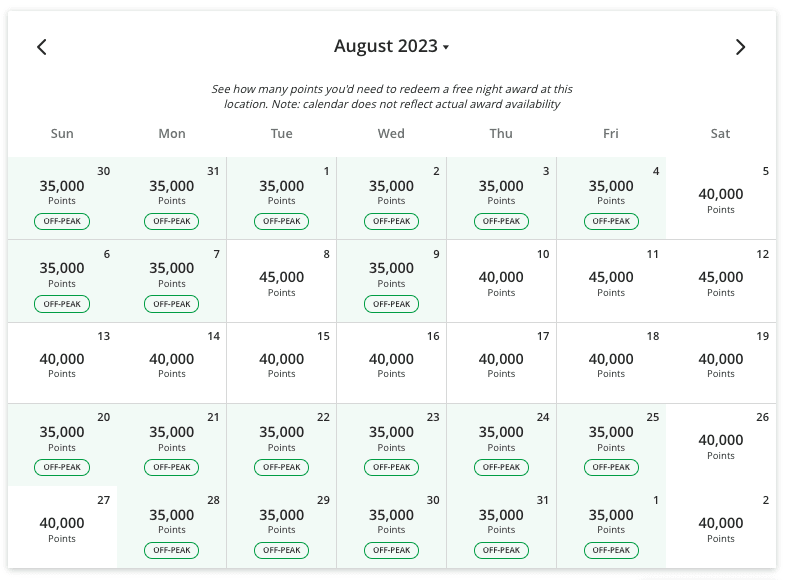 Once you start searching for your actual trip, nailing down a four- to five-night stay or longer may require some trial and error. If just one night of your stay is unavailable, Hyatt will only show you higher-priced suite availability … or perhaps nothing at all. For that reason, it's best to search one day at a time to ensure there's standard room availability for each date of your planned stay.
As of publication, though, the calendar is pretty wide open so you shouldn't have too much trouble stringing together a multi-night stay.
Bottom Line
There is currently solid standard room award availability at the Grand Hyatt Kauai from now through May 2024. This is an awesome property that's typically expensive and difficult to book using points, making it a fantastic way to redeem some Hyatt points.
We don't know how long this award space will last: Book quickly if you're interested!