Few things are better than using hotel points to book a stay for free. But at some hotel chains, it gets better: Stay long enough, and you can get a free night on award bookings.
Some of the biggest hotel chains in the world will give you your fifth night free when you book at least four consecutive nights at the same property. And one hotel chain gets you a free night on just a four-night stay. That means it pays to be strategic with which hotel points you use when you book.
With Marriott and Hilton, you'll get your fifth night free on award bookings. That means when you pay for four nights using points, you'll get an extra night at no extra cost. When booking a stay with IHG, you'll get a fourth night free on award bookings. That means you pay three award nights and you'll get your fourth night at no extra cost.
Most importantly, these aren't rebates – you get that free night upfront. So if you're booking a five-night stay at a property that typically costs 50,000 Marriott Bonvoy points per night, you'd pay just 200,000 points for the entire stay.
But as great as this benefit is, each hotel chain has stipulations and rules you'll need to follow to take advantage of the free award night. Read on for everything you need to know about how to get a fourth or fifth night free on award bookings with Marriott, IHG, and Hilton.
Marriott Bonvoy: Fifth Night Free on Award Bookings
Marriott Bonvoy offers its fifth night free on award bookings to anybody with a Marriott Bonvoy account. There is no requirement to hold any level of elite status with Marriott or to hold a certain Marriott credit card to take advantage of this benefit.
This benefit works on standard rooms, meaning booking five consecutive nights in a suite or upgraded room type will not trigger the fifth night free. And in order for this to work, there has to be award availability for all five nights.
Let me show you an example of how this works. I did a random search at the Elliott Park Hotel, Autograph Collection in downtown Minneapolis. As you can see below, booking four consecutive nights would cost a total of 85,000 points for the stay – roughly 21,250 points per night.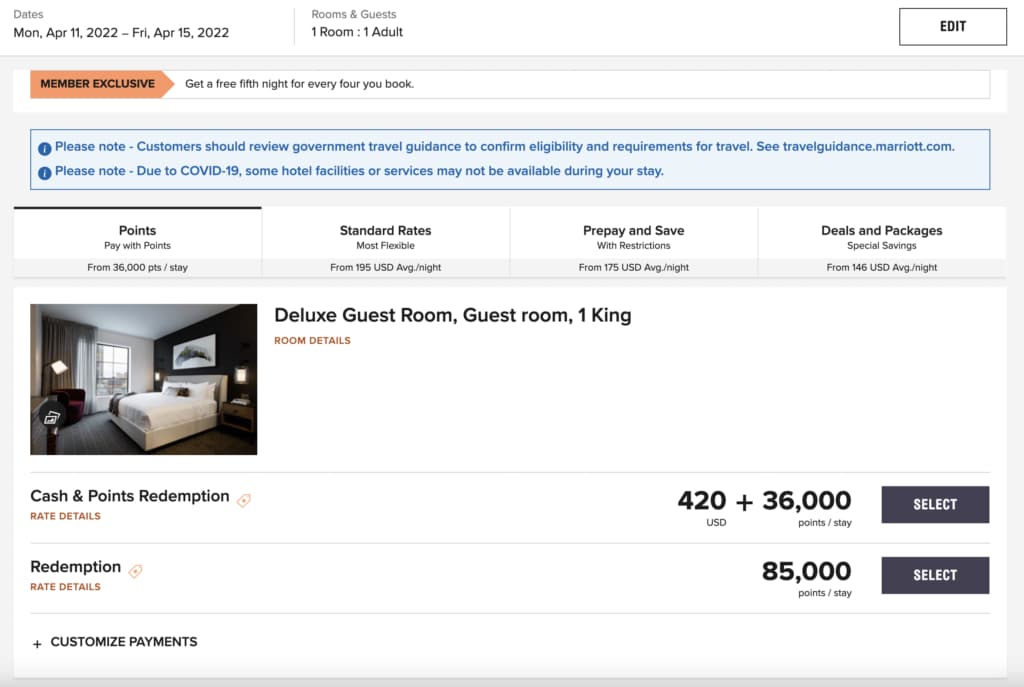 But if I add another night onto this reservation, you'll see that it prices out at the same 85,000 point rate – that works out to 17,000 Bonvoy points each night.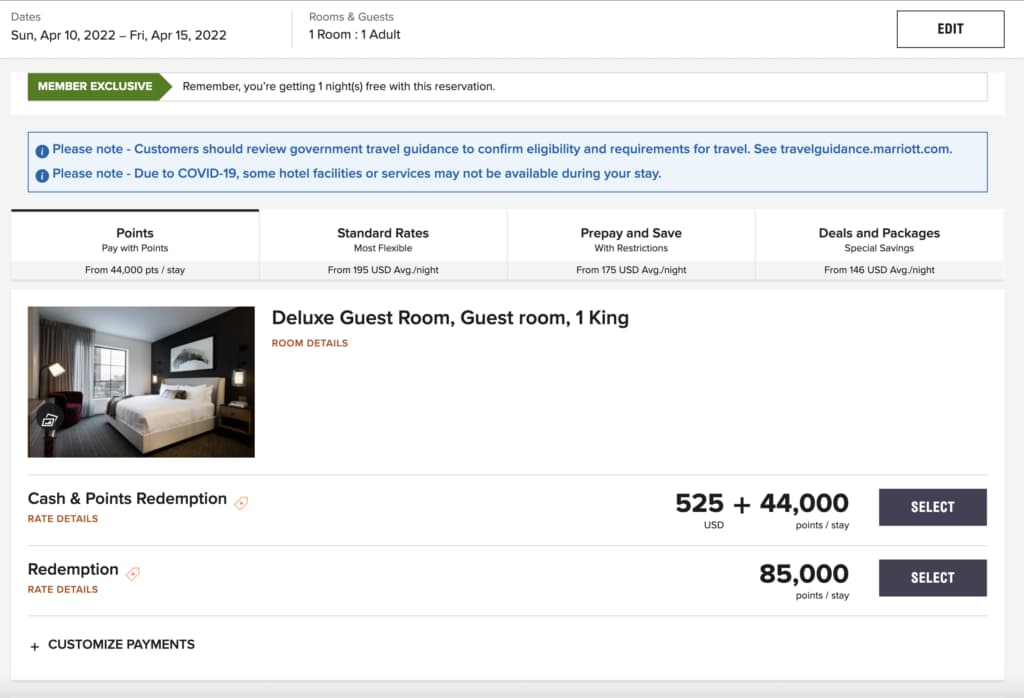 Hilton Honors: 5th Night Free for Elite Status Members
Like Marriott Bonvoy, Hilton Honors will also offer a free fifth night on award bookings. But in order to take advantage of this benefit, you need to hold any level of Hilton Honors elite status. But that's not as difficult as it may sound.
The information for the Hilton Aspire Card has been collected independently by Thrifty Traveler. The card details on this page have not been reviewed or provided by the card issuer.
As is the case with Marriott, you'll get the fifth-night free benefit when you book five or more consecutive nights within the same standard room award rate at the same hotel. Additionally, per Hilton's website, you can use the fifth night free benefit an unlimited amount of times, but you can only get four free nights on one stay. That means 20 nights is the maximum for one stay.
Let's look at an example of how this works.
Since I hold the Hilton Honors Aspire Card, I have Hilton Honors Diamond status. That status makes me eligible for Hilton's fifth night free benefit on award bookings.
In a search for a stay at the historic Hotel Del Coronado in the San Diego California area, standard rooms can be booked for 95,000 points per night. That means a four-night stay would run me 380,000 Hilton Honors points (plus the mandatory resort fee this property charges).
But if I add a fifth night, I would pay the same 380,000 Hilton Honors points for the entire stay.
Intercontinental Hotels Group (IHG): 4th Night Free for Cardholders
IHG does Marriott and Hilton one better: Rather than requiring a stay of at least five nights to get a free night on award bookings, the free night kicks in on a fourth night.
When booking award stays at IHG hotels, you'll have the ability to get your fourth night free when you book a stay of four or more consecutive nights. But there is one requirement: You must hold the IHG® Rewards Premier Credit Card or the no annual fee IHG® Rewards Traveler Credit Card to get this benefit.
Just being an IHG Rewards Club member is not enough to get access to the fourth-night free perk.
Like both Hilton and Marriott, you won't need to pay for the fourth night upfront and later get rebated, the award pricing reflects the fourth night free at checkout. Book four consecutive nights and only pay for three at checkout.
Bottom Line
Marriott, Hilton, and IHG all offer a benefit for a free night when you book a certain amount of consecutive award nights. Both Marriott and Hilton offer a fifth-night free, while IHG offers a fourth night free.
This can be a great way to stretch the value of your hotel points, but there are stipulations you'll need to be aware of for each program.
Lead photo courtesy of Marriott Hotels