World of Hyatt points are easily the most valuable in the world of hotel points. Scoring a free night is much easier with Hyatt thanks to reasonable redemption rates that start at just 5,000 points per night. But Hyatt has another little-known way to score a free night that doesn't require a World of Hyatt Credit Card or a ton of hotel nights to build up a big stash of points.
It's called Hyatt Brand Explorer, and it works like this. Every time you stay at five of Hyatt's individual hotel brands (think Park Hyatt, Andaz, Hyatt Place, Hyatt Centric, Hyatt itself, etc.) you'll earn a free night certificate to use at almost any category 1-4 Hyatt property. 
That's a novel concept among the big box hotel chains. Best of all, there's no time limit on how fast you have to rack up stays in order to earn a free night. And you can earn several of them … as many as five free nights, in fact.
So let's break down everything you need to know about the Hyatt Brand Explorer perk – and how you can take advantage of it.

How the World of Hyatt Brand Explorer Works
The Hyatt Brand Explorer benefit launched back in 2017 when Hyatt rebranded their loyalty program from Hyatt Gold Passport to World of Hyatt program. Yet despite its age, it's gotten little attention.
Here's how it works:
Every time you complete a stay at a Hyatt brand you've never previously stayed with, you'll earn one credit towards a Hyatt Brand Explorer free night. Stays booked directly with Hyatt using cash or points, free night certificates, and even Hyatt points plus cash stays qualify.
Once you stay at five different Hyatt brands, you'll earn a free night certificate that can be used at any Hyatt category 1-4 property within the next 12 months.
But perhaps the best thing about this is that there is no time limit for completing stays with different brands. Once you complete a stay with a new brand, it will be logged in your account.
Want to see where you're at in your Brand Explorer journey log into your account, go into settings, click "my awards" and "Brand Explorer" to see!
Just a year ago, I earned my first Brand Explorer free night certificate … with stays ranging from 2017 all the way through 2021.

Since there are a total of 26 brands in the Hyatt hotels portfolio, you can earn five Hyatt brand explorer certificates over time. In order to do so, you would need to complete a stay at 25 of the 26 different Hyatt brands. First things first: Make sure you're signed up for a World of Hyatt account. And use your Hyatt account to book any hotel stays to make sure they count toward your Brand Explorer count.
Once you earn your free night certificate, you'll have one year to complete your free stay. More on that soon…
Do Award Stays Count Towards Hyatt Brand Explorer Progress?
Yes!
If you book a free award night stay at a Hyatt property with World of Hyatt points, it will count towards your Brand Explorer progress.
In fact, any stay where a World of Hyatt member pays an eligible rate or redeems a free night award counts towards Brand Explorer progress. That means paying cash, using points, making a cash plus points redemption, or even using a free night certificate from a World of Hyatt Credit Card will count.
Generally speaking, nights booked through an online travel agency (OTA) or another third party will not be eligible.
And there's one more caveat to keep in mind: Award stays booked using Hyatt's Guest of Honor program will count for the Hyatt Globalist member who booked the hotel stay – not the guest who actually stays at the property.
Hyatt Hotel Brands
It's getting even easier to rack up hotel stays at Hyatt brands to earn a free night.
Hyatt just added a slew of new all-inclusive properties to its portfolio, resort brands with names like Secrets, Dreams, Zoetry and more – as well as Hyatt's own Ziva and Zilara all-inclusive chains (which count separately towards Hyatt Brand Explorer), of course.
Add in all the usual Hyatt properties from the likes of basic Hyatt Place hotels to top-of-the-line Park Hyatt properties and everything in between, and you've got plenty of options to pick from to work your way towards a free Hyatt Brand Explorer night. Even brands that don't have the Hyatt name in them count, like Andaz, Thompson Hotels, Alila, and more. Hyatt will round out the list to a full 26 this summer with the opening of the very first Caption by Hyatt hotel in Memphis.
The only exceptions are Hyatt's growing number of Small Luxury Hotels of the World (SLH) and MGM, with which Hyatt has a partnership that allows you to book award stays on the Las Vegas Strip using your points. These properties don't count toward your Brand Explorer count. 
But the rest are fair game. Here's the full list of eligible Hyatt Brands:
Alila
Alua
Andaz
Breathless
Caption by Hyatt
Destination by Hyatt
Dreams
Grand Hyatt
Hyatt
Hyatt Centric
Hyatt House
Hyatt Place
Hyatt Regency
Hyatt Residence Club
Hyatt Zilara
Hyatt Ziva
Joie de Vivre
Miraval
Park Hyatt
Secrets
Sunscape
Thompson Hotels
Unbound Collection
UrCove
Vivid
Zoetry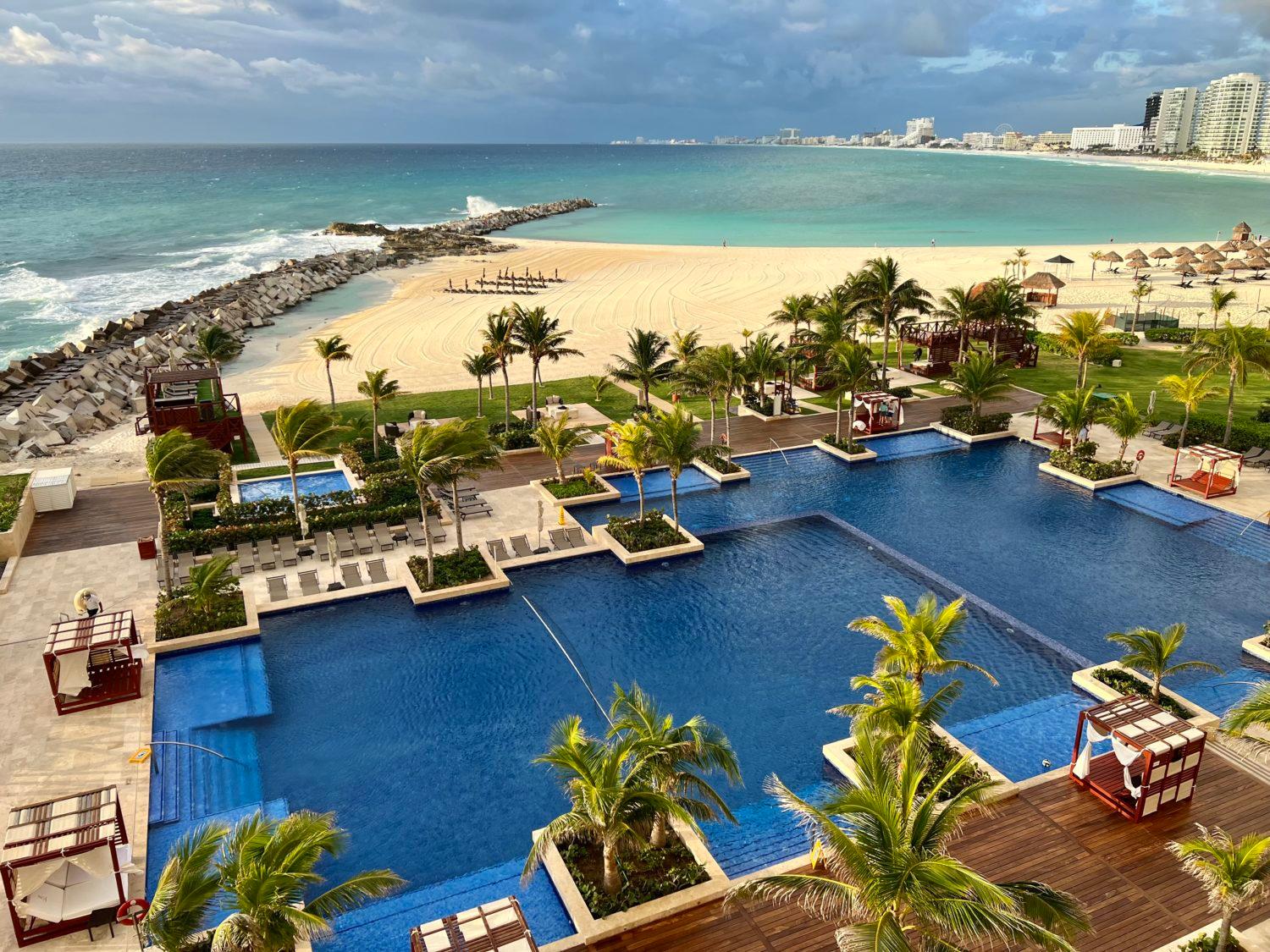 How to Redeem a Hyatt Brand Explorer Free Night
Booking a free night you earned from Hyatt Brand Explorer is easy. It works much the same as redeeming any free night certificate.
In order to use your free night certificate, you'll need to book a category 1-4 hotel – but only during standard or off-peak pricing. With Hyatt's introduction of peak- and off-peak pricing in 2021, that means these certificates will work at properties that cost up to 15,000 points per night. And keep in mind, you can only book properties that have standard award space available. No award space? You won't be able to use it.
Once you've earned your free night through Hyatt Brand Explorer, you've got just 12 months to use it before it expires. And you need to complete that stay before the 12 months is up – not just book something beforehand.
To track your Brand Explorer progress or redeem a certificate, just log into your World of Hyatt online account and head to the "My Account" section under the dropdown of your name. once there, you'll see a box with upcoming reservations, one with past reservations and one with current awards you have available. To see and use your Hyatt free night certificates, head to the "My Awards" tab. If you have earned any free night certificates, they will show up under this tab.

Considering you can book a category 1 to category 4 hotel with this free night, that's a lot of running room to get some good value. Cash rates at some of those properties can easily range from $100 to $400 or more a night. Check Hyatt's website for a full listing of category 1-4 properties.
We've laid out some of our favorite ways to use Hyatt free night certificates, like the Park Hyatt Mendoza for a visit to Argentinian wine country, the Andaz San Diego for a visit to California, the Andaz Savannah on the East Coast, and many more. You shouldn't have a hard time getting $200 or more in value out of your Hyatt Brand Explorer redemption.


Read more: The Best Ways to Use Hyatt Free Night Certificates
How to Earn More Hyatt Free Night Certificates
You can easily go beyond the Hyatt Brand Explorer and keep racking up free night certificates.
For starters, you can earn a category 1-4 free night award each and every year you hold the World of Hyatt Credit Card. With just a $95 annual fee, you'll get a free night certificate each year after your cardmember anniversary. You can even earn a second free night certificate by spending $15,000 each year. Those certificates work exactly the same as with the Brand Explorer perk.
In addition to the free night award certificate, the World of Hyatt card offers a ton of value with automatic Discoverist status and allowing you to earn 9x points on paid Hyatt stays, easily making it worth the annual fee. Make sure to read our full review of the World of Hyatt Credit Card.

Click Here to learn more about the World of Hyatt Credit Card.
Bottom Line
If you often stay at Hyatt hotels (or even if you don't), this Hyatt Brand Explorer is worth keeping track of. It's an easy way to earn a free night: Stay at five new Hyatt brand properties, and you'll earn a free night to use at any category 1-4 Hyatt hotel.
That's a fun and easy way to earn some additional Hyatt free nights. Best of all, there's no time limit to complete those five stays and get a free night. And whether you book with cash, points, or an existing free night certificate, it will count toward your Hyatt Brand Explorer progress.