Some of you might hate me for this, but less than two weeks after submitting my application last month, I was approved for Global Entry.
Global Entry is one of the best travel timesavers to breeze through immigration after returning to the U.S. – plus it gets you through airport security faster as it includes a TSA PreCheck membership, too. But the enrollment process is notorious for being slow. There are years worth of horror stories of taking six-plus months or more to get signed up due to application backlogs, struggles scheduling an in-person interview, and more.
And then there's my story: From start to finish, I got Global Entry in 13 days. But was my speedy signup rare? Or has the Global Entry program finally turned a corner and started processing applications faster?
My Global Entry Story
It started late last month.
I started the process of applying for Global Entry on the afternoon of Wednesday, July 21. The application process itself is fairly simple and straightforward, with personal details as well as information on your travel history. The whole thing takes about 10 minutes.
At the end of the application, I paid the $100 application fee – with a credit card that covers the entire cost of Global Entry. From there, I was directed to a page that told me my application was pending review.

This is the part where many travelers get hung up. To proceed, you need to be conditionally approved by Customs and Border Protection. While it's unpredictable, getting conditional approval on your Global Entry application can take many months.
But less than two days after applying, I received an email alerting me to an "Application Status Change." Sure enough, after clicking through to my account, I had been conditionally approved for Global Entry.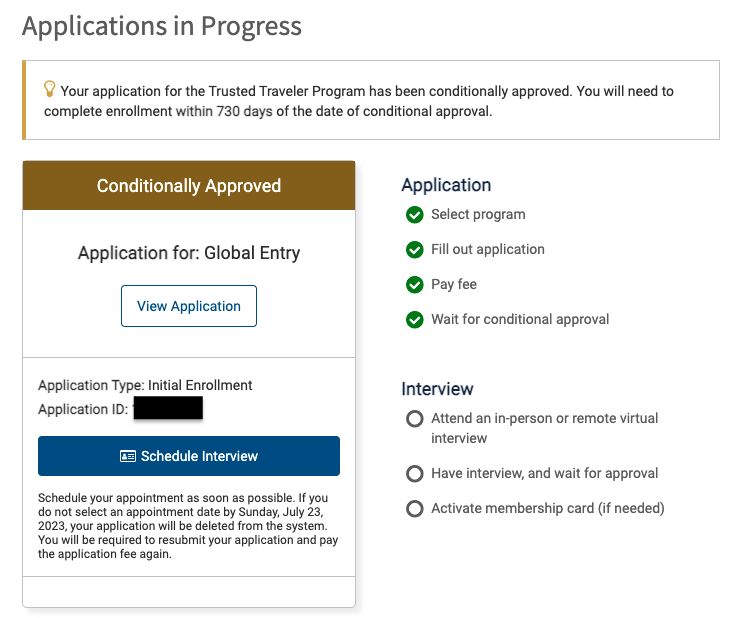 That meant I could schedule my in-person interview at a Global Entry enrollment center – the final step in registering for Global Entry. But finding an open appointment can be another major pain point in the enrollment process, especially for travelers in major U.S. cities where demand is high.
Read more: 5 Tips to Get a Global Entry Appointment Faster
When I checked for available appointments at Minneapolis-St. Paul (MSP) airport, there were openings 10 days in advance, starting Monday, Aug. 2. To secure a better time, I scheduled my appointment for the following day.
My appointment was at 8:15 a.m. Aug. 3 on the baggage claim level of Minneapolis-St. Paul International Airport (MSP). The Global Entry office has a small door near the international arrivals area. About five others were there waiting for their appointments when I arrived that morning.
My name was called at 8:20 a.m. and I was taken into a generic-looking office. The agent took my passport, driver's license, and then fingerprinted both of my hands. He asked me if I had ever been convicted of any crimes or violated any agriculture or immigration laws, took my picture, and then sent me on my way with some paperwork explaining the Global Entry program.
By the time I pulled into my driveway 20 minutes later, I had a new email alerting me to an "Application Status Change." I had been approved.


Exactly one week after that, I received my Global Entry card in the mail. I activated it online and can now use it to enter the U.S. on land borders, too.
Curious about applying for Global Entry? Read our master guide to enrolling in Global Entry!
Is Global Entry Registration Getting Faster?
It won't always be this quick to get Global Entry.
That was particularly true over the last few years, as government issues led to a major backlog. And when the pandemic hit in 2020, Global Entry enrollment centers nationwide shut down for months.
But Customs and Border Protection (CBP) has made a handful of moves in the last year that has streamlined the process, including:
Expanded availability of Global Entry Enrollment on Arrival to 63 airports, allowing travelers to finish registration when returning to the U.S.
They're giving renewing members a full 24-month grace period to continue, taking the pressure off processing those Global Entry renewals
Renewing members also may have the option to interview via Zoom – and some renewing travelers may not need an interview at all.
A CBP spokesperson said they've increased the number of scheduled interviews by 74% in 2021.
After peaking in late 2019 and into 2020, CBP said it had reduced its backlog of pending applications by more than 30% as of early July 2021. The agency is aiming to eliminate that backlog altogether by the end of 2021.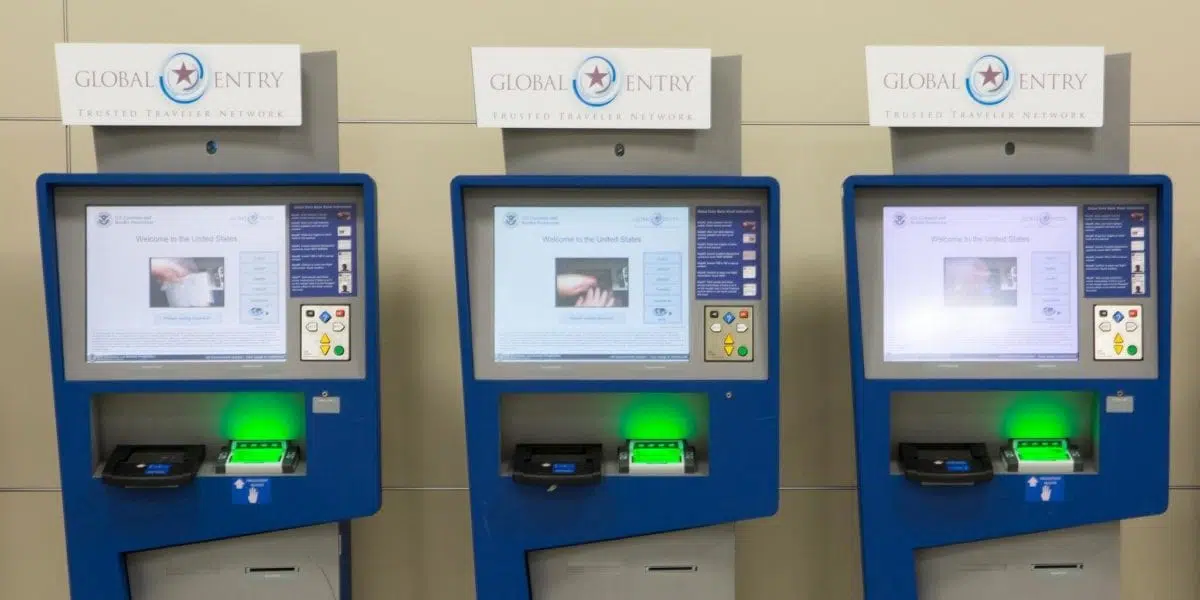 Some of our Thrifty Traveler Premium members have noticed the difference, too. While some said they were left waiting for months for an interview last year when enrollment centers were shut down, a survey of our members found that more than 75% finished their enrollment within three months of applying – or less.
That includes several travelers who applied for Global Entry within the last few months, including two travelers (one from northern Minnesota and another in Los Angeles) who were approved in less than a week.
How to Get Your Global Entry Approved Fast
Here are a few tips for getting your Global Entry approved quickly in 2021.
Don't wait – the cost might go up! My application – and the Thrifty Traveler Premium members who also applied this summer was relatively smooth and quick. Get your application in now, and make an interview appointment as soon as possible. There's another reason: The federal government is working on raising the cost of Global Entry (and other Trusted Traveler Programs) from $100 to $120. Get your foot in the door while it's cheaper!
Be an interview appointment hawk. If your nearest enrollment center says there aren't available appointments until later in the year, don't just take their word for it! Book the next available appointment, whenever that is, as soon as you can, but then check the appointment schedule calendar early every morning to see if cancellations or a new batch of appointments open an earlier window.
Use Enrollment on Arrival. If you are traveling abroad soon, use the EoA program to get an interview without an appointment. As soon as you land, you can interview with a CBP agent that day at the airport. Just make sure you allow for the extra time the interivew will take and if you have to wait for others in front of you.
Be prepared. According to a CBP spokesperson, the most important thing for interviewees is to come prepared. If you don't bring all of your documents and information with you, you will have to make a new appointment and come back later. That misstep could cost you months. At minimum, you'll need to bring a valid passport, another form of ID like a driver's license.
Bottom Line
For years, Global Entry enrollment has gained a reputation for taking months or more. That alone has scared many travelers off from signing up, intsead opting for a much-faster TSA PreCheck process.
My recent success story proves that's not always the case – you can get through faster. Will enrolling in less than two weeks from start to finish will become the norm? That remains to be seen.