Travelers love their credit cards. I mean, what's not to love about an eye-popping welcome bonus, earning. more points on your everyday spending, and big-ticket travel perks like airport lounge access or free TSA PreCheck?
In fact, some of the best travel credit cards are so packed with benefits that many perks get overshadowed by the headliners – maybe even forgotten. From entry-level credit cards that cost $95 a year or less to the top-tier travel credit cards with annual fees of up to $700, there can be a laundry list of perks, big and small. And it's up to you to use them.
Whether you've got your go-to cards in your wallet or are eyeing a new one for additional perks, it's important to make sure you can be responsible with a credit card. Credit card debt is a massive problem in the U.S. – it's not worth paying interest or digging yourself into a hole of debt, no matter how good the benefits are.
Without further ado, let's dive into some of the lesser-known (but wildly valuable) benefits you can use on some of our favorite credit cards.
1. $300 in Annual Travel Credits
Two of the top premium travel credit cards – Chase Sapphire Reserve® and the Capital One Venture X Rewards Credit Card – come with easy-to-use credits of $300 to cover many travel expenses. Using these credits is the key to offsetting the otherwise hefty annual fees on both cards.
The Reserve Card has topped the list of best premium travel credit cards for years. Its $550 annual fee is sizable, but you can easily wipe out more than half that cost with this $300 annual travel credit. It couldn't be easier to use.
Each year, after paying your card's annual fee, you'll get a new $300 travel credit that can be used on anything that Chase codes as travel – airfare, hotels, cruises, Ubers, tolls, parking, you name it. The beauty of this credit is that you don't have to jump through any hoops to take advantage of it. Chase does all the work for you and automatically reimburses you as your travel charges post to the account. Kind of nice, right?
Learn more about the *csr*.
Travel credits like this one are fairly common, but none of the Reserve card's competitors make it so easy to use. That includes the Capital One Venture X Card.
Launched in late 2021 to compete with the likes of Chase and American Express, this is Capital One's premium travel credit card loaded with benefits like lounge access, instant status with Hertz for car rentals, and its own $300 annual travel credit. But the Capital One Venture X $300 travel credit comes with more hoops to jump through: It only works on travel purchases made through the Capital One Travel Portal.
That means, each year, you have to book $300 in flights, hotels, rental cars, cruises, or other travel purchases in order to put this perk to use. On the plus side, you'll still earn 5x miles on flights and 10x miles on rental cars and hotels that you book through the portal using that credit. Use it all up, and you've covered all but $95 of the card's $395 annual fee.
Learn more about the *venture x*.
2. Uncapped Hilton Aspire Free Night Reward
The Hilton Honors American Express Aspire Card is currently the best hotel credit card on the market. End of discussion.
This is one of those too-good-to-be-true cards, with so many valuable benefits that are bound to be stripped away. But for now, it reigns supreme over all other hotel cards. So what's so great about this card that could possibly justify its $450 annual fee? It starts with a whopping 150,000-point welcome offer, instant top-tier Diamond elite status with Hilton, and an annual $250 resort credit. But the real kicker is the free night certificate that you get each year just for holding the card … on almost any Hilton property on the planet.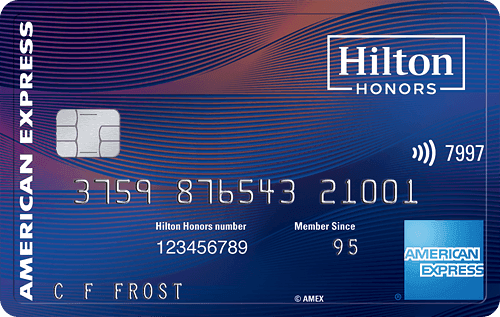 Apply Here for the Hilton Honors Aspire Card (for full disclosure, this is our personal referral link)
Sure, there are a lot of hotel cards out there that offer some sort of free night award as an annual benefit of having the card, but most of those come with limits on where they can be used – typically on lower-priced properties. Not so with the Hilton Aspire's free night certificate: You can use it at almost any property – just a handful of hotels aren't eligible.
That means that you could use your free night at a $100 per night DoubleTree in Denver or the $1,500 per night Conrad Bora Bora Nui and it will work all the same. So long as you can find standard award availability, you can book it with the free night reward that comes with the Hilton Aspire Card.
Plus, you get your free night certificate on the Aspire Card in your first year with the card – typically a few months after opening it. All the other big hotel credit cards make you wait until you renew for a second year to get those certificates.
3. Add Free Authorized Users to Your Capital One Venture X
The Capital One Venture X Rewards Card burst onto the credit card scene in late 2021 and instantly became one of our favorite travel rewards cards. It packs a serious punch with benefits and a 75,000-mile welcome bonus after spending $4,000 in three months, all for a reasonable $395 annual fee.
But there's one sneaky-good benefit that makes this card stand out even more among the other premium travel cards: You can add up to four authorized users to your Venture X card for free and share many of your travel benefits! 
Learn more about the *venture x*.
Other premium cards like the Chase Sapphire Reserve® or the The Platinum Card® from American Express allow you to add authorized users, but they'll charge you at least $75 to do so. Free cards for authorized users only get a watered-down version of the card – and few (if any) of the big travel benefits.
Not with the Venture X. Add your family members or friends to your Venture X Card as authorized users, and they can get their own Priority Pass lounge membership and access to Capital One Lounges, primary rental car coverage, trip delay and cancellation coverage, and even complimentary Hertz President's Circle status.
That's a pretty impressive list of benefits to extend to a friend or family member at no additional cost.
Want more info on the Capital One Venture X? Check this out! 
4. Delta TakeOff15
Delta SkyMiles get a bad rap thanks to the airline's unpredictable dynamic pricing on award tickets and sky-high rates to fly business class. Sure, SkyMiles might be worth less than some of their counterparts … but they're far from worthless!
Case in point: The airline recently launched a new benefit for their Delta SkyMiles American Express credit cardholders to get a 15% discount on SkyMiles award tickets booked through Delta. This is a pretty nice perk that can quite literally save you thousands of SkyMiles per booking. It adds up even faster if you're traveling with others.
In order to take advantage of this benefit, you'll need to hold a Delta SkyMiles® American Express Gold, Platinum, or Reserve card. Either the personal or small business flavors of all three cards will do. If you have the no-annual-fee Delta SkyMiles Blue® American Express Card, you're out of luck, unfortunately.
Putting this to use is as easy as logging into your Delta account, searching for Delta flights, and booking with your SkyMiles. Let's take a look at this flight from Minneapolis-St. Paul (MSP) to Newark (EWR) for early next year.
You'll see that the discounted price is automatically shown and notated with the original price being crossed out below it. Simply choose the cabin you'd like to fly in and the savings will automatically show up on your confirmation page. It's as easy as that!
Related reading: Which Delta Credit Card is Right for You?
5. Free Shipt Membership with All Visa Infinite Cards
Shipt is a same-day delivery service that partners with big box retailers like Target, Costco, CVS, and Walgreens to send you just about anything you could need in as little as an hour. Several of the travel cards you might have in your wallet could get you a free Shipt membership for free same-day deliveries on orders of $35 or more.
Top-of-the-line Visa Infinite cards – like the Capital One Venture X Rewards Credit Card, The Chase Sapphire Reserve®, and others – can get a Shipt membership at no cost from now through the end of 2024! But even other popular travel cards like the Chase Sapphire Preferred® Card can get a few free months of Shipt and ongoing discounts.
This membership typically costs $99 a year, so the savings are substantial.
If you currently have the Venture X or the Chase Sapphire Reserve in your wallet, it makes sense to enroll in this benefit now and take advantage of the free delivery while you can. If you don't intend to use this service long term, just be sure to set a reminder to cancel before your trial runs out at the end of 2024.
Read our full breakdown on this partnership between Shipt and Visa! 
6. Free Museum Visits with Capital One
One of Capital One's newest partnerships flew under the radar, but it could get you into museums around the world for free.
Capital One paired up with The Cultivist to offer cardholders six months of Cultivist's Enthusiast membership, granting you and up to three guests will get free admission and skip-the-line skip-the-line access to many top-tier museums worldwide. It's an impressive list including the Musee D'Orsay in Paris, the Art Institute of Chicago, the Walker Arts Center in Minneapolis, 11 museums in New York City, and many more.
Whether you've got a *cap one venture x*, the regular *cap one venture*, a *cap one savorone*, or any other Capital one card, you can get signed up. Just enroll in The Cultivist Enthusiast level membership and you'll get six months of free membership – a $240 value. But we're warning you now: After your six months are up, you'll automatically be billed $40 per month. You can cancel at any time.
7. Monthly Uber Cash on Your Amex Cards
Consider it your monthly allowance for Uber rides or Uber Eats orders. But you have to use these perks on your Amex card(s) each and every month … or you'll lose it.
Some of the best American Express travel credit cards like the American Express® Gold Card and The Platinum Card® from American Express come with a monthly stipend that can be used for either Uber rides or Uber Eats. Exactly how much you get depends on which card you have:
American Express Gold cardholders get up to $10 a month to put towards any Uber ride or Uber Eats order. That's a total value of up to $120 a year.
American Express Platinum cardholders get $15 a month (and up to $35 in December to finish the year) for a total value of up to $200 each year if you use up all your monthly credits.
You may notice a key phrase in the above bullet points: "Up to $10 a month" and "up to $15 a month". That wording is very intentional: These credits don't rollover at the end of the month. If you have any unused Uber cash in your account, it's gone as soon as the calendar turns.
These monthly credits are just part of what makes the American Express Gold Card one of our favorite travel rewards cards. Right now, you can earn at least 60,000 American Express Membership Rewards points after spending $6,000 in the first six months. But you can do even better: Be sure to check if you're eligible for a 75,000-point offer via CardMatch.
Learn more about the *amex gold*
8. Free Meals at Airport Restaurants with the Chase Sapphire Reserve
The list of top travel cards that offer Priority Pass memberships – getting you into 1,200-plus airport lounges around the world – is long. But one card stands out: The Chase Sapphire Reserve®.
Only the Chase Sapphire Reserve's Priority Pass memberships also gets you into non-lounge options, and that includes Priority Pass restaurants. At dozens of airports in the U.S. and abroad, you can use your Priority Pass card from your Chase Sapphire Reserve to get comped up to $28 or $30 at select restaurants. You can get an identical credit for one guest, too.
Both American Express and Capital One offer credit cards that come with a Priority Pass membership, too. But both banks have taken away access to Priority Pass Restaurants in recent years – including Capital One to kick off 2023.
9. More American Express Platinum Credits
There's a running joke that The Platinum Card® from American Express is really just a giant coupon book. But really, it's no joke: The list of credits is long, maybe borderline annoying to use.
We've already covered some here, but a few more are worth bringing into focus to make sure you squeeze every dime you can out of your Platinum Card:
$155 Walmart+ Credit: Use your Platinum Card to pay your monthly Walmart+ membership and receive a statement to cover the cost in full ($12.95 a month + applicable tax)
$240 Digital Entertainment Credit: Get up to $20 in statement credits each month when you use your Platinum Card for purchases on, SiriusXM, Peacock, the New York Times, Disney+, The Disney Bundle, ESPN+, Hulu, or the Wall Street Journal
$100 Saks Fifth Avenue Credit: Get up to $50 in statement credits, twice per year (January – June and July – December), for purchases at Saks Fifth Avenue or saks.com
That's up to $495 a year in credits, and that's not even half of what the Platinum Card offers. You can also receive up to $200 each year in statement credits for incidental airline fees (check out our guide on how to maximize Amex airline fee credits) as well as a $200 hotel credit for prepaid bookings made through Fine Hotels and Resorts or the Hotel Collection – though the Hotel Collection requires at least a two-night stay.
Learn more about *amex platinum*.
10. Rebates When Earning & Redeeming Points
If you're reading this story, you probably like earning more points. Several top credit cards offer cardholders a rebate when earning or redeeming points over the course of the year – and one gives you a little bonus just as a thank you.
If you have a Chase Sapphire Preferred® Card, you'll receive a 10% anniversary points bonus on all the points you earned over the year through spending – at a rate of 1 point per $1 spent. That means if you spent $25,000 on your Sapphire Preferred card, you'll get an additional 2,500 Chase Ultimate Rewards when you renew your card for another year. This rebate likely won't be a life-changing amount of points, but it's certainly a nice benefit on an already well-rounded travel card.
On the other side, you can get a 10% rebate on points redeemed when you have the Citi Rewards+ Card in your wallet. This "10% Points Back" benefit is eligible on up to 100,000 points redeemed, so at most you'd be looking at a 10,000 point rebate in a given year. It's not a huge sum of points but it's still a really nice benefit to have – especially on a no-annual fee card.
Finally, the Capital One Venture X Rewards Credit Card offers cardholders 10,000-bonus Venture Miles each year upon renewal. Since Venture Miles can be transferred to travel partners or used to offset travel expenses charged to your card, this anniversary bonus is worth a bare minimum of $100 every year. Add that on to the annual $300 travel credit and it's almost as if Capital One is paying you to have this card!
In every case, there's nothing you need to do to take advantage of these perks – the banks will do it for you automatically. Isn't that nice?
Read more about our favorite card for beginners: The Chase Sapphire Preferred® Card!
Bottom Line
With so many travel rewards credit card on the market, it's impossible to know all the benefits that each card offers. There are many benefits that have become standard across the industry and those get the majority of our attention.
This list of unique card benefits is certainly not all encompassing, but it's a good representation of what you can find when you dig below the surface.