Top credit cards from American Express are great for earning points and redeeming them for trips for next-to-nothing out of pocket. But they can also save you money on your everyday shopping and spending with the Amex Offers program.
With Amex Offers, American Express has made it practically effortless for cardholders to get money (or extra points) back on everyday purchases with select retailers on dining, shopping, entertainment and more. Add one to your Amex card, make an eligible purchase, and get something back – it's that easy.
These exclusive offers are available on almost any Amex card, whether it's a Membership Rewards card, a Delta SkyMiles co-branded card, a no-annual fee Hilton card, and more. And with premium cards like *amex platinum* or the *amex gold*, these money-saving offers are key to offset otherwise hefty annual fees.
Read on for everything you need to know about using Amex Offers to help you save money.
In the market for a new credit card? Check out our best credit card offers of the month page for all the top options! 
What are Amex Offers?
If you're unfamiliar with Amex Offers, you can think of them as a sort of digital coupon or rebate that you get when using your American Express card for purchases.
These offers provide a way to get additional value out of your American Express cards and can even help you justify paying a card's annual fee – no matter how scary that may be. In fact, to remind you just how valuable these Amex Offers can be, American Express has a dedicated "Savings" tab on its Amex Offers page, which shows you how much you've saved using the offers on each Amex card.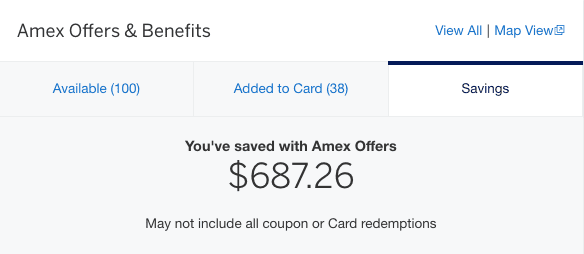 In my case, I've saved nearly $700 over the past five years through the Amex Offers program. And since I didn't go out of my way to use these offers or buy anything that I didn't plan to anyway, this is a real cash savings that helps me offset my card's annual fee and further adds to all the other great benefits that I get.
If you have an American Express card in your wallet and haven't used an Amex Offer before, you'll find all of your available offers when logged into your account on both the desktop version of the site and the mobile app.
If you see an offer that you're likely to use, be sure to add it to your card, and as long as you meet the offer terms, you'll get money or points back after making your purchase.
How to Use Amex Offers
In order to get started with Amex Offers, you'll first need to check your various American Express cards to see which offers are available to you. You can do this when logged into your Amex account on either the desktop version of the site or the mobile app.
If you're using the desktop version of the American Express website, you'll find Amex Offers about halfway down the homepage. Here, you can view all the Amex Offers that are currently available, see which ones you've already added to your card, and even review your lifetime savings with the Amex Offers program.
Just remember that if you have multiple Amex cards, you'll need to toggle through them all, as the offers will be different for each card.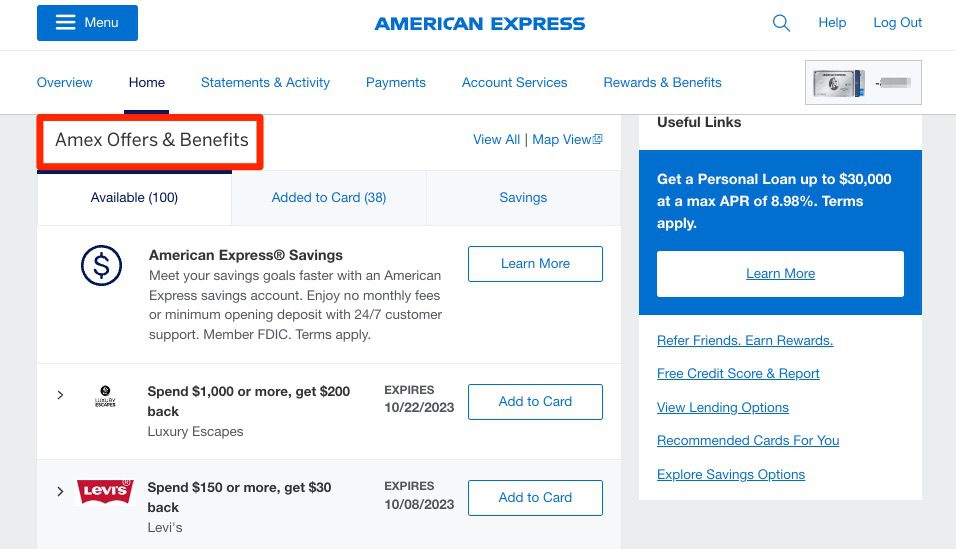 Not seeing an Amex Offer you want? Amex displays a maximum of 100 offers at a time, so try adding a handful to your card, logging out, then logging back in to see if you get some new ones!
On the mobile app, there is a tab at the bottom that says "Offers" – that's where you'll find all the available offers for a specific card. But it also includes a handy button for exploring "Nearby Offers," which can be especially useful because it will use your location data to make offers available to you that you wouldn't normally be targeted for on the main offers page. If you're in a new city or just a different part of town, it can be a good idea to check these nearby offers from time-to-time to see what kind of savings are available.

After perusing all the available offers for a given card, simply click "Add to Card" in order to ensure that your purchase with that merchant tracks correctly and that you get credit for the offer. If you add an offer to your card after making a purchase – even if it's the same day – it won't work. In that case, you'd need to cancel or return your order and then repurchase it in order to get the offer applied correctly.

In many cases, Amex Offers are targeted. That means one cardholder may see an offer like the Cole Haan discount above while another traveler with the exact same card may see a different offer – or nothing at all. Exactly who gets targeted for which Amex Offers is based upon which card you have, your spending patterns, and other factors that can be mysterious.
It's also worth noting that all Amex Offers have an expiration date, so you'll need to be sure to complete your purchase before the offer expires. It's a good idea to give yourself a little bit of leeway in case the transaction takes time to post – especially with online purchases, as some merchants won't actually charge your card until the item ships.
Different Types of Amex Offers
The different types of Amex Offers that you'll see will depend on which card – or cards – you have.
We often see brand-specific offers targeted to those with a corresponding co-branded credit card, like the family of Delta, Hilton, or Marriott cards. Meanwhile, those with a Membership Rewards card like the *amex green* are more likely to see general travel, dining, and shopping offers.
Most offers usually work like this: Spend X amount at Y retailer and receive Z amount back as a statement credit.
For example, check out this recent Amex offer for Turo, the Airbnb of cars. In this case, Amex is offering me a $30 statement credit if I spend $150 or more with Turo.

So long as I add this offer to my card and then use that card to make a purchase of $150 or more with Turo before the expiration date, I should get a statement credit for $30. So if I make a $150 reservation, it really costs me $120 after this offer kicks in.
Sometimes, though, you'll earn bonus points or miles instead of a monetary statement credit. This can be great, especially if your card earns powerful American Express Membership Rewards: It means you'll get more points that you can transfer to any of Amex's stable of travel partners and get even more value out of the offer.

Other Amex Offers will reward you with some bonus points for every dollar you spend at specific retailers – often up to a certain limit. It's quite common to see this type of offer for Amazon, as well as other big retailers like Best Buy and Dell.
That means that it's a good idea to always check your Amex Offers before you clean out your shopping cart to ensure you're not leaving any extra points on the table.

Thrifty Tip: Amazon and American Express regularly team up for promos that unlock huge savings when using Amex Membership Rewards points toward a purchase. The discount will vary but if you're targeted for one of these offers, the additional savings can be huge!
Lastly, you'll occasionally see an offer to earn a percentage of your purchase price back as a statement – not just a specific dollar amount. In our experience, these kinds of offers are commonly available on American Express business cards. Just like any other Amex Offer, exactly how big of a percentage you'll get back varies … but sometimes, it can be quite significant like this offer for 45% back on shipping charges at FedEx.
No matter which type of offer your American Express cards are targeted for, they can be a great way to save money or earn additional points. It's a good idea to add them to your card if you think there's even a slight chance that you'll be able to put them to use – especially as many will disappear as soon as a certain amount of cardholders have done so.
Plus, since Amex limits each card to 100 available offers at a time, periodically adding offers is a good way to refresh the list of what's available to you.
Maximizing Amex Offers
Over the years we've seen (and written about) some pretty incredible Amex offers.
Some offers seem to be fairly routine and come around a few times per year, like this one for $120 back on Marriott stays or a slew of regular offers to save on Hilton stays. But others can be elusive, like this recent offer to save $75 or even $150 on Delta flights.

No matter the offer, it's important to make sure that you're not going out of your way to use it or spending money that you wouldn't otherwise. In fact, that's exactly what Amex and these merchants are hoping for you to do. Don't let them win.
The key to maximizing Amex offers is to identify the ones that fit in with your regular spending. In some cases, this may even mean pre-paying for an expense that will be coming down the road.
If you get targeted for an offer like this one for Hilton Hotels but don't have a stay planned within the offer's expiration date, you might assume you're out of luck. However, if you have a reservation for later in the year, you can shift that future expense to the present by calling the hotel and pre-paying for your stay. If your plans change and you end up cancelling your reservation, you'll get your money back from the hotel – and in some cases, you'll still keep the credit from the Amex offer.
Thrifty Tip: If you're using one of these offers for an online purchase, be sure to stack your savings by first clicking through a shopping portal like Rakuten.
Another way to maximize your savings with Amex Offers is to consider splitting up a large purchase into two payments. Since you can only use an Amex Offer on one card (even if you have multiple Amex cards), this won't work on your own – you'll need to get help from a spouse or other loved one. But in the case that you and your loved one are both targeted for the same offer, it's entirely reasonable to split a purchase up between two different cards and in turn, get two separate statement credits from American Express.
At the end of the day, there are lots of ways to use these Amex Offers to save money. And even though some of them require you to think outside of the box, they can be extremely valuable and add to the long list of benefits that come with carrying an Amex card.
Bottom Line
American Express travel credit cards can come with a ton of benefits, but being able to take advantage of Amex Offers is an underrated perk. Do it right, and they can be  free money for spending that you were already planning to do.
Using these offers is also another way to justify the cost of your credit card's annual fee. Just be sure to check your various American Express credit cards regularly because each one can have different offers and they're always changing.