One of our favorite perks of holding an American Express credit card is the Amex Offers benefit. Many cardholders don't realize the savings they can realize by taking advantage of Amex Offers. They represent another way we justify the annual fee associated with many American Express cards.
In this post, we will outline what Amex Offers are and how you can take advantage of them.
What Are Amex Offers? 
Amex Offers are deals on dining, shopping, entertainment, and more that are exclusive to American Express cardholders. If you see an offer you like in your account, simply add the offer to the card and make a qualifying purchase at that business. You should receive a statement credit for the offer within a few days of making a purchase. Be sure to use the deal within the terms and conditions and prior to the expiration date. We have included a few example Amex Offers below:


Thrifty Tip: Many offers are targeted offers. Make sure to check all of your Amex cards If you don't see a promo or Amex Offer that has been featured on Thrifty Traveler. Also, be sure to check your Amex Offers frequently as some offers have limited quantities available and are always changing.
Find Amex Offers from the Desktop Website
Navigating the American Express website from a computer is fairly easy when searching for Amex offers. Be sure to select the card you want to search for offers with and then scroll down on the home screen for your card. Otherwise, you can visit the benefits page and search for offers there as well.
Still having trouble finding your Amex Offers? Login to the American Express website and then visit this link to see what offers are available to you.
Adding Amex Offers from the American Express Mobile App 
Use the Amex Mobile App to find more deals. In some cases, deals may only be available via the mobile application. This free Amex mobile app is available on the Google Play and App Store.
It is even easier to find Amex Offers in the app as there is a dedicated icon on the bottom of the screen. Click on the "Offers" icon and it will show you all the available offers for your selected card.
Found an offer you'd like to use? Select the offer as it will show the full details and give you the option to add the offer to your card. Remember to check each of your cards offers in the app as it only shows the offers for one card at a time (just like the desktop site/website).
Use Twitter to Find Other American Express Offers 
American Express features Amex Offers on their Twitter account that you can take advantage of as an Amex cardholder. In order to use some of these offers, you will need to make sure to link your Twitter account to your Amex credit card. Once you link the card, you can start finding and adding deals from Twitter.
Amex features current offers on their "Likes" tab of the Twitter account, @americanexpress. Once you find a deal you like, either click the link that they show or tweet the hashtag they are promoting. If you tweet the hashtag, Amex will tweet you back once the deal has been added.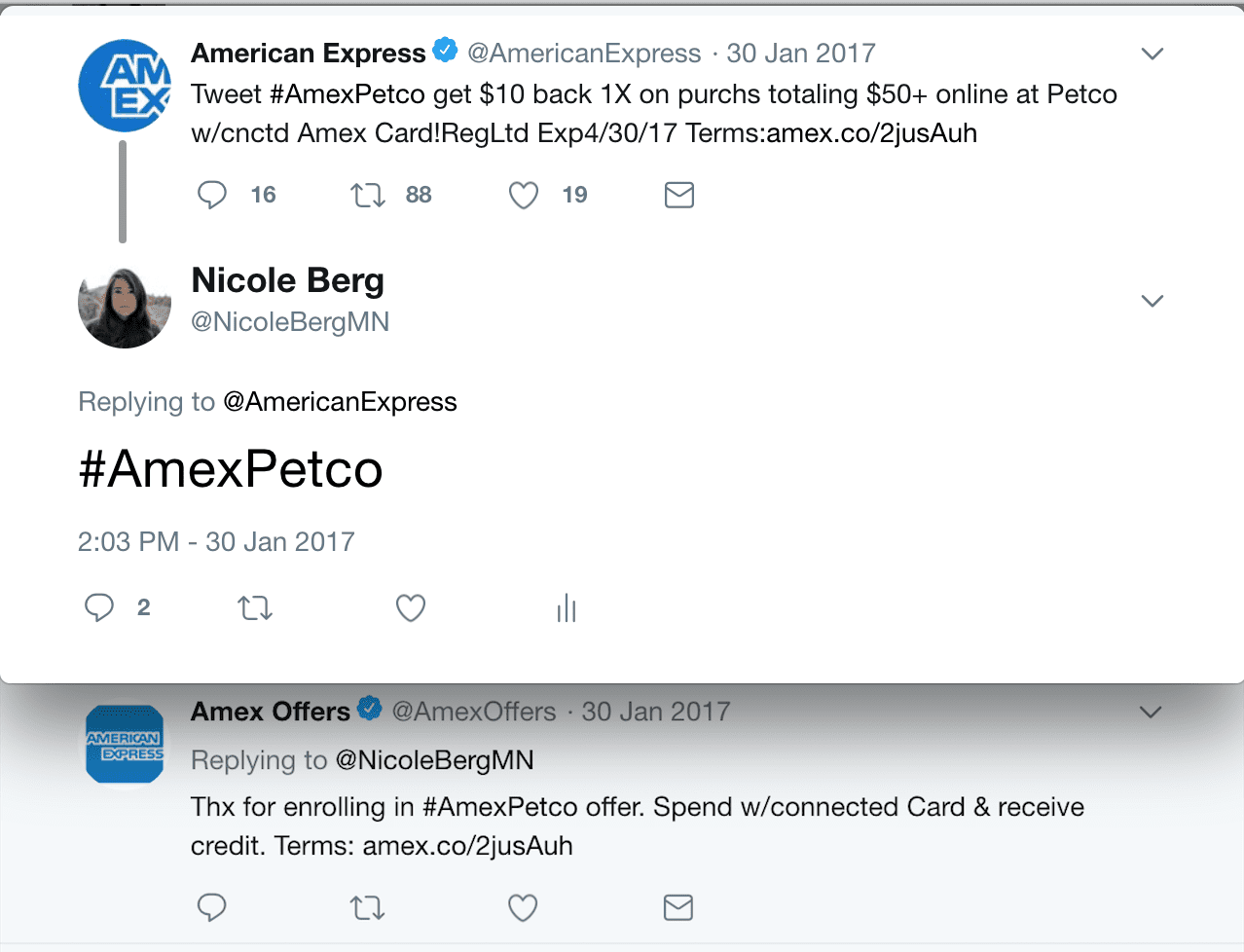 Bottom Line
There are many benefits associated with American Express cards. A great way to save money and get additional value out of your annual fees is to use Amex Offers on purchases. You never know when you may find a benefit that saves you money on something you were already planning on purchasing.