Have an American Express Membership Rewards card like The Platinum Card® from American Express or the American Express® Gold Card? There's a new Amex Offer that could help you save big on an upcoming Delta flight: Spend $300 or more with Delta, and you'll get $75 right back. 
Delta and Amex team up for money-saving offers like these every now and again, but they're highly targeted. Just because you've got an Amex Card doesn't mean you'll see this one in your account – in fact, Delta seems to have gotten much stingier with how many cardholders may be eligible for their Amex Offers in the last year.
But, it's worth logging into your Amex account online or on mobile to see if you've got this offer (or a similar one). If you do, add it to your card ASAP – these Delta offers often disappear quickly. 

If you haven't used Amex Offers before, think of them as digital coupons exclusively for Amex cardholders for purchases like airfare or hotels as well as dining, entertainment, or everyday shopping. Add this one to your Amex card, use that card to book an eligible Delta flight, and Amex will give you money right back for the discount within a few days as a statement credit on your account.
If you've got this one, just add it to your American Express card, then use it to make your purchase with Delta by June 30. You don't need to spend $300 in one fell swoop – just spend that amount with Delta before the deadline and the statement credit will kick in automatically. And you don't need to travel before that deadline – just book your flights or make some other Delta purchase beforehand. The terms simply require that a flight must originate in the U.S. to be eligible for this offer.
There are some other Delta Amex Offers floating around to save even more on bigger purchases, though they come with extra strings attached like requiring specific origin or destination airports or booking through Amextravel.com.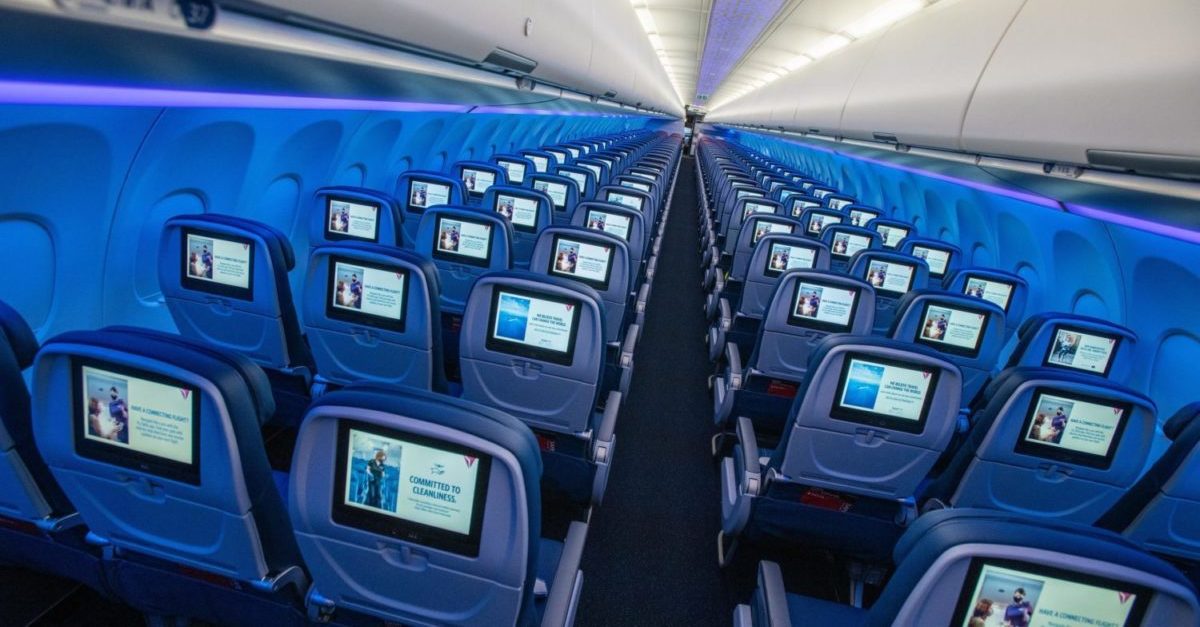 Can't See This Amex Offer?
Many Amex cardholders aren't being targeted for any of these offers, period. No one on the Thrifty Traveler team has had any of these Delta Amex Offers available. And it's unlikely that co-branded Delta credit cards like the Delta SkyMiles® Gold American Express Card or the Delta SkyMiles® Platinum American Express Card will have these offers, either.
It's hard to say for sure, but it's possible that Delta and Amex are only targeting cardholders who rarely, if ever, fly Delta with these money-saving offers as a way to entice them to book with the airline. We surveyed our Thrifty Traveler Premium members-only Facebook group and one of the few travelers who could add this offer rarely flies Delta. Other regular Delta flyers (ourselves included) couldn't find it.
But if you're one of the lucky ones, you've got until June 30 to spend and earn the credit. But you'll want to add and use this Amex Offer to your card as soon as you see it – these offers can disappear fast.
Where to Find Amex Offers
If you haven't used Amex Offers before, simply log into your American Express account and scroll down near the bottom of the screen and there should be a box called Amex Offers & Benefits. It's available through the Amex mobile app as well.
If you see an offer you like, simply add the offer to the card and make a qualifying purchase at that business with your card. In this case, you'll need to book directly with Delta for the cashback credits to kick in.
You should receive a statement credit for the offer within a few days of making a purchase, though in some cases it can take several weeks. And keep in mind you don't need to hit the spending threshold in one shot – you can spread it out over several transactions.
Not familiar with Amex Offers? See our complete guide to using Amex Offers.
Bottom Line
This is a fantastic Amex Offer to save on upcoming Delta flights, getting $75 on a purchase of $300 or more with Delta.
Unfortunately, it seems this latest Delta Amex offer is highly targeted. It seems your best bet to hop on this deal may be if you're an infrequent Delta flyer.
Just make sure to check, add this Amex offer ASAP if you've got it, and book travel with Delta by June 30 to put it to use.