Chase has some of the best travel rewards credit cards out there, and the Ultimate Rewards points they earn can help unlock a lot of travel.
But one area Chase had lagged behind American Express was with Amex Offers – digital coupons that allow you to save money (or earn bonus points) when making purchases at select retailers or travel companies.
Chase rolled out its answer in 2019: Chase Offers. Just as with Amex, these are digital coupons you can add to your account(s) to save at select stores. Chase is constantly adding and subtracting these offers to different cards, making it an easy way to further justify the annual fee you pay on cards like the Chase Sapphire Preferred Card or Chase Sapphire Reserve.
We'll outline exactly how they work and how you can take advantage of them.
What Are Chase Offers? 
Chase Offers are deals on dining, shopping, entertainment, and other purchases that are exclusive to Chase cardholders. Here are a few examples of the offers you might find in your account.
To date, Chase hasn't offered many offers that give cardholders bonus Chase Ultimate Rewards points rather than cashback – if any. It's one area where Chase still lags behind Amex, as Amex Offers can be an easy way to earn more points.
Thrifty Tip: Many offers are targeted, so not every cardholder – or even every card – will be eligible for the exact same offers. Make sure to check all of your Chase cards if you don't see a specific offer.
How to Use Chase Offers
First sign in to the Chase Mobile app, chase.com, or the Chase Pay app and navigate to the Chase Offer page. You can then browse all of the currently available offers. If you see an offer you like, activate it by simply clicking you can activate it by clicking "add to card" or the small plus button.
Using the offer is simple: Just make a purchase at that store or site with your Chase card. Just make sure to use the offer within the terms and conditions, and before it expires.
Once you've made your eligible purchase, you'll receive an automatic statement credit within a few business days.
Thrifty Tip: Be sure to check your offers frequently, as they're constantly changing and some offers have limited quantities available.
How to Find and Track Offers from the Desktop Website
To find the offers from a desktop computer, simply head to the offers page and log in to your Chase account. From there, scroll down to the bottom of the screen underneath your Chase cards and you will see the dashboard.
As you can see, this Chase Sapphire Reserve card has 45 available offers. You can click the "See all offers" link to expand the view and check offers on other cards if you have more than one Chase card.
From this view, you can see your total savings earned to date, offers you have redeemed, and any offers that have recently expired before you were able to use them.

How to Find and Track Offers from the Chase Mobile App
You can also find the offers via the Chase mobile app. Simply log in to your account and scroll to the very bottom of the screen. Here you will see the same offers section with your available offers.
Again you can click the "See all offers" link and be taken to a screen with an expanded view of the offers available on each of your Chase card accounts.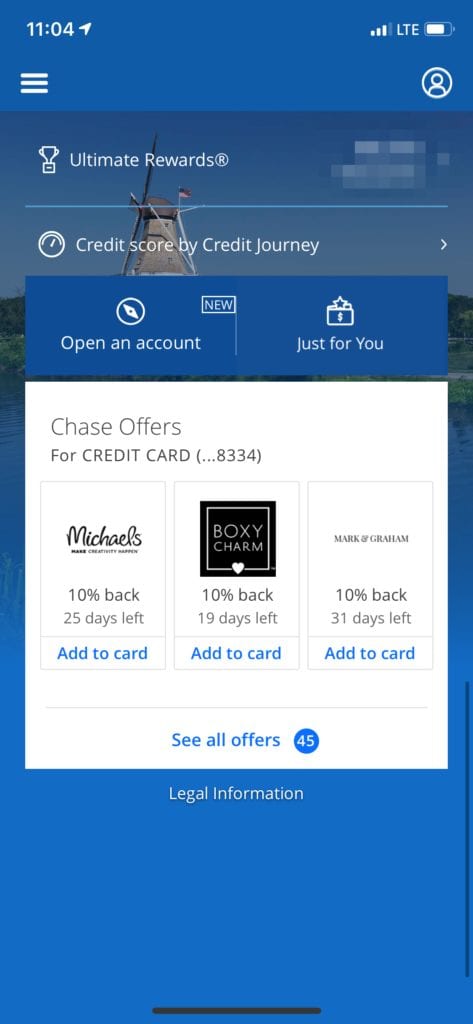 Thrifty Tip: Learn how to save a bit more money by reading this guide on 100 easy wasy to save on auto insurance.
Our Analysis
Chase offers are great. It's an easy way to earn some money back on spending you're already doing on your Chase cards.
But more than a year after Chase offers rolled out, Amex offers remain far more lucrative.
First and foremost, we still haven't seen a Chase Offer allowing cardholders to earn additional Ultimate Rewards points for their spending. If you hold an American Express card that earns their valuable Membership Rewards points, you will often be targeted for offers allowing you to earn points as opposed to a statement credit.

That said, there's no reason not to add a Chase Offer to your account if it fits your spending plans.
Bottom Line
Chase travel cards are popular for a reason – they can be insanely valuable. And Chase Offers just add to that mix, allowing you to save a bit more money and further justify the cost of your annual fee.
Just be sure to check these offers regularly – they're constantly changing.