These days, almost every airline will nickel and dime you for every little thing from checked bags to choosing a seat to boarding the plane early. But what happens to those extra costs if you need to change or cancel a flight?
Fortunately, major U.S. airlines have done away with change fees, allowing travelers to change flights without penalty or cancel flights for a voucher or credit. They also sell fully refundable fares, allowing travelers to get their money back instead – for a much higher price that we feel is rarely worth it. And if you booked with miles, you can often get those miles back for free when you cancel.
But that's all just for the airfare, not the add-ons. No matter what you book or how, not every part of your flight is refundable. 
Each airline is different, and it can be incredibly confusing to understand what you should be able to get back from the airline – and time-consuming to actually get those fees back, in some cases. You've got to read through the fine print to understand what you're entitled to.
Lucky you, we did it for you. Read on for a breakdown of what is (and isn't) refundable with your flight.
Can You Get a Refund for Baggage Fees?
American
In most instances, any checked bag fees you paid are nonrefundable if you cancel your trip, according to American's website. If you buy or get an upgrade that comes with free checked bags, you'll also forfeit any money you already paid to check that luggage.
It's also worth noting that if you pre-paid for checked bags and then ended up just bringing a carry-on, you won't be able to refund those baggage fees either.


Delta
Delta offers more flexibility than others when it comes to refunding baggage fees.
If you cancel your flight, any baggage fees you already paid will be refunded. And not just as a Delta eCredit, either – you'll get that money back to your original form of payment. It's not explicitly spelled out anywhere on the airline's website that we could find, but multiple Delta representatives confirmed it to Thrifty Traveler.
But it's not automatic: You'll have to do a little bit of legwork to get your bag fees back. You can call Delta to request that any baggage fees be refunded or you can message a representative through Delta.com or the Fly Delta app.
It's also worth noting that if you pay for a checked bag but end up just bringing a carry-on bag, you should be able to request a refund if you have already been charged.

United
Most baggage fees you pay for on United are nonrefundable, according to United's contract of carriage.


However, United also tries to upsell economy passengers on bundles with seat assignments, bags, and other perks. United says bundles are nonrefundable if you change your mind about needing these extras for your trip. But if you wind up canceling or changing your trip – or you get upgraded – you'll most likely be able to get a refund for the price of some or all of the bundle you paid for.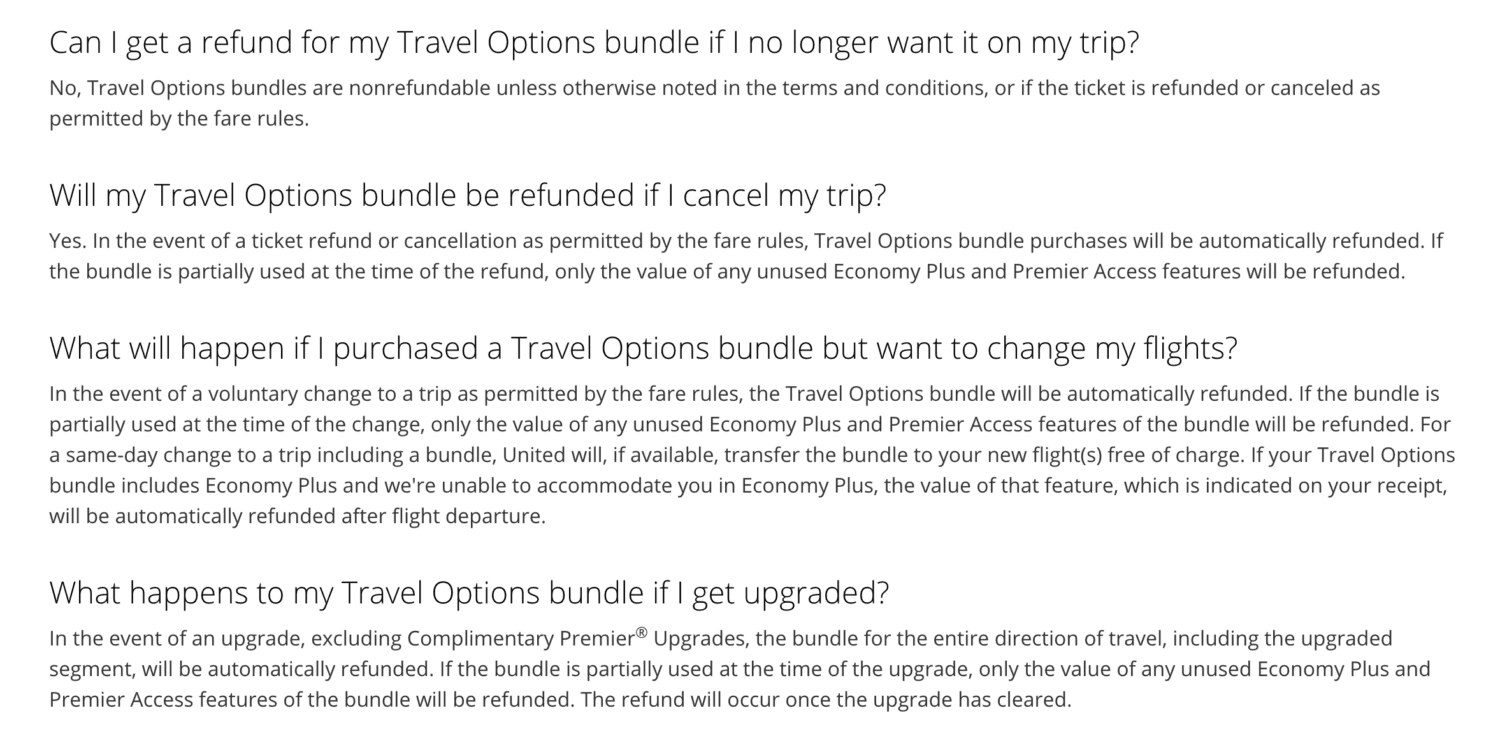 United has a handy page on its website that spells out what you will and won't get a refund for, although there's room for some nuance. Our advice? If you think you're eligible for a refund for any add-ons you paid for like checked bag fees, submit the claim and see whether United gives you any of your money back.
Paid Upgrades
Delta
If you paid to upgrade to Delta Comfort Plus, Delta Premium Select, Delta One business class, or first class and you cancel your flight, you can get a Delta eCredit for the value of your paid upgrade so long as you cancel more than 24 hours before your flight is scheduled to take off. This doesn't change whether you booked your original ticket with SkyMiles and upgraded with cash – you're still eligible for a refund in the form of at least an eCredit.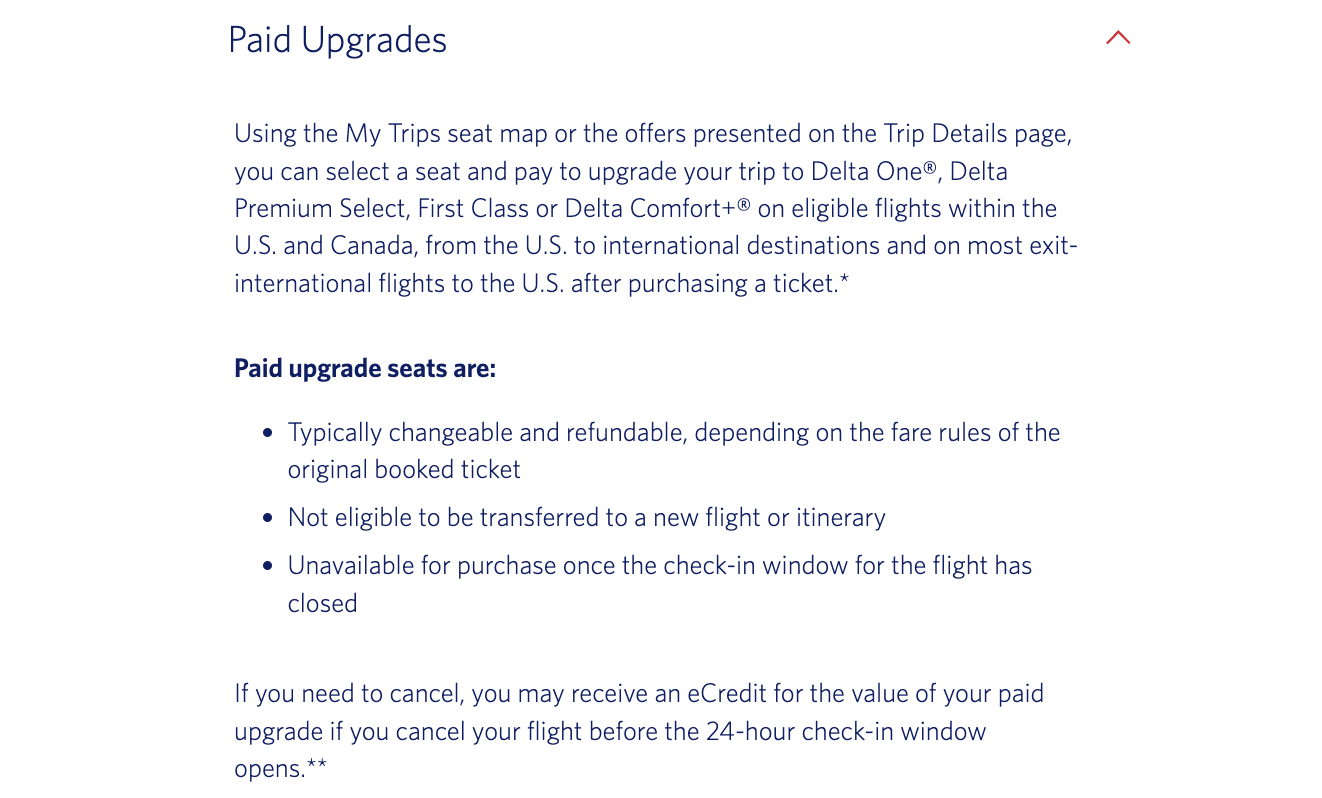 What if you used your Delta SkyMiles to upgrade your seat? In that case, if you change your flight or cancel it before the check-in window opens, those miles will be redeposited into your account.

United
If you purchase an upgrade during check-in or on the day of your flight, those fees are nonrefundable, according to United's contract of carriage. So if you voluntarily change or cancel your flight, not only will you lose the upgrade, but you won't be able to recoup the costs either.
The airline also spells this out under the terms and conditions when you're purchasing the upgrade.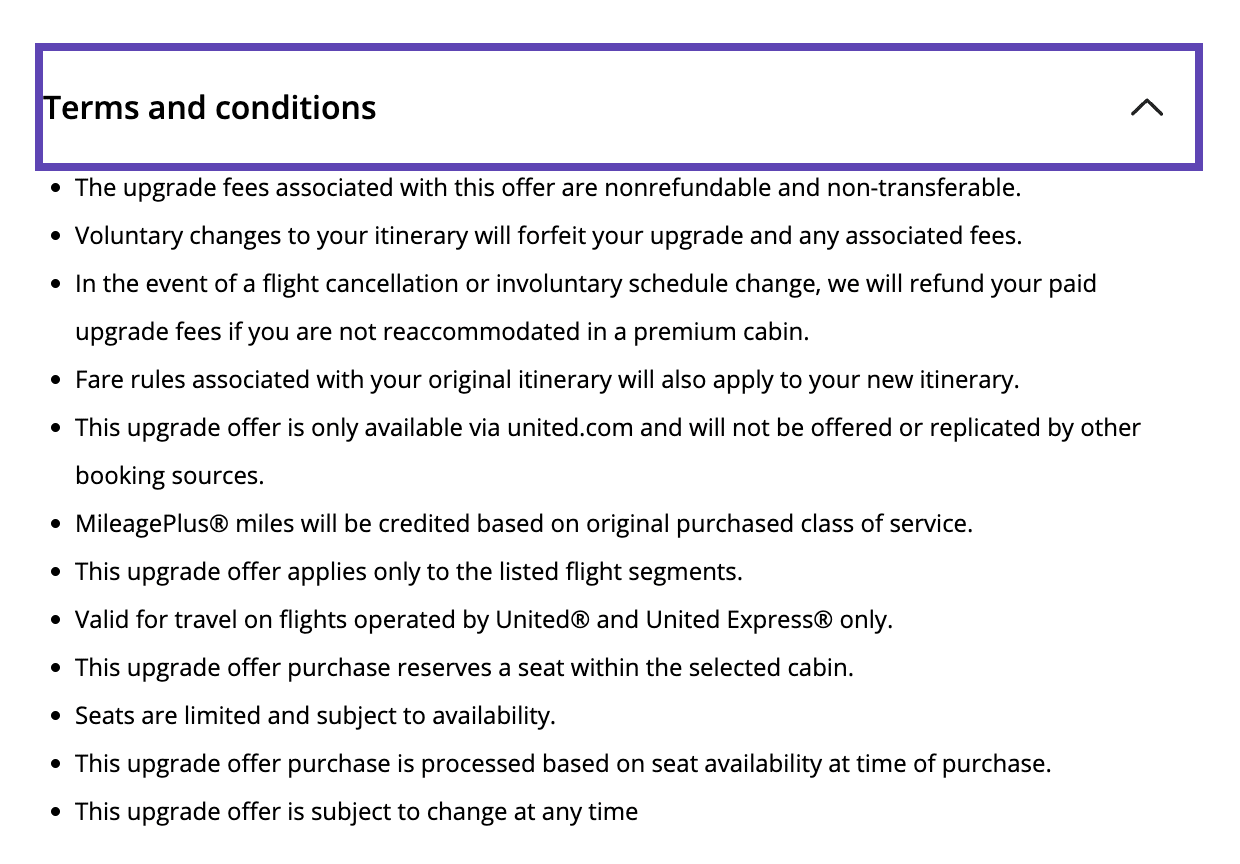 The exception, of course, is if the airline cancels or changes your flight. If you can't be accommodated in the same seat class you purchased, the airline will refund you for the upgrade fee – but again, you have to request it yourself.
If you used United Mileage miles to upgrade your flight, they'll be reinstated in the event that you cancel your flight or your upgrade, although you may be charged a small fee.

American
You won't always see the option to upgrade in advance on American, but if you do, those fees likely won't be refunded if you change or cancel your flight, according to the airline's website. However, many reports indicate that you may be able to get a refund if you request it, so it's probably worth calling or submitting a refund request online and seeing how far that gets you.
If you upgraded with AAdvantage miles, you can get those miles refunded back to your account if you cancel your flight – although you'll have to call to do so.

Southwest
Southwest doesn't have business or first class, but they do sell what they call Business Select fares with additional perks albeit no designated seats. You can upgrade to Business Select from even the cheapest Wanna Get Away fares. More often than not it'll end up being double the price of your original ticket.

The trade-off, though, is that Business Select fares are fully refundable. That means you'll get refunded the full value of your ticket to your original form of payment – not just a flight credit.

What About Delta Companion Certificates?
Delta offers a benefit to select cardholders that you won't find on the other major U.S. carriers: Delta companion certificates.
These can be an incredibly valuable benefit for frequent Delta flyers who hold one of the airline's premium co-branded credit cards. Think of them as a once-a-year, buy-one-get-one-free coupon for flights. Just keep in mind that actually finding eligible flights to redeem Delta companion certificates can be a challenge.
And you've got to read the fine print: If the primary ticket (the one you paid for) is canceled, the companion ticket will be canceled as well. While you may get a Delta eCredit for the valuable of the primary ticket, you'll forfeit the companion certificate altogether – it won't be reissued.
That said, we have heard from many Thrifty Traveler readers over the years who have coaxed a customer support agent to reissue their companion certificate after canceling an existing reservation. So that's easily worth trying.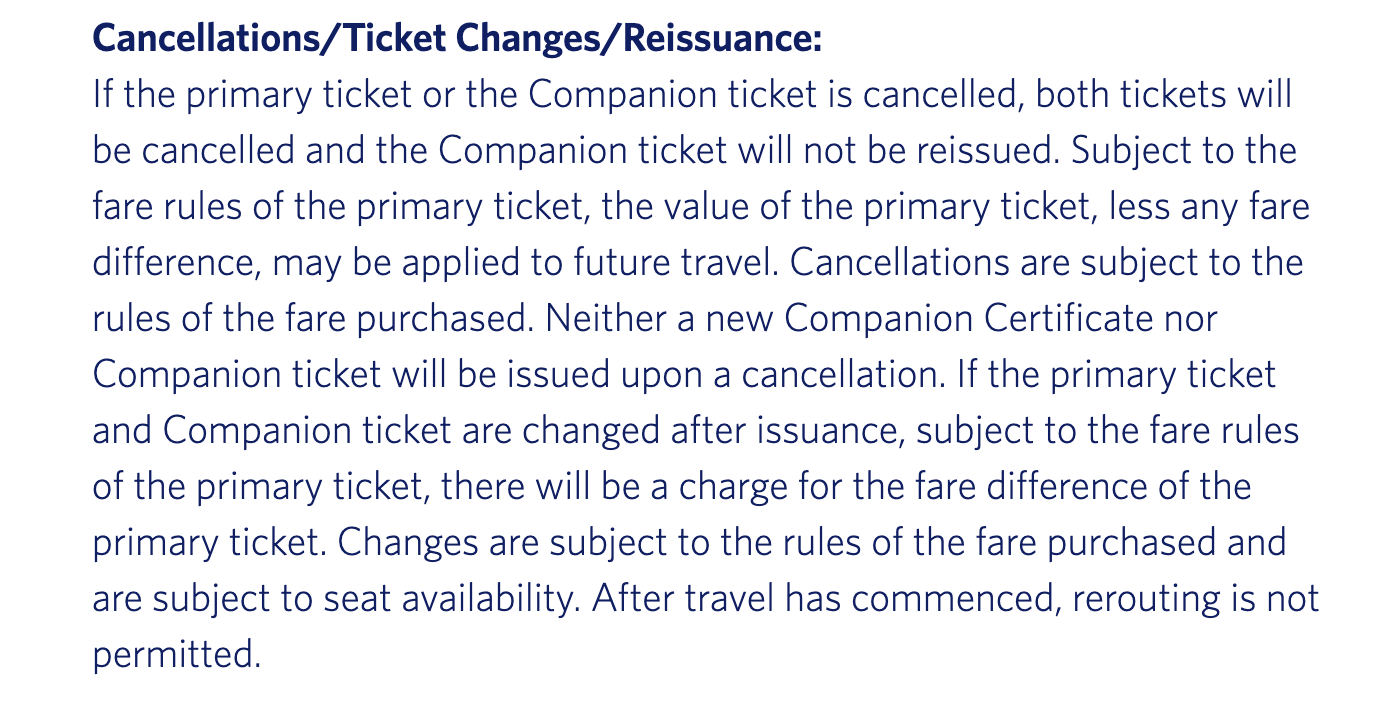 Read our guide to using Delta Companion Certificates! 

And Delta Upgrade Certificates?
The highest tiers of Delta Medallion Status status come with extra perks to choose from: regional or even global upgrade certificates. Think of these as a guaranteed upgrade. You can use them to skip up to first class or even Delta One seats on eligible flights, though you'll often wind up in just domestic first class or Delta Premium Select seats.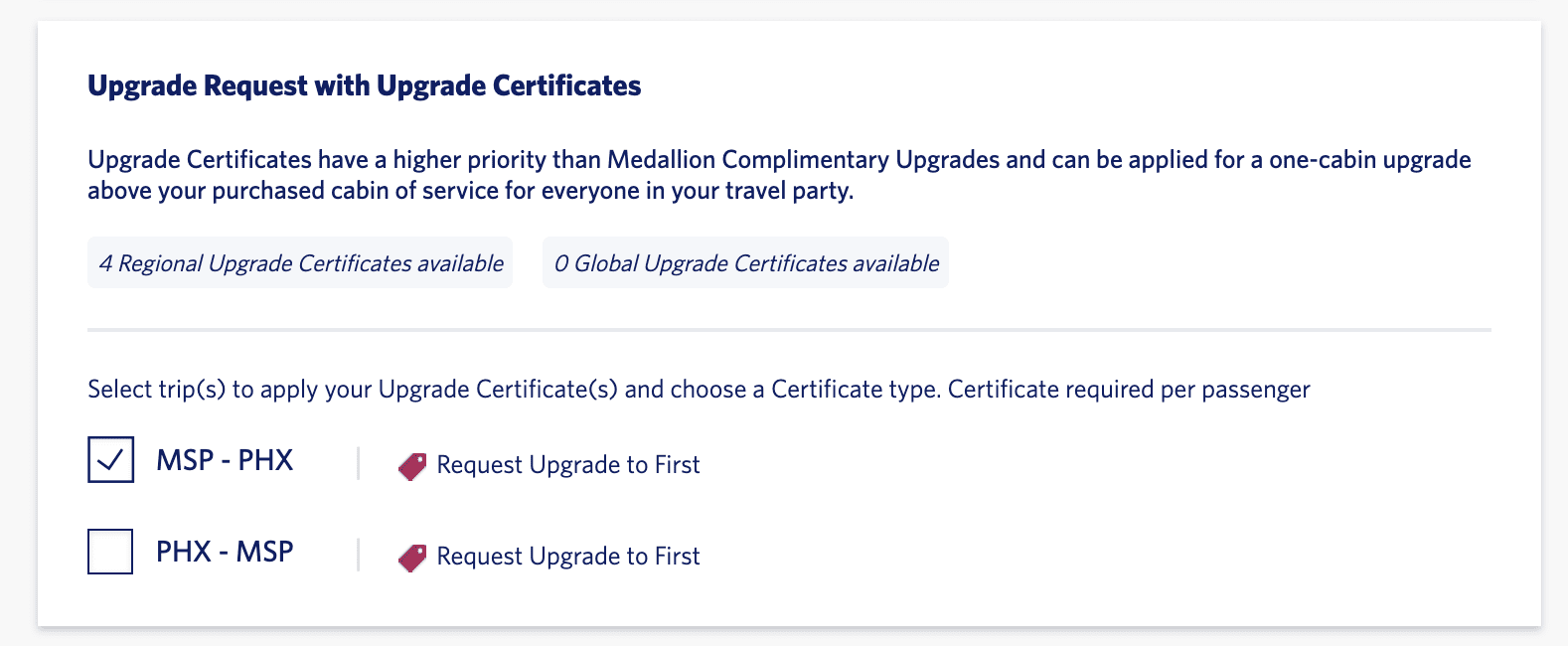 While Delta says an upgrade certificate is nonrefundable, that simply means you won't get cash or an eCredit for the value of your upgraded seat if you cancel or change your flight – only for the original main cabin or Delta Comfort Plus fare. But that doesn't mean you lose out on the upgrade certificate.
Delta says if you change the flight you used your global or regional upgrade certificate on and the airline has already confirmed the upgrade, an agent must help you reissue it to your new flight, if possible, or it will be returned to your SkyMiles account for use on a future flight. Ditto if you cancel your flight – you should see your upgrade certificate in your account again in two to three week, if not sooner.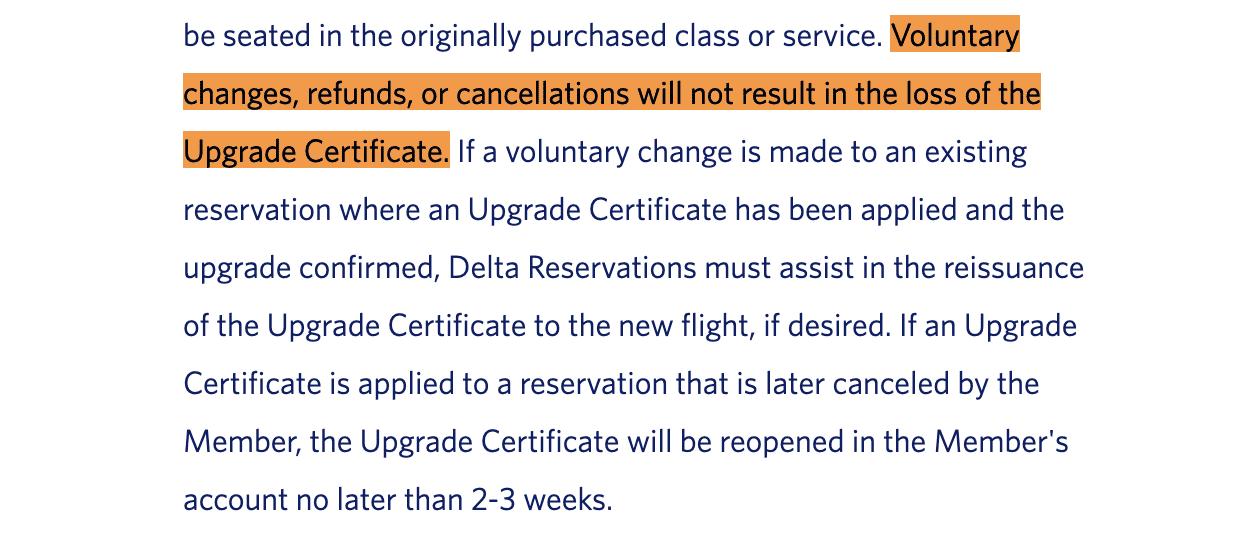 Can You Get a Refund if You Paid to Pick a Seat?
American
American says most seat assignment fees are nonrefundable, but there are some exceptions.
American will refund you for any seats you purchased like a Main Cabin Extra or a Preferred seat if you cancel and rebook your flight and you pay for seats on that flight.
American will also refund your seat assignment fees in the following circumstances:
You pay to upgrade to first or business class
You pay more for another seat on the same flight (but not if you change to a lower-priced or free seat)
American cancels your flight and fails to get you a comparable seat on the flight the airline rebooks you on
You miss a connection because American delayed your flight, and the airline fails to get you a comparable seat on another flight.
You're denied boarding on an oversold flight and American fails to get you a comparable seat on another flight.
Of course, the airline won't just automatically give you your money back. You'll have to go online to request a refund.

Delta
Delta allows travelers who booked basic economy tickets to pay a fee to choose their seat beginning seven days before their flight departs, with fees ranging from as low as $10 to $45 or more.
But these fees are nonrefundable, meaning you'll be out that money – and more in change fees – if you change or cancel your flight or even if you opt to choose another seat later on.
Booking a main cabin economy ticket on Delta means you'll get to select your seat for free, but you'll also have the option to pay more for what Delta calls a "Preferred" seat, which comes with more legroom or is in a better section of the plane. While you won't get your money for those seat fees back, Delta will refund you for that additional cost in the form of an eCredit if you voluntarily change or cancel your flight before the 24-hour check-in window opens, according to the airline's website.

If, for some reason, you used Delta SkyMiles to pay to select your seat, those miles are not refundable.

United
On United, travelers can pay more to select their seats, including an Economy Plus or a Preferred seat, which offer more legroom and a more desirable location within the cabin.
These seat purchases are not refundable if you cancel the trip, but you can get a refund for your Economy Plus seat purchase to your original form of payment if you change your flight or get upgraded for free.

Southwest
Southwest is unique in that it doesn't assign seats. Instead, you're assigned a boarding position which determines how soon you get on the plane. Once you're on board, you can choose from any open seats.
If you want a better shot at getting the seat you want, Southwest gives you two options. You can purchase "Early Bird Check-In" when booking your flight which allows you to check in for your flight earlier and thus gets you an earlier boarding position – and thus more seats to choose from. Early Bird Check-In starts at $15, but you won't get a refund for that fee if you cancel your flight.
Southwest also offers the chance to purchase upgraded boarding when checking in for your flight. This fee is also nonrefundable if you cancel your flight – and it won't be transferred to your new itinerary.
What to Consider When Booking Flights
Here's the big thing: Even if the terms make it clear you're not entitled to a refund or even a credit, you should always ask. The worst that can happen is an airline agent tells you no.
With most airlines, actually getting a refund that you're entitled to for these add-ons to your trip will often take some extra legwork. Some airlines let you apply for a refund online, while for others you may have to call to get what you know you deserve. All these extra fees airlines tack on can really add up, so it might be worth the extra time and effort it could take to get your money back. It never hurts to try!
Still, there are some things to consider when booking flights to maximize your potential for getting a refund.
Book main cabin over basic economy whenever possible. Basic economy is often the lowest, most restrictive fare airlines sell and comes with the most fees. Paying slightly more for main cabin can save you from having to pay extra for seat selection or even a carry-on bag to begin with.
Read the fine print. You can find most airlines' contracts of carriage online. This is the agreement you make with the airline when you book, which can include many stipulations that might come as a shock – like what's refundable or not. If you can't find the answers you want there, your best bet is to message an agent or call the helpline.
Don't sleep on the 24-hour cancellation rule. At Thrifty Traveler, we are ardent followers of the Flight First Rule: Book the cheap flight first, then figure out if you can make the trip work. If you cancel your flight within 24 hours of booking, you're eligible for a full refund back to your original form of payment – including any seat fees, baggage, or upgrade fees you already paid. Missing some money back? Message or call the airline to request the rest.
Points and miles offer the most flexibility. Many major airlines allow you to cancel an award ticket and get all your points (as well as award taxes and fees) back for free, depending on the type of ticket you purchased – or how far in advance you cancel. For instance, Delta basic economy award tickets can be canceled, but you'll forfeit a small amount of SkyMiles to do so. And United will waive any redeposit fees for all award travel so long as you change or cancel at least 30 days before your trip.
Bottom Line
While most major airlines will give you a flight credit or voucher if you cancel your trip – or even refund your money, in some cases – the same isn't always true for any add-ons like better seats, checked bags, or upgrades.
This guide should offer some clarity to give you more confidence when booking your flights – and asking the airlines for what you think (or know) you deserve.