Chasing elite airline status in the hopes of scoring a free upgrade? Keep dreaming. Upgrades are hard to come by until you climb your way to the top of the ranks of high-spending flyers – including with Delta Medallion Status.
But once you make it to Delta Platinum or even Diamond Medallion status, it can change. That's when you receive the most perks, start to earn SkyMiles faster, get more frequent upgrades, and get your pick of Delta Choice Benefits. And some of those benefits can be your ace in the hole for getting upgraded to the front of the plane: Delta upgrade certificates.
Delta Choice Benefits are a "choose your own adventure" benefit for top-tier Platinum and Diamond flyers, with options from several different perks like travel vouchers, gift cards, and more. But Delta upgrade certificates are the clear winner at either tier – consider them (nearly) guaranteed upgrades.
Let's walk through everything you need to know about Delta upgrade certificates: what they are, how to earn them, and most importantly, how to use them – and use them well.

What Are Delta Delta Upgrade Certificates?
When you earn either Platinum or Diamond Medallion status with Delta, you'll have the option to choose from a list of choice benefits.
Platinum Medallion members get to choose one while Diamond Medallions get three – plus the one Choice Benefit upon hitting Platinum, for a total of four. Depending on which tier you're at, you can pick from options like bonus SkyMiles, Delta travel vouchers, memberships for Delta Sky Club access, and more.
But the best options are easily the upgrade certificates. There are two different versions: Regional upgrade certificates (RUCs) and global upgrade certificates (GUCs). Platinum Medallions can pick regional upgrade certificates while Diamond Medallions can pick either – or a combination of the two. More on that later.
Regional upgrade certificates can be used to upgrade from Main Cabin or Comfort Plus into First Class (or Delta One) on flights within the 50 U.S. states, flights to Canada, Mexico and the Caribbean, Central America, and the northern part of South America – including Colombia, Ecuador, and Peru.
Global Upgrade certificates can be used on any flight across Delta's network to move into first class or Delta One cabins, even on long-haul international flights. You can also use global upgrade certificates on select Delta SkyTeam partner airlines like Air France/KLM, Virgin Atlantic, Aeromexico, and Korean Air – just note that you'll need to book your flight through Delta in order to use an upgrade certificate on all these airlines aside from Air France or KLM.
Here's a quick look at where your upgrade certificates can be used.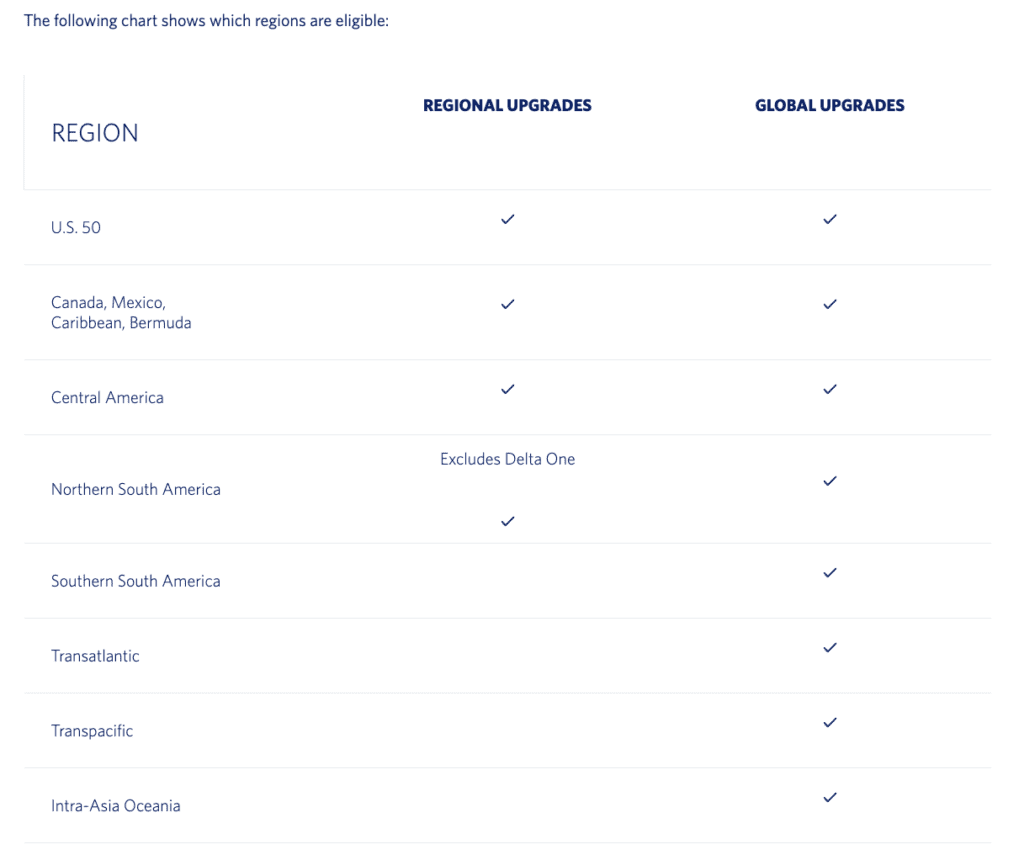 Sadly, Delta made a major negative change to these upgrade certificates early last year. Now, you can only automatically upgrade by one cabin class with these certificates.
While this new rule applies to both regional and global upgrade certificates, it's a bigger problem for global upgrades because Delta's long-haul aircraft often have Delta Premium Select – the airline's name for premium economy. That means if you book a main cabin economy or Delta Comfort Plus seat, you can only automatically bump up to Premium Select – you'll be waitlisted for a Delta One seat, with no guarantee it clears.

On most flights eligible for regional upgrade certificates, you'll simply be upgrading from main cabin into first class.
One important note: You can't apply an upgrade certificate to a Delta basic economy ticket. You must book at least a main cabin fare or higher to apply a certificate. But as long as you book at least main cabin, you can apply an upgrade certificate whether you booked your initial ticket using cash, Delta companion tickets, SkyMiles, Pay with Miles, Miles + Cash tickets, and even tickets booked as part of a Delta Vacations package.
How Many Delta Upgrade Certificates Can You Get?
It depends on what status you've got.
Platinum Medallion members only have the option of choosing four regional upgrade certificates as their choice benefit.
But Diamond Medallion members will have a few different packages of upgrade certificates to pick from with one of their choice benefits:
Four Global Upgrade Certificates
Eight Regional Upgrade Certificates
Or a mix of two Global Upgrade Certificates and four Regional Upgrade Certificates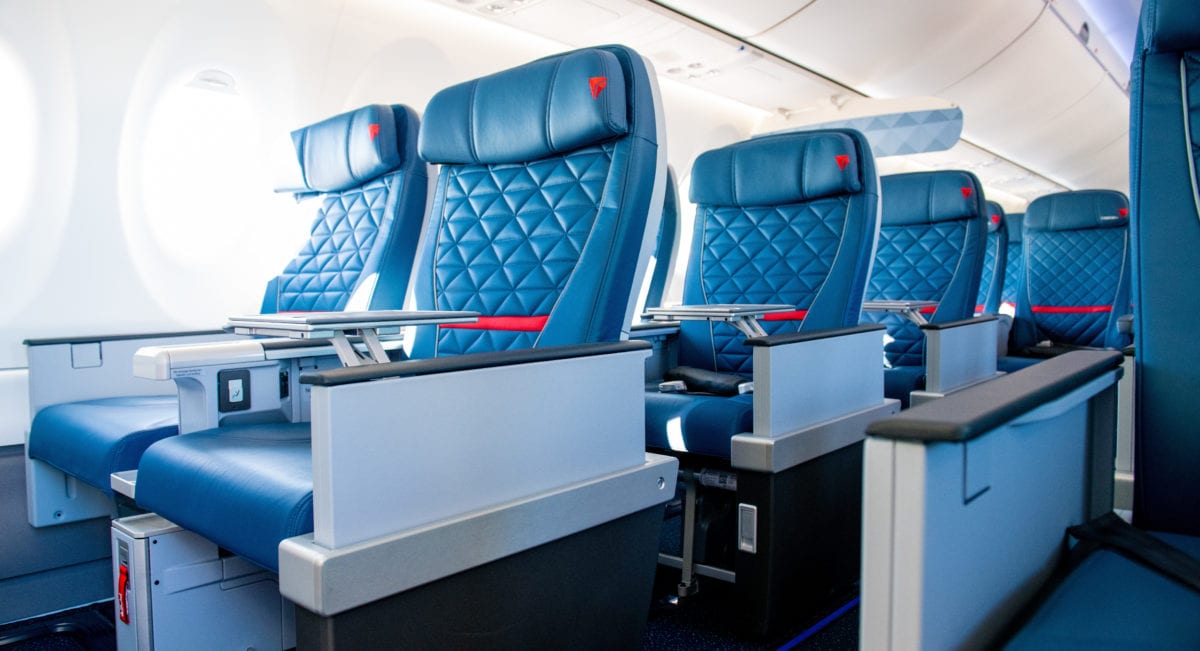 No matter which one you choose, it counts as just one choice benefit. Wondering if you can choose several upgrade packages with your Choice Benefits, Diamond Medallions? No luck: You can only use one choice benefit on upgrade certificates each calendar year.
Related reading: Ranking Delta Choice Benefits for Platinum & Diamond Medallion Status
When Do Delta Upgrade Certificates Expire?
Once you have selected upgrade certificates as a choice benefit, they will be available in your Delta account in the "Certificates, eCredits & Vouchers section." Any certificates that you earn will expire at the end of the Medallion year in which they are chosen.
That means if you've earned Platinum or Diamond Medallion status for 2024 and chose Delta upgrade certificates, they would expire on Jan. 31, 2025 – the end of the Medallion status year.
And keep in mind: You must actually fly by the expiration date – not just have something booked. If you don't use them, you'll lose them.
How Far Will One Delta Upgrade Certificate Go?
Each Delta upgrade certificate is good for one-way travel.
That means if you wanted to upgrade on roundtrip flights, it would cost you two upgrade certificates. Luckily, upgrade certificates cover any stops you have while getting from point A to point B. But if your upgrade only clears on one leg of a one-way journey, it will be considered redeemed.
For example, if you are flying between Chicago-O'Hare (ORD) and Phoenix (PHX) with a stop in Minneapolis-St. Paul (MSP), you would only need to use one regional upgrade certificate for the entire one-way, one-stop journey. But if there's only upgrade space available between Minneapolis and Phoenix, it would still count as one redeemed certificate.
If you are traveling with a companion booked on the same reservation, you can choose to use an available upgrade certificate for them, too – but the same rules will apply. Two upgrade certificates would be needed for two people on a one-way journey (or four certificates for a roundtrip flight.)
How to Find & Apply Delta Upgrade Certificates
It's not enough to book any flight and automatically upgrade using a Delta certificate. You need to find upgrade availability. Lucky for you, that's gotten much easier.
After years of forcing customers to call or message Delta in order to actually apply their upgrade certificates, Delta has added the ability to apply them online for new bookings. The airline plans to eventually add the ability to apply upgrade certificates to existing bookings online, but that's not yet available as of publication.
As you can see, so long as you are logged in to your account and have a certificate to use, Delta will notify you whether or not an upgrade is available. You can apply an upgrade certificate as long as your desired flight is available and you book at least a main cabin fare – remember, basic economy fares are not eligible for applying upgrade certificates.


As you complete the booking process, you'll have the option to apply an upgrade certificate. Even if you select this, it's possible that your upgrade will not immediately clear after booking. But as you can see below, "Upgrade Certificates have a higher priority than Medallion Complimentary Upgrades and can be applied for a one-cabin upgrade above your purchased cabin of service for everyone in your travel party."
Seat map availability does not translate to upgrade availability. So even if there are open seats in the cabin you are trying to upgrade into, it's possible that your upgrade won't clear.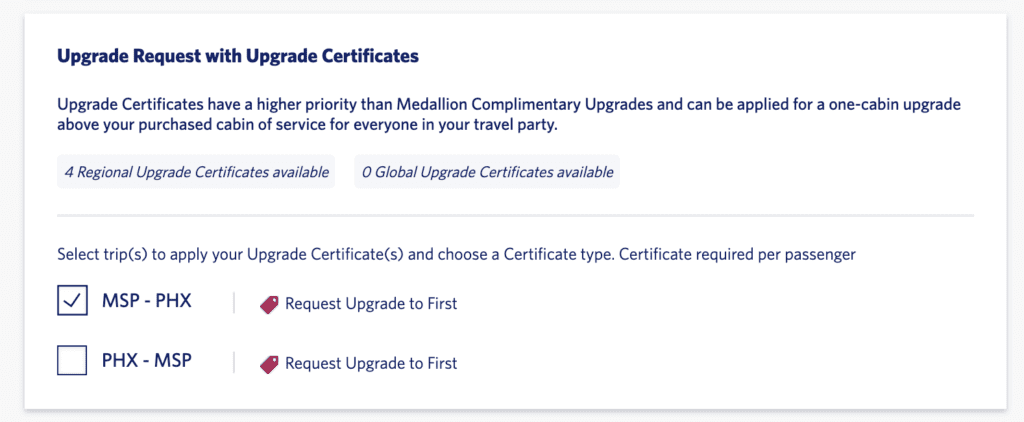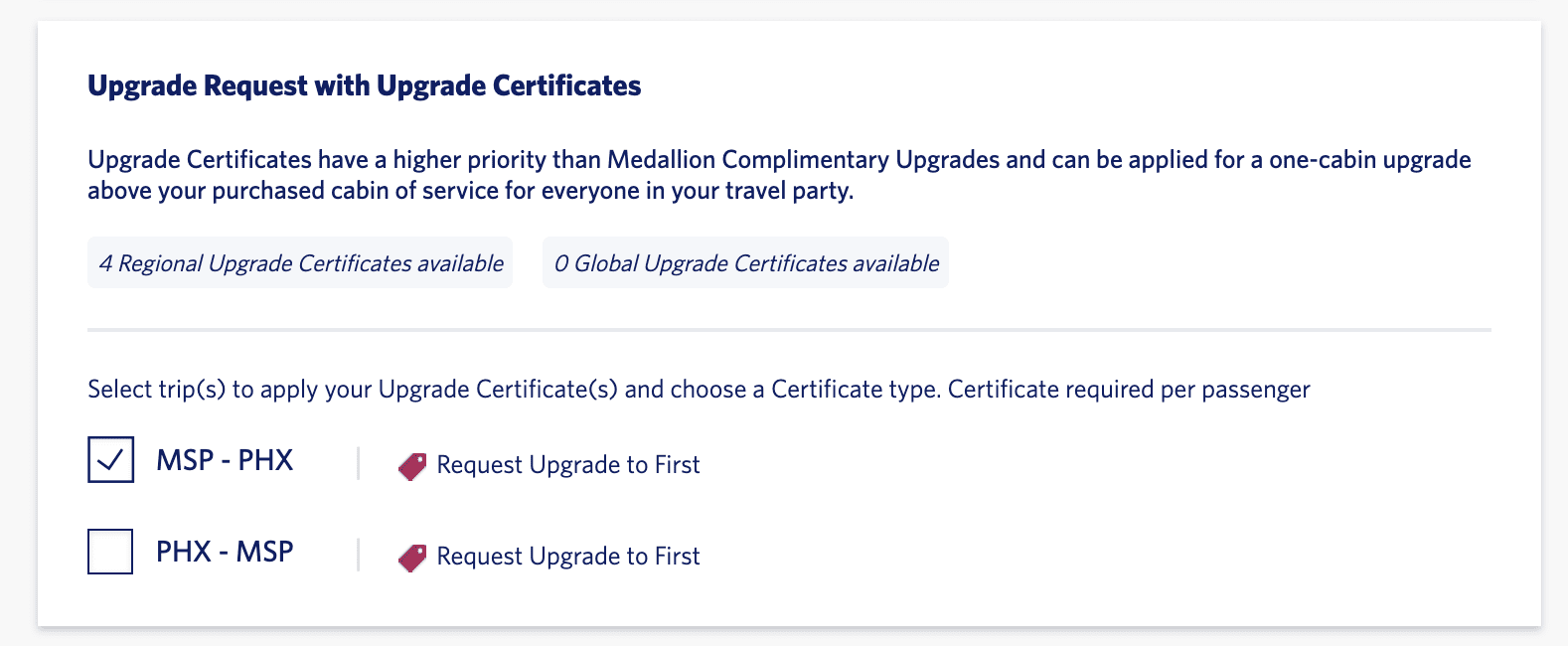 If you are looking to apply a regional or global upgrade certificate to an existing booking, there is currently no way to do this online. It will require you to call or message Delta to use that certificate.
How the Upgrade Certificate Waitlist Works
If you try to book a flight and it isn't available to apply an upgrade certificate, you can be added to a waitlist. If a seat becomes available, your upgrade could clear based on Medallion status, purchased class of service, and what Delta describes as "other criteria."
However, the ability to waitlist for an upgrade is only available on Delta-operated flights. You will not be able to waitlist a SkyTeam partner-operated flight.
If you successfully upgrade from a waitlist, your certificate will be used. If not, it will go back into your account and be available for a future booking.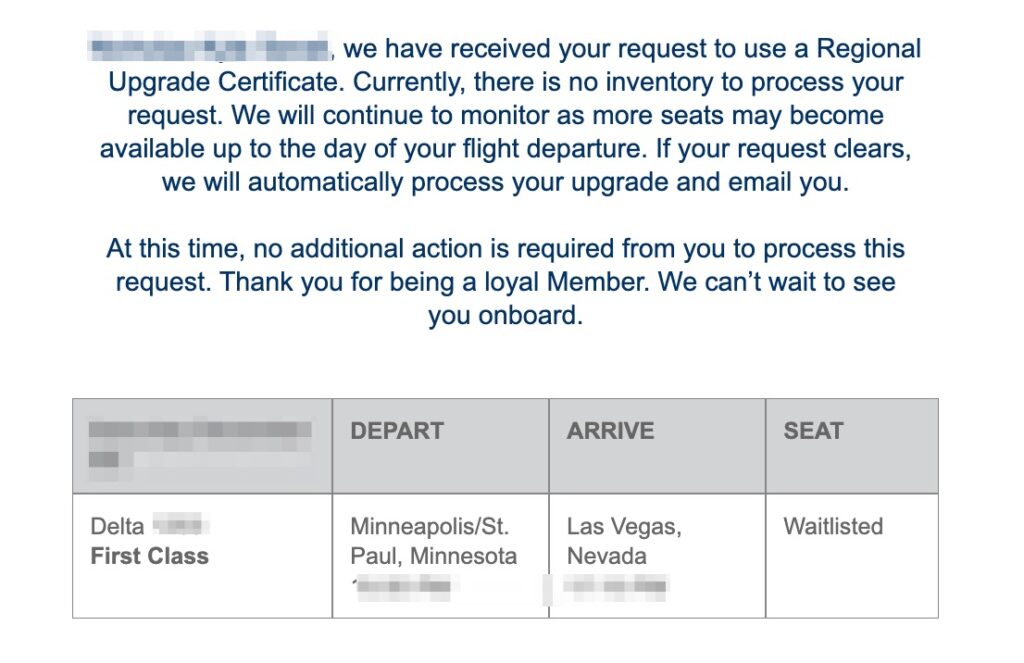 One additional note: It's possible to waitlist multiple flights with the same certificate. If one clears, it will be removed from any future bookings.
Best Ways to Use Delta Upgrade Certificates
The best way to use your Delta Upgrade Certificates depends on what kind you've got – and your travel goals.
Generally speaking, a great way to use regional upgrades is on longer domestic (or some international flights) – especially those with some Delta One business seats onboard. With Global Upgrade Certificates, you'll technically be able to use them on all of Delta's international flights, and even many partner airline flights booked through Delta.
Just remember: Whether you've got regional or global upgrade certificates, you can only upgrade by one cabin class. So if your goal is to end up in a Delta One business class cabin or even a Delta One Suite, you would need to book at least a Premium Select seat.
But since Delta still has some long-haul flights that don't have Premium Select seats onboard yet, one of the best ways to use Global Upgrade Certificates is finding those flights and upgrading straight from economy to Delta One.
Best Ways to Use Regional Upgrade Certificates
There's no problem using regional upgrade certificates to move from economy up to the standard first class recliner seats flying all across the U.S. or down to Mexico and the Caribbean.
But a few other routes stand out to get even more value. Here are the best options.
Flights to Hawaii
Delta flies to Hawaii from all of its U.S. mainland hubs including Atlanta (ATL), Detroit (DTW), Minneapolis-St. Paul (MSP), Seattle (SEA), Salt Lake City (SLC), Los Angeles (LAX), and New York City (JFK). And while these are some of Delta's longest flights at eight hours or more, they're still eligible for using a regional upgrade certificate.
Some flights into Honolulu (HNL), Maui (OGG), Kauai (LIH), and Kona (KOA) are operated by your average, single-aisle Boeing 737s or similar planes without business class seats onboard – especially from the West Coast. But on longer routes, Delta operates widebody aircraft with Delta One seats onboard – and without a Premium Select cabin.
That's your ticket for using a regional upgrade certificate to get all the way up into lie-flat business class seats on the way to Hawaii.

These generally aren't Delta's best business class seats, but they're more than fine for the hop out to the islands. And while Delta has plans start offering Premium Select seats on some Hawaii routes, that hasn't happened yet as of publication.
Thrifty Tip: Don't have enough certificates to use them for the flights to Hawaii and back home? We suggest using one on the trip home: These flights are almost always overnight redeyes, so using an upgrade certificate can give you some extra space to stretch out and get some sleep.
Delta Transcontinental Flights
Transcontinental flights are another solid way to use a regional upgrade certificate as Delta uses some of its widebody aircraft on these routes. For example, if you are flying between New York City (JFK) and Los Angeles (LAX), Delta operates that flight on a Boeing 767-300 which is equipped with Delta One business class.
Much like Hawaii, they don't sell Premium Select on these transcontinental routes which means you can upgrade from main cabin directly to Delta One. Just don't expect a fancy seat: Many of these are Delta's oldest business-class seats and are nothing special. Still, it's hard to argue with using an upgrade certificate for a lie-flat seat on a transcontinental flight.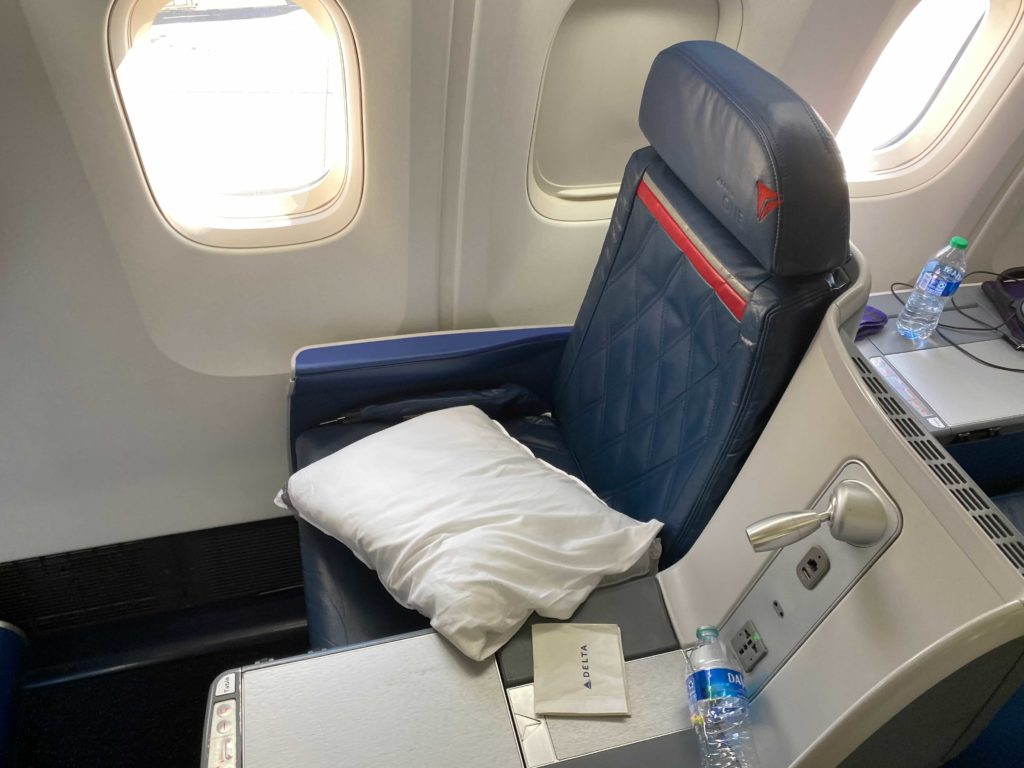 But these lie-flat seats on Delta's transcontinental flights are getting harder and harder to find.
Delta has started putting more and more of its brand new, fuel-efficient Airbus A321neo planes on many transcontinental routes. These don't have lie-flat seats but rather domestic first-class recliner-style seats. But these are the newest planes in Delta's fleet and some of the best domestic first-class seats flying, so they are still a great use of a regional upgrades on a longer flight.
You'll currently find them on transcontinental flights between New York City (JFK) and Boston (BOS) to Seattle (SEA) and Los Angeles (LAX) and many other routes. Delta has plans to add 155 of these planes to its fleet by 2027.
Thrifty Tip: Use the Google Flights Legroom browser extension to help identify the aircraft type you want to fly.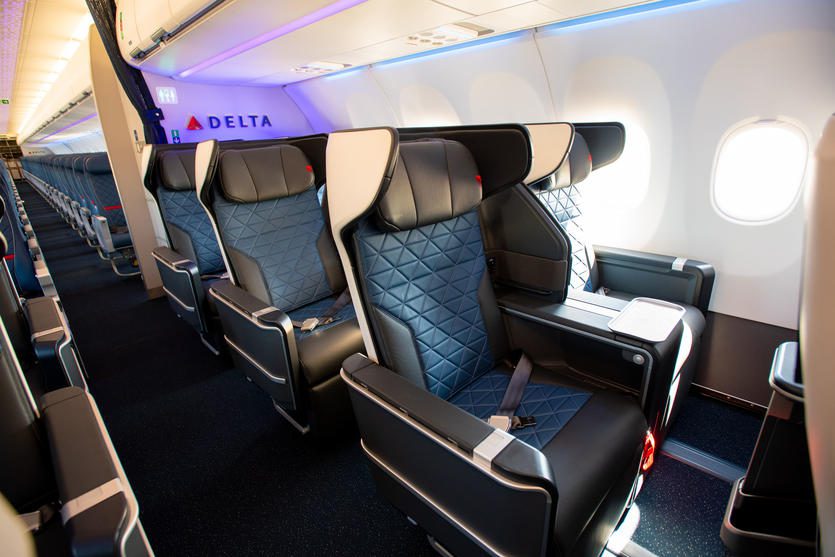 Flights to Latin and South America
Have an upcoming flight to Mexico or other parts of Latin America? It's another great opportunity to burn a RUC for a longer flight. Plus, regional upgrade certificates can even be used on flights to northern South America countries like Colombia, Ecuador, and Peru.
While Delta does have a few widebody planes flying to these countries, you can only upgrade into a regular first class style seat. If Delta is selling Delta One business class on these northern South America routes, you would need a global upgrade certificate to upgrade into that cabin.
Flights to Alaska
Delta flies to many destinations in Alaska including Anchorage (ANC), Juneau (JNU), Fairbanks (FAI), and more. These are, yet again, some of the longest flights you'll find that are eligible for a regional upgrade certificate.
Delta doesn't currently fly any widebody aircraft on these routes so you'll be upgrading from main cabin or Comfort Plus to a first class recliner seat. But seeing as some of these flights are over seven hours, it's a great way to redeem a certificate for some extra space on the long flight.
Best Ways to Use Global Upgrade Certificates
Global upgrade certificates work much the same as regional upgrade certificates with a twist: They can be used on international flights and also with some partner airlines – as long as you book them through Delta.com.
But there's a hitch. Since Delta sells Premium Select seats on many of its long-haul international flights, that generally means you need to book at least Premium Select if you want to guarantee an upgrade to a Delta One lie-flat seat … or hope that a waitlisted upgrade into business class clears 24 hours before departure.
There are some exceptions that create a few sweet spots for using your Global upgrades … at least for now.
Flights to Auckland & More
Delta announced in January it would fly nonstop to Auckland (AKL) for the first time ever starting this fall.
The flight will depart out of Los Angeles (LAX) and be operated by an Airbus A350-900 … but not one of Delta's usual planes. The jets Delta is planning to fly to New Zealand were acquired from partner airline LATAM over the last few years. And Delta hasn't had the time to equip them with the usual Delta One Suites – or even install a single Delta Premium Select seat.
That means if you buy a main cabin ticket with cash or SkyMiles on this route, a Global Upgrade Certificate can get you directly into a Delta One cabin.

That's exactly what some travelers with have done Delta slashed main cabin award rates to Auckland down as low as just 37,000 SkyMiles roundtrip.
Flyers with top-tier Diamond Medallion status who booked this deal could use their Global Upgrade certificates to skip straight up to Delta One! On most other international routes, they'd only secure a spot in a Premium Select seat with a slim chance of getting bumped up to business class before departure.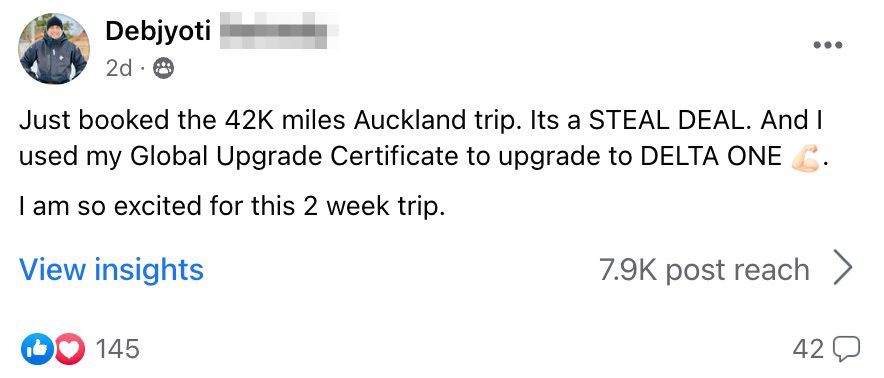 Only Thrifty Traveler Premium+ members get award alerts for amazing Delta deals like this – sign up today to get the next one!
Delta is also operating these LATAM configurations on the following routes, as of publication:
Atlanta (ATL) to Santiago, Chile (SCL)
Atlanta (ATL) to Lima, Peru (LIM)
Atlanta (ATL) to Tel Aviv (TLV)
Generally speaking, any long-haul route that Delta sells without a Premium Select cabin is a great way to use a global upgrade certificate as you'll be able to upgrade from main cabin directly into a Delta One business class seat.
These Airbus A350 configurations from LATAM are a good place to look and the easiest way to identify them is to look for a 2-2-2 seating configuration on routes flying the A350. You'll also find configurations without Premium Select cabins flying on some of Delta's older Boeing 767-300s, including some over to Europe.
While these seats are not as nice as some of Delta's newer business class seats or suites, it's a great sweet spot for using these global upgrades.
How to Earn Delta Status & Upgrade Certificates
Before you can get Delta upgrade certificates, you first need to earn Delta Medallion elite status – namely, Platinum or Diamond Medallion Status.
Silver and Gold status members are not eligible for choice benefits and thus can't get upgrade certificates. And it takes a lot of flying (and even more spending) to earn Platinum or Diamond Medallion Status. Average travelers are unlikely to even scratch the surface of hitting Silver Medallion status, the airline's lowest tier. If you travel a fair amount for work – or fly international long-haul with Delta or a partner – that could do the trick.


Here's what it takes to reach the top two tiers and unlock those Delta Choice Benefits from Platinum or Diamond Medallion status:
Platinum Medallion Status:

75,000 MQMs OR 100 Medallion Qualifying Segments AND $12,000 in spending on Delta or partner flights

Diamond Medallion Status:

125,000 MQMs OR 140 Medallion Qualifying Segments AND $20,000 in spending on Delta or partner flights
You can escape the Medallion Qualifying Dollar (MQD) requirements by spending $25,000 on either the card_name or the card_name in a calendar year. That works for all but Delta's highest Diamond Medallion Status, which requires an absurd $250,000 in credit card spending to get the MQD waiver.
Once you unlock your status, you'll have it for the rest of that year and the following calendar year. But when it's time to requalify, you start back at zero – unless you roll over MQMs from the prior year, a unique feature of Delta Medallion Status.
Read our guide to Delta Medallion status and whether it's worth the work.
Bottom Line
Delta's regional and global upgrade certificates are simply the best option for your choice benefits if you reach Platinum or Diamond Medallion status with the airline.
Use them right, and you can skip up to first class or even Delta One seats on some of the airline's longest flights within the U.S. or even abroad. But once you have them, you'll need to have a plan to use them up as they will expire at the end of the following Medallion status year, on January 31.