Delta upgrade certificates are one of the best benefits available to flyers with Platinum or Diamond Delta Medallion status, easily the best way to secure a bigger seat rather than rolling the dice with spotty complimentary upgrades. But actually redeeming those certificates has been a pain … until now.
After years of forcing customers to call or message Delta in order to actually apply these certificates, it's now available online. The Points Guy reports that the Atlanta-based airline began rolling out this new feature to its website this week. Currently, it's only available when making a new booking at Delta.com, though the airline plans to expand it eventually to existing flights as well as on its smartphone app.
This improvement has been in the works for a few months – and it's even arrived early. Back in October, Delta teased this new online feature while announcing some big changes to earning and using Medallion status for 2023 including higher spending requirements and a few new and improved choice benefits for top elites. At the time, the ability to apply both regional upgrade certificates (RUCs) and global upgrade certificates (GUCs) online was set to go live in "early 2023."
It's the latest enhancement that makes using these valuable certificates much easier. Last year, Delta launched a new feature showing when there was confirmable space available for using either global or regional upgrade certificates. Now, you can finish the entire process online.
As you can see, so long as you are logged in to your Delta account, Delta will notify travelers who have a certificate to use whether or not an upgrade is available with a notification under the flight routing on Delta.com.
If available, you'll find the new "Upgrade Certificate Request" window during the checkout process on Delta.com about halfway down the page. You can quickly and easily select the flights you want to use your certificates. This previously required a separate phone call or message after booking.
Once you apply an upgrade certificate, you should then receive an email and a push notification in the Delta app confirming your upgrade request and whether you have been assigned a new seat or added to the waitlist once you've completed the checkout process.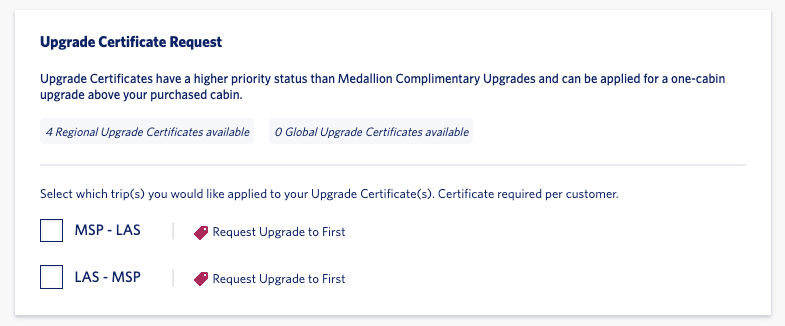 But as of publication, the ability to redeem upgrade certificates online is limited to only new flights booked on Delta.com. You won't be able to apply existing certificates to trips you already have booked, and this functionality isn't currently available in the Delta mobile app.
How to Earn Delta Upgrade Certificates
If you've qualified for Delta Platinum or Diamond Medallion status for 2023, you'll have the option to select regional and global upgrade certificates, though global upgrade certificates are available for top-tier Diamond Medallions only.
Delta allows Platinum members to pick four Regional Upgrade Certificates. These are good for an upgrade to first class (or even Delta One on transcontinental flights) within the continental U.S., as well as some flights to Hawaii, Mexico, and throughout the Caribbean.
One important restriction: You can't be flying Delta basic economy.
You have to use these certificates by the end of the Medallion year (Jan 31 of the next year): not just book your flights, but actually travel. So it may pay to wait on selecting this benefit until you've got a game plan.
Delta Diamond Medallions can choose between three sets of upgrade certificates that can immediately vault you from economy up to the front of the cabin. You can choose between four Global Upgrade Certificates (for international flights), eight Regional Upgrade Certificates, or a mix of two global upgrades and four regional upgrades. You have a full year to use these certificates once they're issued.
Delta dealt these certificates a blow with a new rule late last year that now only allows you to upgrade by one cabin at a time. That means, in most cases, Diamond Medallions can no longer book a main cabin economy seat and then use an upgrade to hop into Delta One suites – they'd instead move up to Delta Premium Select, then get added to a waitlist for a final upgrade up front.
Still, these upgrade certificates are among the most valuable choice benefits available.
Read More: Is Delta Medallion Status Worth it? Earning & Using Delta Status
Have you already qualified for Delta Platinum or Medallion status for 2023? You can log in to your Delta account, and select your choice benefits here.
I had already used my regional upgrade certificates earned from holding Platinum Medallion status in 2022. But being I qualified for Platinum status again in 2023, I just went in and selected the four regional upgrade certificates as my 2023 choice benefit. They are immediately showing in my account for bookings next year as you can see below.
Bottom Line
Delta is solving a big pain point for its most valuable customers. The ability to apply Medallion upgrade certificates is now available online for new bookings.
While you won't be able to apply these to existing bookings or through the Delta mobile app just yet, Delta says this functionality is coming soon, too.